Vinyl record titled Majulah Singapura, Singapore, c. 1960s.
Zubir Said is among Singapore's most prominent music composers and songwriters. He has composed over 1,500 songs, comprising film songs, popular songs and national songs. He is best known as the composer of the national anthem of Singapore, Majulah Singapura.
He was active as a composer from the 1930s to the 1950s. In 1949, as the Malay film industry was beginning to flourish, Zubir Said joined Shaw Brothers, taking on the role as an orchestra conductor with Malay Film Productions Ltd, one of the production arms of Shaw Brothers. In the early 1950s, he switched to work for Cathay Keris and was its music director for 14 years until his retirement in 1964. He composed background music and wrote songs for selected scenes, using his vast knowledge of European and Asian scores, in particular Malay melodies. He composed musical scores and songs for some of the most iconic and memorable films in Singapore's film history like Sumpah Pontianak, Sri Mersing, Chuchu Datok Merah, and worked with popular artistes including P. Ramlee, R. Ismail and Nona Asiah.
The City Council and Mayor of Singapore made a recommendation to the City Council for Zubir Said to compose a song to mark the official opening of Victoria Theatre following renovation works. He wrote Majulah Singapura—which means "Onward Singapore" in Malay. This was performed for the first time by the Singapore Chamber Ensemble at the refurbished Victoria Theatre in 1958. Majulah Singapura was subsequently selected and declared the national anthem of Singapore on 11 November 1959, with some slight amendments to the lyrics. It was formally presented to the people as a state national anthem on 3 December 1959, the same day Yusok bin Ishak was inaugurated as the Yang di-Pertuan Negara.
---
This is an extract from "The Singapore Story through 60 objects" written by Kennie Ting, Director, Asian Civilisations Museum and Peranakan Museum & Group Director of Museums, National Heritage Board. This article was first published in Cultural Connections Volume IV 2019 by Culture Academy Singapore.
---
Learn more about Zubir Said in this video
Learn more about P. Ramlee in this video
---
Founders' Memorial Travelling Exhibition and Public Call

The Founders' Memorial is holding a public call for objects and stories that showcase your experiences and the values upon which independent Singapore was built.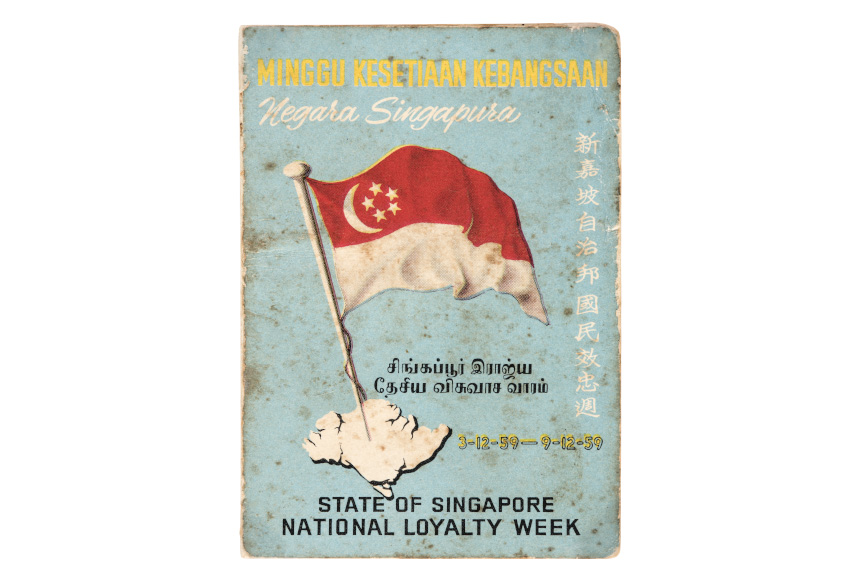 State of Singapore National Loyalty Week Card. Gift of Ms Quek Yuen Yuan, Ana. Collection of the National Museum of Singapore, National Heritage Board.
This card was distributed to students to introduce our National Anthem in 1959.
Do you have any photos, mementos and stories from when our National Symbols, like our anthem, were first introduced? Share them with the Founders' Memorial here.