TL;DR
Open every Singaporean's wallet and you'll probably find a picture of Yusof Ishak (12 August 1910 – 23 November 1970) in there. That's because the first president of Singapore's portrait has been on our currency notes since the Singapore Portrait Series launched in 1999. From being the head of state in 1959, to becoming the newly independent nation's president in 1965, Yusof Ishak played an important role in embodying steadfastness and inspiring stability through Singapore's merger and subsequent separation from Malaya.
Multi-talented Youth
Born in Perak, Malaysia, young Yusof Ishak moved to Singapore when his father was transferred here to take up the position of assistant inspector of the Fisheries Department. Yusof Ishak attended Victoria Bridge School (today's Victoria School) and moved on to Raffles Institution for his secondary education.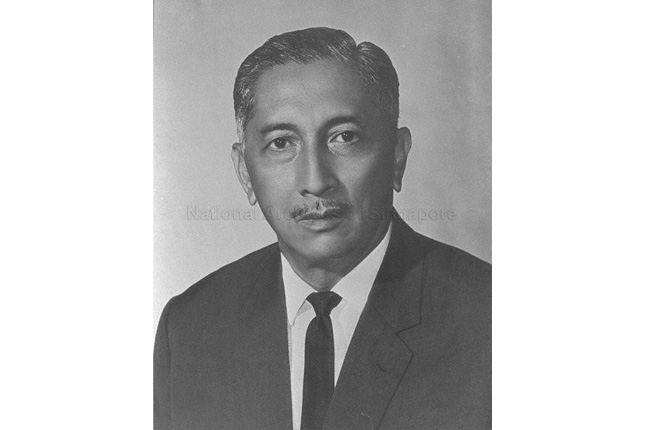 Portrait of the first President of Singapore, Yusof Ishak on 9 August 1965. Image from National Archives of Singapore
He was academically brilliant and scored distinctions in both the 1927 Cambridge School Certificate and the Senior Cambridge examinations. During his secondary school years, he also co-edited the Rafflesian (the school's newsletter) and was the first student in National Cadet Corps to achieve the rank of a second lieutenant.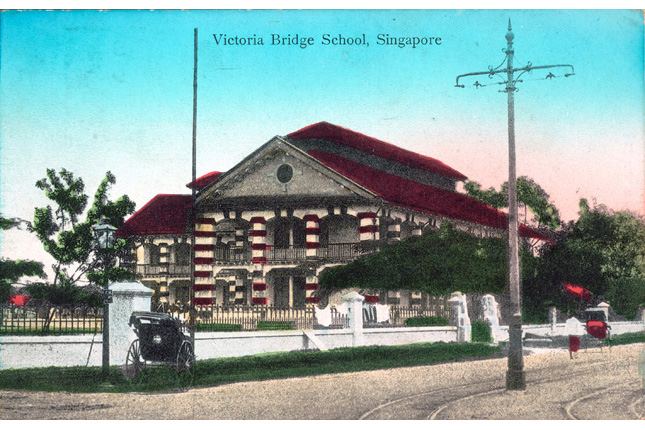 Victoria Bridge School (today's Victoria School) along Victoria Street. This was where Yusof Ishak received his primary education. Image from National Museum of Singapore
The former Raffles Institution, where Yusof Ishak received his secondary education. Image from National Museum of Singapore
The active athlete also represented the school in hockey, cricket, swimming, water polo, basketball, boxing, and weightlifting. Despite juggling school and multiple sports, his talent was evident when he became a boxing champion in 1931, winning the Aw Boon Par Cup, and clinching the national lightweight champion in weightlifting a year later.
Starting The First Malay-Owned Newspaper
As an adult, Yusof's reputation in the local Malay community saw him establishing the Utusan Melayu Press Ltd., and co-founding Utusan Melayu, a Malay newspaper, together with 20 other Malay leaders.
This was the first newspaper in the colonial-ruled country that was wholly owned, financed, and ran by Malays. Yusof, just like his school days, did everything from sourcing for capital and journalists, to buying equipment, and managing accounts and administration.
The newspaper was first circulated on 29 May 1939, and often championed the need for the local Malay community to modernise and focus on education.
Head of State During Trying Times
In 1959, Yusof, whose work has caught the attention of the founding members of the People's Action Party (PAP), was invited by then Prime Minister Lee Kuan Yew to become the chairman of the Public Service Commission of Singapore. Yusof then resigned from Utusan Melayu upon finding a way to serve his country even better.
When the PAP won the election in May 1959, Yusof Ishak became the leading choice as head of state. On 3 December the same year, when the Singapore National Anthem was performed for the very first time, Yusof Ishak was appointed as Yang di-Pertuan Negara, or head of state.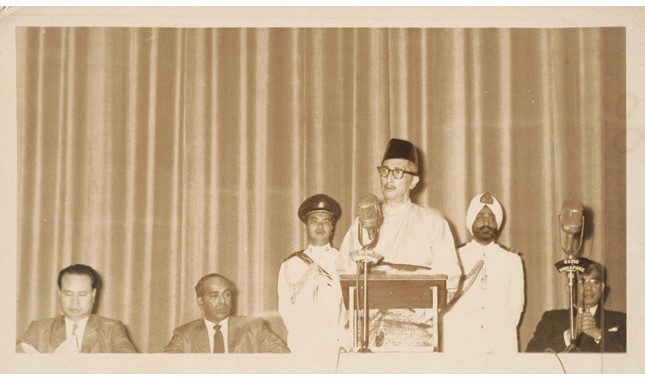 Yusof went through the trying times of being Singapore's figurehead during the country's merger with Malaya, and its subsequent separation from its neighbour. He was steadfast in his duties and became the republic's first president when it gained independence on 9 August 1965.
A Beloved President
Yusof Ishak served Singapore as its president until 23 November 1970, when he passed away in his third term in office due to heart failure.
The Yusof Ishak Secondary School, which opened on 29 July 1966, remained the only school named after a president of Singapore. The Singapore Portrait Series currency notes bearing the portrait of the Yusof Ishak was launched in 1999, ensuring that his legacy would be remembered by Singaporeans even as they go about their everyday lives.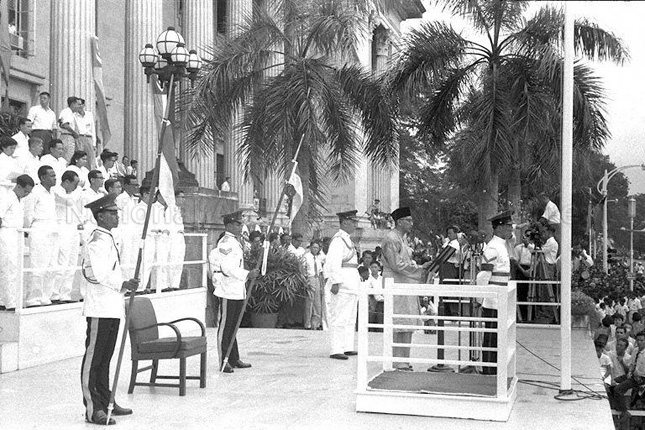 The newly appointed Yang di-Pertuan Negara Yusof Ishak delivering his address at the City Hall steps during the launch of National Loyalty Week on 3 December 1959.
Image from National Archives of Singapore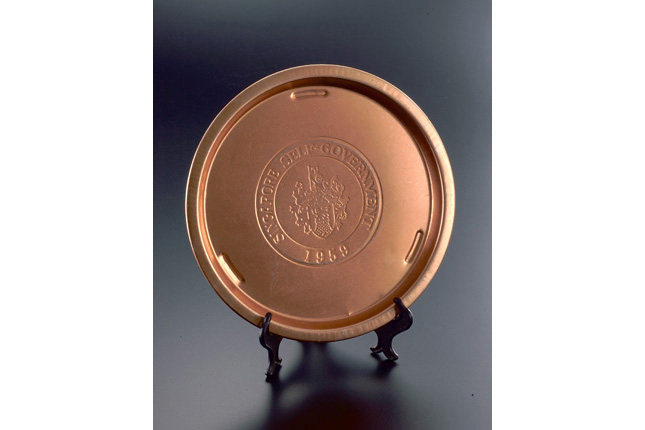 This is a souvenir plate commemorating the 1959 self-government. Yusof Ishak succeeded the former British Governor, William Goode, and became the Yang di-Pertuan Negara in December 1959. Image from National Museum of Singapore