TL;DR
Most Singaporeans can easily tell you what the crescent and five stars represent on the Singapore Flag. The brainchild behind the design of our flag, and the State Crest, is none other than Dr. Toh Chin Chye, one of the founding fathers of modern Singapore. Goh was also responsible for working on the National Anthem with its composer, Encik Zubir Said.
Toh was already serving the country before its independence. He co-founded the People's Action Party (PAP) with Lee Kuan Yew, Goh Keng Swee, and S. Rajaratnam, where he served as the founding chairman and later became Singapore's first Deputy Prime Minister.
A scholar undaunted by hardship
Born 10 December 1921 in Taiping, Perak, Toh came to Singapore to pursue his studies at the prestigious Raffles College. When the Japanese occupied the island in 1942, he was forced to leave school to work as a hawker assistant, growing potatoes and tapioca for his own survival.
The hardships he experienced during the occupation opened his eyes to the injustice faced by Singaporeans under foreign rule. This realisation would shape his political outlook, which later guided him in serving the country.
After the war, he graduated from Raffles College in 1946 and went on to pursue his Ph.D. in Physiology at the National Institute of Medical Research in London in 1949.
The first step into politics
During his time in London, Toh met Dr. Goh Keng Swee, an advocate of Malaya and Singapore's independence from colonial rule. Sharing the same ideals, Toh joined the Malayan Forum that Goh founded. The anti-colonial student group would meet regularly to discuss how they could help achieve the country's independence.
When Goh left his position as the Chairman of Malayan Forum to return to Singapore, he nominated Toh to take over his responsibilities.
The founding of PAP
Armed with a strong sense of justice and his experience in the anti-colonial group, Toh returned to Singapore and met up with Goh Keng Swee, this time accompanied by Lee Kuan Yew. Their secret "basement group" meetings at Lee's home in Oxley Rise would give birth to an open and legal political party to help fight the cause for Singapore's independence.
On 21 November 1954, the People's Action Party (PAP) was officially formed.
Former Deputy Prime Minister Dr Toh Chin Chye walks alongside former Prime Minister Lee Kuan Yew at the opening of the third session of the Legislative Assembly (c.1961. Image from National Archives of Singapore)
Monumental tasks ahead
With a team of capable and passionate aspiring leaders in his corner, Toh ran for the position of the Legislative Assemblyman for Rochore constituency in 1959. He was elected that year and ran again in the 1963 general elections, where he narrowly defeated Barisan Socialis chief Lee Siew Boh by a mere 89 votes.
During his service, Toh was handed the monumental task of heading the committee in the design of the Singapore Flag and the National Coat of Arms. He had to consider the delicate political climate during that time, the sentiments of our neighbouring countries towards the small nation, and Singapore's multiracial population. After careful deliberation, Toh created our flag and State Crest with deep symbolism representing the aspirations and geographical significance of the country.
But Singapore still needed its own national anthem. Toh was once again tasked with this important mission. He short-listed Encik Zubir Said's composition Majulah Singapore, originally written for the City Council in 1958 to commemorate the newly renovated Victoria Theatre. Toh approached him to shorten the song and tweak its melody to an anthem everyone could easily remember and sing. The revised version was eventually unveiled along with the state flag when Singapore gained her independence in 1965.
Decades of selfless service
From 1959–1968, Toh took on the role of Singapore's Deputy Prime Minister, and continued serving the people as the Minister of Science and technology (1968–1975) and Minister of Health (1975–1981).
Even as a minister, Toh took on even more duties as the vice-chancellor at the National University of Singapore (1968–1975). He introduced reforms to channel more resources from the arts and social sciences to the fields of engineering, to prepare Singapore for the industrialised world. In this role, Toh also helped to centralise the university's four campuses at Kent Ridge, and played an important part in helping to set up the National University Hospital (NUH).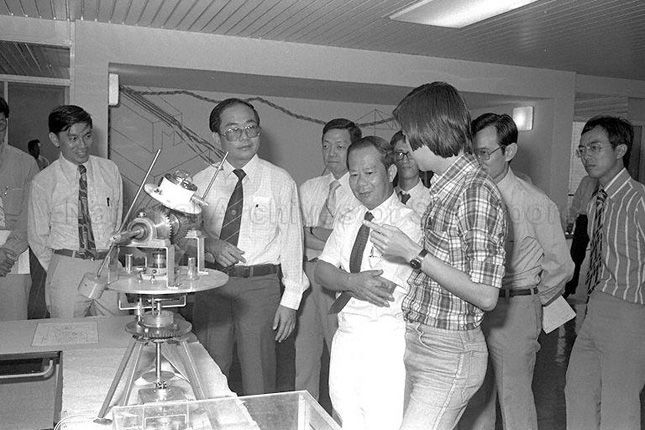 Dr Toh Chin Chye attends the University of Singapore Faculty of Engineering 'Open Day' at Kent Ridge Campus. He also served as its vice-chancellor from 1968-1975. (c.1978. Image from National Archives of Singapore)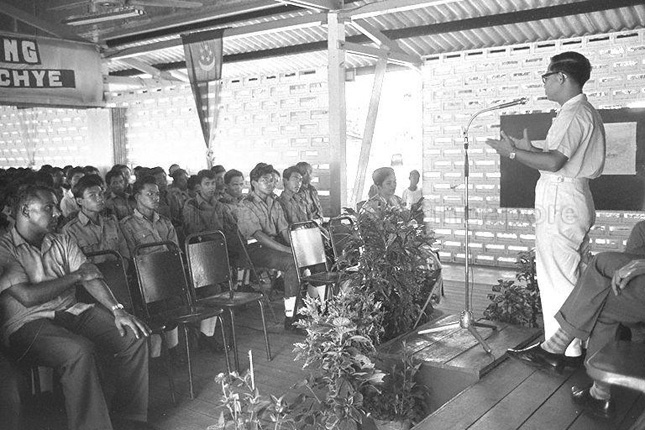 Former Deputy Prime Minister Dr Toh Chin Chye delivering his speech at the Works Brigade Picnic Camp at Tanah Merah. (c.1965. Image from National Archives of Singapore)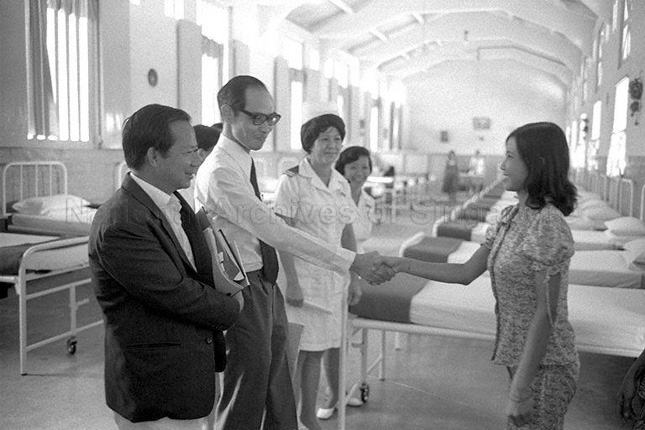 Dr Toh Chin Chye pays a visit to the Woodbridge and Trafalgar Hospital during his stint as the Minister of Health. (c.1975. Image from National Archives of Singapore)
Even after he stepped down from the Cabinet in 1981, Toh continue putting his energy into serving as a member of Parliament (MP) until 1998 in his Rochore constituency. He encouraged critical thinking and became a vocal opposition of his own party, debating hot issues such as the Medisave Scheme, Central Provident Fund age withdrawal limit, press freedom, and even killer litter (items thrown off tall buildings which may cause death).
The Toh Chin Chye Benevolent Fund for the elderly was set up to recognise Toh's 29 years of contribution to Rochore. And in 2001, NUS launched the Toh Chin Chye Professorship in Molecular Biology, a testimonial to his far-sighted vision of Singapore's future.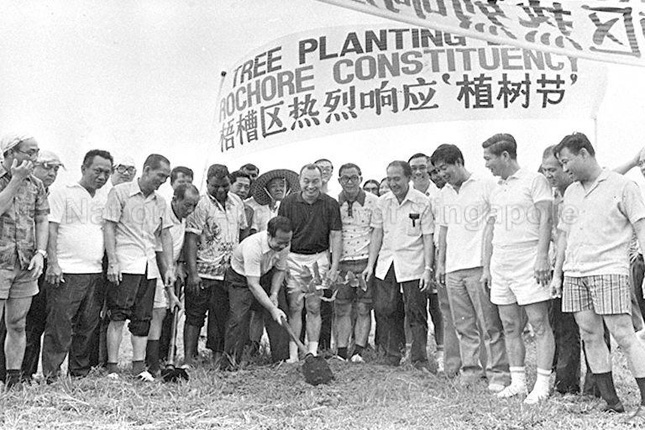 Dr Toh Chin Chye taking part in a Tree Planting Day in his Rochore Constituency, a place he would stay on as its representative in Parliament up till 1988. (c.1975. Image from National Archives of Singapore)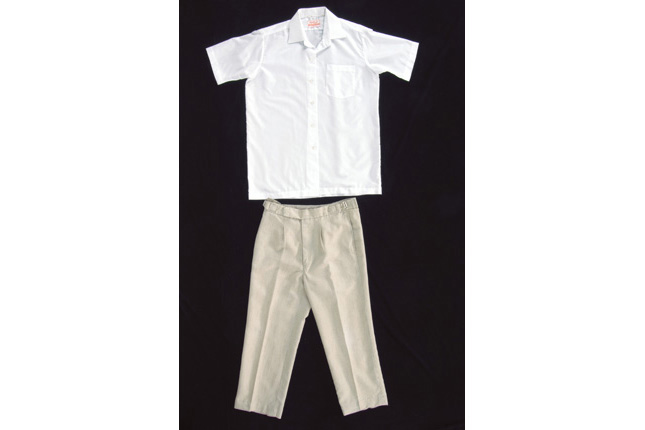 This working attire set consisting of a short-sleeved shirt with pants belonged to Dr. Toh Chin Chye, founding Chairman of the People's Action Party (PAP). This was the official wear that Dr. Toh was seen in during his political career (c.1970s. Image from National Collection)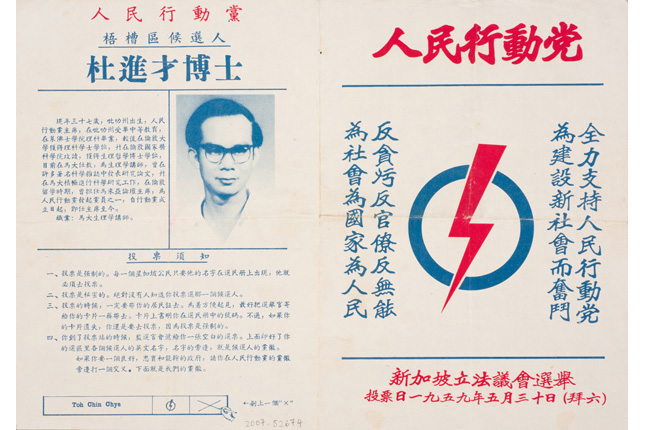 A People's Action Party leaflet about Toh Chin Chye from the 1959 General Elections. (c. 1959. Image from National Collection)