TL;DR
The national pledge is recited in schools across Singapore most mornings – a tradition upheld since 1966.1 The 38-word oath, largely written by wordsmith and former journalist Sinnathamby Rajaratnam (25 February 1915 – 22 February 2006),2 encapsulates the core values that form the bedrock of our nation. Apart from famously lending his expertise to the development of the pledge, Rajaratnam, who was one of the founding members of the People's Action Party (PAP), is also known for his dedication to the nation, having held down numerous portfolios during his long political career.3
Journalist turned politician
Born in Jaffna, Sri Lanka, Rajaratnam was just six months old when he was brought to Seremban, Malaya to join his father, a supervisor at a rubber plantation.
An avid reader, he studied at Victoria Institution in Kuala Lumpur and Raffles Institution in Singapore. Later, he pursued law at King's College in London. This, however, came to an abrupt halt during World War II. To make a living during these difficult times, Rajaratnam became a journalist.
Rajaratnam and his Hungarian wife, Piroska Feher, returned to Malaya in 1947 where he secured a job with the Malaya Tribune the following year. After two years with the publication, Rajaratnam joined the Singapore Standard as an associate editor before moving to The Straits Times where he worked for five years.
During the course of his journalism career, Rajaratnam wrote pieces opposing colonial rule and communist ideologies. These articles attracted the attention of Lee Kuan Yew, Toh Chin Chye and Goh Keng Swee. In 1954, the four of them, together with other founding members, formed the PAP.
Rajaratnam, whose views widely resonated with locals, contested in the 1959 Legislative Assembly general election and won a spot as assemblyman for the constituency of . He was also appointed Minister for Culture.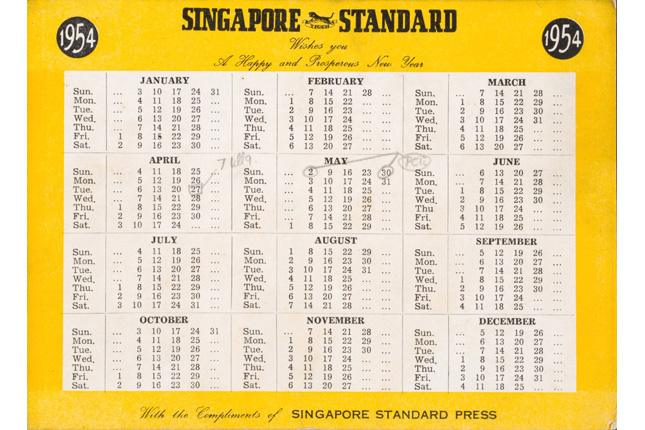 This 1954 calendar was from the Singapore Standard, a now defunct newspaper. S. Rajaratnam was the paper's associate editor from 1950 to 1954. Image from National Museum of Singapore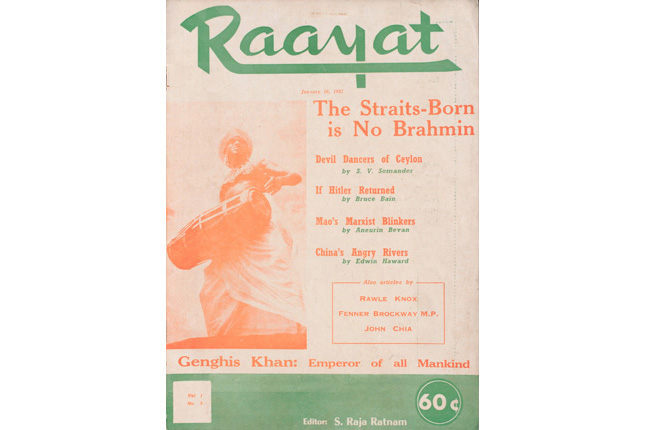 A magazine dating 1955 entitled 'People (Rakyat)', which was edited by S. Rajaratnam. (Image from National Museum of Singapore)
Putting Singapore on the map
When Singapore gained independence in 1965, Rajaratnam became the nation's first ever minister for foreign affairs. He was effective in this role, forging positive relationships with other nations and successfully articulating Singapore's brand and credo. In 1968, he took on another portfolio – that of Minister of Labour.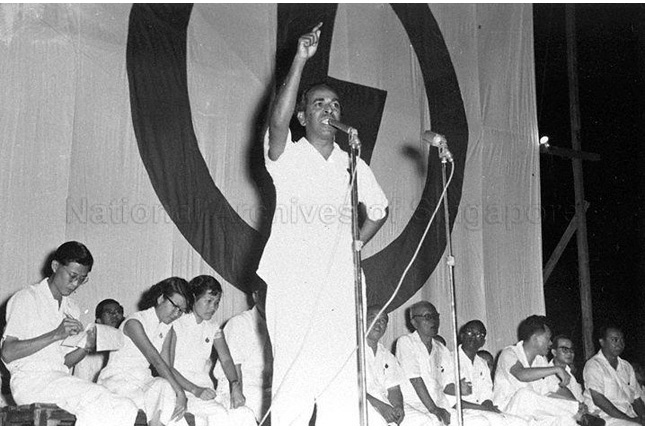 S. Rajaratnam speaking at the 1959 General Elections rally as a People's Action Party candidate. Image from National Museum of Singapore
Closer to home Rajaratnam was recognised as one of the founding fathers of the Association of Southeast Asian Nations, having represented Singapore in 1967 at an event designed to establish the regional economic union.
In Singapore, Rajaratnam is celebrated for developing the national pledge shortly after the island's emotionally wrought separation from Malaysia. The oath he drafted espouses timeless values such as racial harmony, unity, equality and progress. On National Day, Singaporeans young and old, standing with their right fists over their hearts, pledge to uphold these principles and standards.
Rajaratnam continued to serve faithfully on homeground. In 1980, he became the second deputy prime minister, a position he held for five years before taking on the responsibility of senior minister in the Prime Minister's Office for three years. He eventually retired in 1988.
Rajaratnam remembered
Rajaratnam never stopped working. He served as a senior distinguished fellow at the Institute of Southeast Asia Studies from 1988 to 1997.4
The numerous world leaders and throngs of Singaporeans who convened at the Esplanade for his state funeral in February 2006, was a reflection of the deep respect he had earned from people far and wide over the course of his career. The same year, Raffles Institution named a new building in his honour. The Institute of Defence and Strategic Studies at Nanyang Technological University followed suit, renaming itself the S. Rajaratnam School of International Studies in 2007.5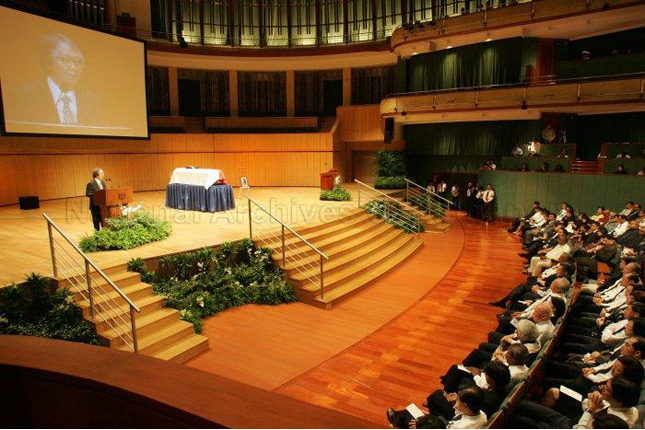 State funeral service of S. Rajaratnam at the Esplanade Concert Hall on 25 February 2006. Image from National Archives of Singapore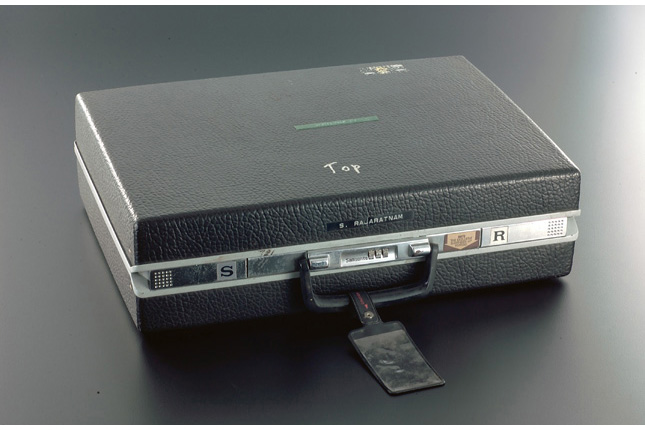 This briefcase belonged to S. Rajaratnam, one of the founding fathers of the People's Action Party and long-serving cabinet minister. Image from National Museum of Singapore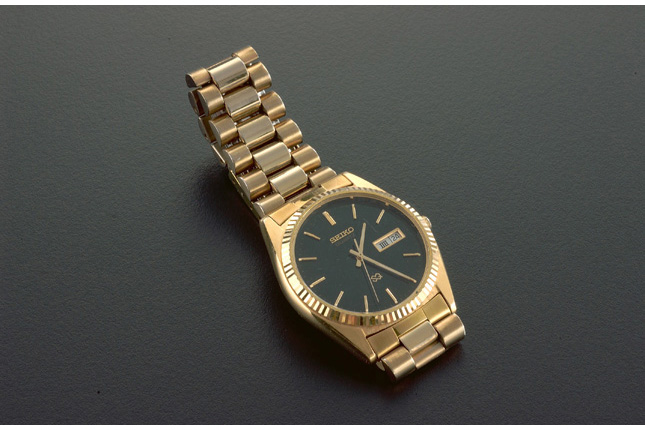 A Seiko gold watch that belonged to S. Rajaratnam. Image from National Museum of Singapore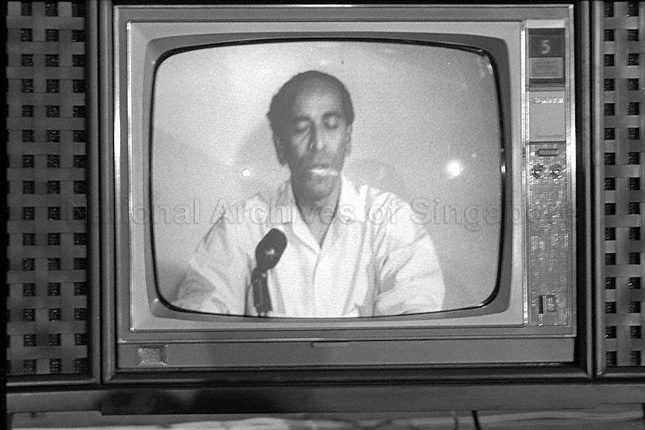 S. Rajaratnam was one of the first to appear on screen at the inauguration of Television Singapura, Singapore's first television station, on 15 February 1963. Image from National Archives of Singapore