TL;DR
"We, the citizens of Singapore, pledge ourselves as one united people." This is the very familiar first sentence to our National Pledge, which many Singaporeans have recited every morning as a student. Written by S. Rajaratnam (25 February 1915 – 22 February 2006), our National Pledge has been memorised to heart since the first students recited it on 24 August 1966. One of the founding members of the People's Action Party (PAP), Rajaratnam also pledged his life to the service of the nation, holding many portfolios over his decades of duty.
A high-profile anti-colonialism journalist
Born in Jaffna, Sri Lanka, Sinnathamby Rajaratnam moved to Malaysia at a young age to join his father, who was working as a supervisor at a rubber plantation in Seremban. He studied at Victoria Institution in Kuala Lumpur, and later Raffles Institution in Singapore.
Despite starting his law studies at King's College in London, Rajaratnam's passion for writing saw him giving up the opportunity and working as a journalist instead.
Armed with a few years of experience, he returned to Malaya in 1947 and got a job at the Malaya Tribune (1948–1950). He then joined the Singapore Standard as an associate editor in 1950, before moving to The Straits Times as an editorial staff (1954–1954).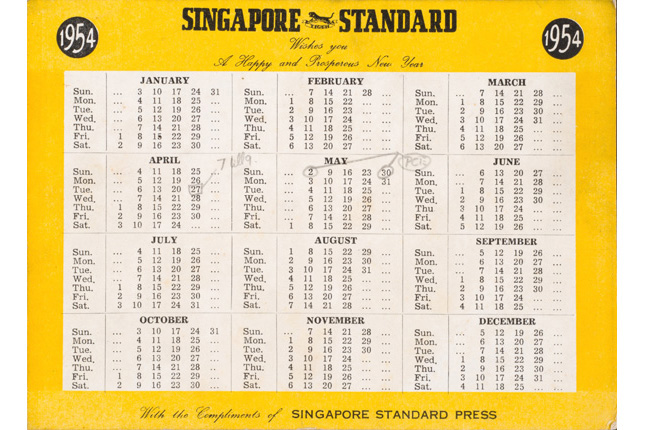 This 1954 calendar was from the Singapore Standard, a now defunct newspaper. S. Rajaratnam was the paper's associate editor from 1950 to 1954. Image from National Museum of Singapore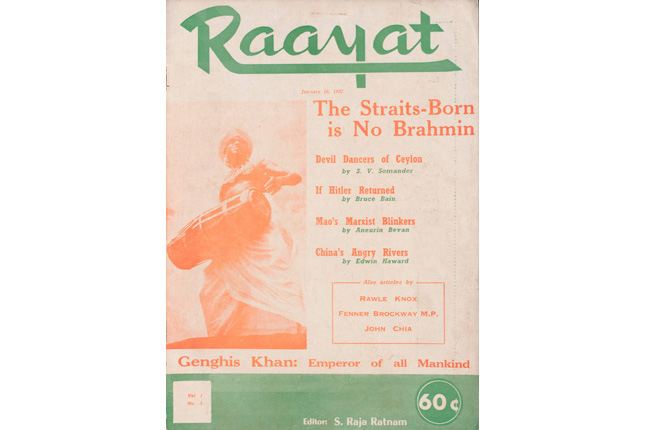 A magazine dating 1955 entitled 'People (Rakyat)', which was edited by S. Rajaratnam. (Image from National Museum of Singapore)
His political articles frequently openly opposed colonialism and communism, a stance which caught the attention of Lee Kuan Yew, Toh Chin Chye, and Goh Keng Swee, who approached him to co-found the PAP in 1954.
Holding double positions
Rajaratnam resigned from The Straits Times in 1959 to contest in the Legislative Assembly general election. His views proved to be popular among Singaporeans, and saw him be elected as an assemblyman for the Kampong Glam constituency. He also served as the Minister for Culture until 1963.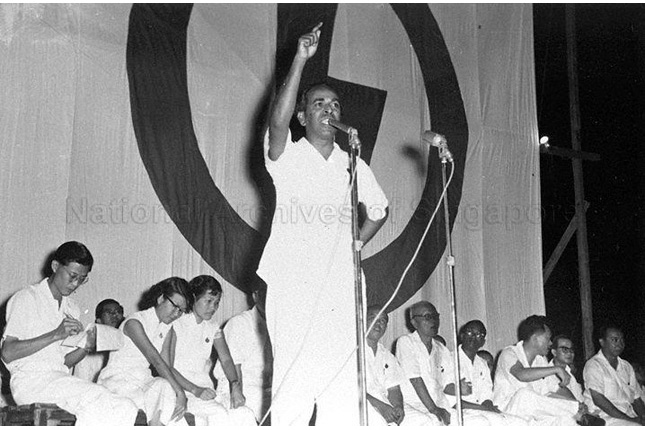 S. Rajaratnam speaking at the 1959 General Elections rally as a People's Action Party candidate. Image from National Museum of Singapore
When Singapore gained its independence in 1965, Rajaratnam was appointed as the first Minister for Foreign Affairs. He was so dedicated to service that he also took on the role of Minister for Labour in 1968, holding double positions until 1980.
Respected internationally and locally
In 1967, Rajaratnam represented Singapore in the Bangkok Declaration, an important event that led to the establishment of the Association of Southeast Asian Nations (ASEAN). For his contribution, Rajaratnam was considered one of the five founding fathers of ASEAN.
Perhaps the closest to most Singaporeans' hearts is Rajaratnam's role in composing the National Pledge in 1966. The Pledge clearly emphasised racial harmony, unity, equality, and progress, important pillars for the country's continued peace and stability. The National Pledge is now recited daily at school assemblies and major national ceremonies.
In 1980, Rajaratnam took on service as the second Deputy Prime Minister and held the position until 1985, when he stepped down to become Senior Minister for another three years.
Rajaratnam remembered
From 1988, Rajaratnam continued dedicating his life of service as a senior distinguished fellow at the Institute of Southeast Asia Studies until he passed away in 2006. His state funeral at the Esplanade saw world leaders and Singaporeans from all walks of life, coming to pay their respects.
It is evident that through his life's work, Rajaratnam touched the hearts of many with his delicate handling of foreign relations and his dedication to the people of the country.
In 2006, Raffles Institution named a new 7-storey building the S. Rajaratnam block in his honour. The Institute for Defence and Strategic Studies at the Nanyang Technological University was also renamed the S. Rajaratnam School of International Studies in his honour.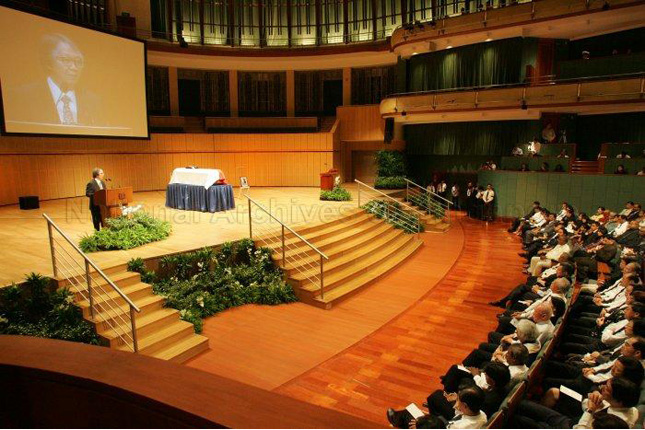 State funeral service of S. Rajaratnam at the Esplanade Concert Hall on 25 February 2006. Image from National Archives of Singapore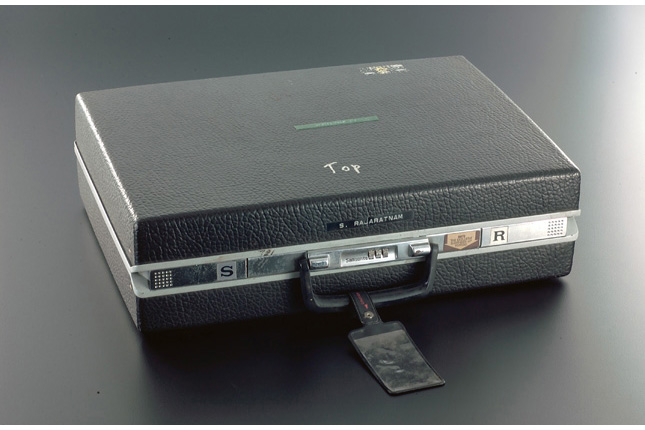 This briefcase belonged to S. Rajaratnam, one of the founding fathers of the People's Action Party and long-serving cabinet minister. Image from National Museum of Singapore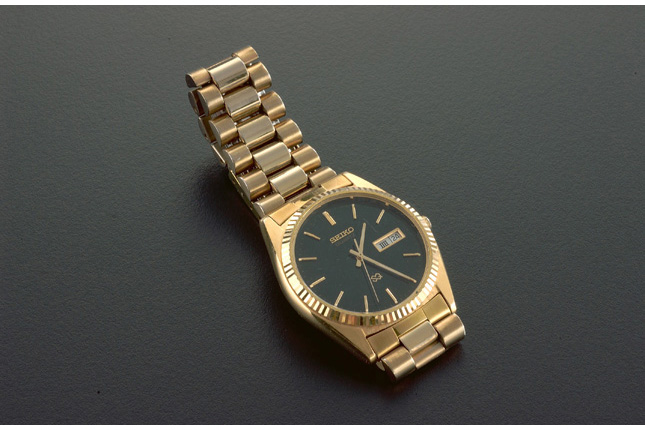 A Seiko gold watch that belonged to S. Rajaratnam. Image from National Museum of Singapore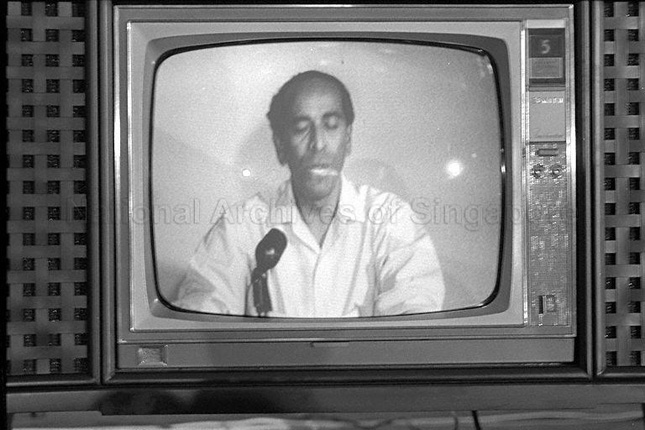 S. Rajaratnam was one of the first to appear on screen at the inauguration of Television Singapura, Singapore's first television station, on 15 February 1963. Image from National Archives of Singapore