TL;DR
The founder of modern Singapore, Lee Kuan Yew (16 September 1923–23 March 2015) was known as the visionary who propelled the country from a British colonial city to the international economic powerhouse we live in today. A highly regarded political leader, his acumen laid the building blocks that has ensured future generations a safe and prosperous nation to call home.
The beginning of a legacy
Lee was born in Singapore in 1923 and grew up in 92 Kampong Java Road before moving to his maternal grandfather's house in Telok Kurau in 1929. After finishing his studies at Raffles Institution, the academically brilliant Lee received a scholarship at Raffles College.
But before he could finish his degree, war arrived in Singapore and the British colony was surrendered to the Japanese. During the occupation, the Kempeitai (Japanese military police) were ruthlessly rounding up anyone they believed to be anti-Japanese and sending them to be shot – a bloody massacre known as 'Operation Sook Ching'.
Lee narrowly escaped death by slipping away from a screening process and hiding out in a house at 75 Maude Road, the home to a friend of his family's rickshaw driver, Koh Teong Koo.
When the war ended in 1945, Lee and his family moved into 38 Oxley Road, a place that he would continue living in with his wife Madam Kwa Geok Choo and their children, up till the day he passed.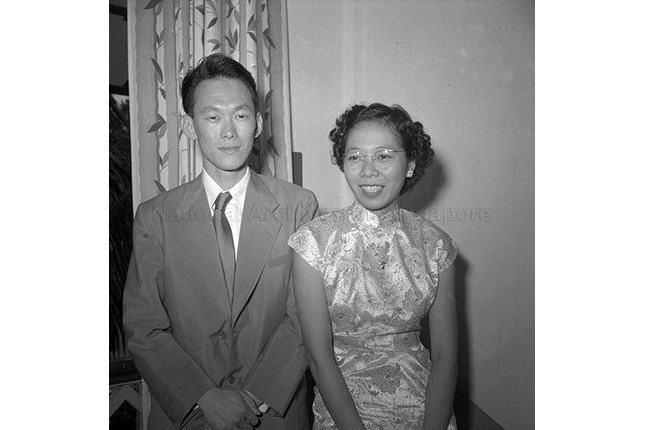 Lee Kuan Yew with Mdm Kwa Geok Choo at their home in Oxley Road (c.1950. Image from National Archives of Singapore)
The first step into politics – London
In 1946, Lee enrolled in the London School of Economics before transferring to Fitzwilliam Hall in Cambridge University in 1947. It was here that Lee's political awareness was awakened, following his involvement with the British Labour Party.
In London, he met other patriotic Singaporeans and Malayans, including Dr Goh Keng Swee and Toh Chin Chye, at the Malayan Forum. This defining moment would take Lee on his first steps to his political career, aided by these lifelong comrades.
In those years, school and politics weren't Lee's only pursuits. He fell in love with Kwa Geok Choo, a Queen's Scholar, whom he secretly married on December 1947 in Stratford, England.
Why secretly? The 1940s were not exactly a period where parents were open minded to the idea of marriage before graduation, and scholarship boards and colleges might not have approved of the idea. They had made up their minds about each other and decided to stay secret in order not to incur their parents' disapproval, or risk their scholarships.
Together, they were called to the bar in Singapore on 7 August 1951.
Fighting for equal rights
Lee began his law career with the firm Laycock and Ong. He fought hard to help local civil servants receive similar benefits as their European counterparts, a move that caught the public eye, turning him into the country's advocate for independence.
Together with his life partner, Mdm Kwa, and his brother, they founded the law firm Lee & Lee in 1955. He continued to practice law up till 1959, before he decided to dedicate his time and effort to politics.
The forming of a nation
In 1954, Lee gathered a team of passionate game changers, including Dr. Goh Keng Swee and Toh Chin Chye, in a series of meetings known as the "basement group" at his home to discuss the nation's future.
It was in this same basement, on 21 November 1954, that the People's Action Party (PAP) was formed. Despite being a new political party, they contested in the 1955 Legislative Assembly elections and won the hearts of Singaporeans with their relatable personalities and fiery speeches. Lee was elected to represent the Tanjong Pagar constituency, a role he would serve till his last days as a Member of Parliament.
In the 1959 elections, Lee's passionate debates in the house led him and the PAP to capture 43 out of 51 assembly seats. At the young age of 35, Lee became the Prime Minister of the self-governing state of Singapore.
Lee Kuan Yew speaking at the People's Action Party's inaugural meeting held at the Victoria Memorial Hall (c.1954. Image from National Archives of Singapore)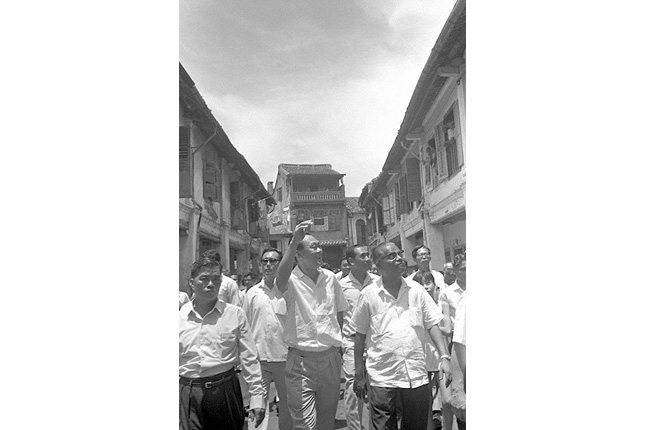 Prime Minister Lee Kuan Yew at Cheng Cheok Street off Tanjong Pagar Road during his tour of Tanjong Pagar constituency (c.1968. Image from National Archives of Singapore)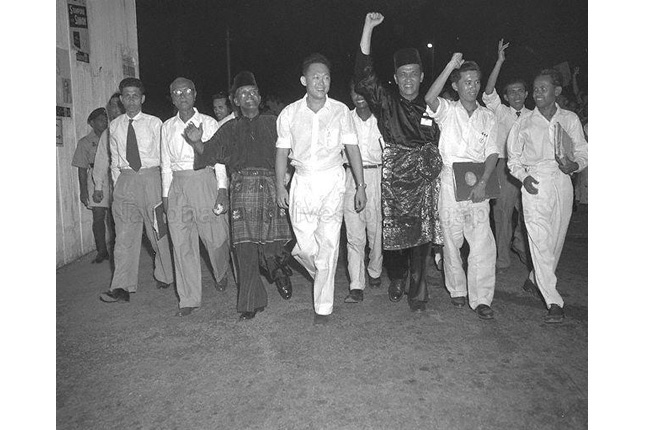 Lee Kuan Yew, then Secretary-General of the People's Action Party, walks alongside party members on polling day at the 1955 Legislative Assembly General Elections (c.1955. Image from National Archives of Singapore)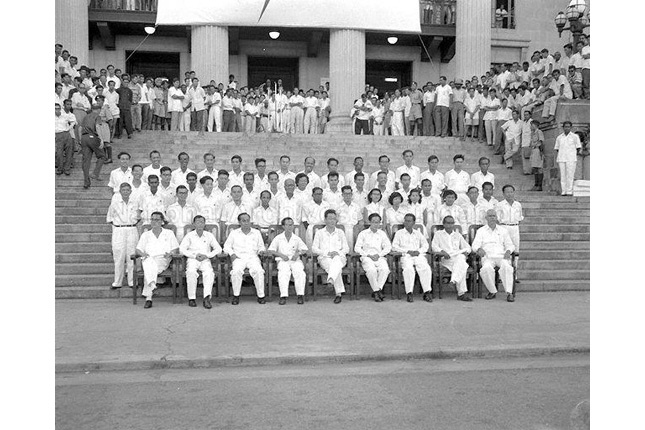 Prime Minister Lee Kuan Yew posing for a group photograph with his Ministers and Legislative Assemblymen In front of City Hall after the swearing-in of the new Government. (c.1959. Image from National Archives of Singapore)
Merger with Malaya
Lee was quick to notice that Singapore needed to depend on a bigger country for its natural resources and economic stability. This led him to make a controversial move, in what was perhaps the most pressing issue of his early years as Prime Minister – a merger with Malaya.
Many believed that this was an unthinkable move, and it resulted in some members of the PAP breaking away to form another party, the Barisan Sosialis (Socialist Front). Lee eventually negotiated a favourable deal and won a referendum in 1962.
On September 1963, Singapore had become a state of Malaysia. It was a tense period in our history as disagreements between the citizens often broke out into violent riots, such as the Communal Riots of 1964. The merger might have brought the nations together, but it was tearing different communities apart.
On the 9 August 1965, it was decided that Singapore was to be separated from Malaysia.
The event was televised across the networks, and the iconic moment of Lee shedding tears to the decision was symbolic to the country's first uncertain moments of independence, and the driving force to propel the nation's surge towards self-reliance.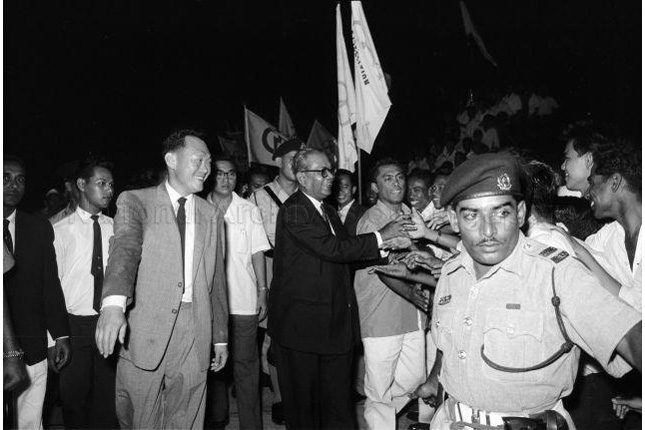 Lee Kuan Yew walks alongside Tengku Abdul Rahman before he heads off to London to discuss about Singapore's merger with Malaya. (c.1962. Image from National Archives of Singapore)
Merdeka! Merdeka!
In Singapore's first years of Merdeka (Malay for independence), Lee was backed by a team of dedicated and talented people, including S. Rajaratnam, Toh Chin Chye, Dr. Goh Keng Swee, Ong Pang Boon, and E.W. Barker. Trust was an utmost priority when it comes to delegating roles to the ministers. So Lee handpicked only the most capable members to serve in ministerial positions – Dr. Goh was put in charge of Defence, S. Rajaratnam in charge of Foreign Affairs, and Ong Pang Boon in Education.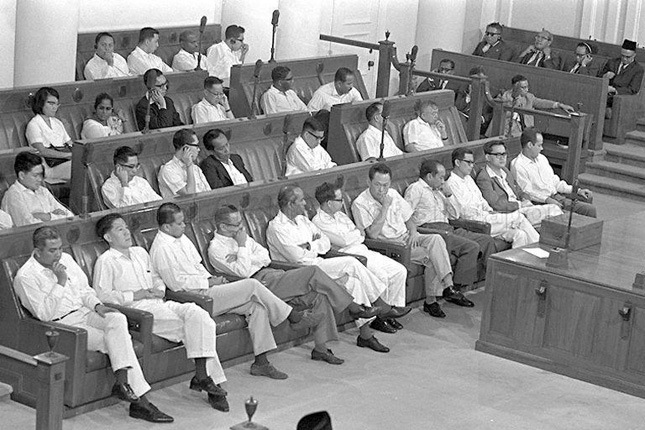 Lee Kuan Yew, Cabinet Ministers and Members of Parliament attending a Parliamentary sitting. (c.1965. Image from National Archives of Singapore)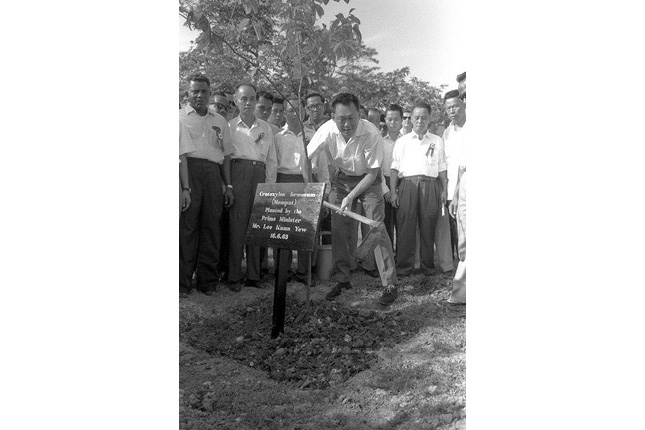 Prime Minister Lee Kuan Yew planting a mempat (cratoxylum formosum) tree at Holland Circus to mark the beginning of his tour of Ulu Pandan constituency. The ceremony also signified the beginning of an island-wide tree planting campaign. (c.1963. Image from National Archives of Singapore)
A vision for generations to come
As the founding father of a nation, Lee proved to be a sharp visionary who successfully piloted many policies that would later be mirrored by other nations. Anticipating challenges decades in advance, he ensured Singapore's long-term security of our water supply with Malaysia, and turned Singapore into a Garden City through national efforts in tree planting across the island.
Running a country required a firm hand, and Lee's firm approach to governance was a carefully calculated one. He believed that the country was too small to afford liberal experiments and priority had to be given to growth, safety, security, and equality.
He also saw a dire need to create a pool of capable and inspiring leaders for the future, and already in the early 1970s, began recruiting new talent into the government while easing out the first civil servants by the mid-1980s. He stepped down as Prime Minister in 1990 and nominated Goh Chok Tong to take his place.
For the next 21 years, Lee remained in cabinet as Senior Minister, then as Minister Mentor when Lee Hsien Long took over as Prime Minister in 2004. He left the cabinet on 14 May 2011 with Goh Chok Tong, marking a new chapter of a political era in Singapore.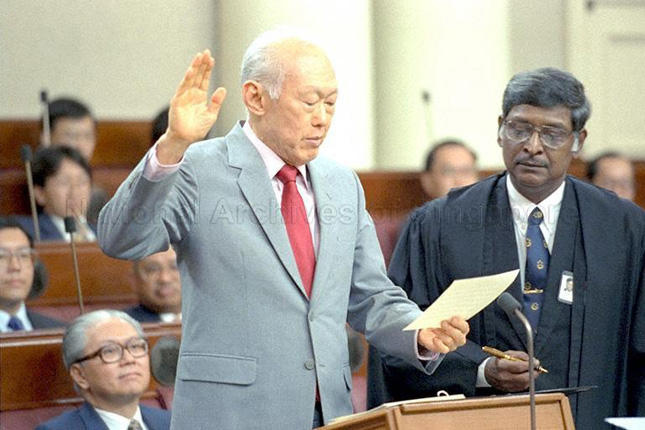 Lee Kuan Yew, who took on the role of Senior Minister when he stepped down in 1990, is seen taking an oath as a Member of Parliament during the first session of the Ninth Parliament at Parliament House. (c.1997. Image from National Archives of Singapore)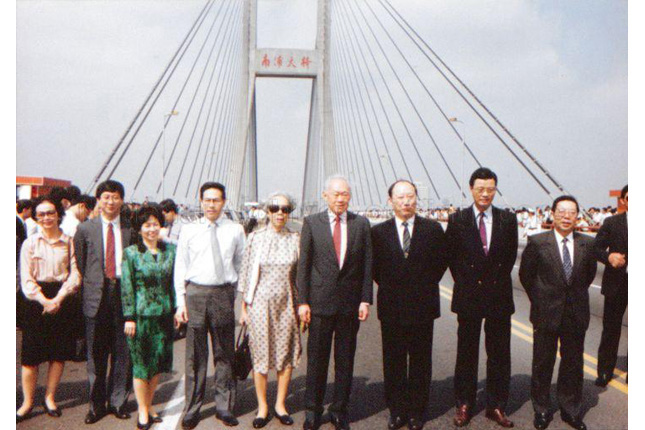 Group photograph of Senior Minister and Mrs Lee Kuan Yew, Deputy Prime Minister and Mrs Ong Teng Cheong, Senior Minister of State for Trade and Industry Lim Boon Heng (second from left) with officials at Nanpu Bridge, Shanghai, during their two-week official visit to China in October 1992 (c.1992. Image from National Archives of Singapore)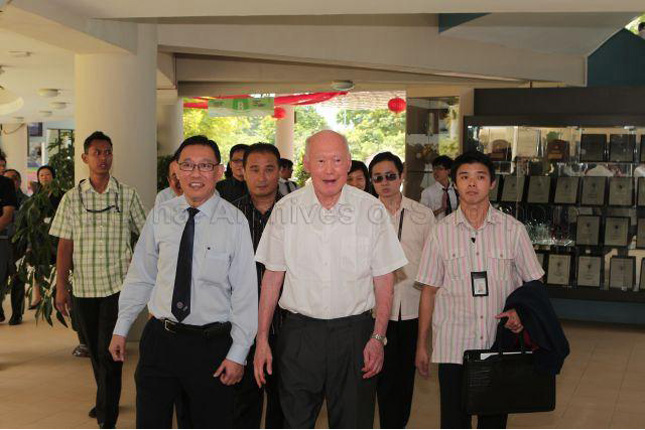 Minister Mentor Lee Kuan Yew arriving at the school foyer during his visit to Dunman High School. (c.2011. Image from National Archives of Singapore)
The nation is his legacy
Lee's work for the country has been commemorated through various tributes, such as the establishment of the Lee Kuan Yew School of Public Policy in 2004, and the creation of the Lee Kuan Yew Scholarship by the Public Service Commission.
Lee Kuan Yew passed away at 3:18 am on 23 March 2015 at the age of 91. A week of national mourning and a state funeral was held. His legacy – a sovereign nation that was safe, prosperous, and stable, and where millions continue to call home – Singapore.