TL;DR
David Saul Marshall (12 March 1908 – 12 December 1995) was a renowned criminal lawyer, and is fondly remembered as Singapore's first Chief Minister, who carried his signature pipe wherever he went. In his years of service, he was a champion for equality and a strong advocate against colonialism. He also founded the Workers' Party in 1957 and helped lay the foundation for many policies we have in Singapore today.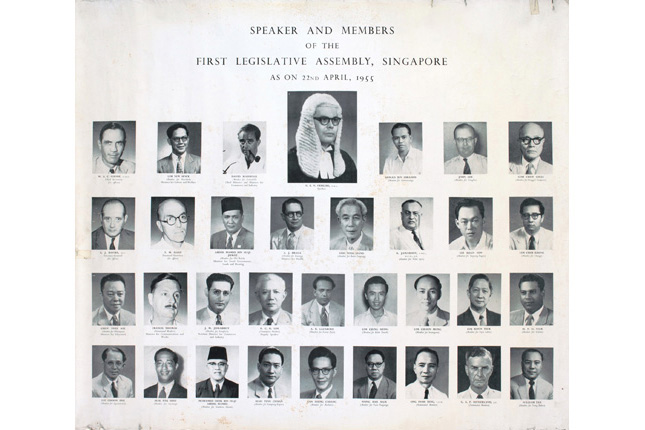 A poster titled 'Speakers and Members of the First Legislative Assembly, Singapore'. David Marshall can be seen on top row, third from left. (c.1955)
A patriot at heart
Born in Singapore to Saul Nassim Marshal, David Marshall (whose name was Anglicised in 1920), was brought up in a strict Jewish orthodox family with six younger siblings. He started kindergarten at the Convent of the Holy Infant Jesus before studying at Raffles Institution, where he became friends with the likes of Benjamin Sheares and George Oehler
Prior to finding an interest in law in his late twenties, Marshall studied textile manufacturing in Belgium before returning to Singapore to become a salesman and language teacher.
When his family caught wind of the impending Japanese invasion, they fled the country but Marshall chose to stay and help defend the nation, joining the Singapore Volunteers Corps (SVC) "B" Company. He was eventually captured and became a Prisoner-of-War (POW) for three years and six months.
During this period, his charming personality and sharp eloquence gained him popularity as a chief spokesperson for fellow inmates. The Japanese saw him as a threat and moved him from prison to prison as an attempt to limit his influence on the other prisoners. He was moved between 26 different camps and even sent to a forced labour camp in Hokkaido, Japan.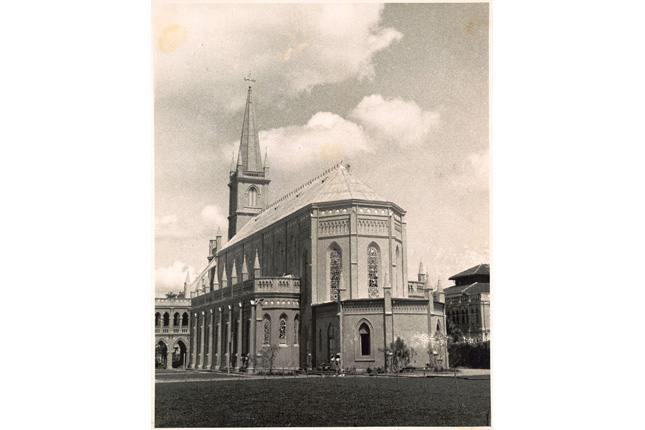 Founded by Father Jean-Marie Beurel in 1854, the Convent of the Holy Infant Jesus (CHIJ) - otherwise known as Town Convent - was a Catholic girls' school that also took in boys, including Singapore's first Chief Minister David Marshall, for a period of time from the 1900s till the Japanese Occupation. (Early-mid 20th century)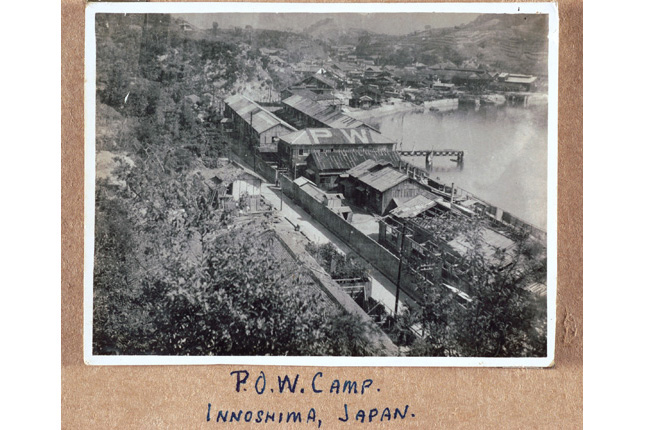 This Prisoner-of-War (POW) camp in Innoshima, Hiroshima was probably one of the 26 POW camps that David Marshall was sent to during the Japanese occupation. (c.1940s)
Champion for equality
After the war, Marshall completed his law studies and began his career at Aitken and Ong Siang, and later Allen and Gledhill, which he resigned from in 1950. Despite his busy schedules, he was already a member of the Singapore Progressive Party (SPP) in 1949, as an attempt to garner more support in bringing equality to the people of the country. He was determined to banish "racial superiority" and "break through sonic barriers against Asians and especially Jews".
Armed with a strong sense of justice, Marshall led the coalition Labour Front to victory in the 1955 Legislative Assembly election, together with Lim Yew Hock and Francis Thomas. He gained the immense support of 158,075 out of 300,199 eligible votes to become Singapore's first Chief Minister.
The Labour Front contested in the 1955 Legislative Assembly Election and secured the most votes. As it did not win by a majority, it formed a coalition government with the Singapore Alliance Party and Marshall became Singapore's first Chief Minister (c.1957)
A champion for self-governance
As Chief Minister, Marshall worked from his office at The Old Parliament House (today's Arts House), and was constantly pursuing self-governance for Singapore from the British. During his service, he was also faced with challenging events such as the Hock Lee Bus Riots, as well as other communist threats that threatened to tarnish his reputation.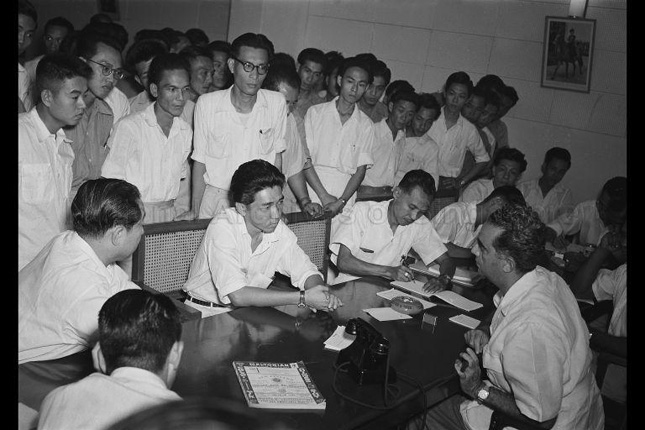 Chief Minister David Marshall at a meet-the-people session, meeting 40 busmen regarding the arrest of their leader, secretary of the Singapore Bus Workers Union, Fong Swee Suan, who was under emergency detention. (c.1955. Image from National Archives of Singapore)
Marshall sowed the seeds to many future policies, including the white paper on education policy that emphasised multilingual learning and a focus on the English language – ideas that would form the bedrock of Singapore's present education system.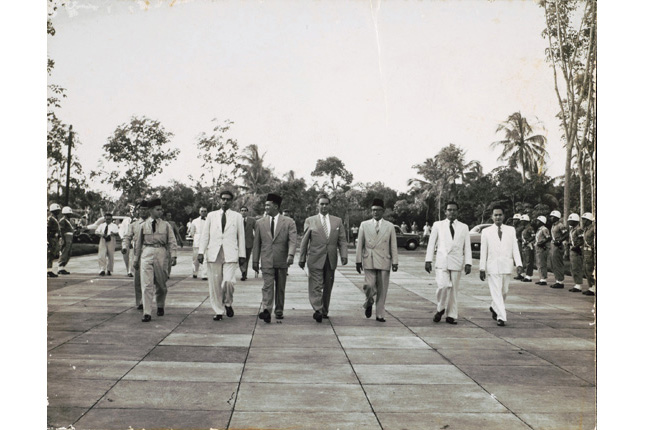 Chief Minister David Marshall on a goodwill visit to Jakarta in 1955. (c. 1955)
As a vocal fighter for workers' rights, Marshall was also heavily involved in passing the Labour Ordinance in 1955 to bring an end to long work shifts. He also helped to sculpt the initial Central Provident Fund (CPF) system, and helped introduce other schemes to get locals employed in the British-dominated civil service.
Following continued failure in his talks with the British to attain self-governance, Marshall resigned on 7 June 1956 after only 14 months as Chief Minister.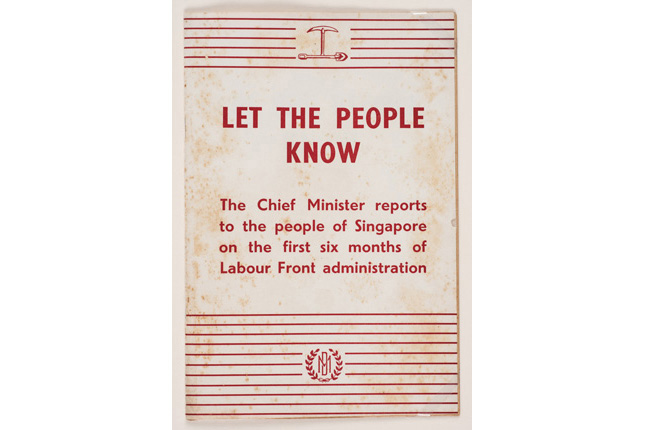 Marshall's style of governance rested on a high degree of accountability to the people. This booklet provides a detailed report of what his Labour Front government had done in its first six months (c.1955)
Continued service to the nation
In 1957, Marshall founded the Workers' Party and eventually won a seat in parliament after his victory at the Anson by-election on 15 July 1961. His stint at the party, too, was a short-lived one. In 1963, he left the political party due to numerous disagreements, and returned to pursue his law career.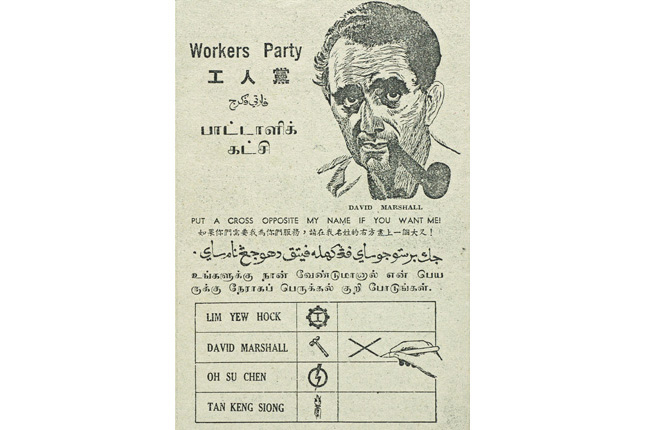 This was the campaign card used by David Marshall during the Anson by-election of 1961, in which he contested – and won – as President of the Worker's Party that he founded in 1957 (c.1961)
A firm believer of the jury system, the criminal lawyer was also a fierce opposition to capital punishment and the death penalty. His passion led him to win numerous acquittals for his clients over his 41 years as a lawyer. He also laid many milestones that included serving as the defence counsel in the first no-jury trial case in Singapore.
Invited by the former Foreign Minister S. Rajaratnam, Marshall also served as Singapore's first foreign ambassador to France, Spain, Portugal, and Switzerland from 1978 to 1993.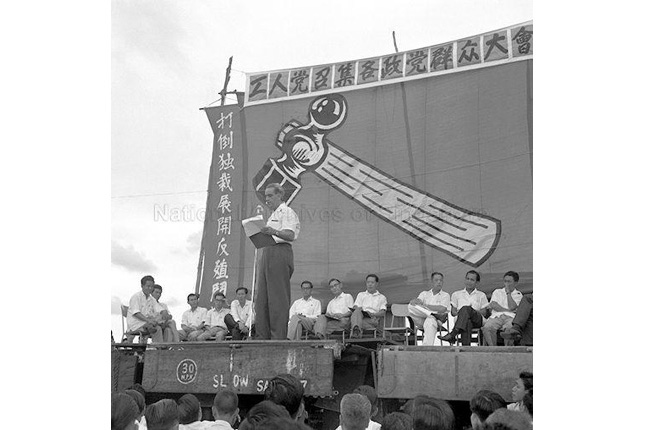 Leader of Workers' Party David Marshall speaking at a rally on Referendum Bill at Shenton Way. (c.1962. Image from National Archives of Singapore)
Legacy in criminal law
Marshall passed away at the age of 87, on 12 December 1995, after a year-long battle with cancer. He continues serving the law community in Singapore through numerous scholarships and fellowships, including the David Marshall Professorship in Law set up in 1995, and the David Marshall Prize for top student in criminal law at the Singapore Management University, established through donations by several members of Singapore's Jewish community.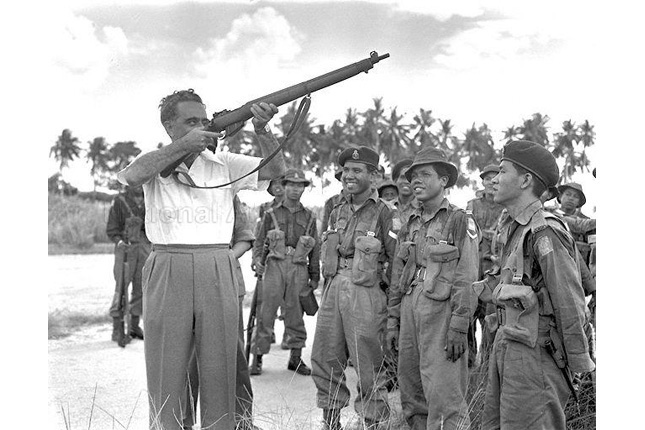 Chief Minister David Marshall visits Singapore Military Forces' Camp at Tanah Merah (c.1955. Image from National Archives of Singapore)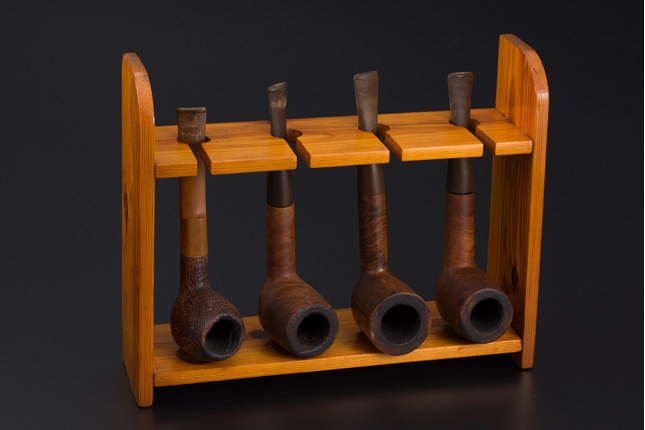 Marshall is best remembered during his Chief Minister days for his bush jacket, which created a stir in Parliament for its unconventionality, and the signature pipe that was a trademark on his office desk, which he was always puffing up to his last days. (c.1970s. Gift of Mrs. Jean Marshall)