Best known to most Singaporeans as the second President of Singapore, Dr. Benjamin Henry Sheares (b. 12 August 1907, Singapore - d. 12 May 1981, Singapore) was a well-loved and respected man whose early career in the field of medicine saw him achieve numerous breakthroughs including the internationally recognised technique of the lower Caesarian section.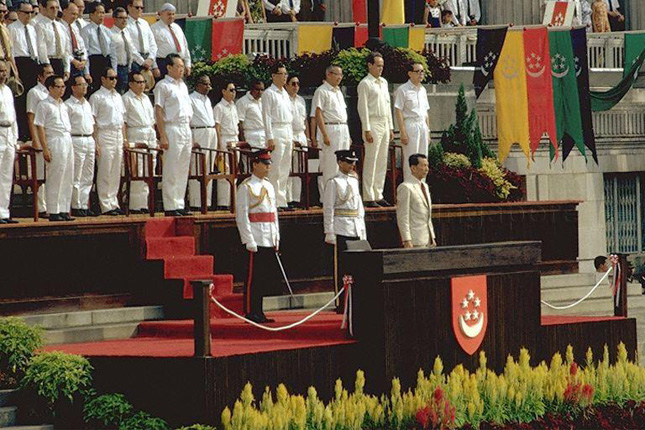 National Day Parade 1972 at the Padang - View of President Benjamin Sheares and ministers at City Hall. (Image from National Archives of Singapore.)
A Eurasian of British descent, Sheares was born into a humble family along with four other children. His success story in emerging from an impoverished family and challenging colonial discrimination against Asians in the field of medicine would prove to be an inspiration for many.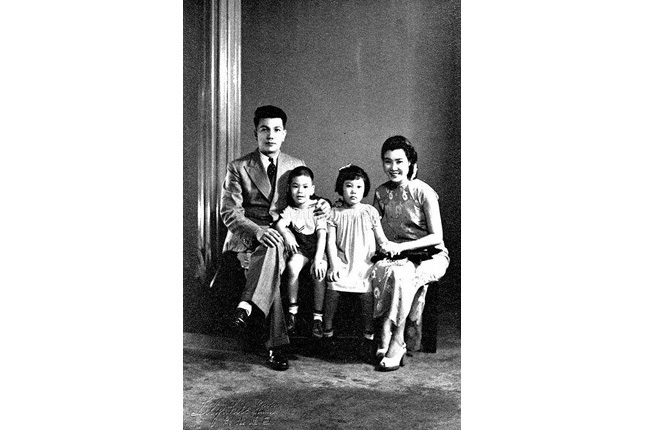 Studio family portrait of Dr Benjamin Henry Sheares with his wife, Yeo Seh Geok, and children, Constance Alice and Joseph Henry. (c.1946. Image from National Archives of Singapore.)
Early Years
Sheares was educated at the co-ed Methodist Girls' School, St Andrew's School and Raffles Institution in his early years before he was accepted into the King Edward VII College of Medicine where he was conferred the L.M.S. in March 1929.
At the age of 21, Sheares began his career as an assistant medical officer at the Sepoys Line General Hospital (today's Singapore General Hospital), before moving to the field of Obstetrics & Gynaecology (O&G) in 1931, becoming the first Singaporean and only assistant in the O&G department. By 1937, he had moved onto Kandang Kerbau Hospital (KKH) and was placed in charge of all obstetric patients.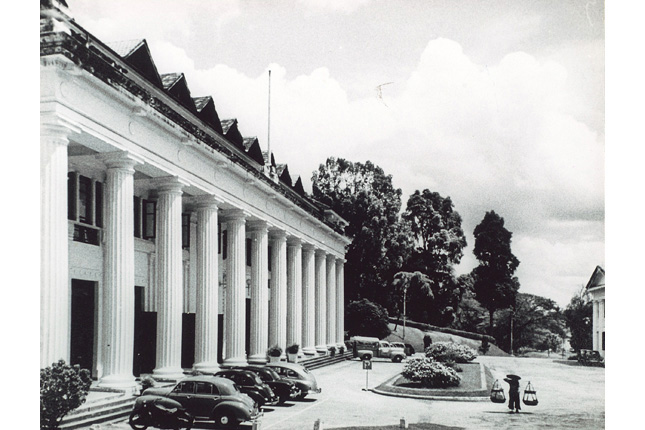 The College of Medicine Building is located within the grounds of the Singapore General Hospital at Outram Park. It was completed in 1926 to provide teaching space for the King Edward VII College of Medicine, which was the premier medical training institution in Singapore at the time (c.1950s. Image from National Museum of Singapore.)
Two years later, he was awarded the Queens fellowship to pursue his post-doctorate, which he had to postpone due to the Japanese Occupation. During this time, Sheares met his wife, Yeo She Geok, a Chinese national who was escaping from the Japanese invading China, and they would go on to have three children, Constance, Joseph and Edwin.
Sheares would become the head of the O&G department in KKH, where he worked a revolutionary and new surgical technique, the lower Caesarian section, which was named after him. This surgical technique helped drastically reduce the morality and morbidity rate in pregnant women, from 70 to 80 deaths per 10,000 deliveries (1930s) to 9.5 deaths per 10,000 deliveries by 1955. The lower Caesarian section surgical process became internationally recognised in 1960.
Despite opposition from some colleagues and religious communities, Sheares was a big advocate for sterilisation and family planning, a move that that would see the Voluntary Sterilisation Act passed in 1969 without opposition.
For his accomplishments, Sheares would receive numerous awards and recognitions that include Acting Professor of Obstetrics and Gynaecology, University of Malaya (1948) and Honorary Fellow, Royal Society of Medicine (1975).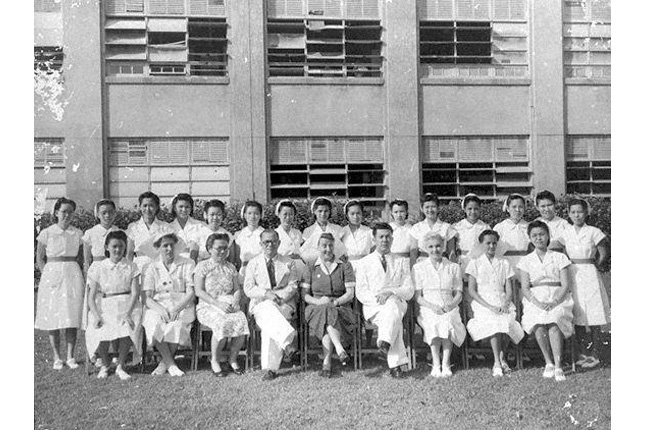 Group photograph of nurses taken with honorary consultant of Kandang Kerbau Hospital, Dr Benjamin Henry Sheares (seated fourth from right) at Kandang Kerbau Hospital. (c.1960. Image from National Archives of Singapore.)
Career & Accomplishments
A private man who was known to be shy and uncomfortable in crowds, Sheares was surprised when then Prime Minister, Lee Kuan Yew, approached him to be the President of Singapore, despite knowing that Sheares had neither been in public office nor experience in diplomacy. Yet a sense of patriotism and duty to the country soon saw him take up the post on 2 January 1971, less than two months after the passing of Singapore's first president, Yusof Bin Ishak.
Sheares was very much well loved by the people, and even during his presidency, continued to lead a modest life that included heading back to his home daily for lunch and dinner. Sheares even refused a higher salary for his role as President, and even took six months to agree to this third and final term as Singapore's President.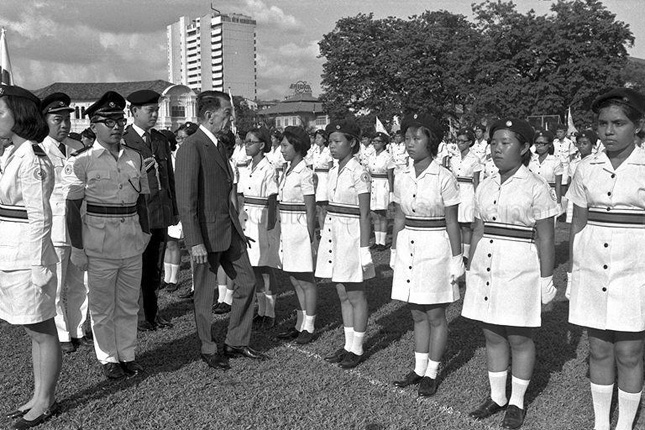 President Dr Benjamin Henry Sheares inspecting voluntary aid detachments and youth members of Singapore Red Cross Society at St Joseph's Institution grounds in Bras Basah Road during the Red Cross parade to commemorate World Red Cross Day. (c.1972. Image from National Archives of Singapore.)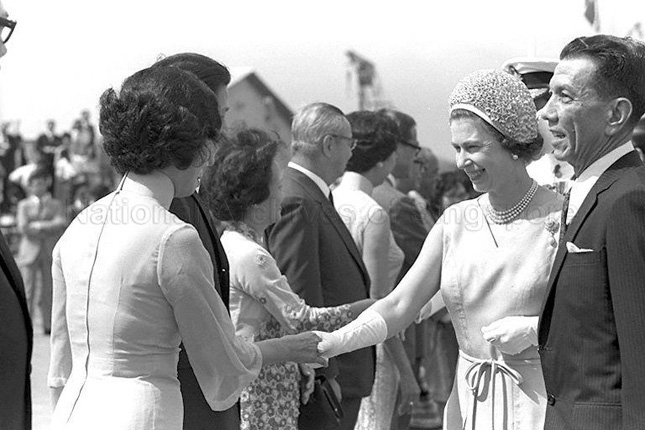 President Benjamin Sheares introducing Cabinet Ministers to Her Majesty Queen Elizabeth II during her three-day state visit to Singapore. (c. 1972. Image from National Archives of Singapore.)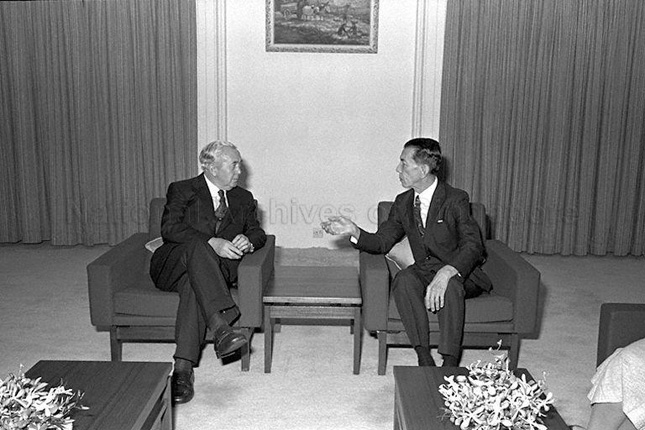 Former British Prime Minister (PM) Sir Harold Wilson in conversation with President Dr Benjamin Henry Sheares during Sir Wilson's courtesy call on the President and First Lady at the Istana. (c. 1978. Image from National Archives of Singapore.)
In November 1980, Sheares was found to have a tumour in his lungs and slipped into a coma on 3 May 1981 and passed away on 12 May. In total, Sheares served 10 years as President. On 15 May 1981, 85,000 people came to pay their last respects at his state funeral. In a moving tribute, Prime Minister Lee Kuan Yew said of Sheares', "I used to call on him regularly, about once a month, to keep in touch. He received copies of all-important papers and knew of Cabinet decisions. Whenever I referred to sensitive developments concerning our security or our economy, there was always immediate cognisance of the dangers that could unfold, and he would twinkle his eyes or give one of his quizzical looks."
Portrait of Dr. Benjamin Henry Sheares dating between 1971-1981. (Image from National Museum of Singapore.)
Today, the biggest testament to Sheares is the 1.8 kilometre Benjamin Sheares Bridge that was officially launched in 26 September 1981 by then Minister for Environment, Ong Pang Boon. It also marked the completion of the 19-kilometre East Coast Parkway (ECP) that coincided with opening of Singapore Changi Airport.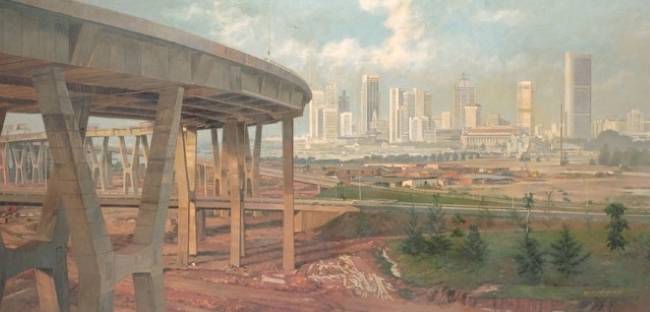 Benjamin Sheares Bridge - The Viaduct by Chua Mia Tee (c.1981). The bridge was completed in 1981 as part of the final stages of the East Coast Parkway (ECP), built to coincide with the opening of the Singapore Changi Airport. (Image from National Museum of Singapore.)