'Plan of the Town of Singapore', also known as the "Jackson Plan", Singapore, 1828, lithograph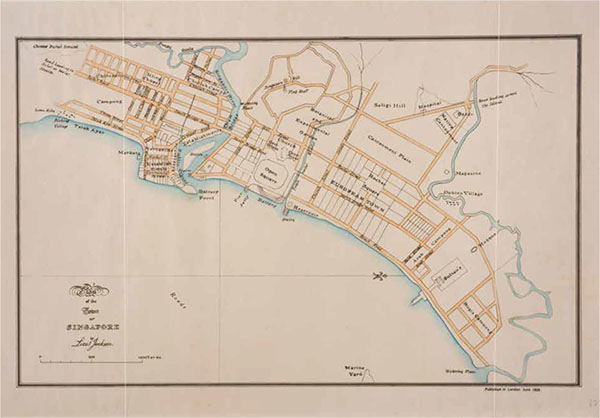 This is a lithograph of the original steel engraving published in 1828, which was prepared by Lieutenant Philip Jackson based on the plan that he drew up in 1822. Under Jackson's plan, the different migrant communities in Singapore—such as the Europeans, Chinese, Indians, Arabs and Bugis— were placed in separate ethnic enclaves. However, the various ethnic enclaves were never very strictly segregated. Muslim mosques and Hindu temples were constructed in Chinatown, while Kampong Bugis had become Kampong Java by the 1830s.
This print was published in John Crawfurd's Journal of an Embassy to the Courts of Siam and Cochin-China in 1828. John Crawfurd followed William Farquhar as the second (and final) British Resident of Singapore. After Crawfurd, the position of Resident was replaced with that of the Governor of the Straits Settlements, as Singapore, Melaka and Penang were grouped together to form the Straits Settlements from 1826.
---
This is an extract from "The Singapore Story through 60 objects" written by Kennie Ting, Director, Asian Civilisations Museum and Peranakan Museum & Group Director of Museums, National Heritage Board. This article was first published in Cultural Connections Volume IV 2019 by Culture Academy Singapore.
---
Learn more about the Plan of the Town of Singapore in this video