TL;DR
Queenstown today is known as one of Singapore's oldest housing estates. But back in the day, the housing project was one of the nation's most ambitious, designed to give residents convenient access to all the living amenities that they needed.
Text by Kwek Li Yong
MuseSG Volume 8 Issue 1 - Apr to Jun 2015
Queenstown today is known as one of Singapore's oldest housing estates. But back in the day, the housing project was one of the nation's most ambitious, designed to give residents convenient access to all the living amenities that they needed. A guided tour, called My Queenstown Heritage Trail, hopes to take participants on a walk down memory lane by sharing the estate's story through its landmarks and the memories of its earliest residents.
Its story began on 27 September 1953, when British officials from the Singapore Improvement Trust (SIT) named the new town after Queen Elizabeth II to mark her coronation the previous year. The colony suburb was the most ambitious project initiated by SIT to create a self-contained and financially independent new town with factories, shops, markets, schools and clinics away from the congested downtown — but close to residents.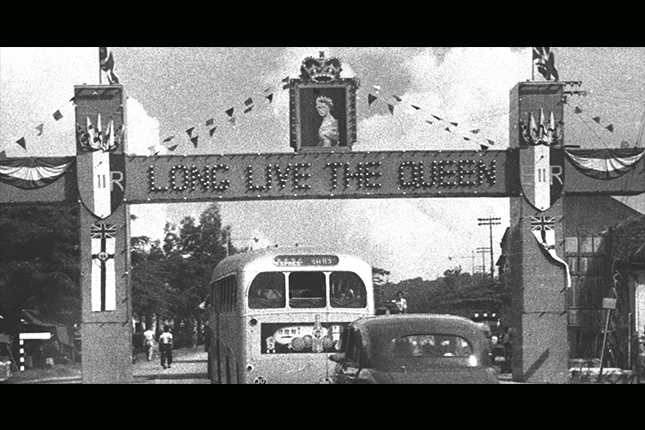 Arches commemorating the Queen's coronation, 1953
Photo courtesy of National Archives of Singapore.
Bounded by Ridout Road, Tanglin Road, Alexandra Road, Holland Road and the Malayan Railway, the satellite town comprised 11,000 flats housing 70,000 people, at a cost of about $80 million — a princely sum at that time.
Construction began at the former Buller Camp in Princess Estate and the former Normanton Barracks in Queens' Crescent Estate. The former burial ground and farmland at Boh Beh Kang village (Hokkien: 无尾港; No Tail River) were later cleared to make way for public housing. When the Housing and Development Board (HDB) took over from the colonial government's SIT in February 1960, work had begun in three out of the five planned neighbourhoods in Queenstown, namely Neighbourhood one (Princess Estate), Neighbourhood Two (Duchess Estate), Neighbourhood Three (Commonwealth), Neighbourhood Four (Tanglin Halt) and Neighbourhood Five (Queens' Crescent). HDB later added two more neighbourhoods in Neighbourhood Six (Mei Ling) and Neighbourhood Seven (Buona Vista).
A myriad of social institutions were pioneered in Singapore's first satellite town. As a satellite estate, each neighbourhood came with its own amenities while larger facilities such as the library and sports complex were shared by the entire town. In 1956, the first technical school was opened at Queenstown Secondary Technical School to equip future generations of Singaporeans with technical knowledge and skills to carry Singapore through its decade of industrialisation.
In 1963, Singapore's first polyclinic was built along Margaret Drive to provide access to subsidised healthcare. Two years later, the standalone Venus and Golden City theatres were opened to the public. In 1970, the estate's first branch library and sports complex were completed.
Despite the upgrades to the estate, Queenstown's oldest flats were 30 years old by 1980 and soon mirrored the greying of their original occupants. The next generation of residents who grew up in Queenstown moved away, opting for newer estates due to a lack of development in Queenstown and various government restrictions on owning flats in mature estates. Demolition works in the ageing residential estate commenced in the 1990s and 2000s, and many iconic landmarks such as Forfar House, Tah Chung Emporium, Queenstown Japanese Gardens, Queenstown Remand Prison and Margaret Drive Hawker Centre were torn down.
Rejuvenation in Queenstown took the form of the Selective Enbloc Redevelopment Scheme (SERS), where high-density precincts were envisioned for Queenstown's older neighbourhoods. In June 2014, HDB announced that 31 residential blocks at Tanglin Halt Road and Commonwealth Drive would be redeveloped under SERS.
Retiree Alice Lee, 66, has been living in a three-room at on the 10th storey of Block 33 Tanglin Halt Road since she got married 44 years ago. She remembers her first visit from her grandfather's shophouse at Tras Street to her matrimonial home vividly: "I was extremely petrified when I walked out of the lift on the ninth floor. This was my first experience in a high-rise building and I clung onto my husband's shoulder tightly as I inched up to my flat. I dared not open my eyes because I was very afraid of losing my balance and falling over the parapet."
Besides the historical landmarks, Madam Lee's recollection of her memories at Tanglin Halt is one of the key highlights in a guided tour of Singapore's first satellite estatereleased in 2015. Organised by the civic group, My Community, and supported by the National Heritage Board and Queenstown Citizens' Consultative Committee, My Queenstown Heritage Trail (Duchess + Tanglin Halt Tour) uncovers poignant stories from generations of residents, shopkeepers and librarians who live, work and play in the estate.
Dr Chia Shi-Lu, Member of Parliament for Tanjong Pagar GRC (Queenstown Division), says: "This is the first heritage trail in Singapore which introduces the history and heritage of the estate by having residents, shop owners and librarians tell their own stories and personal encounters. Although Queenstown is small in size, our stories are big in heart and soul, and certainly speak volumes of life in the 1960s and 1970s. We are thankful to have been able to collaborate with many different individuals and organisations to bring this interactive Heritage Trail to fruition."
Kwek Li Yong is President of My Community and Chairman of Queenstown Heritage.
Tours are open to the public and interested participants can register online here, by emailing myqueenstown@gmail.com or by calling Queenstown Community Centre at 64741681.
For more information on self-guided tours, click here.