TL;DR
Queenstown, also known to some as the queen of estates, was developed as Singapore's first satellite town in 1952, back when Singapore was still a British colony. This 'satellite town' model set the precedent to what we call a 'heartland' today – a self-sufficient housing estate not in the city centre, complete with amenities, schools, shops, markets, cinemas, and places of worship.
Watch: Queenstown: The First Satellite Town
---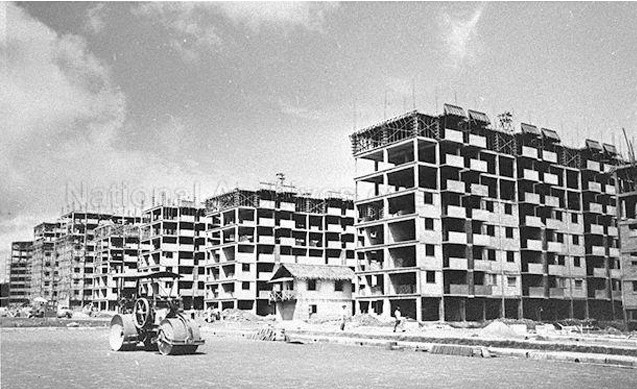 The first HDB flats being built in Queenstown. (c1962. Image from National Archives of Singapore)
Singapore's first public housing skyscraper
The project was started by Singapore Improvement Trust (SIT) and was named after Queen Elizabeth II to mark her coronation. The ambitious plan included five estates – Princess Estate, Duchess Estate, Tanglin Halt, Commonwealth, and Queens Close and Crescent.
In 1952, the first construction works started at the former Buller Camp in Princess Estate, laying the groundwork to the concept we affectionately call 'heartland' today.
What used to be the former burial ground and farmland at Boh Beh Kang village were cleared to make way for the new buildings, and welcome a new era in Singapore's public housing.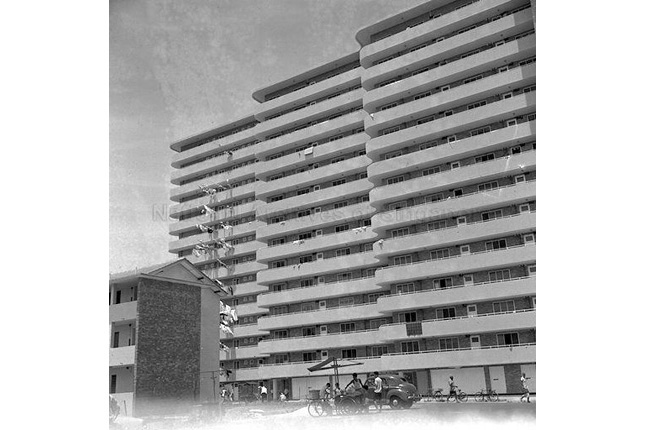 The former Forfar House, a streamlined 14-storey block of 106 flats built by the SIT. (c1956. Image from National Archives of Singapore)
In 1956, Forfar House at Queenstown was converted to become Singapore's first public housing skyscraper. Singaporeans were thrilled to move from their village huts to a high-rise residential building. Standing at a towering 14-storeys, its distinctive zigzag facade also played an important role in resisting the strong winds. Its flats were among the first to be equipped with a modern toilet and built-in rubbish chutes. This icon has been demolished and replaced by the even taller 30 to 40-storey Forfar Heights residential buildings today.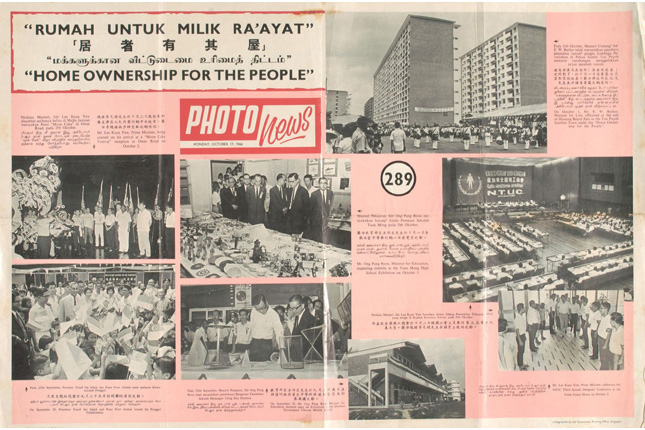 A poster with the slogan 'Home Ownership for the People'. Within HDB's first Five-Year-Programme, they had built 53,000 flats and developed Queenstown as a modern, self-contained satellite town. (c. 1966. Image from National Museum of Singapore.)
The buildings of Queenstown built by the SIT are today seen as gems which helped shape Singapore's housing landscape.
The Princess House at Alexandra Road was once part of the Princess Estate. The building lived up to its name by serving many communities during its time. It began as an office for SIT, and got converted to the HDB headquarters in 1960.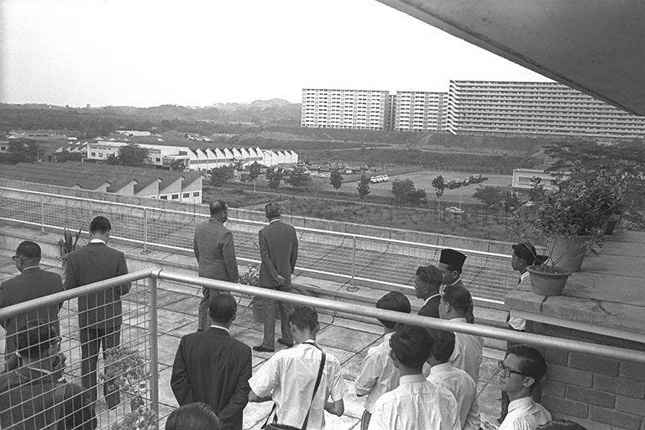 Minister for National Development Lim Kim San briefing Yang di-Pertuan Agong Tuanku Syed Putra as he views Queenstown housing estate from the sixth storey of Princess House during his state visit to Singapore. (11 November 1963. Image from National Archives of Singapore)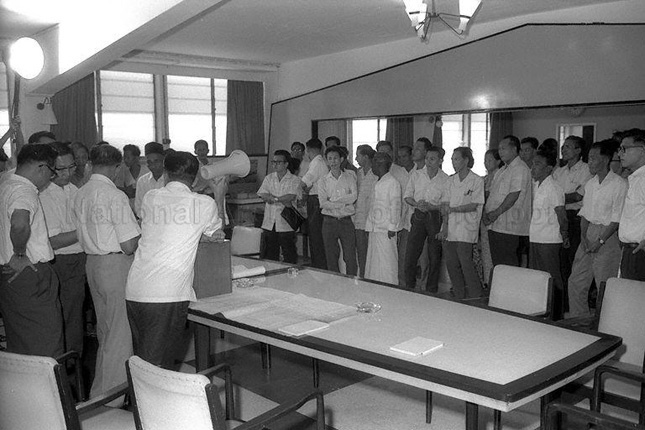 Ballot for the allocation of shophouses and lock-up stalls at the Geylang Serai Estate held at the board room of the HDB at the Princess House. (20 August 1964. Image from National Archives of Singapore)
The other Queenstown gem that helped set a milestone on Singapore's hawker culture journey was Commonwealth Avenue Wet Market. One of the first wet markets on the island which opened on 23 October 1960, is today the last remaining market designed by SIT. In 2014, Commonwealth Avenue Wet Market was gazetted for conservation.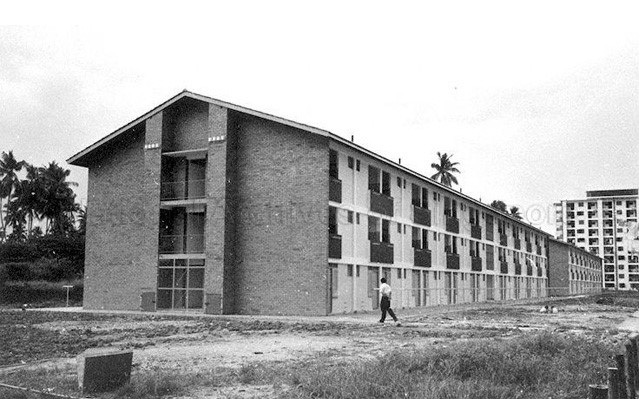 Three-storey HDB flats possibly at the Duchess Estate in Queenstown, many of them can still be seen today. (c1960s. Image from National Archives of Singapore.)
The town of many 'firsts'
When the Housing Development Board (HDB) took over in 1960, Queenstown became the pioneer town for modern Singapore's first public housing ambitions.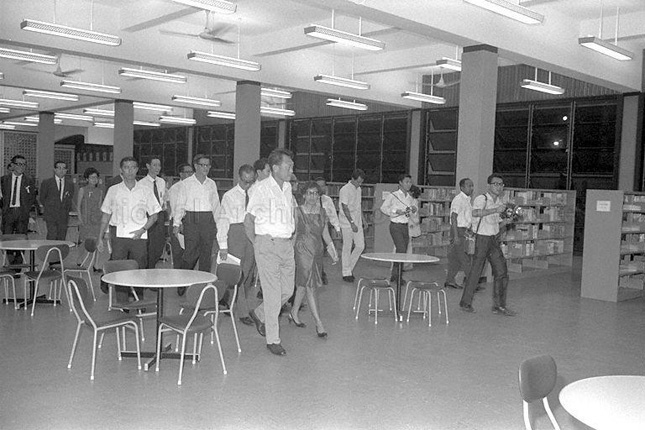 Over 90 per cent of Singaporeans today live in HDB flats, and the very first ones, 45, 48, and 49 Stirling Road, were built in Queenstown. The Bukit Ho Swee fire in 1961 rendered its villagers homeless, but these flats were built just in time to be offered to them. The first point blocks on Mei Ling Street quickly followed and were put on sale in April 1970.
To create a complete heartland, the HDB then introduced amenities for learning, entertainment, health, and sports. This push gave birth to Queenstown Public Library, Singapore's first branch library; Queenstown Polyclinic, the first polyclinic; and Queenstown Sports Complex, the island's first neighbourhood sports complex.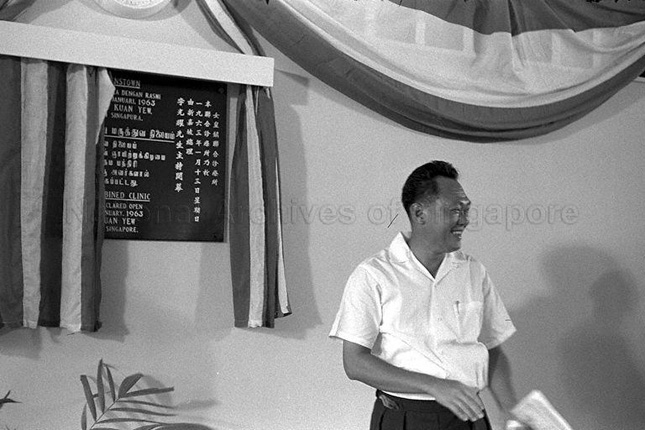 Then Prime Minister Lee Kuan Yew at the official opening of the Queenstown Combined Clinic at Margaret Drive. (c1963. Image from National Archives of Singapore)
Queenstown is today one of the most sought-after areas for residents, as it continues to live up to its name as the queen of estates.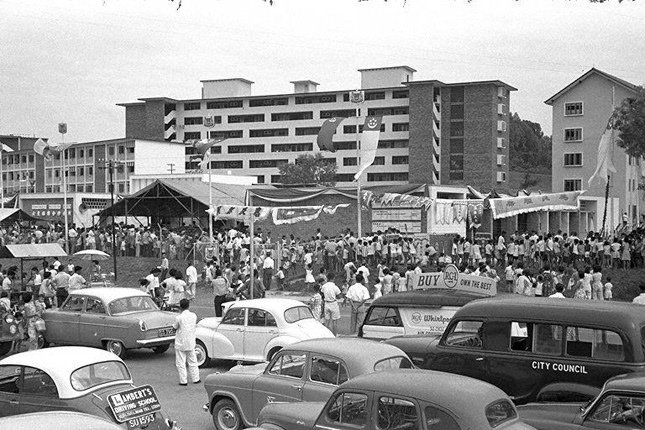 When the Queenstown Combined Clinic (former Queenstown Polyclinic), huge crowds attended the official opening by then Prime Minister Lee Kuan Yew. (c13 January 1963. Image from National Archives of Singapore.)