Step into a hawker centre and your instincts kick in. It's where you sniff out iconic favourites, play the waiting game for a table, bump into familiar faces from the neighbourhood. Yet amidst the sights, smells and sounds of our beloved hawker centres, Singaporeans often overlook a fundamental feature of these community dining rooms - the architecture and design that makes it a staple destination for all.
Growing with the community
From the 1960s, Singapore saw the construction of new housing estates such as Queenstown, Toa Payoh and Ang Mo Kio. Soon, the first hawker centres in Singapore began to emerge, serving as a central locale for the community, providing affordable, accessible food options, and a place to connect with neighbours.
As the 21st century rolled around, HDB estates were upgraded to accommodate the burgeoning population, and hawker centres were no exception. To promote and encourage inclusivity for the elderly and handicapped alike, more user-friendly features were added, from sheltered walkways to increased seating and wheelchair ramps.
Icons of Hawker Heritage
Often a centrepiece of their respective neighbourhoods, hawker centres come in all shapes and sizes, some with more unique features than others. From iconic façades and traditional motifs, to varying typologies as seen through the building shape and roofs, hawker centres have grown to be an important part of Singapore's landscape and a reflection of our built heritage.
Tekka Market & Food Centre
Originally built in 1915, Upgraded in 1982
A prominent landmark in Singapore during the early 20th century, the original architecture of Tekka Market consisted of ornate steel carvings and multiple archways, inspired by colonial designs. Today, the Tekka Market & Food Centre has relocated across from the original site in 1982. It houses a wet market, shopping arcade and hawker centre, and is one of the largest establishments of its kind in Singapore.
According to photographer Rebecca Toh, the current use of colours for the market's façade and interior complements the vibrancy of its hawkers and patrons. Splashes of green, yellow, orange and blue are reminiscent of its colourful history as a 'People's Market' where patrons of all ethnicities gathered for their daily marketing.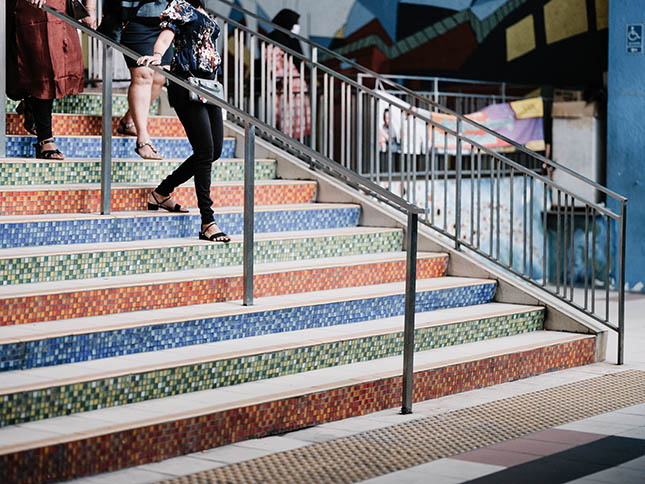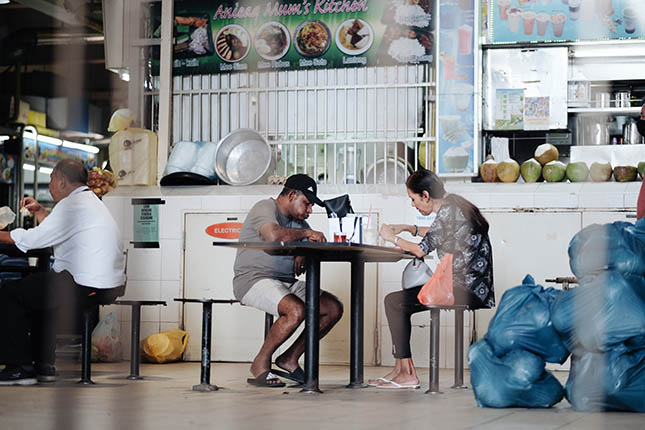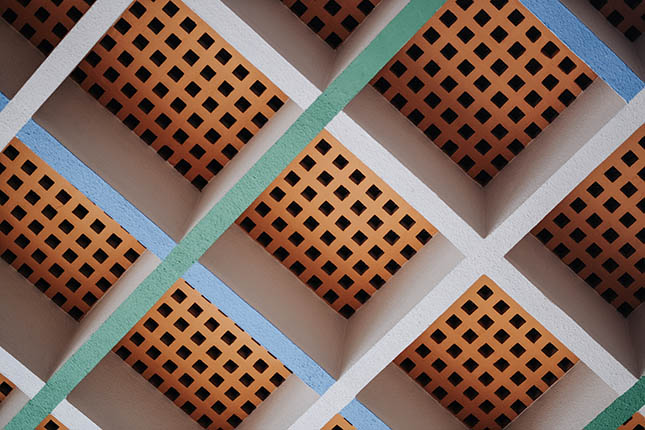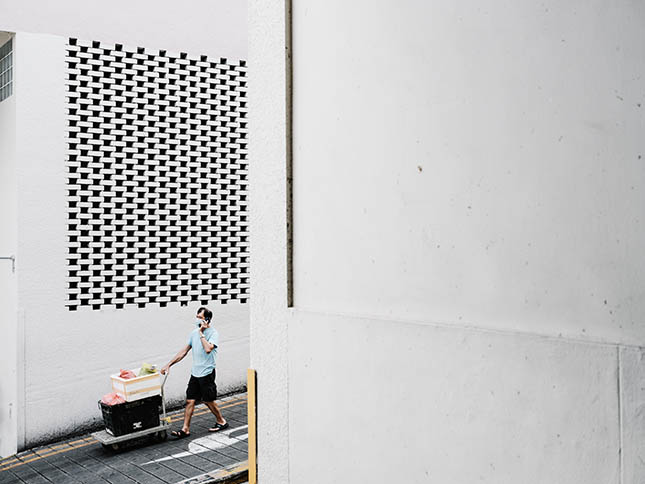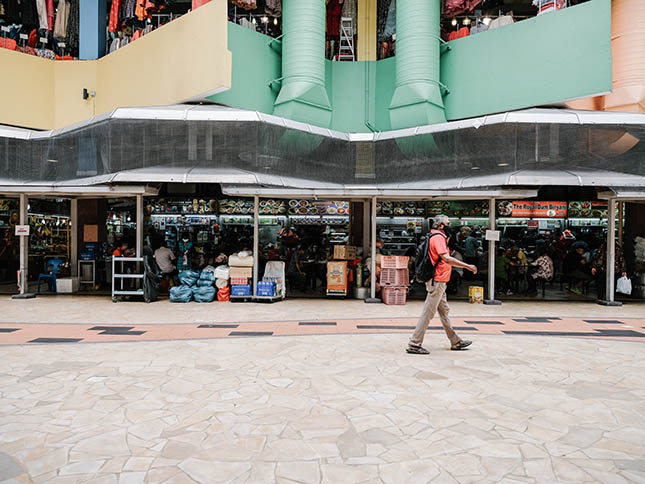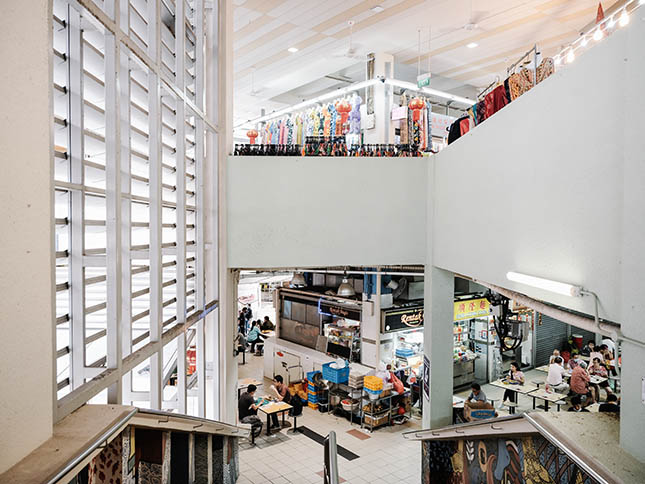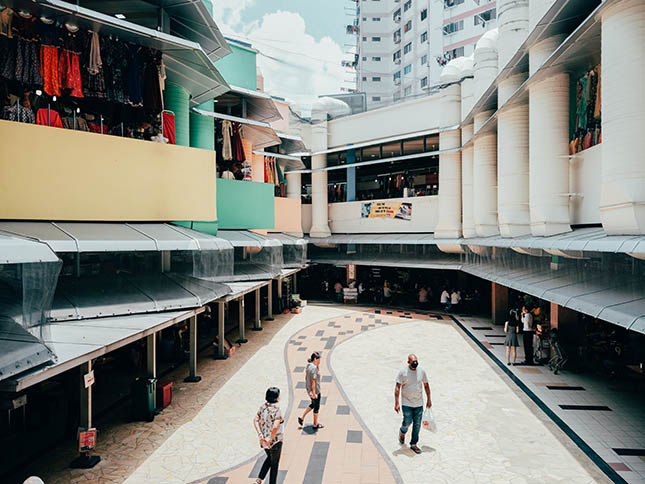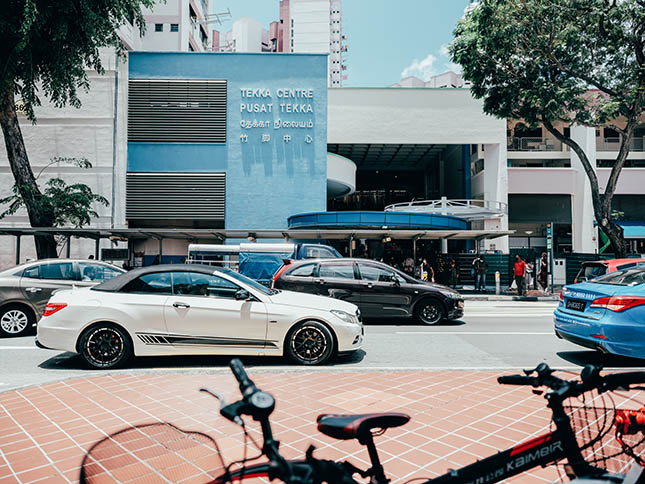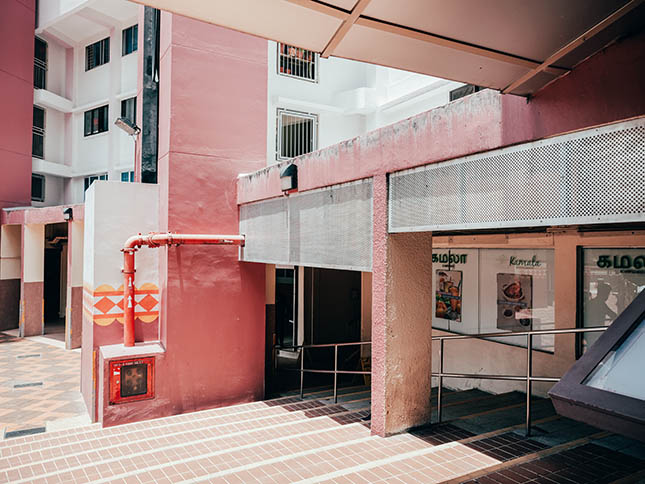 Tiong Bahru Market & Food Centre
Originally built in 1950, Upgraded between 2004-2006
Set in the iconic heritage neighbourhood of Tiong Bahru, the current building façade pays homage to the Streamline Moderne and Art Deco architecture of its surrounding residential homes, an inspiration from its Singapore Improvement Trust (SIT) foundation.
A hotspot for most of Singapore's hawker favourites, the stalls at Tiong Bahru Market are always abuzz with queues. Renovation works here helped to improve seating capacity, with ample room of approximately 1.2 metres between tables. To meet the needs of its elderly patrons, movable seats were introduced to improve wheelchair-access and better flow. A landscaped central courtyard allows natural light to flow into the dining area, and down to the wet market below. It also facilitates good ventilation for both hawkers and patrons.
The multiple open spaces within this building allows for increased interaction between members of the community as well as visiting locals, adding to the charm of this iconic neighbourhood.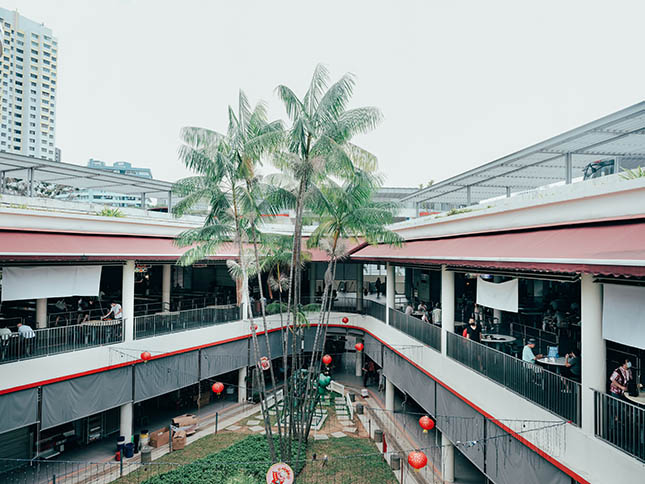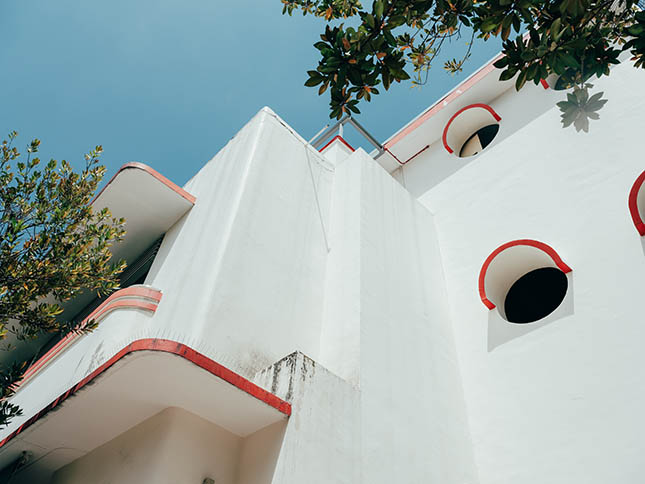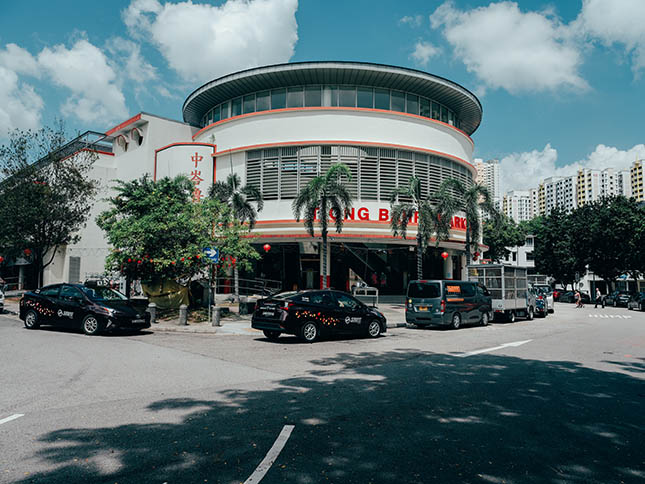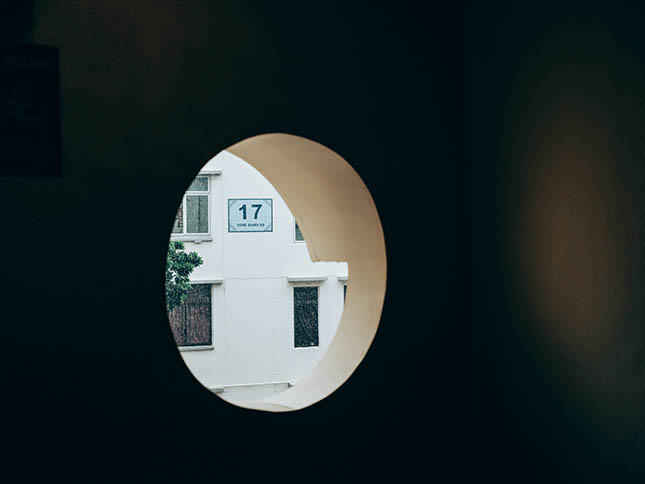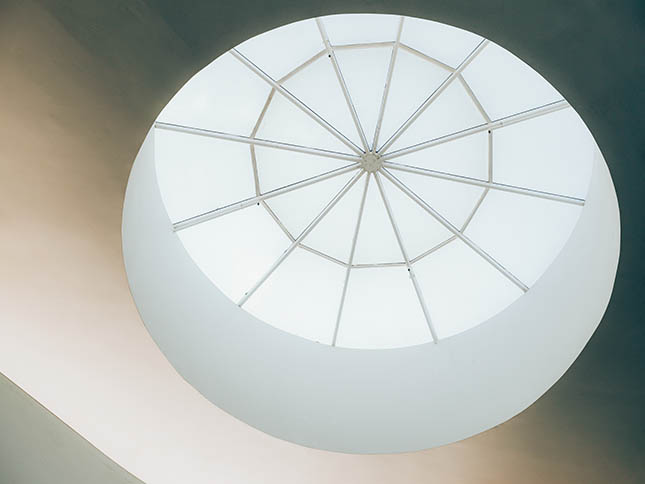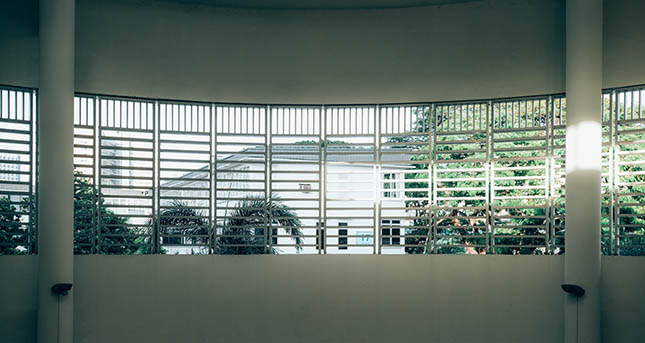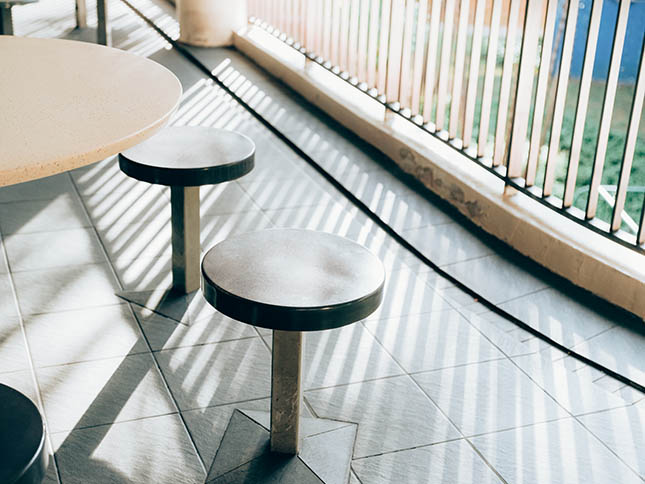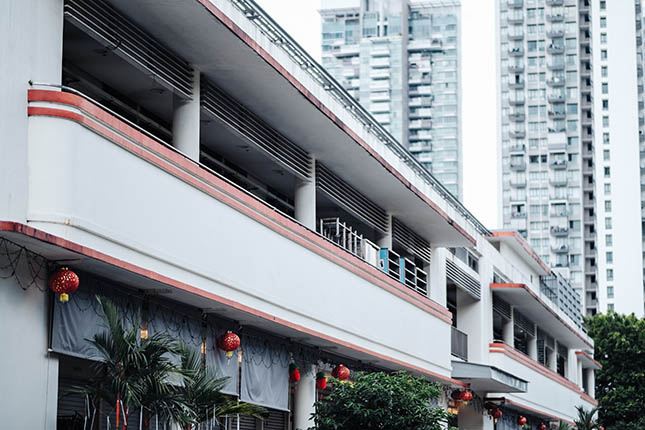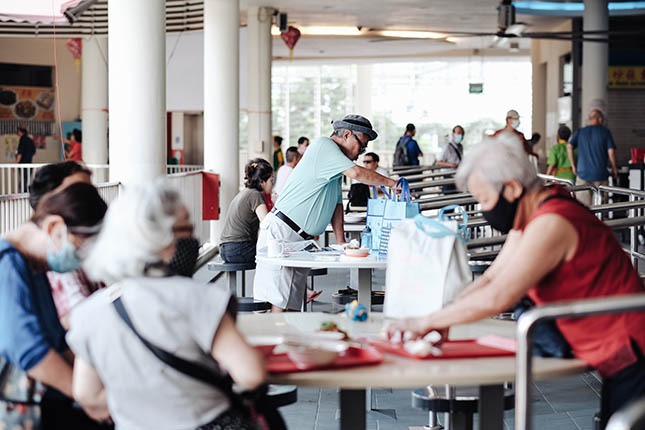 Geylang Serai Market & Food Centre
Built between 1962-1964, Upgraded between 2006-2009
First established in 1964 as Pasar Geylang Serai, it consisted of a wet market, food centre and textile stalls under a single-storey zinc roof. This renowned spot underwent a major reconstruction, opening in 2009 as Geylang Serai Market & Food Centre, with beautiful new features and increased accessibility.
Modelled after a Malay kampung house, the new façade allowed for natural ventilation and light to stream in, making it comfortable for patrons to enjoy their meals. Incorporating traditional motifs, the tiered roof resembles that of a thatched house, with woven baskets lining the ceiling as décor. Raising the ceiling to twice its original height created a naturally ventilated dining hall.
An icon of the neighbourhood, the new seating arrangement accommodated for small and large family groups alike, maximising the number of customers to dine comfortably, and to instil a sense of community. The vast rows of stalls, amply spaced, allow patrons an overview of the variety of food stalls available, and to assess queues from the popular ones.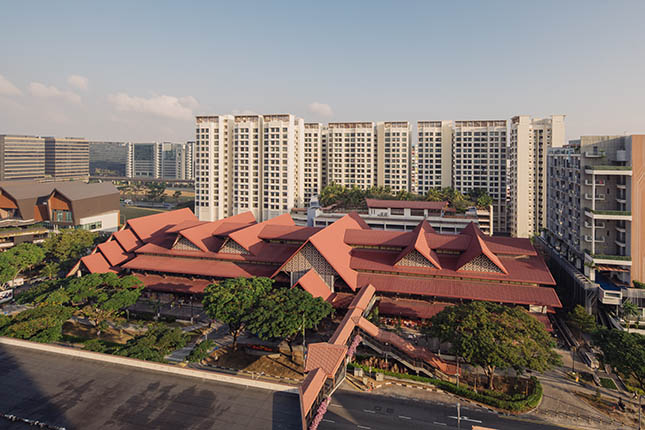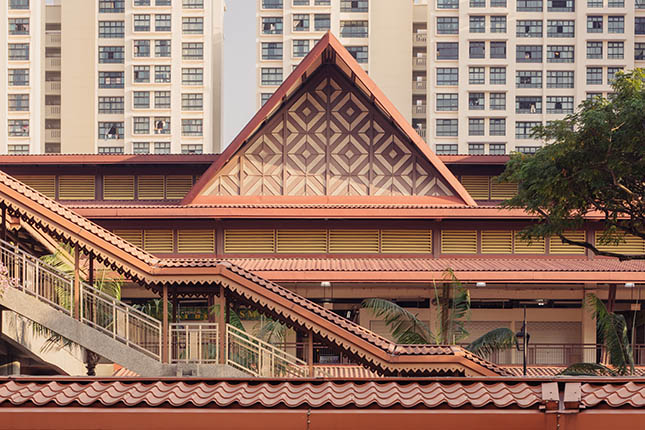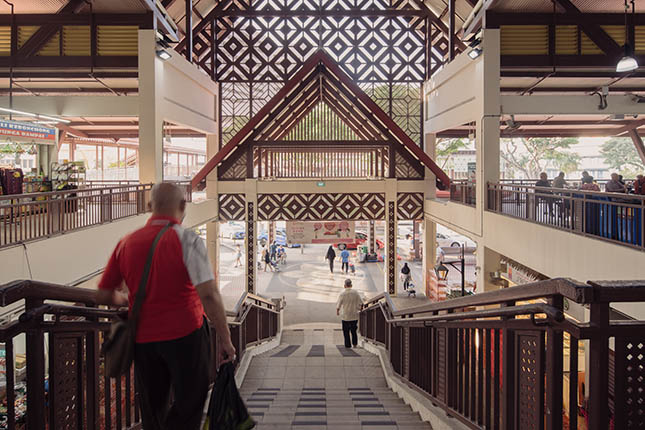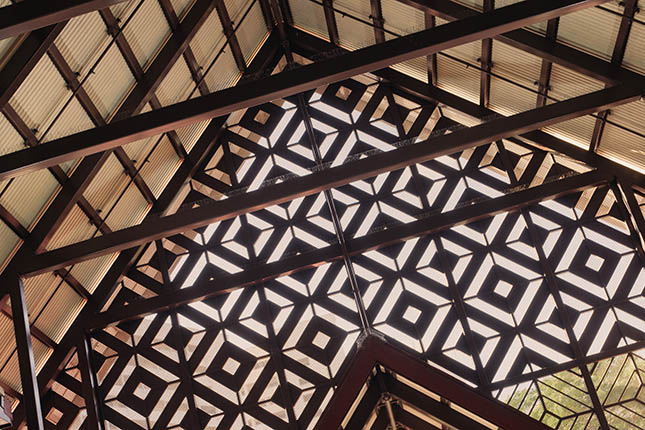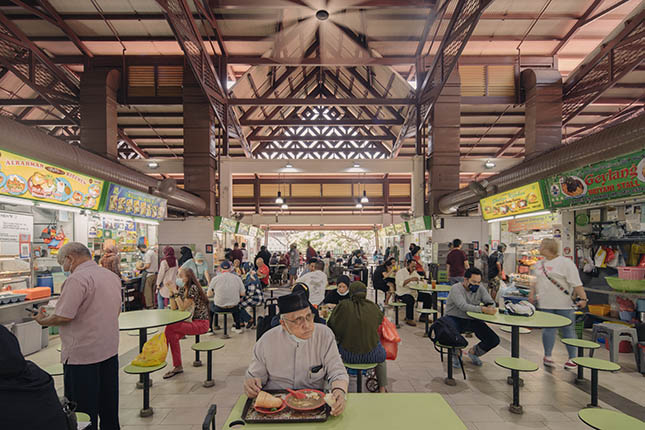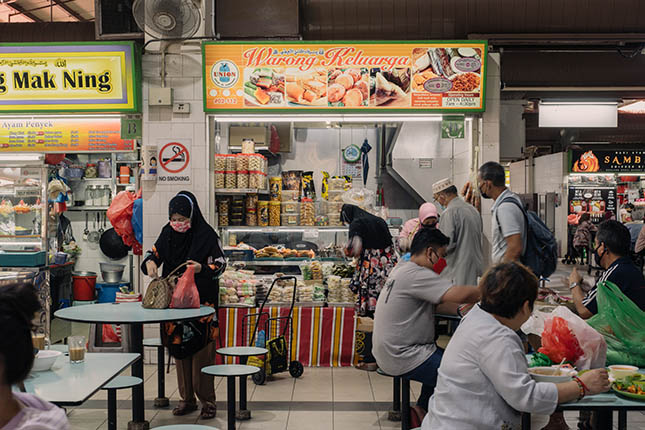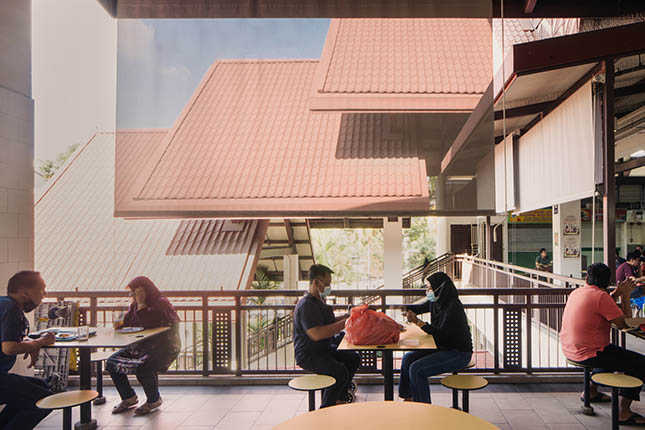 Commonwealth Crescent Market & Food Centre
Opened in 1969, Upgraded in 1998
Tucked between the mature estates of Queenstown and Commonwealth, this small yet popular establishment is home to some of the best local hawker fare.
In late 1998, it underwent a major transformation, turning into a two-storey market and food centre. Styled to provide a 'festive' atmosphere, its current facade consists of bright and cheery colours, with wave-like roof forms and canvas sail fixtures to mimic decorative banners and flags of a carnival.
A good balance of form and function, the stalls of this hawker centre are neatly laid out for patrons to easily assess queues, set around a central stairwell for ventilation. Despite being one of the smaller establishments, the dining layout is arranged to maximise room for larger groups, as well as private, smaller seat pockets for solo diners and wheelchair accessibility.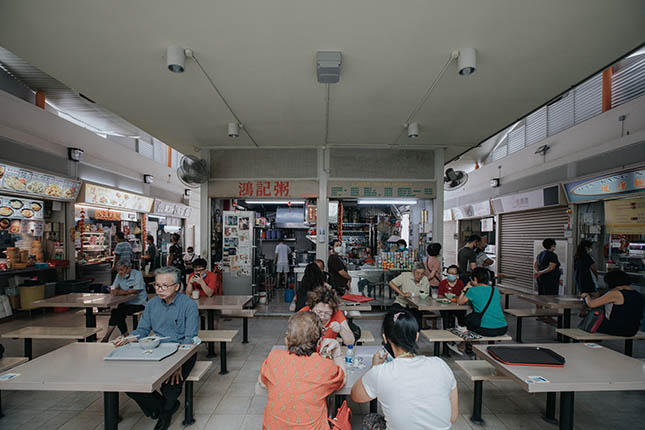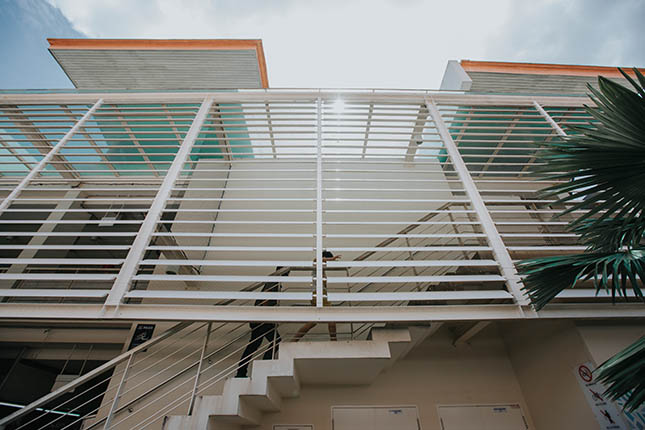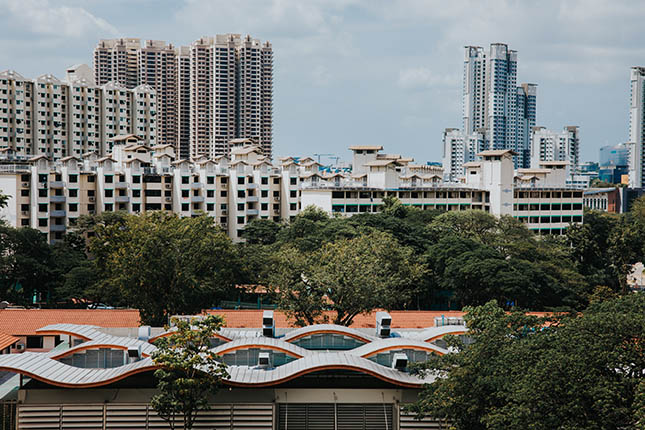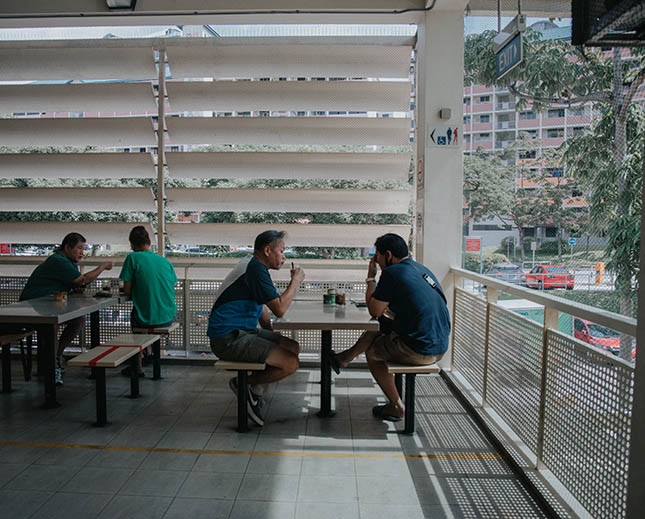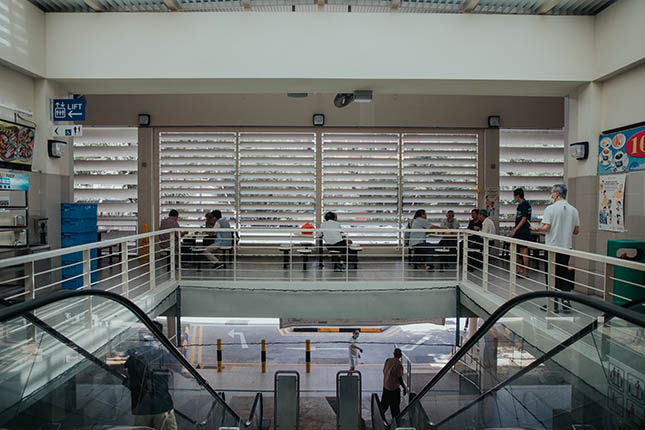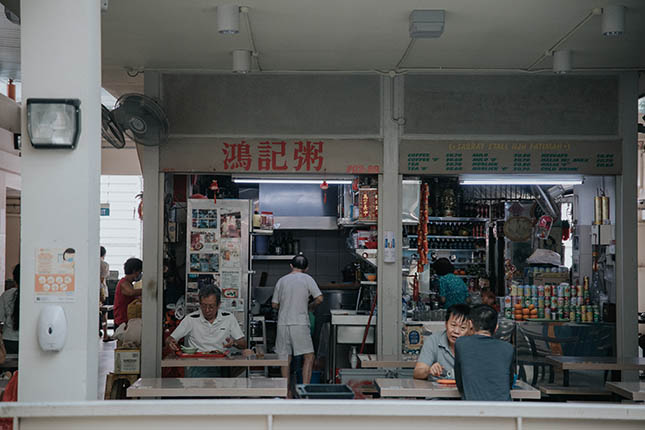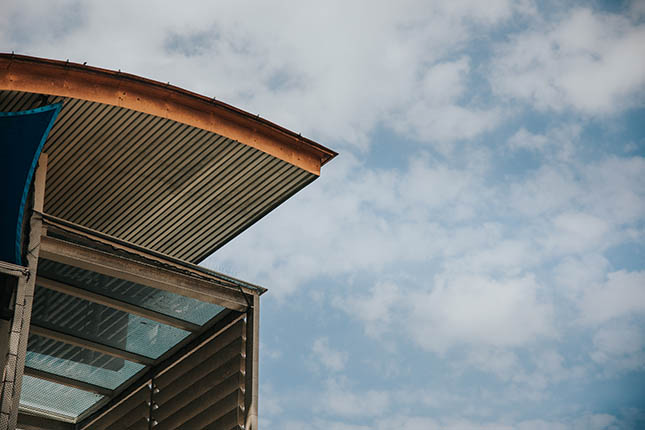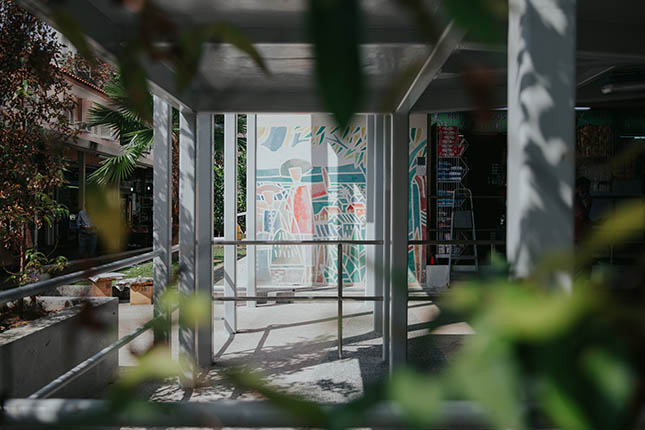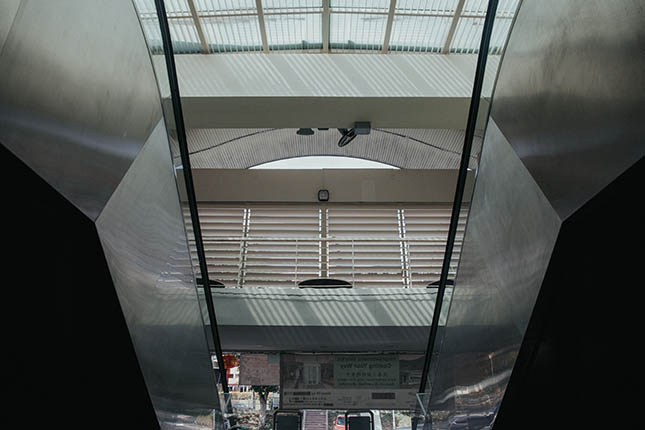 Adam Road Food Centre
Opened in 1974, Upgraded in 1997, 2001-2002, 2008 and again in 2016
A small yet iconic nod to the area's history, Adam Road Food Centre has overcome many challenges, from moving across the street from its original location to surviving constant floods. Multiple renovation works saw an increase in the height of the roof for improved ventilation, installation of new tiles and flooring to combat floods, and - for those who like the al fresco experience - umbrella-covered tables in the central courtyard.
During its upgrading closure, the sense of community of the hawkers here was so strong that they all chose to remain at Adam Road Food Centre, and were rewarded with a bigger, more beautiful home, that could accommodate up to 410 seated diners.
Not everything had been changed though. The building's unique nine-sided foundation remained, as well as a new and improved central courtyard. Outside, five old angsana trees were preserved, standing as the old guards of the place, where they functioned as sound barriers cutting the noise of the busy highway.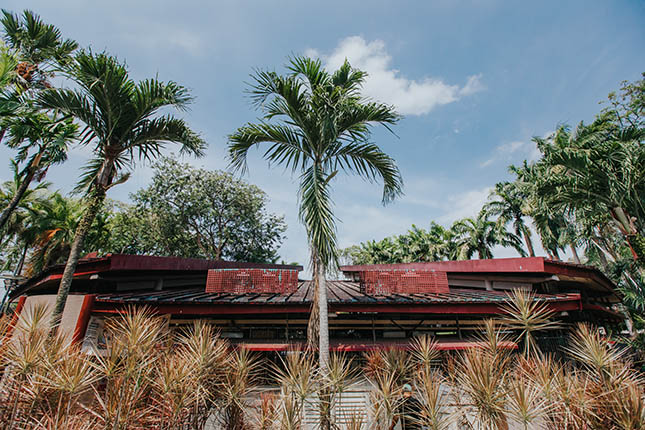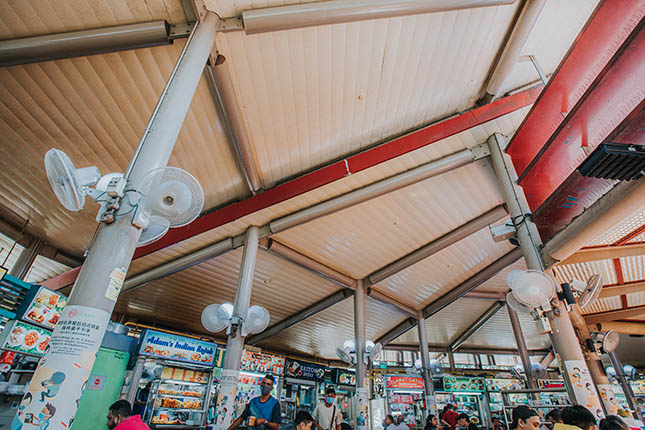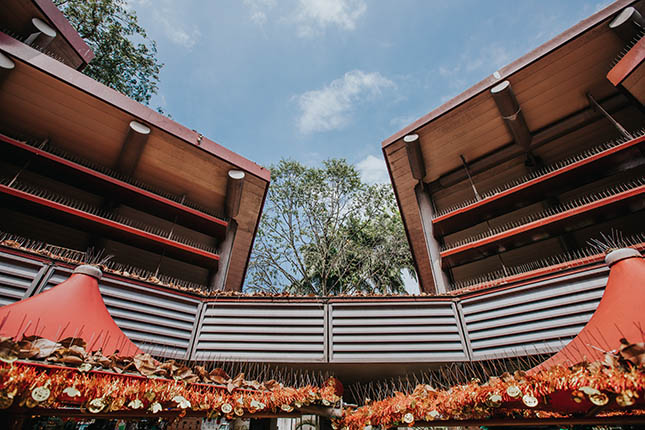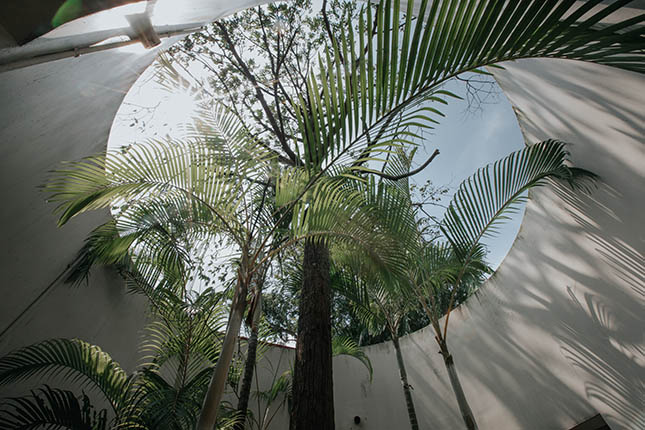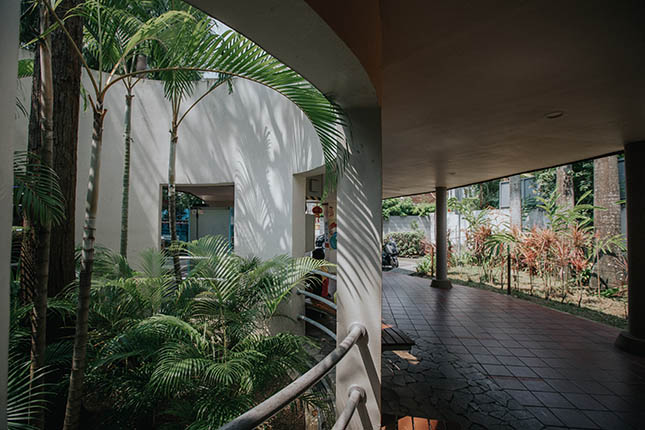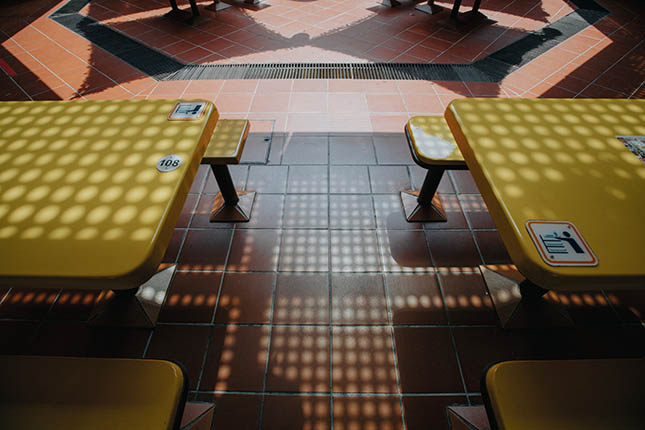 Changi Village Hawker Centre
Built in 1975, Upgraded in 2000 and again in 2012
Once a burgeoning area for the British military and their families, the Changi area played a pivotal role in the nation's history, both pre and post World War II. Still one of the most popular places for people in the area to visit, Changi Village Hawker Centre is also an iconic pit stop before taking a ferry to Pulau Ubin.
In similar fashion to East Coast Lagoon Food Village, this was styled as a seaside resort, exuding holiday vibes through its design and decor. Constructed with a well-ventilated open-air design, enticing patrons to dine-in with good food and even better company.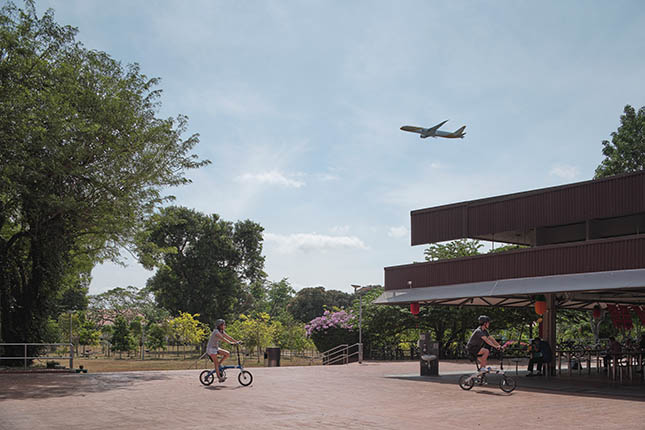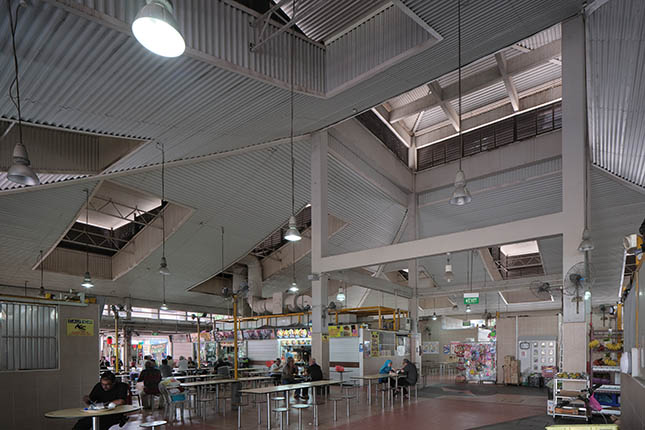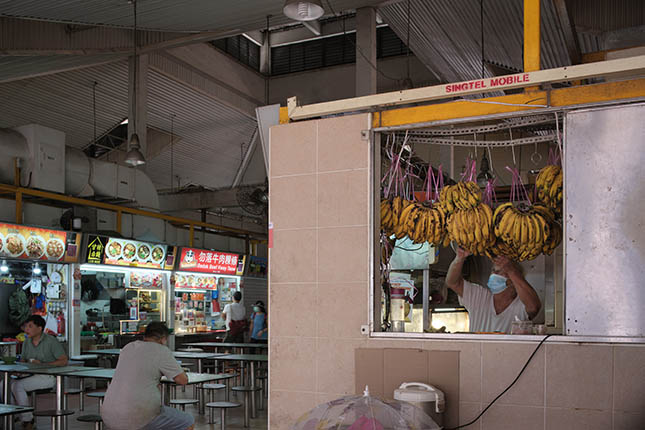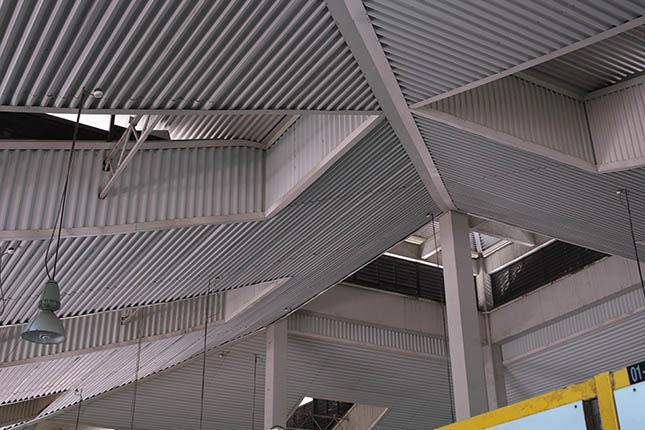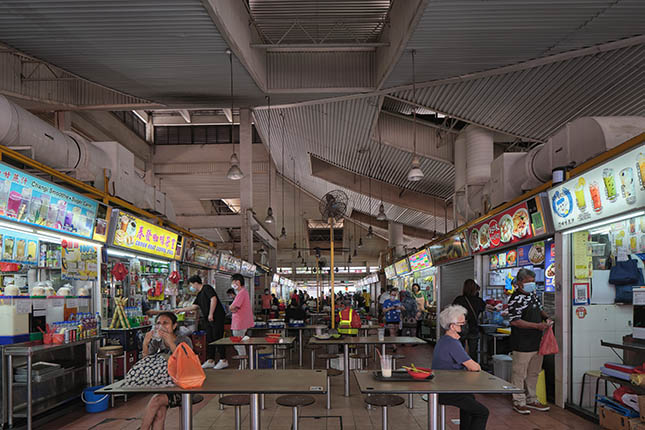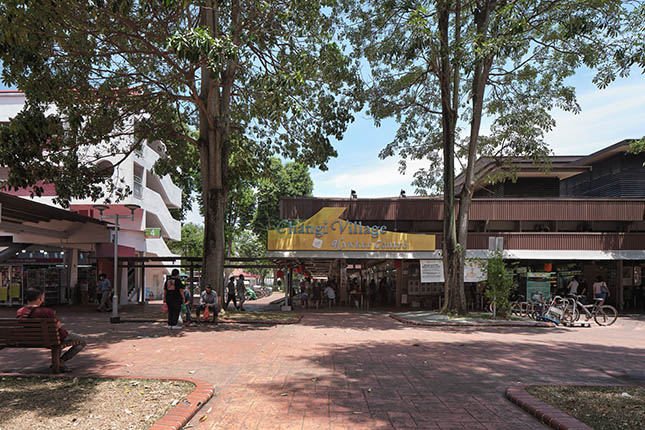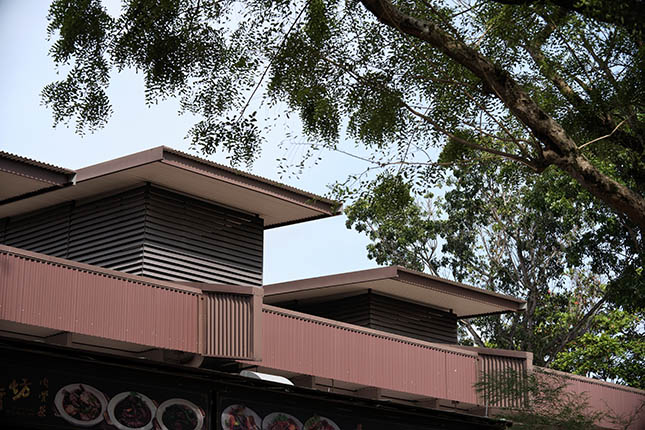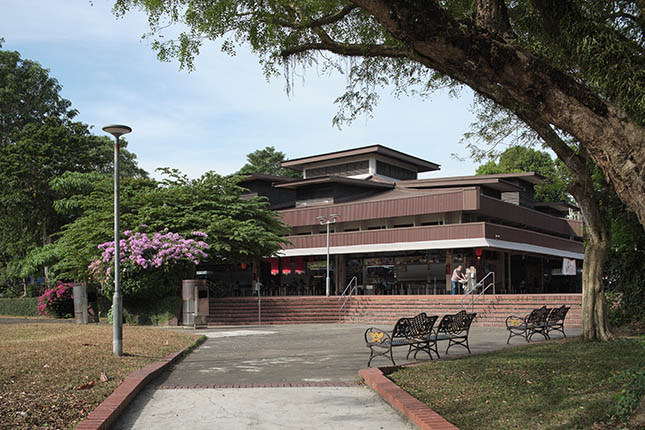 East Coast Lagoon Food Village
Built between 1977-1978, Upgraded between 2002-2004 and again in Nov 2020 till Feb 2021
An icon of Singapore's eastern coast, East Coast Lagoon Food Village is the only hawker centre on the island located by the beach. The region is synonymous with great eating outlets, and this is possibly the crown jewel.
The design of this hawker centre takes its cues from the district itself, complete with pitched roofs, generous overhangs and open-side structures reminiscent of the residential estates in the vicinity. With its reopening in 2004, the new architectural features exuded its beachside locale even more, with the use of cabana roofs and timber tables over sand, in a nod to seaside villa resorts.
A favourite among families, the renovations increased seating capacity and improved ventilation for everyone – with the signature satay and barbecue stalls shifted outdoors, for better circulation and to entice diners passing by.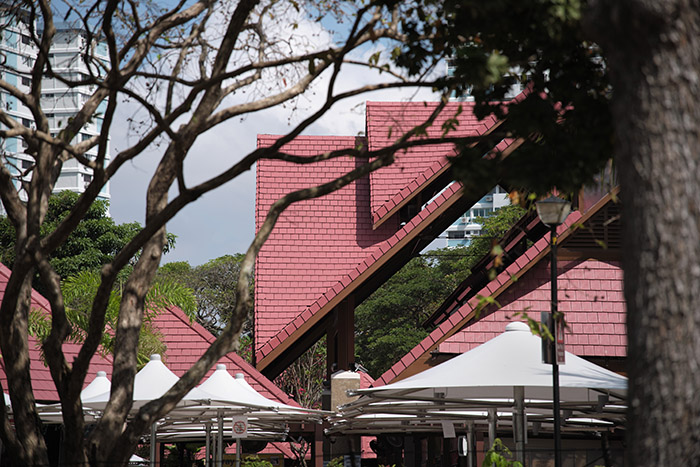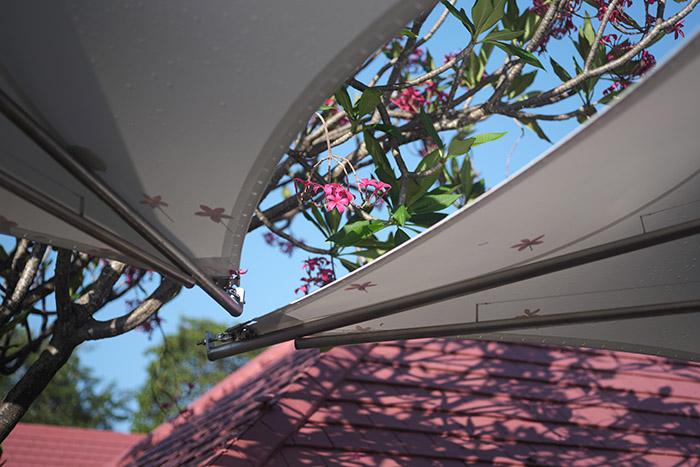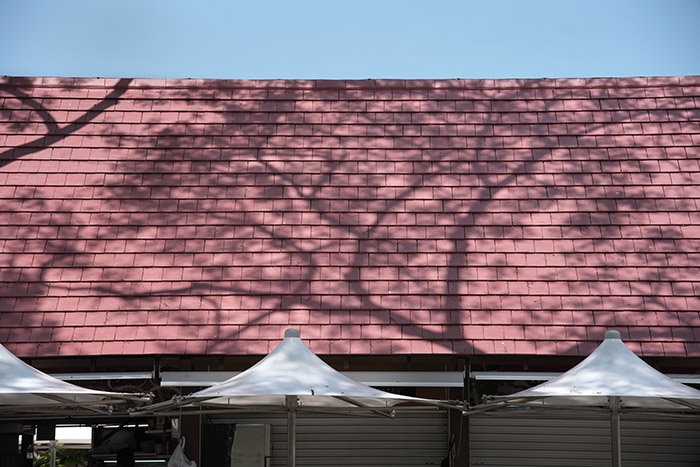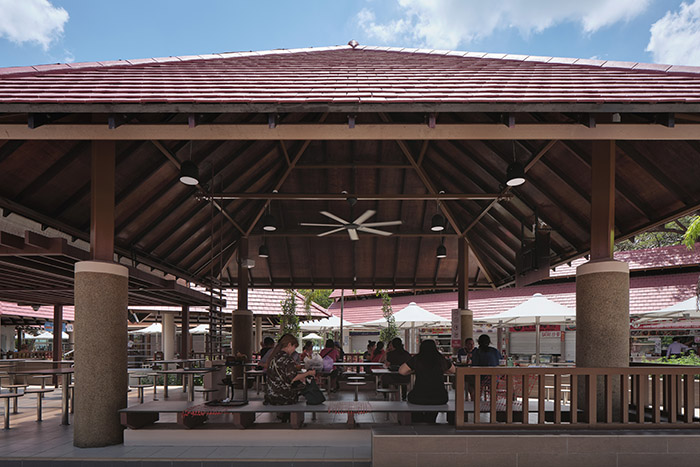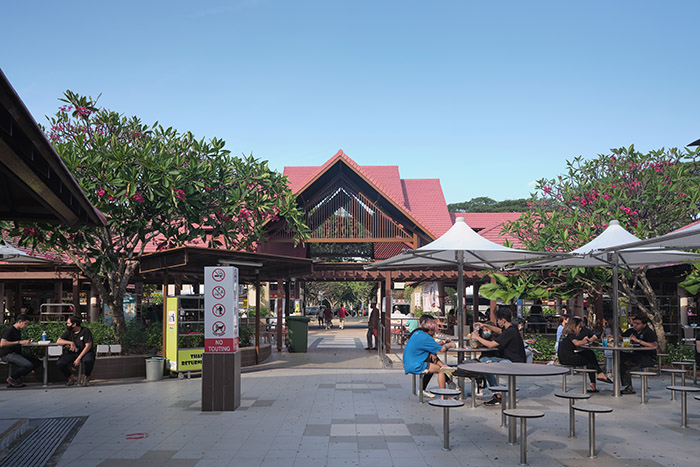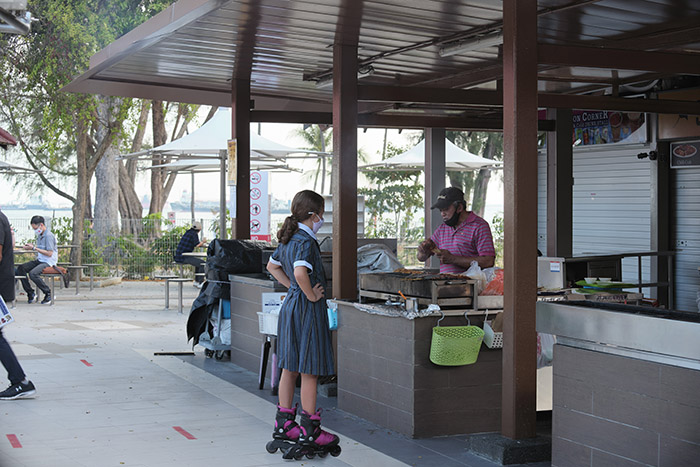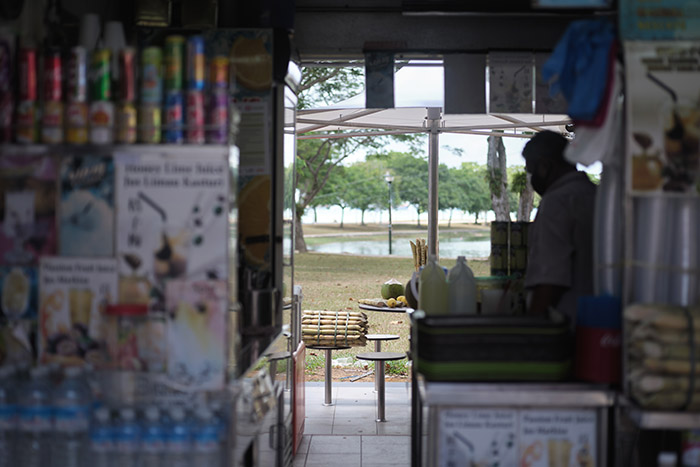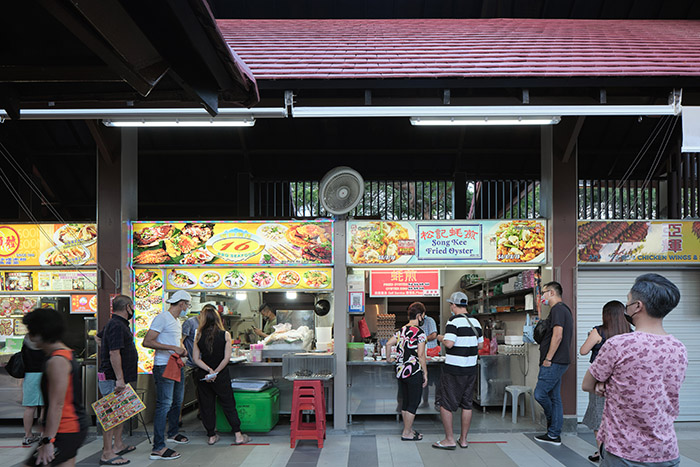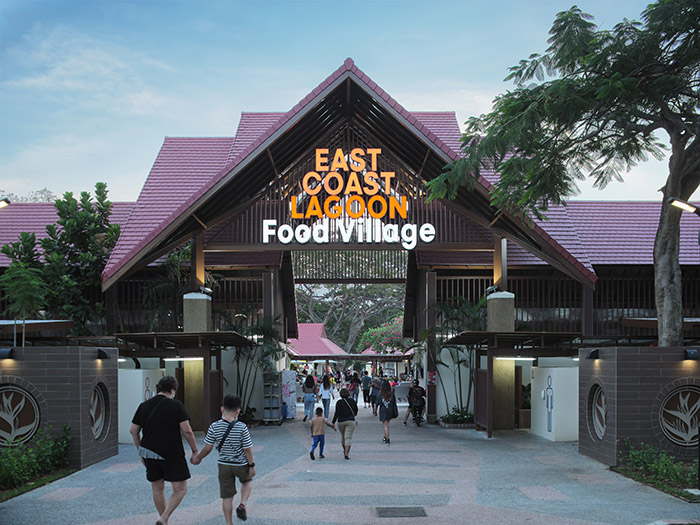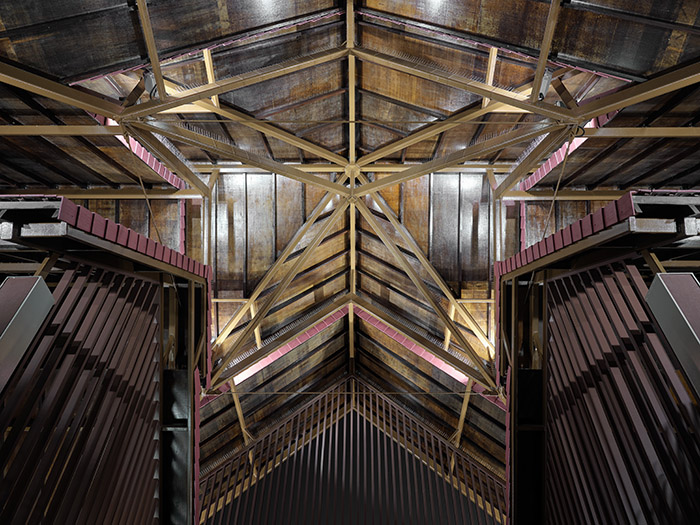 Hong Lim Market & Food Centre
Opened in 1978, Upgraded in 2009 and again in 2018
One of the earliest hawker centres built in the city, it housed most of the street hawkers from Hokkien Street. Set away from the busy traffic of Chinatown, it managed to retain a neighbourhood vibe, with residents from the surrounding HDB flats frequenting the building.
Upgrading works in 2009 looked to improve ventilation within the food centre, with additional seating built into the dining area, as well as wheelchair and handicap-friendly access to meet the growing needs of the elderly residents. Solar light tubes were also installed in the central void to help carry natural light into the centre of the structure.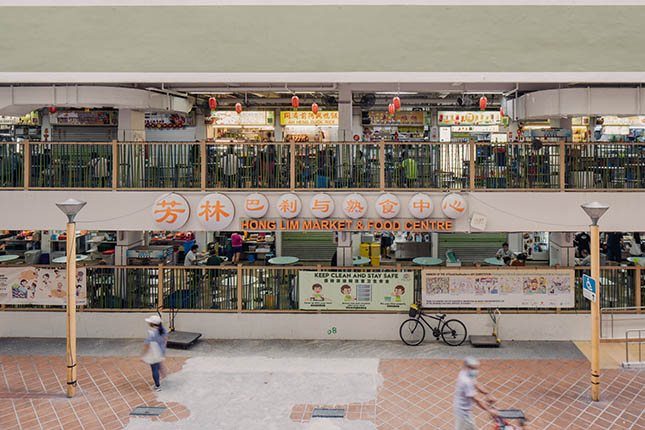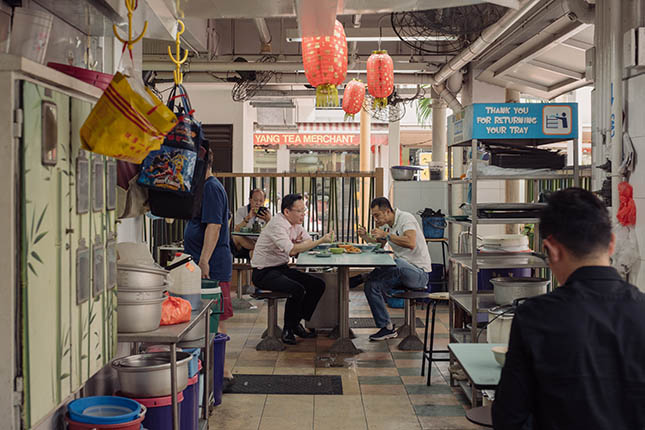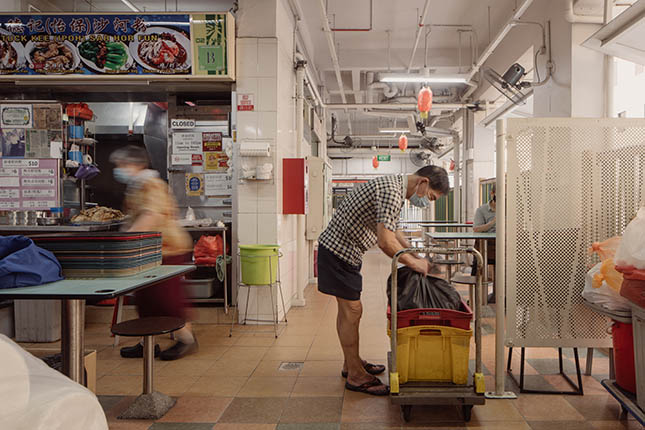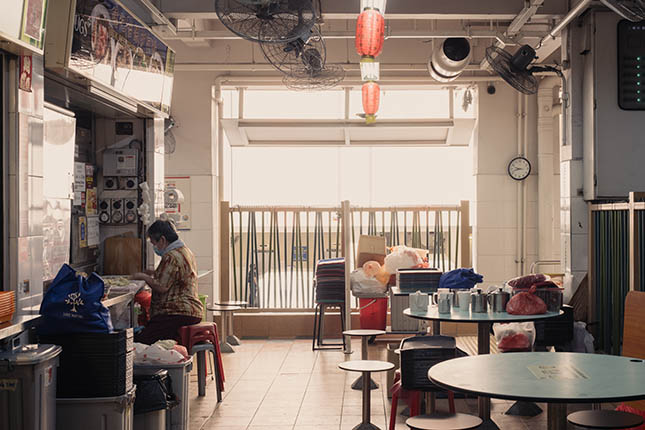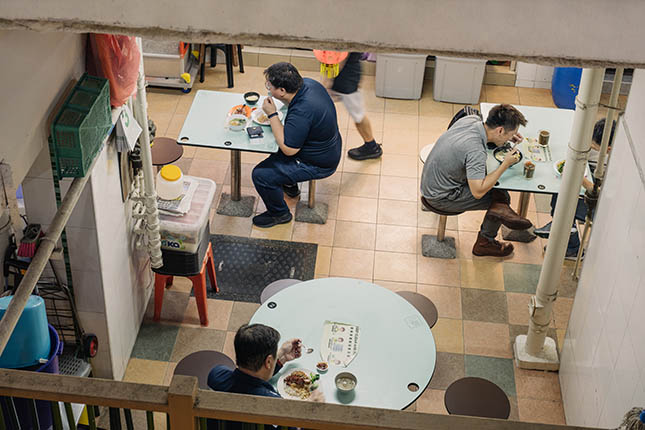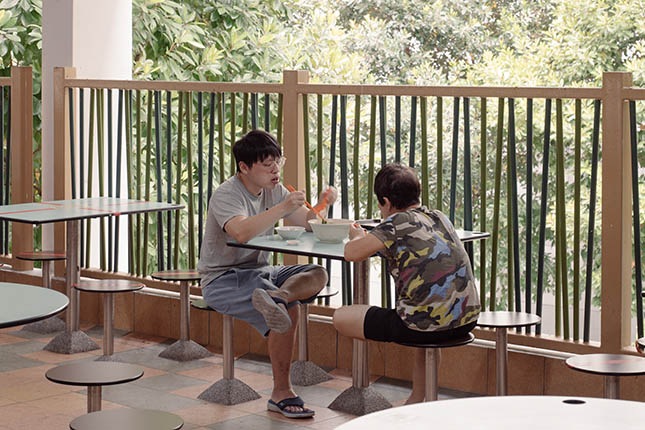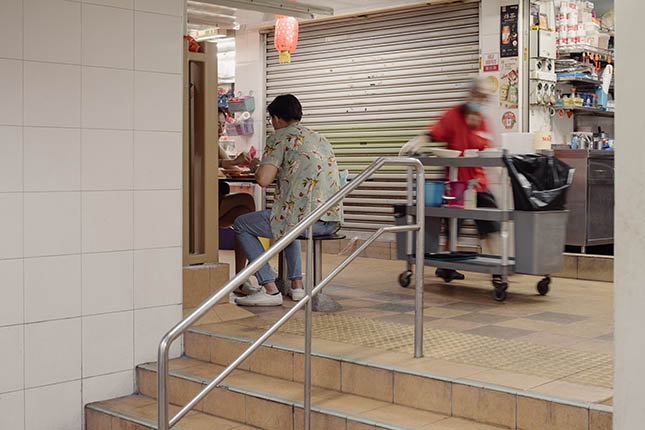 Tampines Round Market and Food Centre
Opened in 1983, Upgraded in 2019
Situated in one of Singapore's largest residential estates, Tampines Round Market & Food Centre is easily one of its most recognisable landmarks, with its iconic pointed roof, and hawkers who have been there for over 30 years.
Upgraded in 2019, it is one of the most recent to see improved ventilation, creating a more inviting environment for the community. In comparison to the standard row upon row of stalls, Tampines Round Market lives up to its name - with stalls situated at the centre of the architecture, dining seats fanning outwards, and eventually forming a circular shape with the adjoining wet market This made for an easier survey of the stalls, and increased accessibility to the market without having diners block the aisles. A new drop-off point was constructed for improved traffic, and wheelchair-friendly spaces to accommodate all in the multi-generational neighbourhood.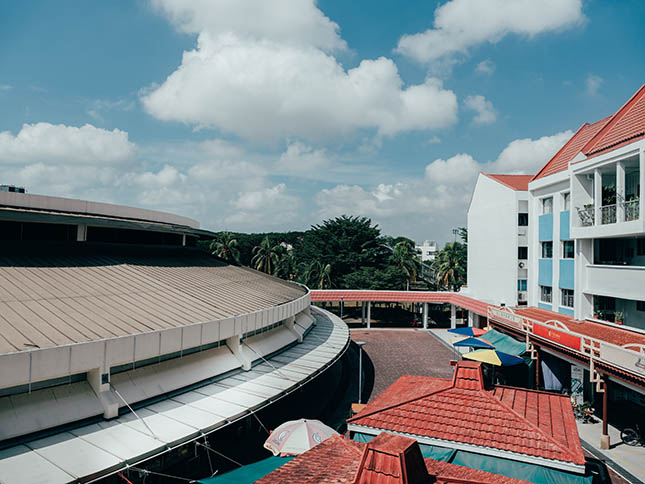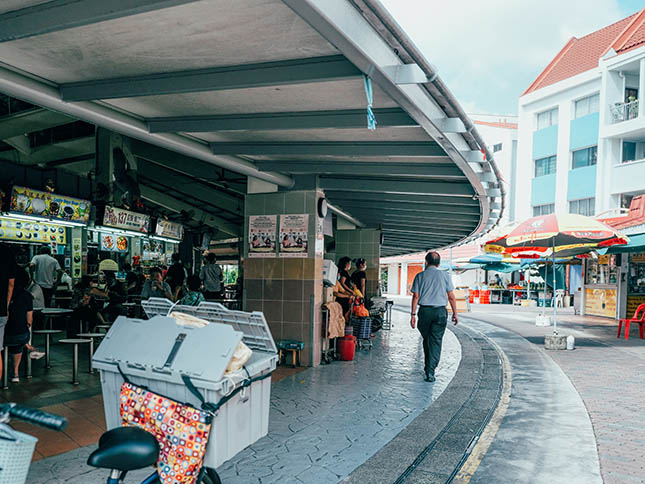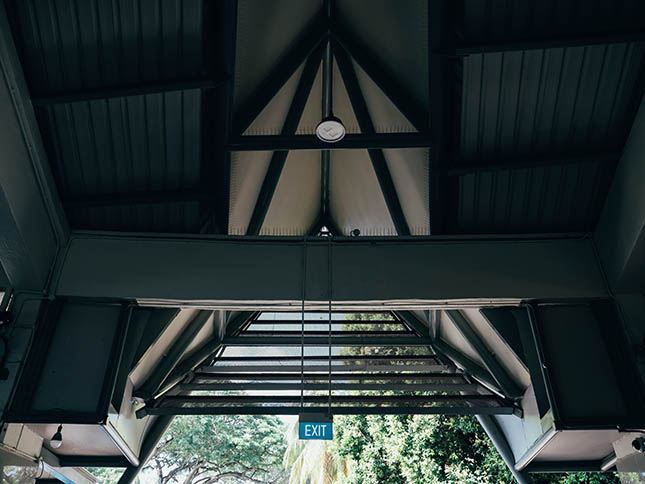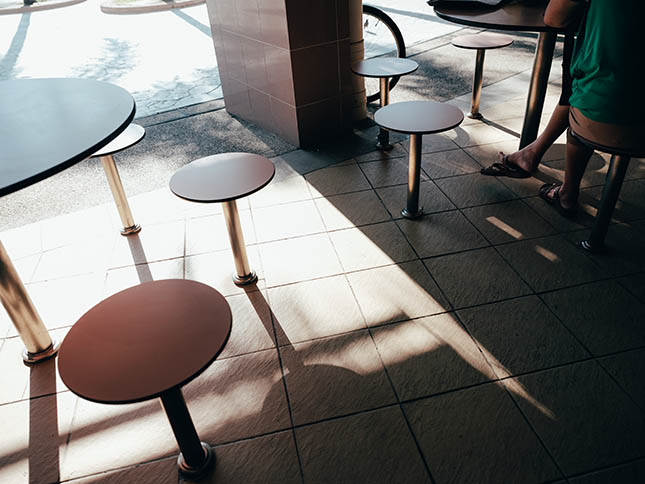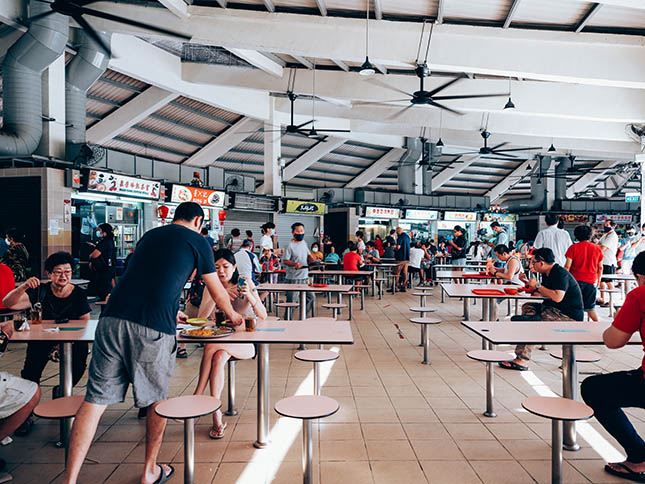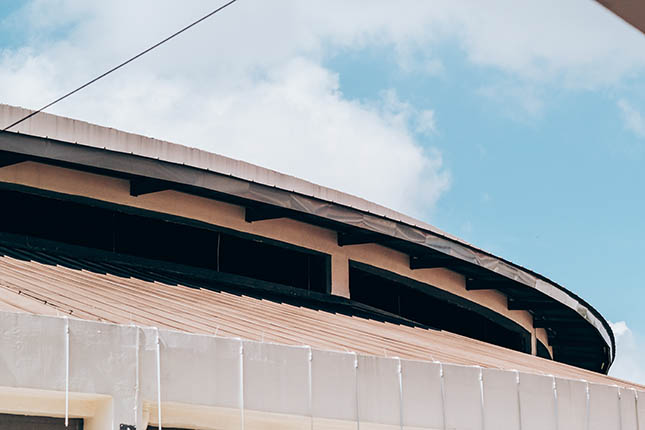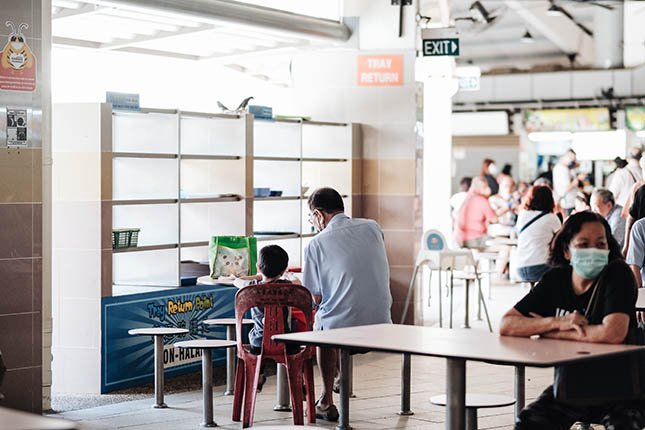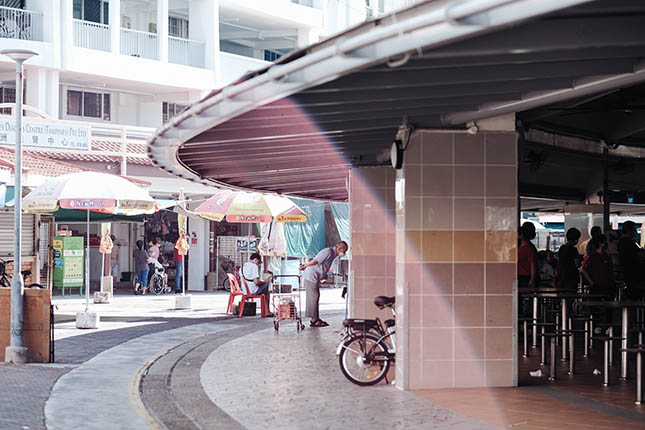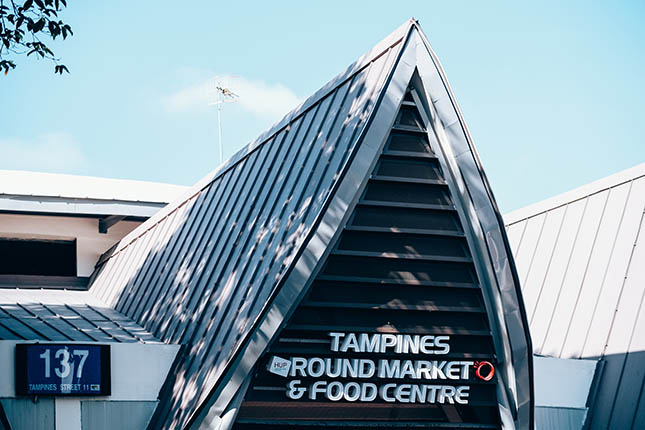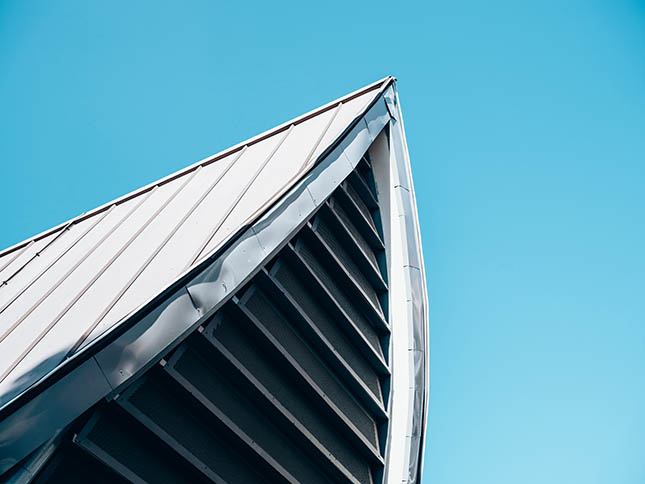 Taman Jurong Market and Food Centre
Opened in 2005, Upgraded in 2019
Taman Jurong Market and Food Centre is an amalgamation of three west-side hawker centres - Corporation Drive Market, Corporate Drive Food Centre and Yung Sheng Food Centre. This food centre was created with patrons in mind, as the ventilation systems in place provided good circulation, and the variety of seats catered to big and small families alike.
Bringing the community together, the central courtyard allows for natural sunlight to stream in, and despite being far away from the seaside, exudes a holiday vibe through its al fresco dining area. Together with increased ventilation, the layout also allows for enhanced interaction between patrons, and for families to gather and enjoy a meal.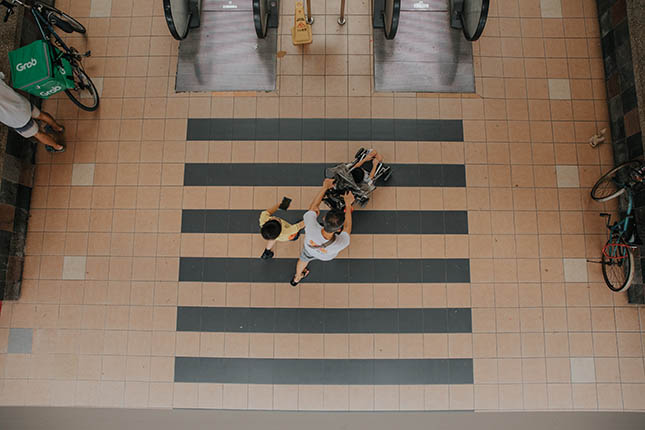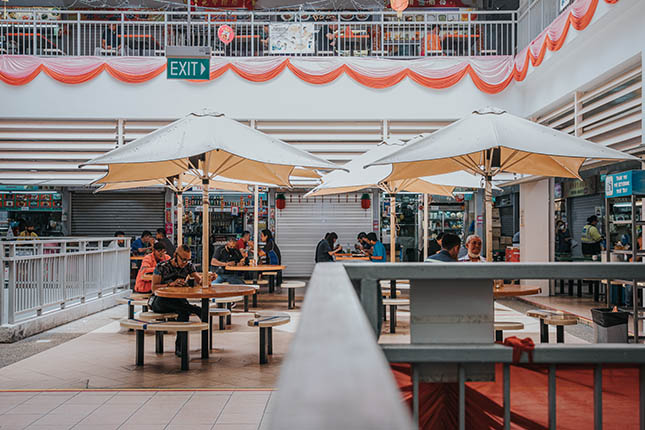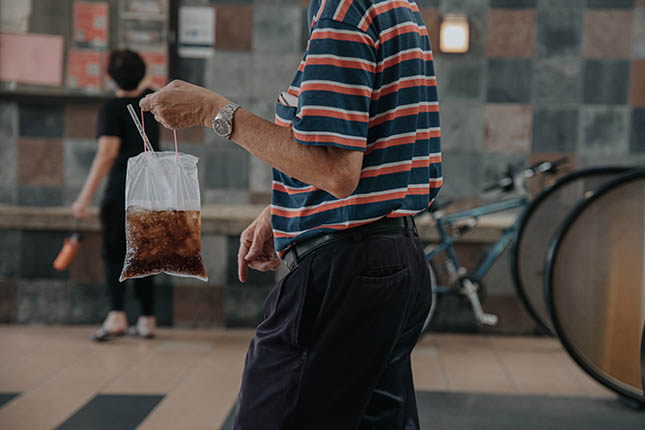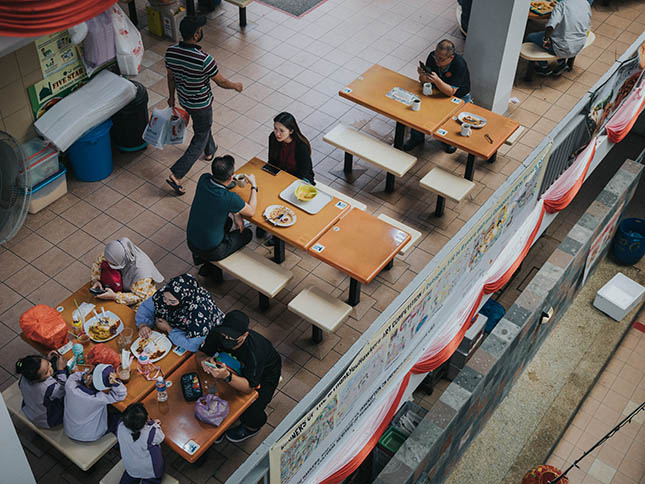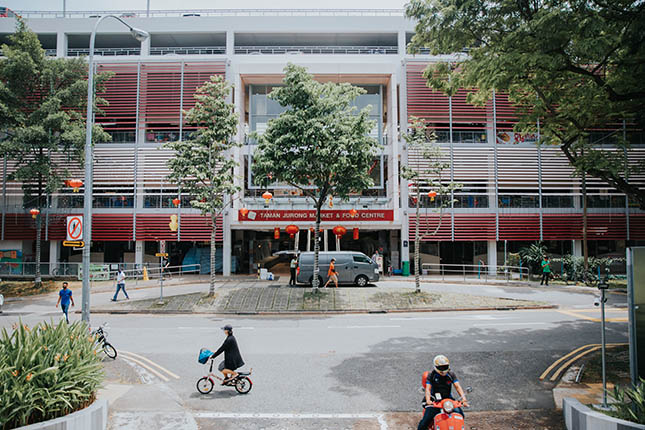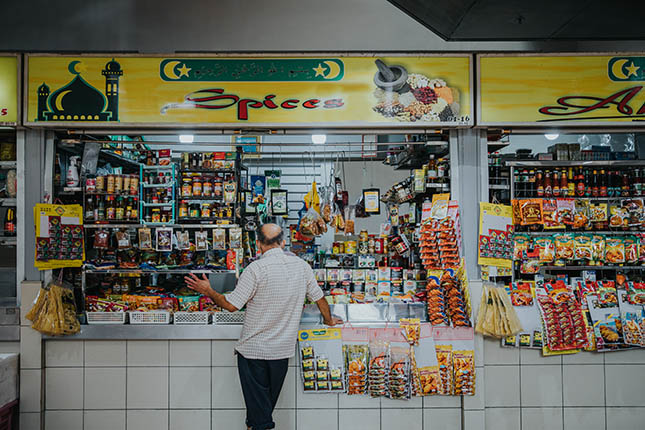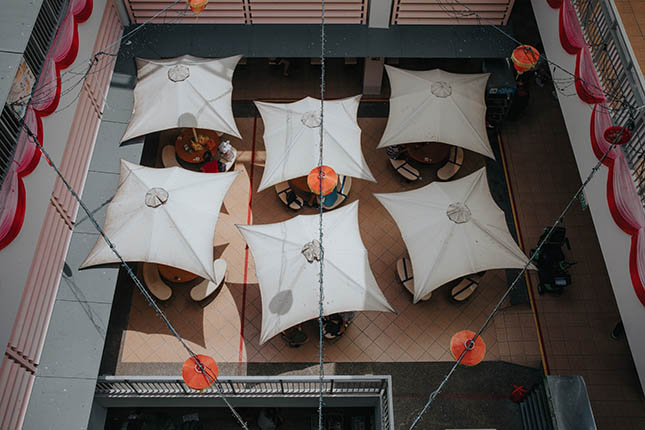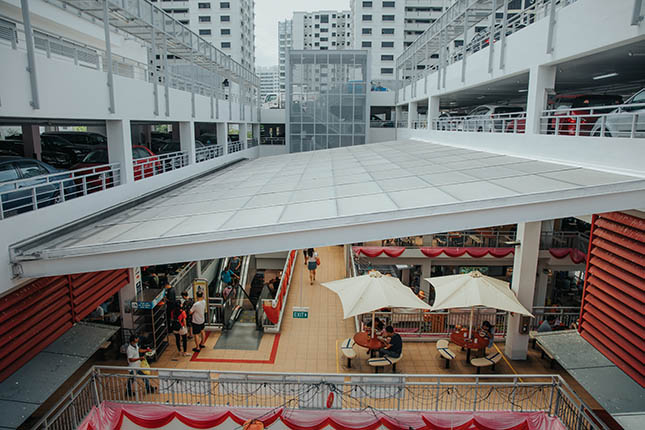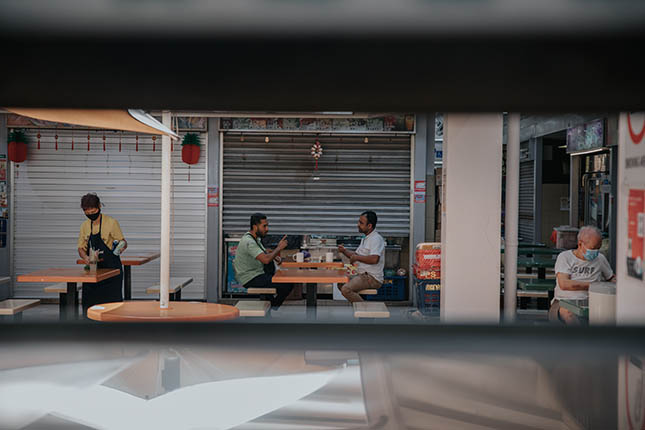 A New Generation
While the icons of hawker heritage underwent various stages of renovation, newer HDB estates saw a shortage of accessible dining outlets. In 2011, an announcement was made to build these community dining rooms in the newer neighbourhoods of Bukit Panjang, Hougang and Tampines, the first batch of new hawker centres in 26 years.
Kampung Admiralty Hawker Centre
Opened in 2017
As Singapore's first integrated public development, Kampung Admiralty Hawker Centre shares this 'Vertical Kampung' with housing services and commercial facilities to help maximise land area.
The Community Plaza sector of this establishment is where the hawker centre can be found, as part of a larger ecosystem with close proximity to healthcare, social spaces and commercial services in support of intergenerational bonding and active ageing. To cater to many patrons and for peak operational efficiency, the hawker centre includes a centralised dishwashing entrance and a seating capacity of 900.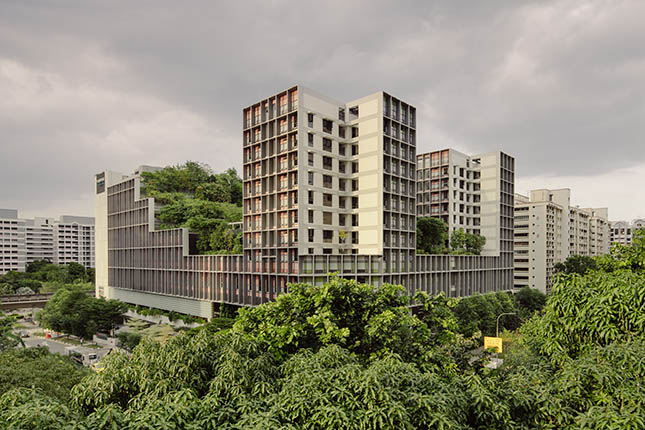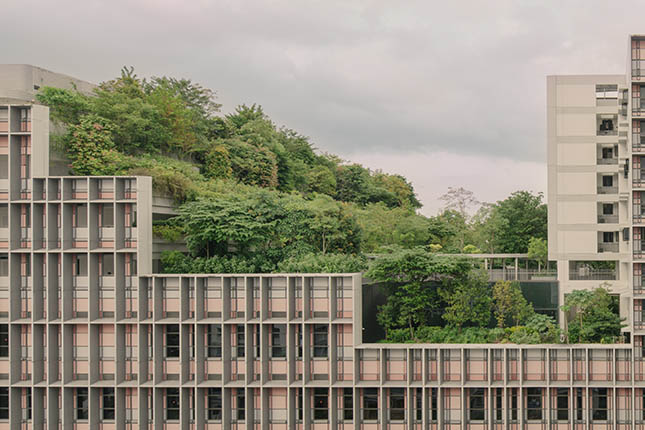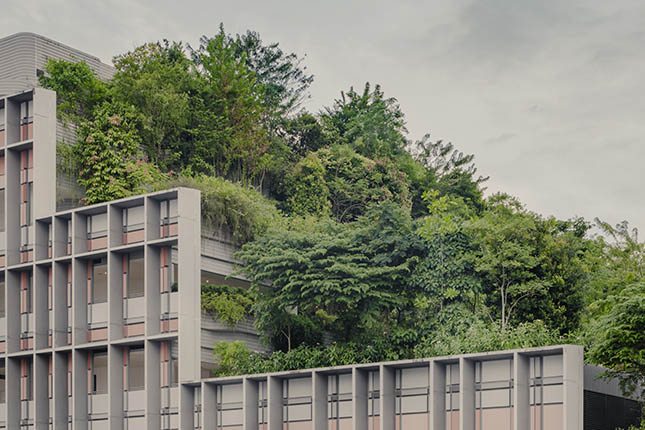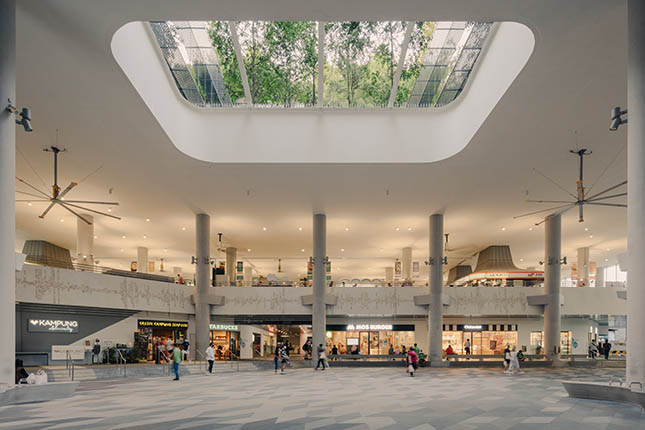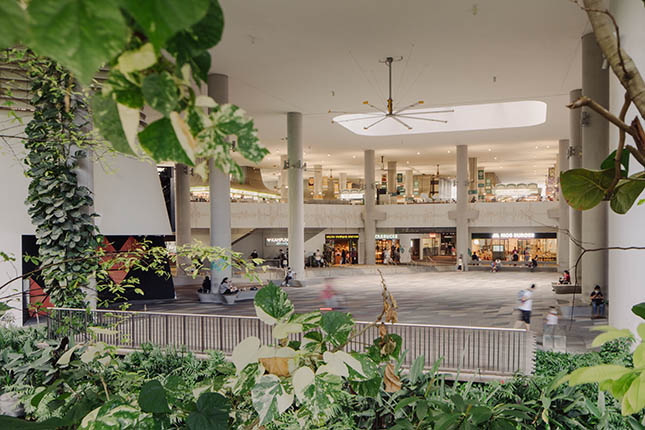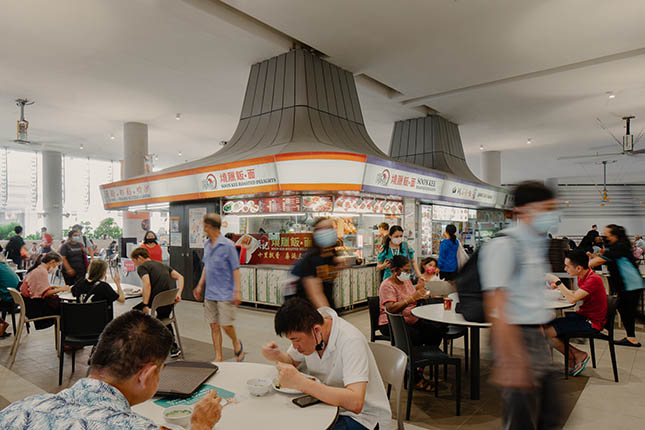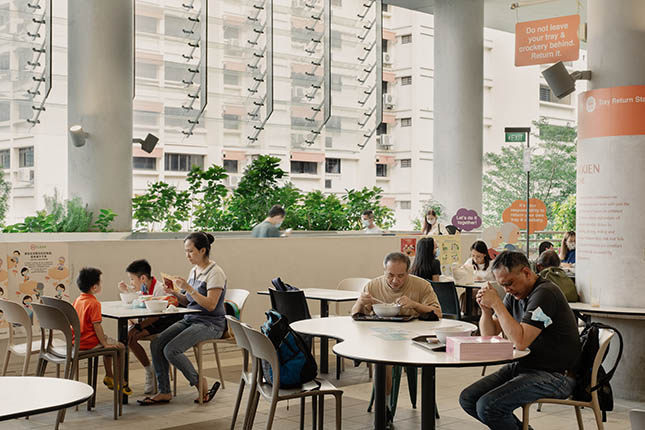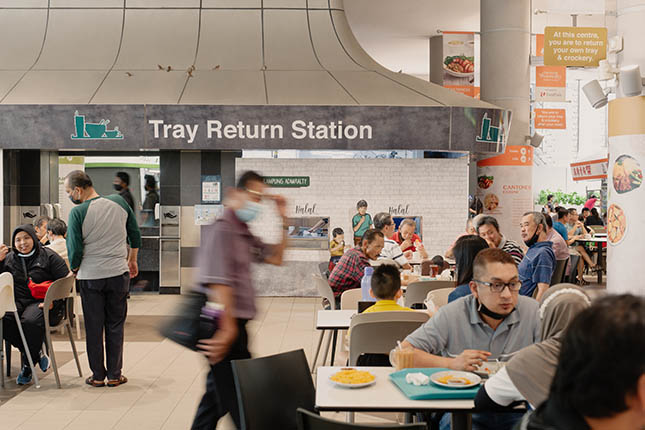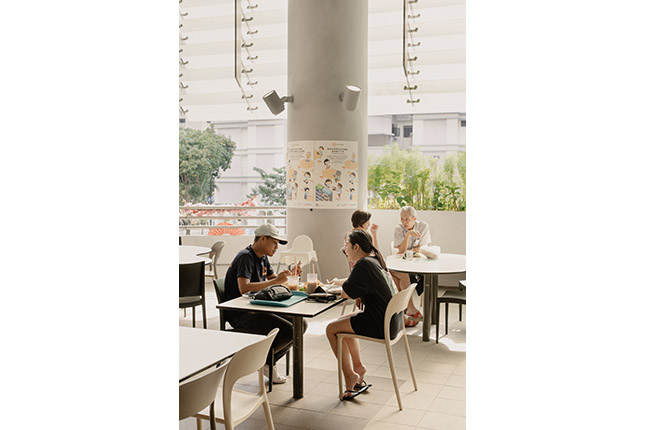 Pasir Ris Central Hawker Centre
Opened in 2018
Taking inspiration from all its predecessors, the Pasir Ris Central Hawker Centre is a well-planned community dining room, blending tradition and modernity with its architecture and décor - a nod to icons of the past and a step into the future of a growing population.
An homage to Singapore's history as a fishing village, the interior is designed with timber, foliage and raw concrete – a modern spin on the kampung home. Catering to the growing young families in the district, the stalls and dining areas are arranged in a singular fan-shaped profile, facing the Pasir Ris Town Park, lush greenery for an immersive dining experience.
One of the newest hawker centres, it is purposefully built for natural ventilation, with a customised metal façade panel system and high ceilings, for air to flow in and out with ease. Instead of cordoning off the building, intuitive landscaping is used to assimilate the building with the adjoining park.
Pasir Ris Central Hawker Centre conducts a unique hawkerpreneurship programme to promote the hawker trade by nurturing younger Singaporeans to help keep hawker culture alive.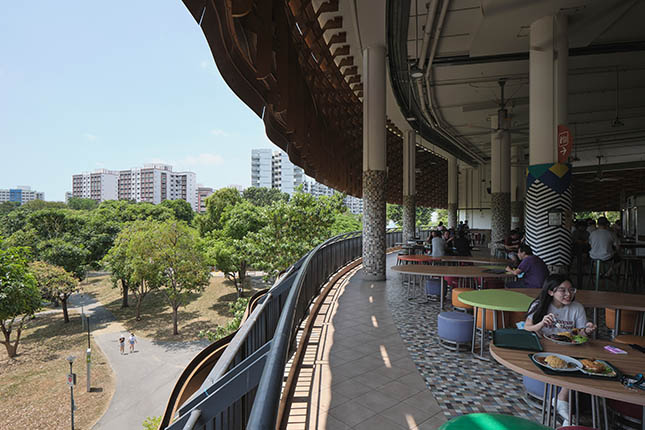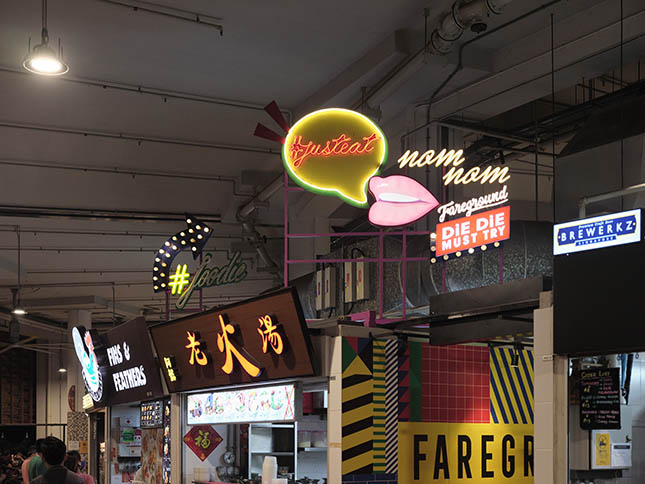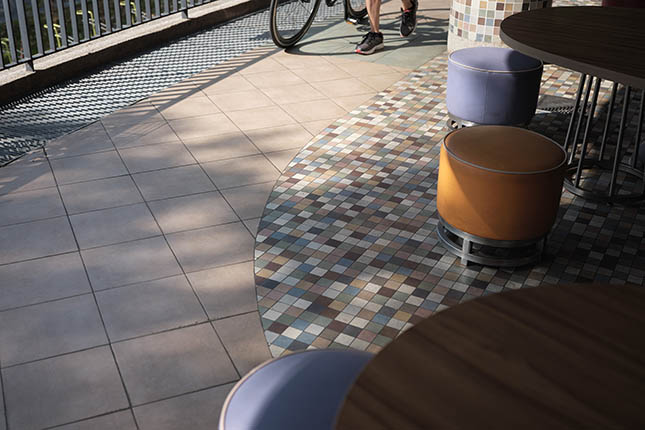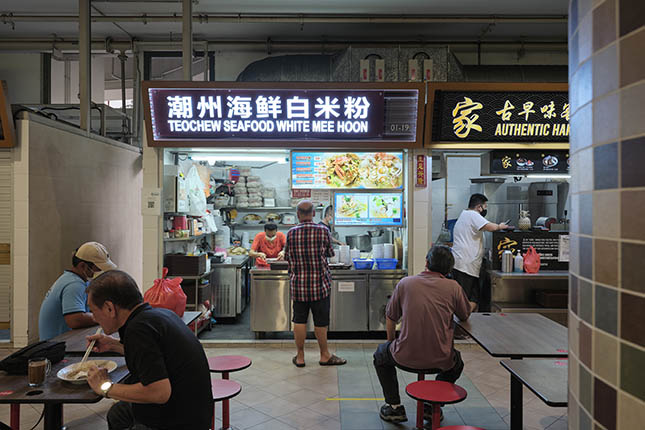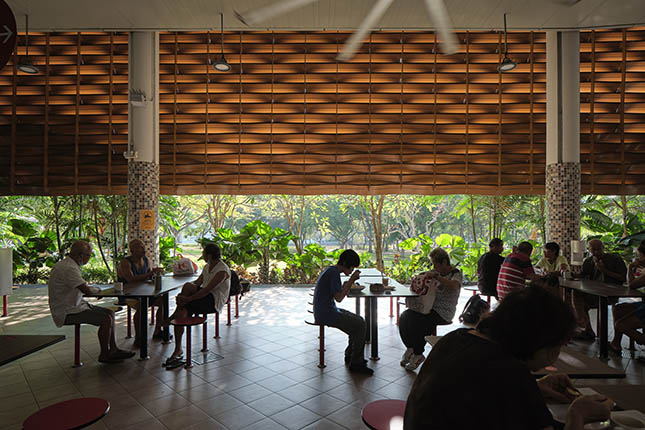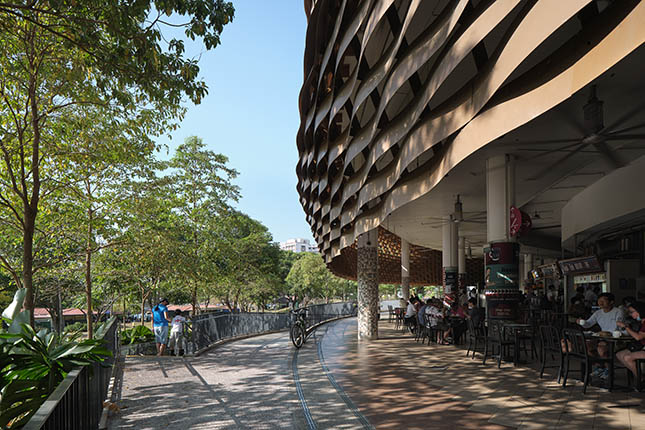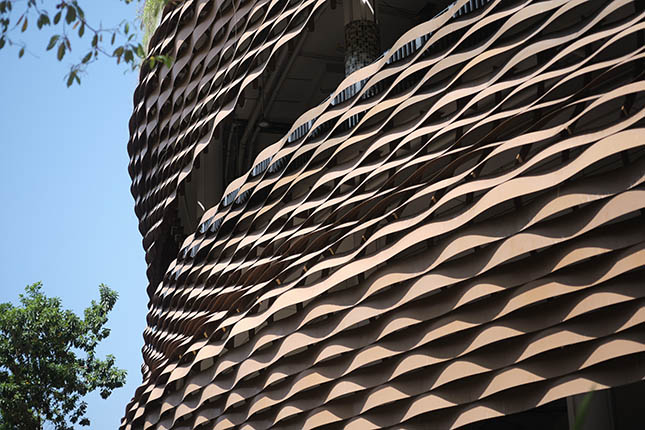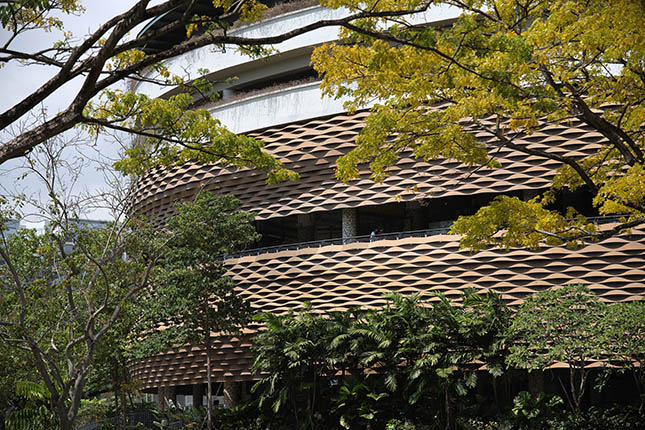 About the Photographers
Fabian Ong
Fabian Ong is an architecture-trained photographer based in Singapore and the region. Upon obtaining his Master's degree, he practiced in architectural design firms and conducted research projects and workshops in the university.
In 2016, he was invited by the Japanese periodical A+U and Shinkenchiku to be their in-house photojournalist editor. Based out of their office in Tokyo, he worked closely with editors, architects, and Japanese photographers to conceptualise and produce architectural journals.
With his background and experiences, the photographer is able to create meaningful narratives for architecture and spatial projects.
Khoo Guo Jie
Khoo Guo Jie is a Singapore-based photographer. His photographs explores his curiosity with world's forms, spaces and objects. He believes the meaning of a story cannot be conveyed in an individual image. Instead he tries to explore them through simple details creating refine images that add up to more than the sum of their parts.
Alongside his personal practice, Guo Jie has shot editorials for magazines including Wired, Habitus, Monocle, Vulture. His commercial clients include AirBnB, Facebook, Landlease, Les Amis Group, The Ritz Carlton,
Skidmore Owings & Merrill, IPLI Architects, Group 8 Asia, FARM, Gabriel Tan Studio, Mentsen, Lanzavecchia + Wai, Olivia Lee.
Lee Yik Keat
Yik Keat is a self-taught urban photographer based in Singapore. Only at the age of 23, Yik Keat has accumulated a following of 240,000 individuals on Instagram, where most of his work can be found.
He is known for telling stories out of the ordinary, daily life and has a unique set of colours. Yik Keat puts in immense effort in crafting every piece of visual and hopes to convey a certain kind of emotion to every audience out there.
Rebecca Toh
Rebecca Toh (b. 1986) is a photographer working around the world. Influenced by music, literature and the ability of a film to tell moving, layered stories, she works to inject emotion, story-telling and a sense of the cinematic into the images she creates for a diverse range of commercial, advertising and editorial clients across multiple industries and cities. Based in Singapore, but always on the road.