Singapore became an independent country following its exit from Malaysia on 9 August 1965. Thrust into nationhood amid a volatile regional climate plagued by conflict (Indonesia was waging an undeclared war, the Konfrontasi, to oppose the formation of Malaysia), Singapore's founding generation of leaders focused on cohesiveness to ensure its survival. In the words of Singapore's first President Mr Yusof Ishak "If we are to remain a cohesive people, we must concentrate on the factors which bind us together, and not those which will divide us."
This ideal set the tone for the policies made during Singapore's first decade of independence. Its founding generation of leaders, led by then Prime Minister Lee Kuan Yew strove to build a multiracial and multicultural society that accorded equality to all citizens regardless of race, language or religion. These policies, especially in the areas of defence, housing, education and economy, have helped to lay the foundations of the Singapore that we know today.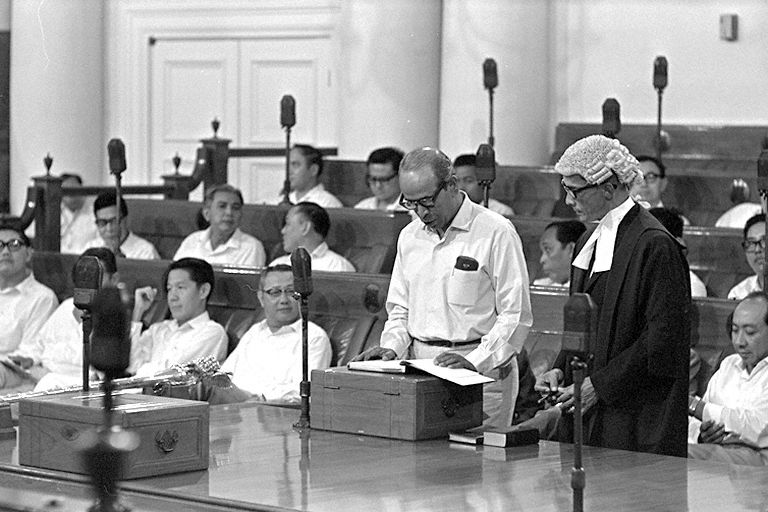 Minister for Foreign Affairs and for Labour and Member of Parliament for Kampong Glam, S.Rajaratnam taking the oath of allegiance at the first meeting of Singapore Parliament in Parliament House, Empress Place, 1968. Mr Rajaratnam said in a Parliamentary speech in 1967: "In a democracy, there can be no distinction between majority rights and minority rights. There can only be equality of rights, the same rights for all, without regard to race, colour, language or creed." (Ministry of Information and the Arts Collection, courtesy of National Archives of Singapore)
Building up a capable defence force
As a newly independent nation in a turbulent region, Singapore now had some responsibility for its defence and had to move quickly to develop a capable defence force. Defence Minister Dr Goh Keng Swee was given the monumental task of building up its defence force. The People's Defence Force (PDF), a part-time paramilitary unit was established in 1965 and by March 1966, some 3,200 volunteers registered with the PDF.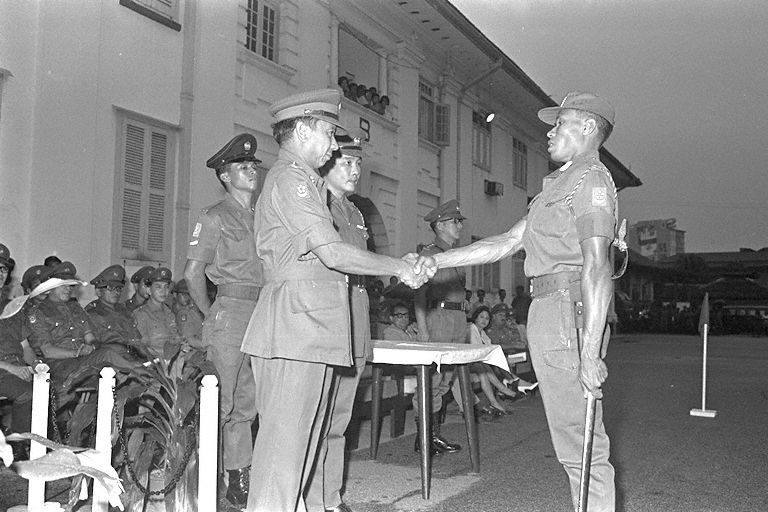 Minister of Defence Dr Goh Keng Swee at passing-out parade of officer cadets of People's Defence Force held at its camp in Beach Road. (Ministry of Information and the Arts Collection, courtesy of National Archives of Singapore)
However, the lack of military training and small numbers of the PDF, coupled with the impending withdrawal of British troops led Dr Goh to conclude that compulsory conscription was needed to meet Singapore's defence needs. The British had implemented a National Service Bill in 1954. However, large-scale protests by Chinese middle school students led to the Colonial government postponing its implementation. The was re-introduced when Dr Goh announced that a pioneer batch of 9,000 youths were eligible for National Service call-ups during the second reading of the National Service (Amendment) Bill on 13 March 1967.
National Service recruits boarding a military truck at Pek Kio Community Centre during their enlistment day. (Ministry of Information and the Arts Collection, courtesy of National Archives of Singapore)
Dr Goh positioned National Service (NS) as a form of nation-building. In a parliamentary speech, Dr Goh said: "Nothing creates loyalty and national consciousness more speedily and more thoroughly than participation in defence and membership of the armed forces." While street demonstrations opposing the call-ups were staged, there was much stronger support for NS this time around, in part due to the support of University of Singapore Student Union and Singapore Chinese Chamber of Commerce.
To date, more than one million male Singaporeans and second-generation permanent residents have served NS in the Singapore Armed Forces, Singapore Police Force or Singapore Civil Defence Force. NS is now seen as a rite of passage for all Singaporean males.
Housing a nation
Another challenge that Singapore's founding leaders had to overcome during its early years was housing a growing population. The Housing Development Board (HDB) was formed shortly after Singapore attained self-government in February 1960. Led by their first chairman Lim Kim San, HDB built 31,317 flats in three years. This is in stark contrast with the 23,019 housing units HDB's predecessor, the Singapore Improvement Trust, built during their 32 years of existence.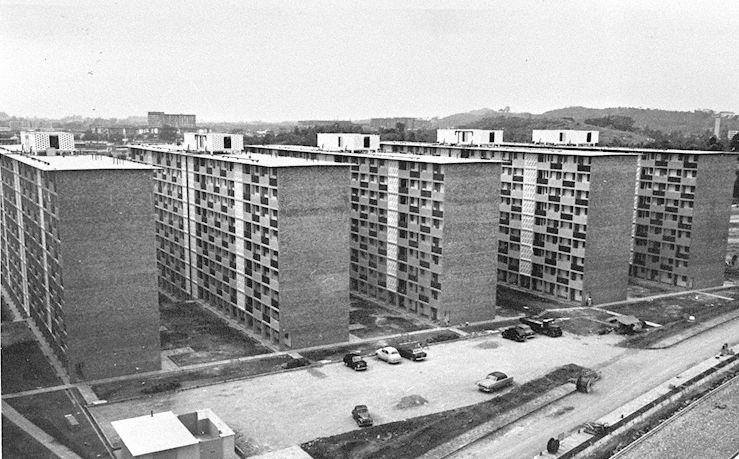 Housing and Development Board (HDB) flats - Blocks 24, 25, 26, 27 and 28 in Tanglin Halt,1962. (Ministry of Information and the Arts Collection, courtesy of National Archives of Singapore)
Developing our Economy
The 1961 State Development Plan was the first official blueprint for Singapore's economic development following our attainment of self-governance in 1959. The plan involved labour-intensive factories as well as technology-intensive investments such as oil refineries. The four-year plan aimed to end economic stagnation and reduce the high unemployment rate by expanding manufacturing.
Following Singapore's independence, its founding leaders made it a priority to focus on industrialisation. Singapore was at a disadvantage due to its small domestic market and lack of natural resources. These factors, coupled with Singapore's separation from Malaysia – ending all hopes of a common market ­– led the government to adopt an export-orientated development strategy which also included attracting multinational corporations to establish manufacturing bases in Singapore.
PM Lee said: "We had one simple guiding principle for survival: that Singapore had to be more rugged, better organised and more efficient than others in the region. If we were only as good as our neighbours there was no reason for businesses to be based here. We had to make it possible for investors to operate successfully and profitably in Singapore despite our lack of a domestic market and natural resources."
By the 1970s, the manufacturing sector evolved to attract higher-end investments such as those from the electronics sector. Singapore registered a strong gross domestic product growth and achieved nearly full employment by the mid-1970s. Wages and the standard of living also rose correspondingly.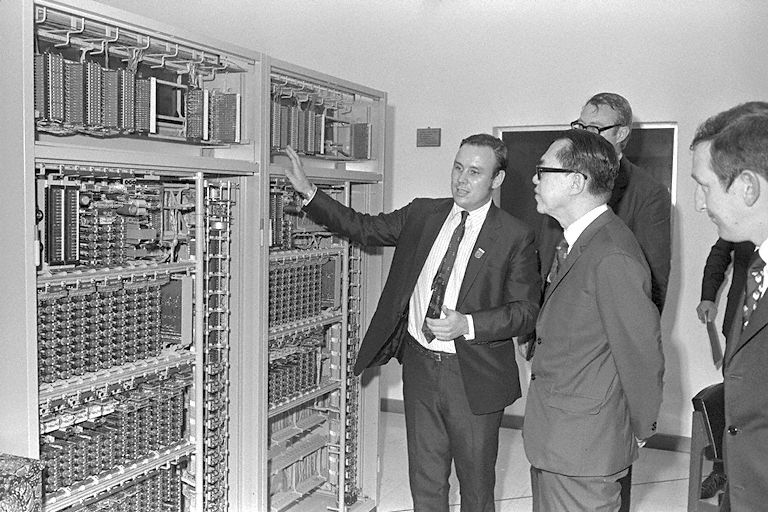 Minister for Finance Hon Sui Sen (centre) being shown the telephone exchange during a tour of Philips Telecommunications Factory in Jurong on its opening, 3 Apr 1973. (Ministry of Information and the Arts Collection, courtesy of National Archives of Singapore)
Reforming the education system
Singapore's founding leaders also emphasised the importance of investing in its future generations. The government introduced education policies to support national integration and nation-building. Every child would be provided with at least six years of education from the age of six – without discrimination based on race, language, sex, wealth or status. The Compulsory Education Act of 2000 eventually made six years of primary education mandatory for all children born after 1st January 1996.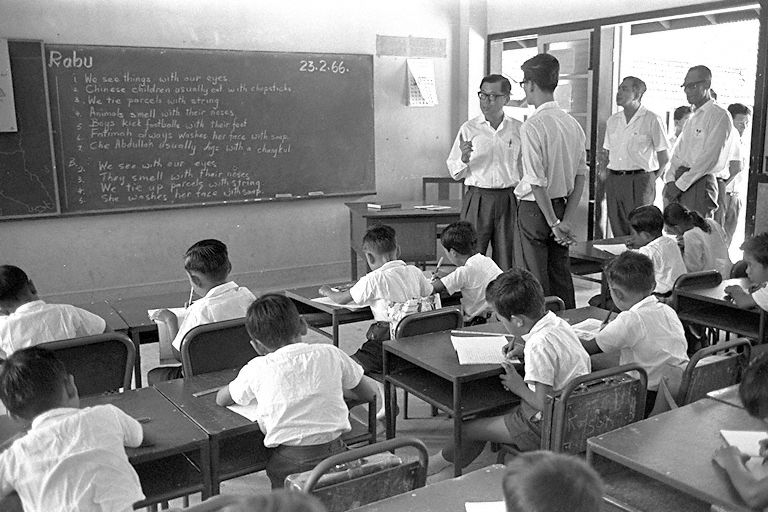 Minister for Education, Ong Pang Boon, accompanied by Minister of State for Education, Rahim Ishak, visiting a primary school in February 1966, to enable him to observe and better understand how schools were run. (Ministry of Information and the ArtsCollection, courtesy of National Archives of Singapore)
A key facet of Singapore's education system is the policy of bilingualism, which was launched for primary level in 1960 and secondary level in 1966. Students learn two languages: English, which is used as a working language that enables people from different ethnic backgrounds to communicate with each other, and an additional second language (either Mandarin, Malay or Tamil), which in 1979 was specified as the student's official mother tongue for them to remain connected with their ethnic group's cultural roots.
Laying a strong foundation
The progress made during its first 10 years of independence laid a strong foundation for Singapore's transformation from a nation that many did not expect to survive into the Singapore that we know today – a thriving, first-world country, a Singapore for Singaporeans.