Chettiar marriage necklace
(Thali / Kazhuththu Uru), Chettinad, Tamil Nadu, South India, 19th century.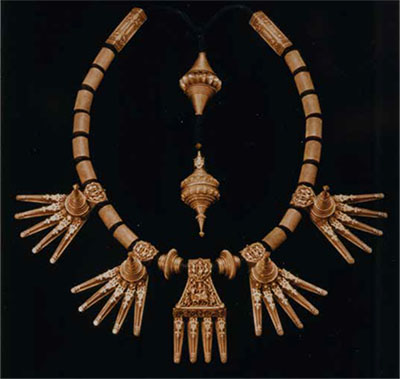 The Chettiars are a South Indian community in Singapore originating from Chettinad in Tamil Nadu. They are usually referred to as 'Nattukottai Chettiars' to distinguish them from other groups of Chettiars.
The term "chettiar" is a caste label referring to "merchant", and the Chettiars were traditionally merchants and traders in precious stones. They later moved into banking and moneylending activities. Their presence as financiers in Southeast Asia grew with the expansion of British colonialism. Many Chettiars emigrated from India to Ceylon (now Sri Lanka), Burma (now Myanmar) and Malaya (now Malaysia and Singapore).
The early Chettiar immigrants to Singapore contributed much to the economic development of the thriving settlement by providing credit and banking services. The majority of them operated their businesses from the shophouses situated along Market Street.
This large-sized thali (marriage necklace) is used exclusively by the Nagarathar Chettiar community of Tamil Nadu. This type of necklaces usually comprises 35 pieces and are strung by 21 lengths of twisted strings smeared with turmeric. The central pendant, also called ethanam, has four sharp spikes representing the four vedas (knowledge). This is surmounted by an image of Subrahmanya standing with his parents, Shiva and Parvati, who are seated on a nandi (bull). In weddings, the groom would tie this necklace around the bride's neck after the exchange of vows. The kazhuththu uru is a ceremonial thali that is worn during the wedding and special occasions, such as for the celebration of the husband's 60th birthday.
---
This is an extract from "The Singapore Story through 60 objects" written by Kennie Ting, Director, Asian Civilisations Museum and Peranakan Museum & Group Director of Museums, National Heritage Board. This article was first published in Cultural Connections Volume IV 2019 by Culture Academy Singapore.