The Esplanade from Scandal Point, John Turnbull Thomson, Singapore, 1851, oil on canvas.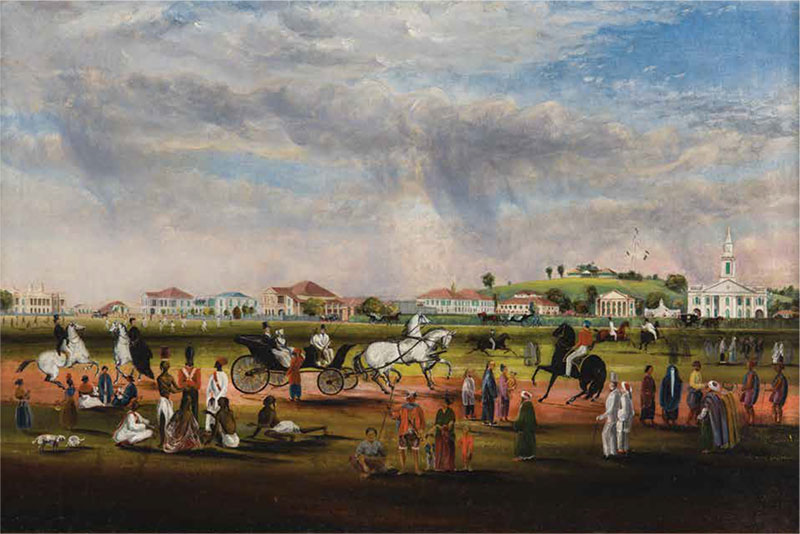 This is an oil painting by John Turnbull Thomson, who served as the first government surveyor in Singapore from 1841 to 1853. A self-trained artist, he produced a number of paintings which have become an important record of the early settlement.
This painting shows a view of the Padang (open square or field) from Scandal Point, the Saluting Battery (a small knoll above the original shoreline since levelled) situated at the edge of Connaught Drive, southeast of St. Andrew's Church (St. Andrew's Cathedral today). The Padang was the heart of social life in 19th century Singapore and is depicted here in its most bustling state in the late afternoon with different communities dressed in their respective costumes.
The painting creates the impression that Singapore was an idyllic multicultural society. However, the representation of Europeans on an elevated plane— on horseback or in horse-drawn carriages—while Asians are either standing or seated on the field, subtly suggests that it was the Europeans who held the authority in the settlement.
---
This is an extract from "The Singapore Story through 60 objects" written by Kennie Ting, Director, Asian Civilisations Museum and Peranakan Museum & Group Director of Museums, National Heritage Board. This article was first published in Cultural Connections Volume IV 2019 by Culture Academy Singapore.