TL;DR
In the 1800s, Telok Ayer Street was the first stop in Singapore for many of our forefathers. These early communities built places of worship and clan associations, six of which have been gazetted as national monuments by the National Heritage Board.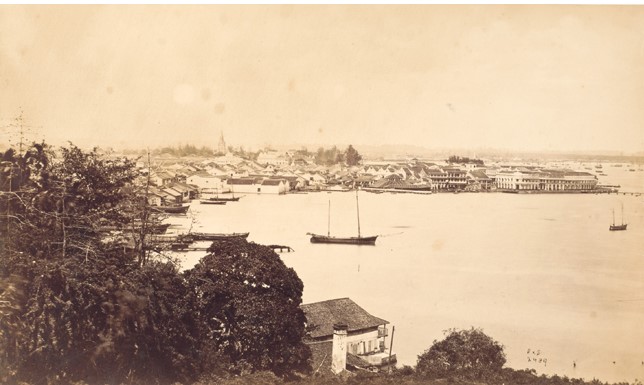 A rare panoramic picture of Telok Ayer Bay taken in 1872 by Bourne & Shepherd on Mount Wallich. Mount Wallich was named after Nathaniel Wallich, who was instrumental in the 1822 founding of Singapore's Botanical & Experimental Garden today's Singapore Botanic Gardens. Mount Wallich was levelled in 1885 for the reclamation of Telok Ayer Bay to form the area where Anson and Robinsons Roads now lie, linking Collyer Quay to Tanjong Pagar. From this vantage point, one can see the old Telok Ayer Market, St. Andrew's Church (later St. Andrew's Cathedral) and Johnston's Pier. (c1872. Image from National Museum of Singapore.)
Welcoming a better life
To many of our early immigrants, Telok Ayer Street represented the beginning of a bright future, a hope for great riches, and the first step of a journey that would last generations. It was here they built places of worship or shrines facing the waterfront to express their gratitude to their deities.
Although this area was first designated to the Chinese Community according to the Jackson Town Plan of 1822, this landing spot was home to different communities and hosted a rich diversity of multicultural activities.
Today, six of these buildings have been gazetted as National Monuments by the Preservation of Sites and Monuments, a division under the National Heritage Board. Let's take a walk down this historical street and explore these sites.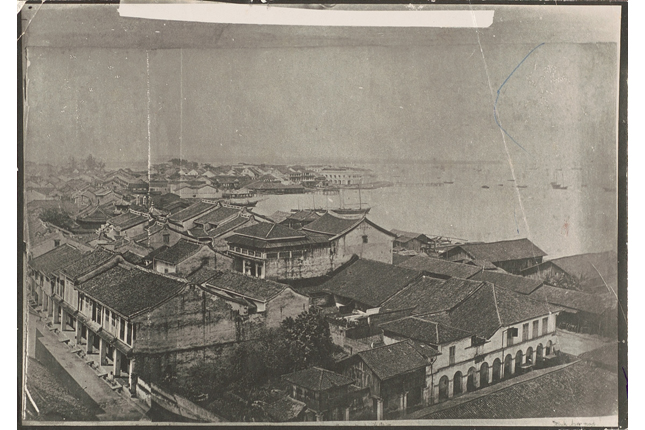 This is a view of the Telok Ayer Bay, an area set aside by Stamford Raffles for the Chinese community in 1822. Here, two iconic structures could be seen in the distance—the old Telok Ayer market by the sea and the Thian Hock Keng temple to the left. (c mid-late 19th century. Image from National Museum of Singapore.)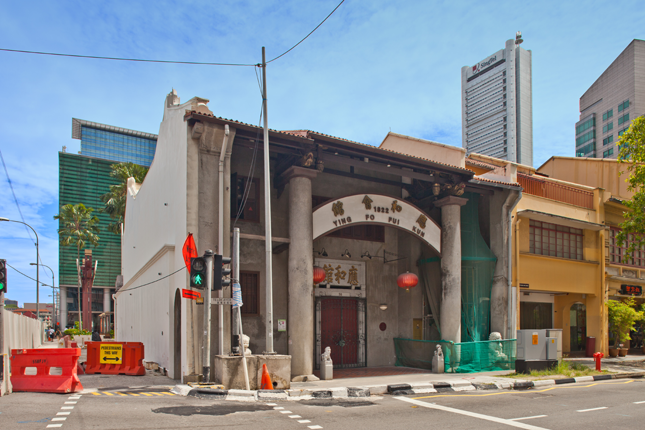 Nagore Durgha, today's Nagore Dargah Indian-Muslim Heritage Centre, seen on the right of the picture, is easily recognised by its distinct fluted Corinthian pillars. (Image from National Museum of Singapore.)
At the intersection of Cross Street and Telok Ayer Street is the home of Singapore's oldest Hakka clan association. It was built in 1844 as a community centre for Hakka immigrants from the Guangdong province in China, and helped thousands of our forefathers settle in upon arrival.
Interestingly, Hakka architecture included high ground-floor windows, built to prevent intruders from looking or climbing in. You can easily spot them on Ying Fo Fui Kun's facade.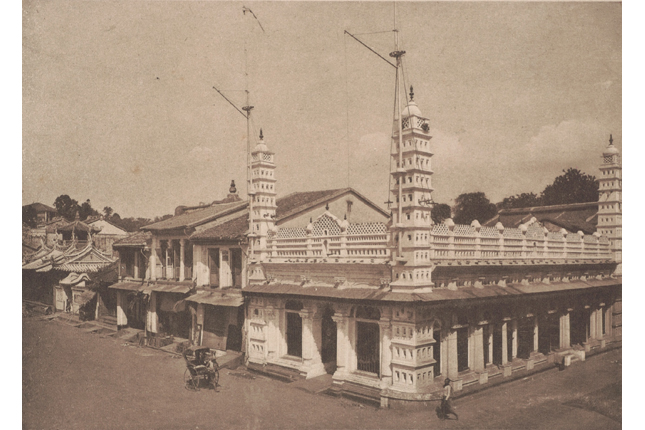 Nagore Durgha, today's Nagore Dargah Indian-Muslim Heritage Centre, seen on the right of the picture, is easily recognised by its distinct fluted Corinthian pillars. (Image from National Museum of Singapore.)
Walk a little further down the street and you'll be greeted with the visually striking architecture of Nagore Dargah Indian-Muslim Heritage Centre. The elaborately carved pillars and walls incorporate elements from mosques, Corinthian and Doric styles from ancient Greek and Roman architecture and French-style windows.
It was constructed in 1830 as a shrine built by Chulia immigrants in remembrance to the Tamil Sufi preacher-saint Shahul Hamid. These South Indians first came to Singapore as traders and moneychangers, and many of them were Muslims and devotees of the saint.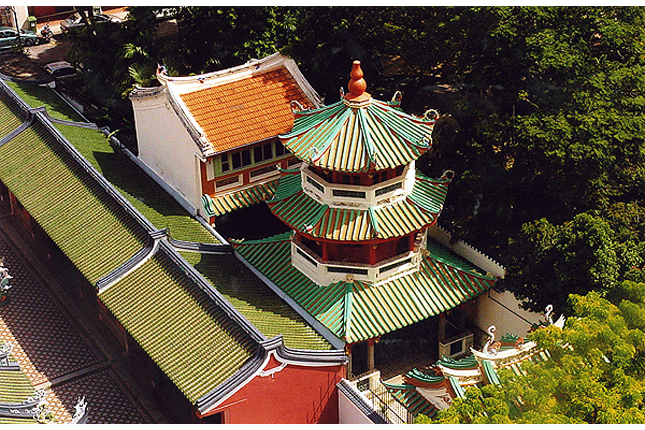 Just a few doors down is the former Keng Teck Whay Building, the only surviving Peranakan ancestral hall and clan complex in Singapore.
Built in 1831, the building was built by a group of 36 Peranakan merchants and served as a place of worship, meetings, and funding headquarters for financial assistance of their families. Today, it is a Taoist temple honouring the Heavenly Jade Emperor, the highest divinity in the religion.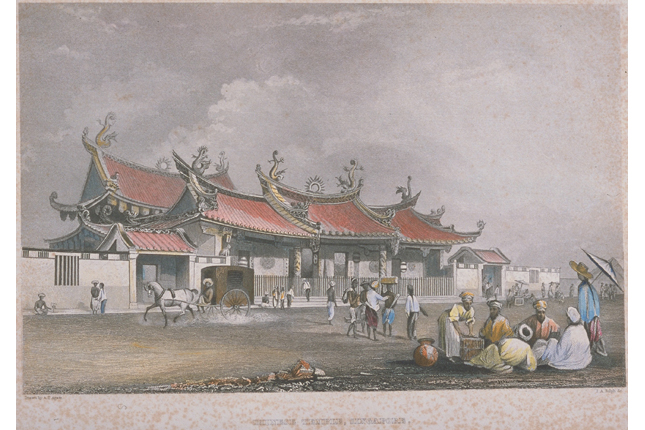 Walk a few more steps and you'll arrive at the 'Palace of Heavenly Happiness'. The iconic Thian Hock Keng is one of the most well-known temples in Singapore. What used to be a small makeshift shrine for Mazu, the Goddess of Seas, was rebuilt in 1842 and is believed to be the oldest Hokkien temple in the country.
The building was restored between 1988 and 2000, and earned an honourable mention from the UNESCO Asia Pacific Heritage Awards for Cultural Heritage Conservation.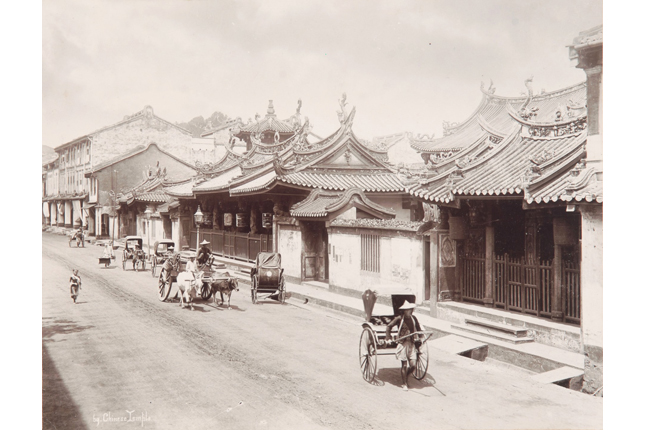 Thian Hock Keng (Temple of Heavenly Bliss) is one of the oldest Chinese places of worship in Singapore. Constructed between 1839 and 1842 with donations from devotees, the temple's main hall was dedicated to Ma Zu Po, a deity widely regarded as the Goddess of the Sea. Early devotees went to the temple to seek blessings from and give thanks to the Goddess for safe sea voyages. The site was designated as a national monument in 1973. G.R. Lambert & Co. albumen print of the Thian Hock Keng Temple at Telok Ayer Street, 1880s. Image from National Museum of Singapore.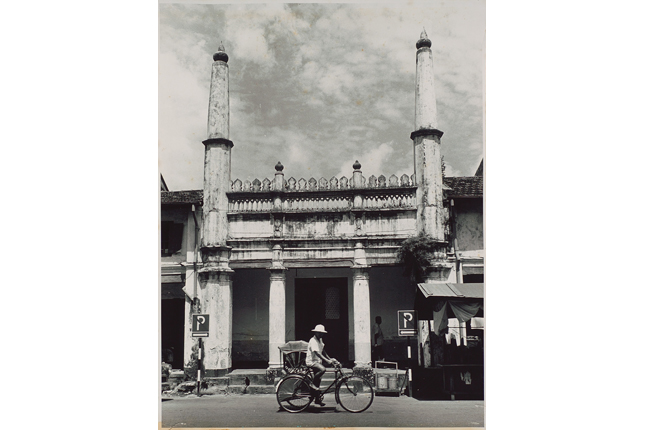 The Al-Abrar Mosque was also known as 'Kuchu Palli' in Tamil (meaning 'Hut Mosque'), simply because it started as a simple hut. A brick building was constructed in its place between 1850 and 1855, which has a unique facade consisting of two small minarets flanked by two larger ones. (c1950s. Image from National Museum of Singapore.)
Continue along the same five-foot way and you'll see the Al-Abrar Mosque, also known as Masjid Chulia. It was established as early as 1827 as a thatched hut as a place of worship for the Indian Muslims from the Coromandel Coast of southern India.
If you explore the Telok Ayer area a little more, you'll get to see the descendants of many of our Chulia immigrants, who continue operating businesses and trade till today.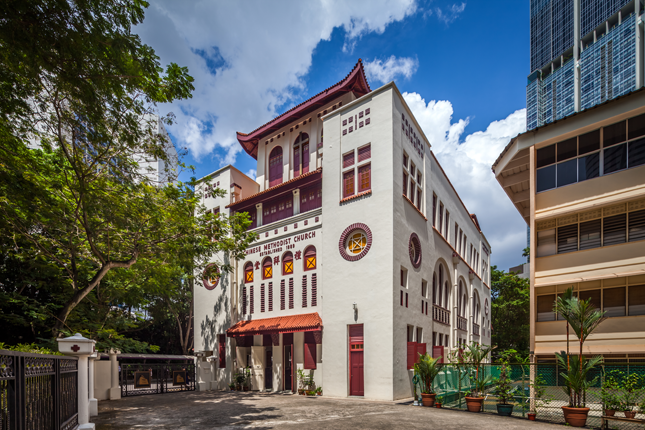 At the end of the street stands the Telok Ayer Methodist Church, originally founded in a shophouse clinic in 1889, and moved to its current site in 1925.
The unusual Chinese-style pavilion roof was put in place to welcome a largely Chinese congregation in its founding days. Take a closer look and you'll notice that the walls are noticeably thick, as they were reinforced during WWII to protect the hundreds seeking refuge in the church, protecting them against stray bullets and shrapnel.