TL;DR
Every morning, thousands of students from Hwa Chong Institution would walk past a bronze statue of Tan Kah Kee, which overlooks the school terraces and football field. The founder of their school, business tycoon Tan Kah Kee (1874–1961) was also a philanthropist, social reformer, education promoter, community leader, and Chinese patriot, who contributed to Singapore in numerous ways.
A sharp mind for business
Born in the Jimei village in Fujian, China, Tan Kah Kee was educated with traditional Confucian values from the ages of 8 to 16. He moved to Singapore in 1890 to help out at his father's rice mill and sundries shop, Chop Soon Ann.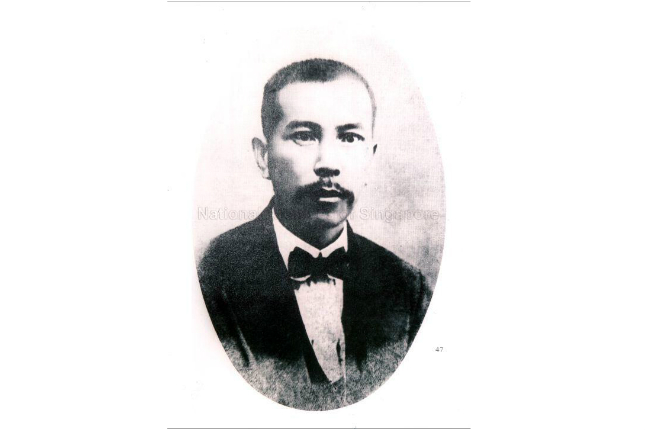 Tan Kah Kee. Image from National Archives of Singapore
Tan's early education laid the foundation to his exceptional work ethic. He displayed remarkable acumen and intelligence as an apprentice, and was put in charge of the company in 1892, when his uncle fell ill and retired. Tan's father then decided to expand the rice import and distribution business and ventured into pineapple farming and cannery. The shop's economic success, however, did not last long.
In 1893, Tan Kah Kee returned to his home village in China and married Teo Po Ke. He returned to China several times to attend to his ailing mother, and subsequently arrange her funeral when she passed away. Still mourning his mother's passing, Tan came back to Singapore in 1903 to discover that Chop Soon Ann had to close, because his father's third wife and her son misappropriated funds and mismanaged the business. Tan's father also landed in heavy debts.
"Henry Ford of Malaya"
Tan was not deterred. Despite the setback, he set up Sin Lee Chuan, his own pineapple canning factory in Sembawang, which expanded rapidly. He eventually bought over Jit Sin, one of the largest pineapple canning factories in Singapore, and started the Hock Shan Plantation.
By then, Tan had already owned several businesses such as rice mills, rubber plantations, biscuit factories, shipping, and manufacturing. His empire was booming and he helped settle his father's debts.
In 1923, Tan ventured into retail business and became the founder of Chinese newspaper Nanyang Siang Pau. His involvement in all stages of his plantation's supply chain even earned him the nickname "Henry Ford of Malaya", based on this principle that originated from American automobile manufacturer Ford's founder.
Between 1923 and 1925, he employed over 1,400 workers in 150 offices on five continents, amassing a wealth of an estimated S$10.8 million. Among the prominent businessmen he trained were Lee Kong Chian and Oon Chye Hong, both of whom later became his sons-in-law.
Education, the key to social betterment
Tan Kah Kee strongly believed that education was the key to creating better societies with socially responsible members. He used his wealth to support numerous educational institutes in both China and Singapore. Xiamen (Amoy) University, which he founded, is today one of China's most prestigious institutes for higher education.
Tan Kah Kee's tremendous contribution in education included:
1894 – Set up Ti Chai Hsueh Shu Chinese tuition school (China)
1907 – Founded Tao Nan School with 109 other members of the Hokkien Community (Singapore)
1912 – Helped set up Ai Tong School (Singapore)
1913 – Set up Ji Mei School in his hometown (China)
1915 – Set up Chong Hock Girls' School (Singapore)
1917 – Sent his younger brother back to Fujian to prepare setting up Ji Mei Secondary School and Ji Mei Normal School (China)
1918 – Set up Nanyang Girl's school (Singapore)
1919 – Founded The Nanyang Chinese High School (Singapore)
1919 – Donated $30,000 to the Anglo-Chinese School (Singapore)
1921 – Set up and officially opened Xiamen University (China)
1926 – Expanded campus of The Chinese High School, and Ji Mei Farming and Forestry School.
1929 – Made a generous $10,000 donation to Raffles College (Singapore)
1939 – Founded Nanyang Fishery and Marine School (Singapore)
1941 – Set up Nanyang Normal School (Singapore)
1947 – Founded Nan Chiao Girls High School in 1947 (Singapore)
1949 – Rebuilt Ji Mei schools and Ji Mei University (China)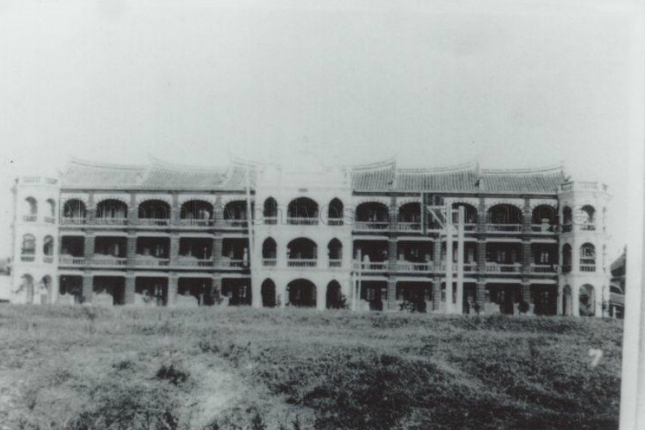 Jimei Secondary School set up by Tan Kah Kee.
Image from National Archives of Singapore
Tan's businesses began to suffer due to competition from cheap Japanese imports. Nevertheless, he continued being the champion for education, even when he had to borrow from banks. The Great Depression in 1929 dealt the final blow and he had to sell his company in 1934 after struggling for years.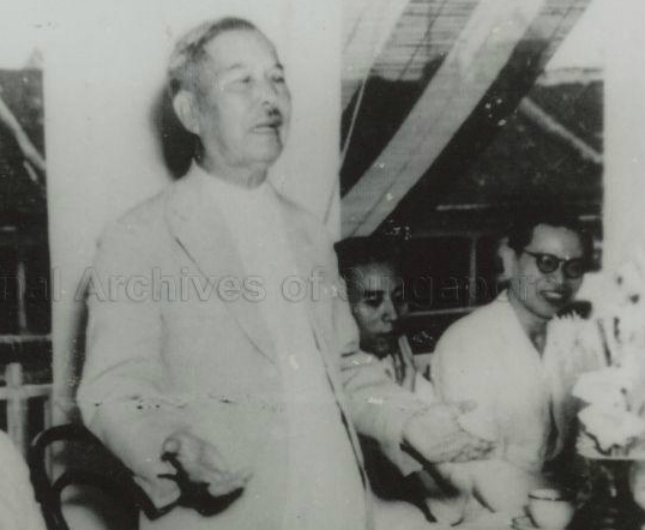 Tan Kah Kee giving a thank-you speech.
Image from National Archives of Singapore
Community leader and war hero
In 1929, as recognition of his contribution to the Chinese community, Tan Kah Kee was elected as president of the Hokkien Huay Kuan. As the leader of the Hokkien community in Singapore, he encouraged all Chinese dialect communities to unite and support China in its community reforms. These included helping to eradicate opium addiction, improving housing and personal hygiene, as well as shortening the duration of funeral wakes to save money for the poor families of the deceased.
Tan also set up the China Relief Fund to support China's effort against the Japanese invasion when the war broke out in 1937.
In 1938, Tan was elected as president of the Southeast Asia Federation of the China Relief Fund. In his role, he organised public mass assemblies in Singapore to rally the Chinese against the Japanese aggression.
When the Japanese eventually occupied Singapore in 1942, Tan had to escape persecution from the Japanese Kempetai (Japanese military police) and fled to Marang, Indonesia.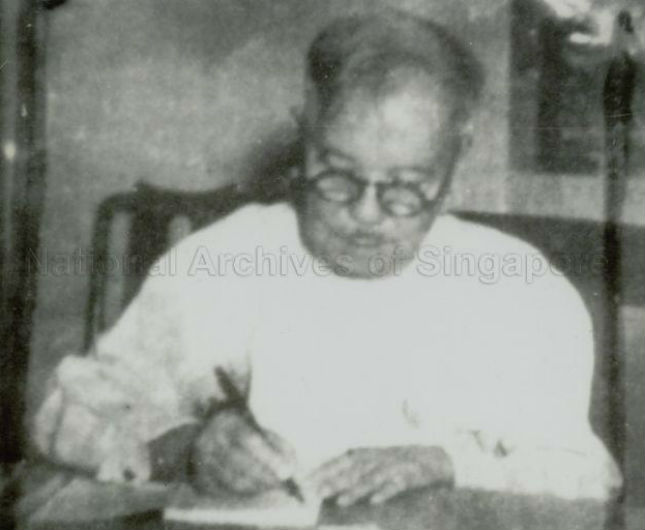 Tan Kah Kee penning a letter.
Image from National Archives of Singapore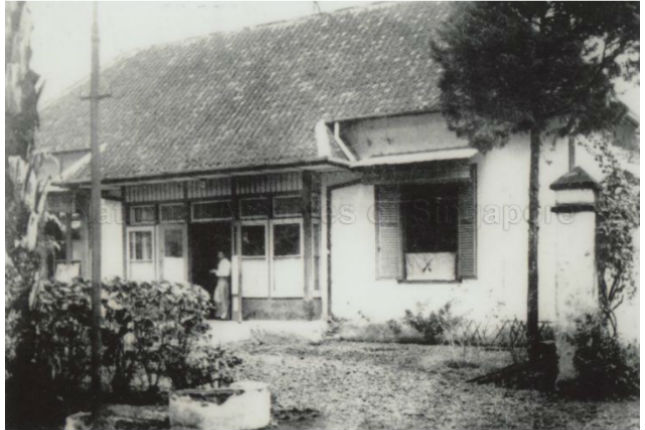 Place where Tan Kah Kee stayed in Java.
Image from National Archives of Singapore
A lifetime of philanthropy
After the war, Tan Kah Kee returned to Singapore in 1946 and published Nan Chiao Jit Poh, a newspaper disparaging the ruling Kuomintang in China.
Tan returned to China in 1949 to finish his projects of building the schools and the Hokkien Railway. In 1950, he came back to Singapore to wind up his business and retired for good in Jimei.
At the age of 87, Tan Kah Kee passed away in Beijing in 1961 and received a state funeral from the Chinese government. His final resting place is in Ao Yuan, Jimei.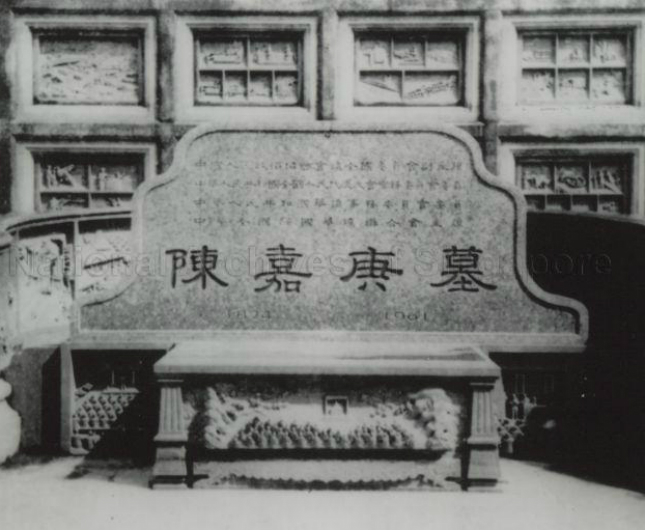 Tan Kah Kee's tombstone.
Image from National Archives of Singapore