TL;DR
Many who had visited Little India in the 90s would have heard of another empire besides Mustafa – PGP Stores. The saree store and supermarket were owned by Govindasamy Pillai, a Tamil Nadu immigrant who donated generously to the Hindu community in Singapore. The philanthropist was also a founding member of the Indian Chamber of Commerce and a Justice of Peace.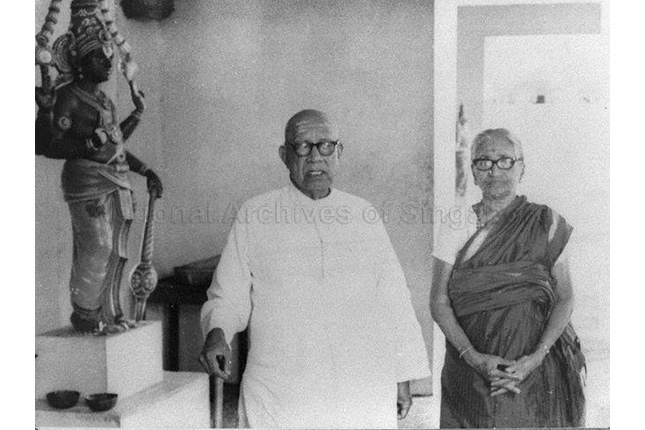 Govindasamy Pillai and his wife at the Sri Srinivasa Perumal Temple. (c1970s. Image from National Archives of Singapore.)
Humble and frugal beginnings
In the 1920s, a teenaged Govindasamy Pillai (1887–1980) first came to the shores of Singapore by ship from Tamil Nadu, India. He started working as a provision shop helper at Serangoon Road, where he was paid only with accommodation and food. Life was frugal, but Pillai had bigger plans and was determined to make this country his home. So in 1929, he went back to India to bring his wife to Singapore and start a new life together.
Pillai knew that being a helper at the provision shop was not going to fulfil his ambition. To better provide for his wife and his new family, he wanted to start his own business. Pillai made a decision to take loans from chettiars (Indian moneylenders) to buy over the provision shop from the owner.
The new business owner and proud father named his new store at 50 Serangoon Road Dhanalakshmi Stores, after his eldest daughter. The grains, oils, and spices store was later renamed to P. Govindasamy Pillai Stores, or the catchier PGP Stores – a name that would become widely known among the Little India patrons.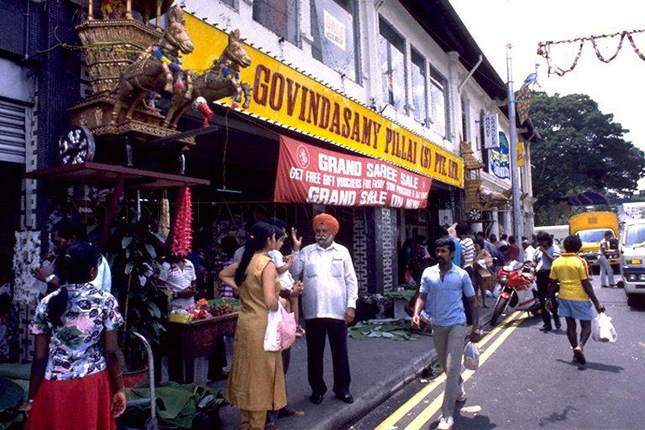 P. Govindasamy Pillai Store at Serangoon Road was a popular spot for shoppers at Little India. (c1987. Image from National Archives of Singapore.)
More than a businessman
With PCP Stores gaining popularity, Pillai set his sights on even more success. He began investing in other properties around Serangoon Road and started other businesses including flour and spice mills, and textile shops. Pillai's ambition paid off and his saree shops became a big name among the local Indian community. Every weekend, crowds would flock to the supermarket and saree shop, which occupied the spot where the current Little India Arcade is.
The success, however, was threatened when World War Two broke out. While juggling his business, Pillai also rallied support from the local South Indian community to help with the war efforts. He was made a Justice of Peace in 1939 in recognition of his efforts. During this period, he also strongly advocated for Indians who came to build new lives in Singapore.
In 1942, the war reached our shores and Singapore was occupied by the Japanese. The new government confiscated all of Pillai's goods and as a result, his business was forced to close. Pillai was not someone who gave in to hardships, and immediately after the war ended, he started once again building up the PGP empire from scratch. This time, he saw even more success and expanded to Johor and Malacca in Malaysia.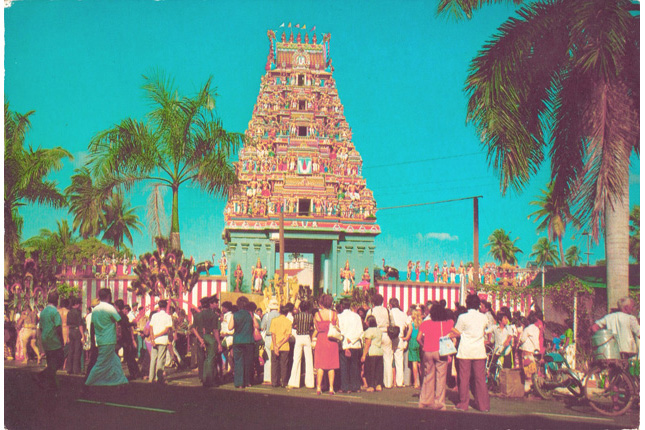 Pillai funded the construction of the gopuram or five-tiered entrance tower of the Sri Srinivasa Perumal Temple. The temple was gazetted as a national monument in 1978. (c1977. Image from National Museum of Singapore.)
A devout Hindu and generous philanthropist, Pillai never forgot his struggles when he first moved to Singapore. He gave generously to the community, donating large sums to Sri Srinivasa Perumal Temple for the construction of their gopuram, or entranceway to the temple. The new home for Ramakrishna Mission at Barley Road, which Pillai often volunteered at, was also made possible through his donation in 1952. He also donated substantial amounts to Gandhi Memorial Hall, Indian Association, and the University of Malaya.
Pillai retired in 1963 and handed his three-million-dollar business to his children. He may have passed away in 1980, but his stores remained in business for years after, up until 1998, leaving a legacy that will forever be etched in many Singaporeans' memories.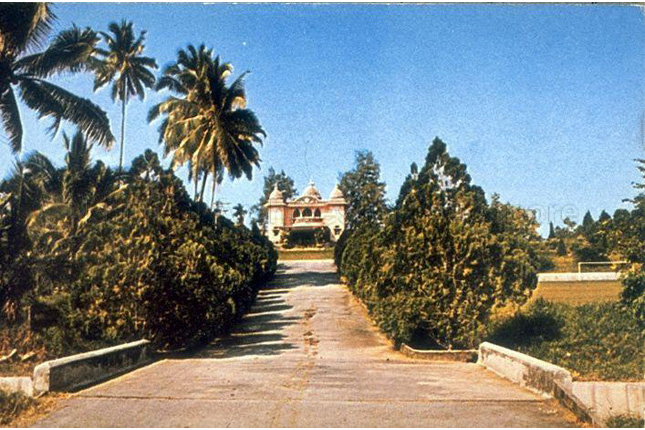 The Ramakrishna Mission Temple on Bartley Road was only made possible by Pillai's generous donation. (c1950s. Image from National Archives of Singapore.)