TL;DR
Naraina Pillai was the first Tamil to set foot in Singapore, arriving in style in 1819 in the same vessel as Stamford Raffles who was on his second visit to the island.1 Formerly a government clerk in Penang,2 Pillai found himself having to restart his career in Singapore. He was quick to find his footing and did well enough to construct Singapore's oldest Hindu temple, the Sri Mariamman Temple,3 in 1827.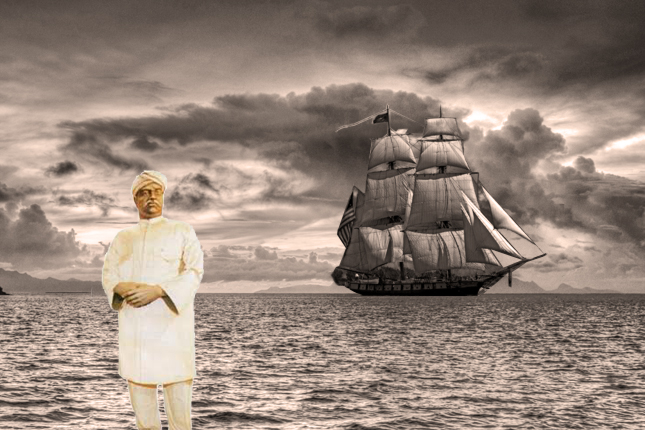 Naraina Pillai was one of the first Indians to set foot in Singapore. He came onboard The Indiana4 along with Stamford Raffles.
Giving Singapore a try
While working as a government clerk for the British in Penang,5 Naraina Pillai was enticed by Stamford Raffles' effusive praise for the strategically located and freshly established colony of Singapore.6 Deciding to seek out new prospects, Pillai packed his bags and accompanied Raffles on his second visit to Singapore via The Indiana. They arrived in May 1819. The move earned him the title of the first recorded Indian immigrant to step foot in Singapore.
Brick by brick
However, upon arrival, Pillai learnt that he had to rebuild his career from scratch. His first job, a temporary role to help weed out counterfeit money in the colonial treasury, did not amount to much.
Instead of being disheartened, Pillai sought to restart his career. Seeing that the burgeoning city of Singapore lacked housing infrastructure, he decided to set up a brickworks. Pillai wrote to his contacts abroad, seeking bricklayers, carpenters and artisans from Penang and South India to join him.7 His foresight earned him yet another entry in the record books which credit him for starting Singapore's first brick company. Pillai's kiln was located at Mount Erskine (Tanjong Pagar today).8
Pillai found even more commercial success in the form of a textile shop which he established at Cross Street. Owing to an arrangement he had with British merchants who allowed him to retain bundles of cloth and cotton products on credit, his shop became famous for its wide variety. This venture, however, was disrupted when a fire destroyed his shop. Not taking the setback lying down, Pillai approached Raffles — the reason he was in Singapore in the first place — for help. Raffles obliged, providing him with a piece of prime land at Commercial Square (Raffles Place today) which Pillai put to good use.9
An outstanding community leader
Now a rather prominent member of society, Pillai was often approached by other Indian settlers for help and counsel. Just three years after his arrival, the British made Pillai leader of the Indian community.10
Pillai made it his mission to build Singapore's first Hindu shrine, writing to the authorities for a plot of land.11 His wish was granted in 1823 after he was allocated a suitable site at South Bridge Road. The shrine was completed in 1827.
Over the decades, the temple underwent various refurbishments. Two updates in particular were significant. The first involved Indian convicts and craftsmen from Madras (Chennai today) who helped build a brick version of the temple in 1843. Subsequently, in the early 1860s, skilled artisans from the Cuddalore and Nagapattinam districts of Tamil Nadu in South India were hired to build a more permanent structure — the basis for the very building which stands in Chinatown today.12
The Sri Mariamman Temple in the early 1900s. (Photo from the Lim Kheng Chye Collection, courtesy of the National Archives of Singapore)
Remembering Pillai
The Sri Mariamman Temple has been an integral part of the community from the get-go. In its early years, it was the only site in the city where priests could solemnise Hindu marriages.13 Today, it continues to serve as sacred grounds for a variety of everyday rituals and festivities. To commemorate the temple's storied past, cultural contributions and founder's legacy, it was gazetted as a national monument in 1973.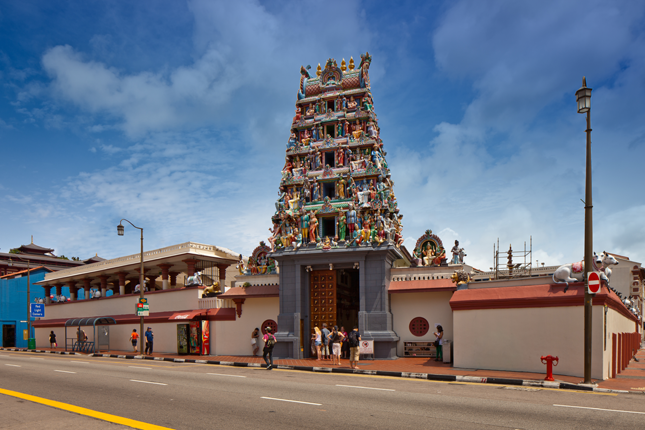 The Sri Mariamman Temple which was gazetted as a national monument in 1973, serves hundreds of devotees and tourists daily.
Pillai's legacy was also recognised in 1957 when the authorities named a road in Serangoon after him.14
More recently in 2019, a statue honouring his contributions to Singapore was installed along the Singapore River as part of the nation's bicentennial celebrations.15
Pillai's story is also commemorated at the Indian Heritage Centre.