TL;DR
Going to the cinema today is a state-of-the-art audiovisual experience, complete with spacious, comfy seats, and a buffet of snacks for us to choose from. But it wasn't always like this. No one in Singapore knew what a cinema was until 1902, when Basrai, a Parsi showman, set up the first outdoor film screening tent on a field along River Valley Road.
The gypsy cinema arrives in Singapore
Basrai was a travelling showman of the Parsi origins. In 1902, he arrived in Singapore with a tent that would change the country's entertainment scene forever. Set up at the junction of Hill Street and River Valley Road, his cinema was the first ever to screen a public film here. The entrance fee was 10 to 50 cents, and films were projected onto the screen using limelight.
The first films shown included Miroir deCagliostro (Cagliostro's Mirror), Le reve d'unastronome (Astronomer'sDream), and Photographing a Ghost. Although the visual effects and cinematography was vastly different by today's standards, the tent cinema was a huge hit for the two years following Basrai's arrival.
Singapore's first enclosed cinema
In 1904, the tent cinema saw a new rival on the scene. The Paris Cinematograph, started by French entrepreneur Paul Picard, was Singapore's first enclosed cinema in the Malay Theatre at Victoria Street. He screened hour-long pictures and played music to accompany the silent films. Back then, a third-class seat costed 10 cents and a reserved seat was 50 cents.
Our next big star… Sound!
It wasn't until the 1920s that the first-ever 'talkies' (films with sound) arrived in Singapore. Naturally, it took Singapore by storm, and amusement park cinemas started showing popular American, British, Chinese, and Hindi films, which captivated huge audiences. This era gave birth to the Oriental Theatre at New Bridge Road and Majestic Theatre at Eu Tong Sen Street. Today, you can still find the preserved facade of the Majestic Theatre, right next to Chinatown MRT Station.
The cinema craze did not die out even when the Second World War arrived on our shores. As Singapore ushered in the 50s, even more players came into the picture. In 1952, Cathay Cinema became one of the first to screen a full-length 3D movie, Bwana Devil. The devil that popped out from the screens took every moviegoer's breath away.
If you have watched a movie at one of the older cinemas, you'd have probably noticed that the screen also came with a significantly spacious stage. Cinemas during those days were also equipped for live shows such as musicals, magic shows, beauty contests, variety shows, and dance performances.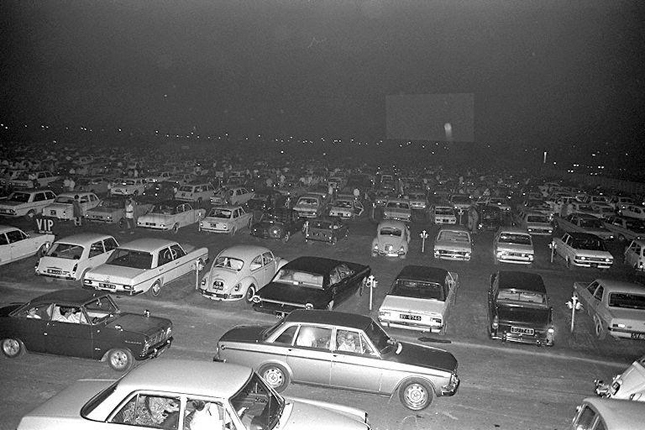 In the 1970s, Asia's largest drive-in cinema that could accommodate 900 vehicles also opened in Jurong. c. 1971. Image courtesy of National Archives of Singapore.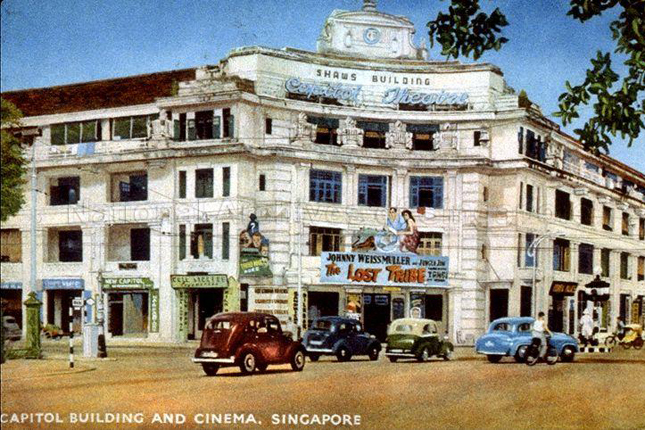 Capitol Cinema was Shaw Organisation's flagship cinema after they purchased the Capitol building (later renamed Shaws Building) from the Namazie brothers in 1946. The tenancy of the building was returned to Singapore government in 1980s. c.1950s. Image courtesy of National Archives of Singapore.
Running the show until today
The industry's boom led to many bigger players in the world of cinema to establish their presence in Singapore. Some of these have survived the changing eras, and film buffs today continue to enjoy big-screen entertainment at one of their cineplexes. Here are some you might already know: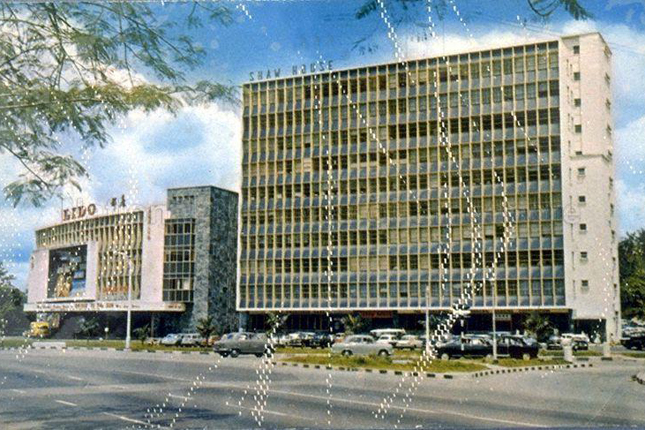 View of Shaw House (right) and Lido Cinema from Orchard Road, Singapore. c.1969. Image courtesy of the National Archives of Singapore.
Shaw Brothers, a film group set up by brothers Run Run and Run Me Shaw, owned more than 100 cinemas in Southeast Asia and had the biggest cinema empire in Singapore in 1965. Their 19 cinema halls were located across the island, and another 30 cinemas licensed to play the movies they exclusively distributed. They also opened REX cinema at Mackenzie Road, a popular spot for foreign workers.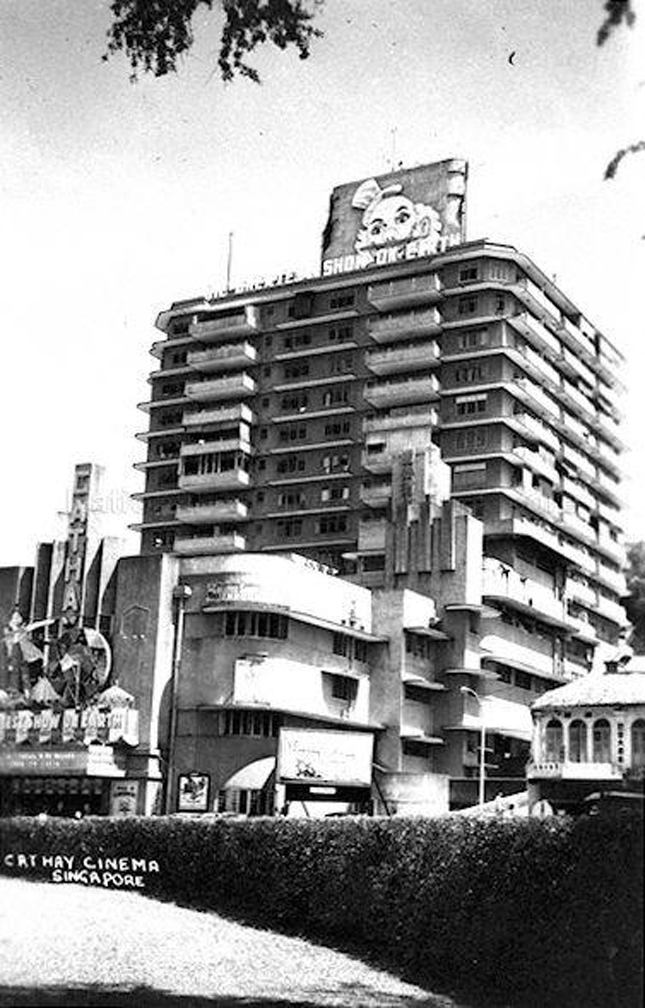 Cathay building with cinema on ground floor and residences above c. 1953. Image courtesy of the National Archives of Singapore.
Cathay Organisation's founder, Loke Wan Tho, hailed from one of the wealthiest families in Malaya, and instead of carrying on the family business, he decided to produce movies and own cinema chains, a wise decision that brought the organisation its continued success until today.
Eng Wah, also a Malayan native, set up a cinema at the Happy World Amusement Park with a friend. It was renamed Victory Theatre and survived the war by screening Japanese propaganda films. He continued his expansion to more cinemas and set up Eng Wah Theatres in 1968, bringing in numerous Chinese movies from Hong Kong and Taiwan. It has since rebranded itself as WE Cinemas.
Golden Village is a relatively new player. A joint venture by Golden Harvest (Hong Kong) and Village Roadshow (Australia), it began operating in the early 90s and now owns 11 multiplexes and cineplexes in the country.
Filmgarde Cineplex is the latest addition in the line of high rollers. Established in 2007, this independent cinema offers films of other genres aside from the blockbusters, with the aim of cultivating a community of film lovers in Singapore.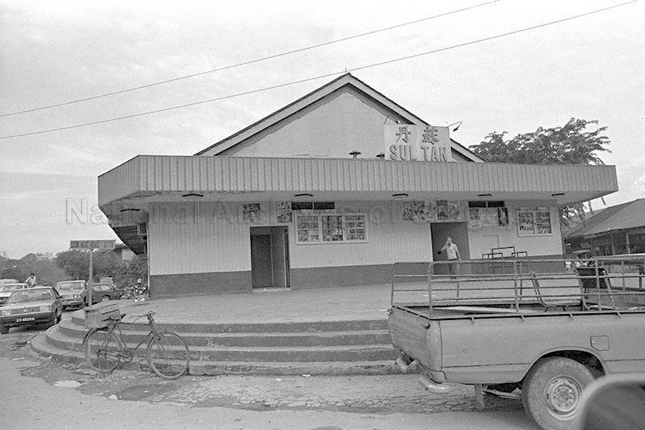 View of Sultan Theatre at Chong Pang village. Image courtesy of the National Archives of Singapore.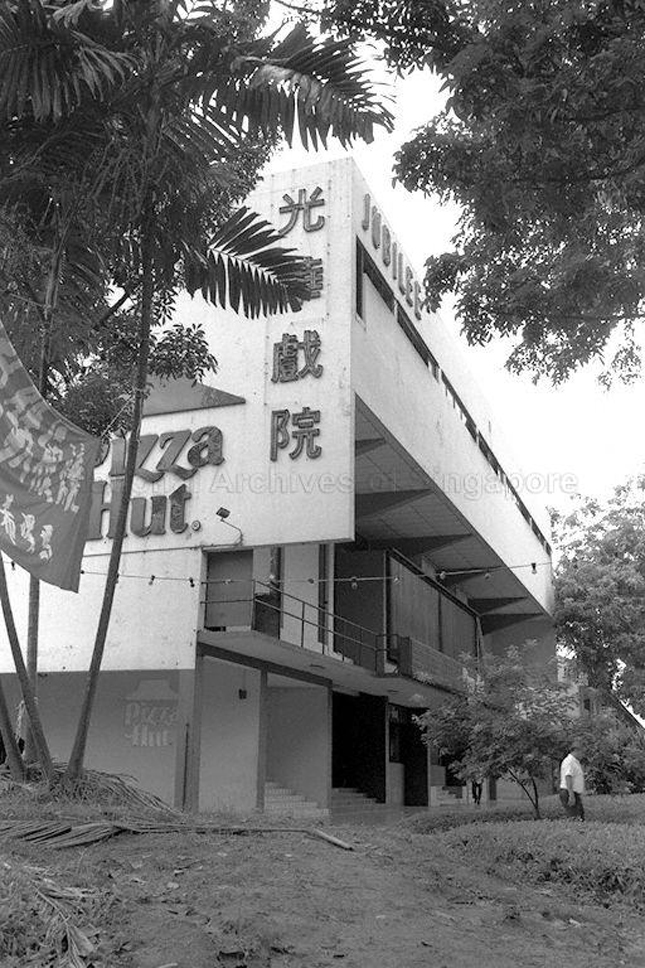 Jubilee Cinema at Ang Mo Kio Avenue 8 (Ang Mo Kio Town Centre). Image courtesy of the National Archives of Singapore.
Cinema now, and beyond
Over a century has passed since the tented cinema debuted with its first screening in Singapore. The cinemas today not only face fierce competition from one another, the films they show must also outshine the huge selections from online streaming services.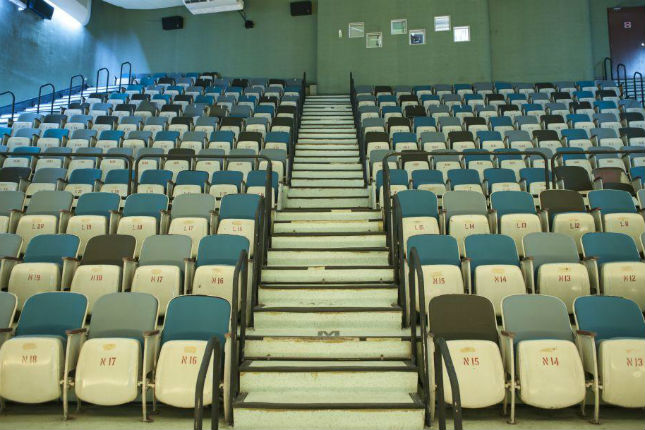 The Projector. Photo Credit: Philip Aldrup
That's why independent venues such as The Projector, The Arts House, Alliance Francaise Cine Club, The Screening Room, The Substation, and Moving Image Gallery at SAM @ 8Q, offer unique genres of carefully curated films that are otherwise less accessible to the mainstream moviegoer.
From tented cinema to today's indie art house theatres, the journey of Singapore's big screens will continue to grow and evolve. What's going to happen to our cinemas in the future? Let's watch on.