Located at junction of Onan Road and Geylang Road, Garrick Cinema was once a popular cinema that served the residents of Joo Chiat.
Former Joo Chiat Road resident Mr Chan Thai Ho spent his entire childhood in Joo Chiat Road, during which he would watch films at Garrick Cinema.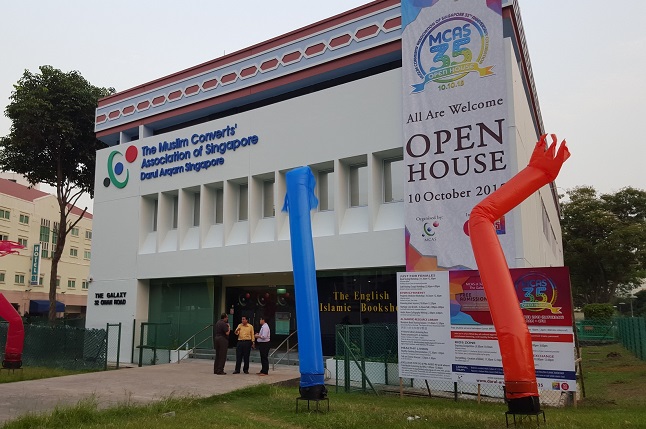 Today, the former Garrick cinema houses the Muslim Converts' Association of Singapore. Photo courtesy of MCAS.
"I remember watching the film Pontianak with all the other kampong boys," said Mr Chan.
"Back in those days, tickets cost less than a bowl of mee. So you either get some form of entertainment or you go about satisfying your belly," he continued.
Mr Chan also commented that ticket prices would increase as you go further up the rows – the back rows offer a better view.
For instance, the middle wing and the back row would be priced at 50 cents and a dollar a seat respectively, as opposed to paying just 30 cents for the front few seats.
The area around the cinema became a playground for Mr Chan and his friends, before he pursued his cadetship with the Singapore Fire Brigade.
Mr Chan's cousin Mrs Wee Gek Suan was also a former Joo Chiat Road resident.
For Mrs Wee, talking about the Garrick Cinema brings back fond memories of her childhood playing on the grounds of what was once a Dutch Camp that housed a Dutch community following the Japanese surrender in 1945.
The camp stretched from Geylang Serai all the way to Crane Road.
"I would spend my afternoons helping my mom and my aunt sell gado-gado beneath a shady tree in the Dutch Camp," she began.
"The Dutch troops were very friendly towards us and I remember receiving sweets from them," she continued.
According to Mrs Wee, the Dutch loved gado-gado so much so that every bowl would be sold before the end of the day.
"It was a very pleasant community surrounded by a beautiful setting of luscious greenery and little semi-detached houses."
Garrick Cinema was renamed Galaxy Theatre in 1965, and is still known as 'The Galaxy' to the elder folk. Today, The Galaxy houses Muslim Converts' Association of Singapore (MCAS), or Darul Arqam – as commonly referred to by the younger generation.