TL;DR
25 May 1961 – What started as a small fire at a makeshift squatter hut in Kampong Tiong Bahru Road grew into a raging blaze that swallowed the entire 100-acre Bukit Ho Swee estate. This fire was the final call for our government to move all Singaporeans out from their crowded villages into safe, modern homes with proper amenities, paving the way for today's successful public housing programme.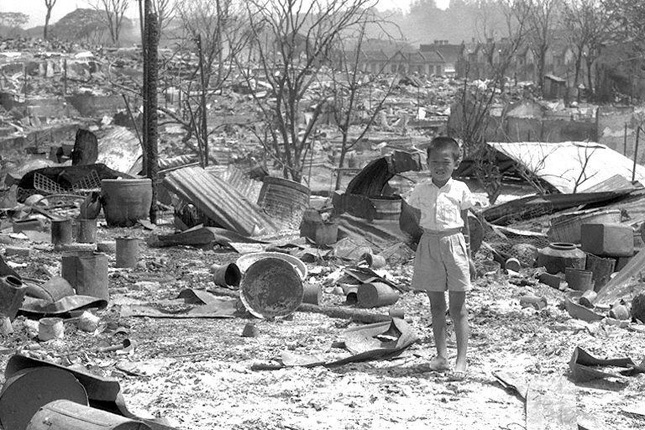 The Bukit Ho Swee fire claimed the lives of four while displacing some 16,000 from their homes and livelihood. (Image from National Archives of Singapore)
Spreading like wildfire
Bukit Ho Swee had a population of close to 20,000 living in attap huts, or simple wooden huts with zinc roofs. On 24 May 1961, the day started just like any other as the villagers went about their daily activities. But at 3:30 pm, a small fire broke out on a hillside squatter district in Kampong Tiong Bahru Road.
The fire might have been easily stopped if not for the winds that afternoon, which quickly carried the flames to neighbouring huts and the godowns stocked with petroleum products. For hours, villagers in Bukit Ho Swee watched helplessly as the raging blaze swallowed their homes.
180 firemen, 20 officers, 22 fire trucks, and nearly 1,000 army personnel were called in to battle the fire and control the crowd.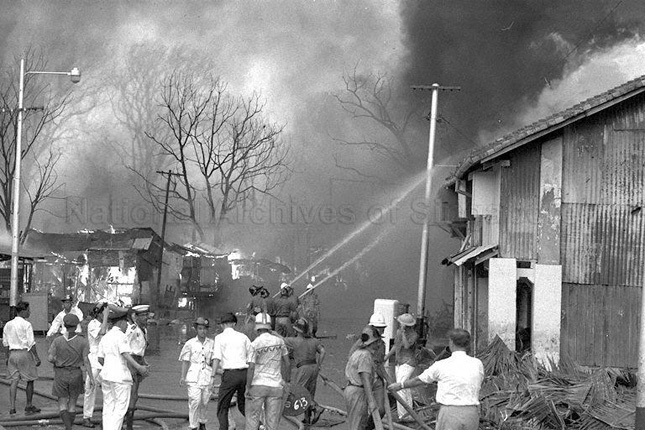 For many of the firefighters, the low fire hydrant pressures and the congestion of Kampong Bukit Ho Swee posed big problems in fighting the fire. (Image from National Archives of Singapore)
Firefighters struggled to navigate the dense layout of the kampung (Malay for 'village'), and luck was not on their side. The low water pressure from hydrants also made it extremely difficult to put out the fire. Tragically, every last hut in Bukit Ho Swee was turned to ashes. The fire only stopped when it finally ran out of fuel at the open space along Ganges Avenue.
A quick but crucial 'band-aid'
Overnight, 250 acres (approximately 93 football fields) of attap houses, shops, schools, and factories were turned to smouldering ashes. Nearly 16,000 victims lost their homes, and four were tragically killed. The victims had to be given temporary shelter at five nearby schools along Kim Seng Road.
Even in times of crisis, there was a sense of preparedness. The Red Cross, military forces, and other volunteer organisations came in and provided blankets, mattresses, and emergency setup of gas, electrical and water supplies.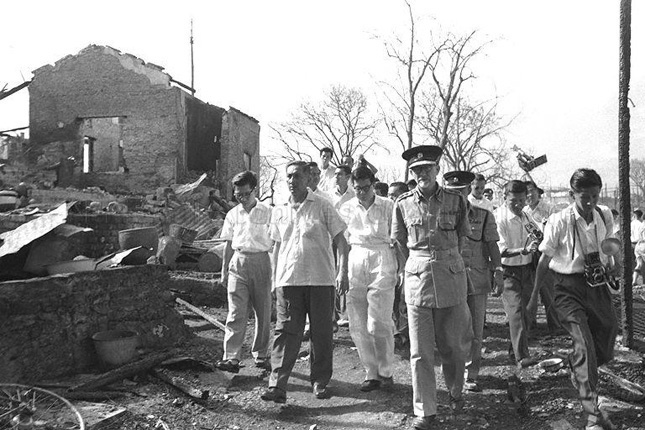 Yang Di-Pertuan Negara Yusof Ishak visited the site of the Bukit Ho Swee Fire to assure the former residents that the government is taking swift action to provide them with new homes. (26 May 1961. Image from National Archives of Singapore)
At Bukit Ho Swee, 1,500 policemen were also put on duty to prevent looting. Animal carcasses were buried in deep trenches, and the families that had their homes destroyed were allowed to recover their belongings under strict supervision.
Swift action was needed to provide further aid to those who had lost their livelihood and their homes in the disaster. Two days after the fire, the Bukit Ho Swee Fire National Relief Fund Committee was set up by then Minister for Labour and Law K.M. Byrne. The committee raised a sum of almost $1.6 million to help the victims.
A disaster never to happen again
Important lessons were learnt from the disaster, and the government was determined not to risk any more lives by allowing Singaporeans to continue living in rickety kampungs.
The first problem to tackle was to rebuild safer homes for the victims. In order to do this, the government had to move a motion in the Legislative Assembly and amend the Land Acquisition Ordinance Act. This amendment made it easier for the government to acquire and improve the fire site for redevelopment into a low-cost housing area.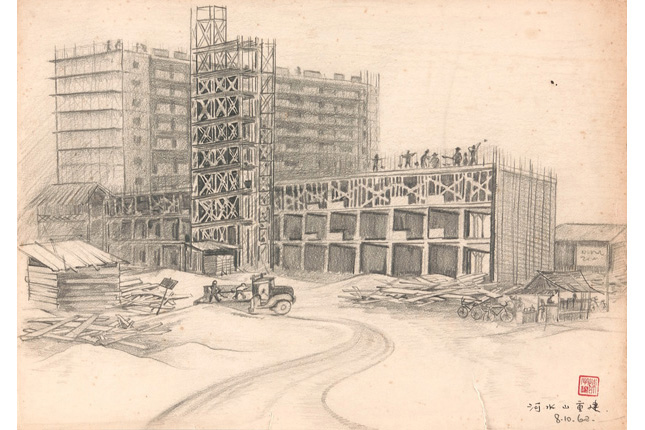 Artist Tan Choo Kuan depicts the rebuilding of Bukit Ho Swee, this time with concrete public housing units. (c1962. Image from National Museum of Singapore, Gift of Ms Tan Teng Teng)
"Operation Shift" was put into action. All of Bukit Ho Swee's families were given new homes in estates such as Queenstown, Tiong Bahru, and Kallang by February 1962. The old kampung life might have become a nostalgic chapter in history, but the new flats were safer, cleaner, and came with modern sanitation.
Five years later, in 1967, Bukit Ho Swee had become a new residential area with 12,562 flats, giving new homes to over 45,000 residents, many of whom were former residents of the kampong before the fire. This ushered in a new era in Singapore's public housing, introducing a nationwide shift from attap huts to modern high-rise buildings, ensuring that a disaster like the Bukit Ho Swee fire would never happen again.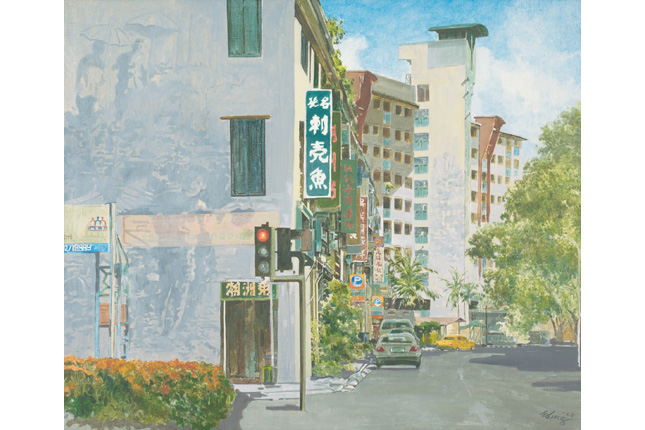 A watercolour painting of Beo Crescent, one of the estates created after the Bukit Ho Swee fire as depicted by renowned Singaporean water-colourist Ong Kim Seng. (c2008. Image from National Museum of Singapore)