TL;DR
One of the last great battles of the Japanese invasion took place on 14 February 1942, fought by the brave soldiers of the Malay Regiment.
In 1933, an 18-year-old boy named Adnan Saidi joined the army. He had been working as a trainee teacher at his old school in the village of Kajang, in Selangor, Malaysia. When he heard that the British were putting together an all-Malay military unit, he knew he had to sign up.
This unit he joined was the Malay Regiment (Askar Melayu). Back then, it was called "the Experimental Company". This was because the British were doubtful if Malays could be good soldiers! They began the unit with just 25 men as an "experiment".
They soon discovered that the recruits were excellent soldiers. Young Adnan was especially good. He was voted as the best recruit, and was later promoted to be a sergeant, then a lieutenant. In 1937, he was sent all the way to London to march at the coronation ceremony of the new king, George IV.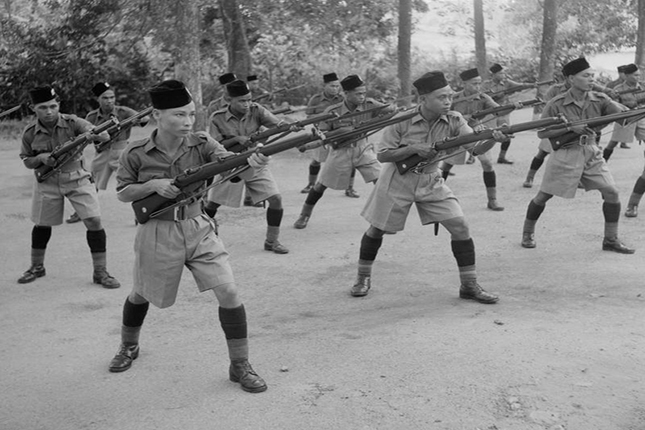 Men of the Malay Regiment training before the war. Source: Imperial War Museum (FE414).
However, there was trouble ahead. When World War II broke out in Europe, the Malay Regiment began carrying out more training events. They also recruited more soldiers, eventually growing to 1,400 in number.
At this time, Lt Adnan and his family were living in Singapore. He realised it was not a safe place for his pregnant wife and children. His eldest son, Mokhtar Adnan, still recalls the day they said goodbye at Tanjong Pagar Railway Station. "I didn't know it would be the last time I would see my father. I was only three years old, but I [can] still remember his face," he says.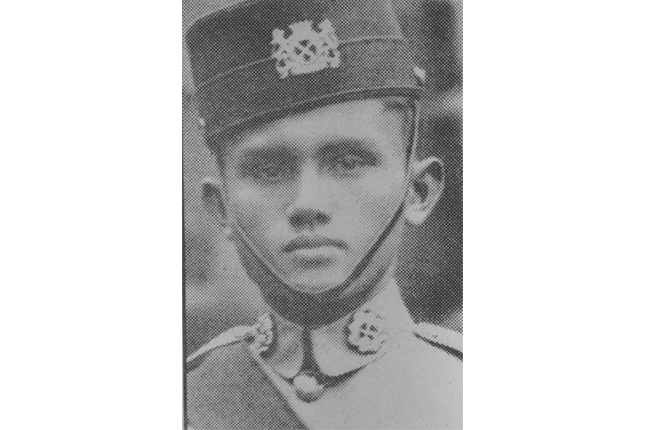 Lt Adnan Saidi. Source: National Archives Singapore.
The Japanese invaded Malaysia on 8 December, 1941. Malay Regiment soldiers were among the troops that fought them at the Battle of Kota Bahru. But, they could not stop the invasion. The Japanese continued moving south, towards Singapore.
Lt Adnan and his platoon of 42 men were stationed at Pasir Panjang village. On 13 February, they faced the gunfire and aerial bombs of the Japanese invaders. The Malay Regiment soldiers managed to stop them from advancing as they fought the entire day.
Then, at midnight, Lt Adnan and his men were ordered to retreat to the top of a hill called Bukit Chandu. There, they built a wall out of sandbags so that they could protect themselves from the attack.
They did not have to wait long before the Japanese came. In the early afternoon of 14 February, some troops appeared on the hill, wearing turbans. They were Japanese soldiers, disguised as Sikh members of the Indian army. Lieutenant Adnan realised this was a trick, because they were marching in rows of four, not three. He ordered his men to fire at them, causing them to retreat.
Unfortunately, this victory did not last long. Two hours later, the Japanese returned with bomber aircraft and thousands of soldiers. Instead of running away, the Malay Regiment soldiers kept firing until their guns were too hot to hold. When they ran out of bullets, Lt Adnan commanded them to charge at the invaders, fighting them with only their bayonets and their fists.
At the end of the battle, Lt Adnan was wounded, but still alive. The Japanese told him and the other survivors to take off their uniforms and surrender. They refused. Enraged, the Japanese hung these men upside down from a tree and stabbed them to death.
Today, at the site of the battlefield, there is a museum called Reflections at Bukit Chandu. People visit to pay their respects to Lt Adnan and the heroes of the Malay Regiment. They are still inspired by the Malay motto that Lt Adnan chose for his platoon: "Biar putih tulang, jangan putih mata." This means, "It is better to die in battle than to live with tears of regret."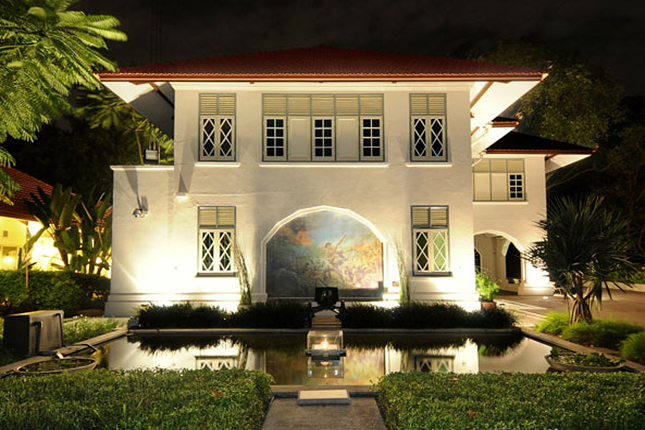 Reflections at Bukit Chandu is an interpretative centre close to the Pasir Panjang battle site.
Source: National Heritage Board.
---
Further reading