For the past 80 years, you have known it as the stomping ground of Singapore's best-loved television and radio stars, and where our television classics such as 'Under One Roof', 'The Unbeatables' and 'The Little Nyonya' were created.

What is lesser known is Caldecott Hill's long history that predates the arrival of radio and television to our shores. The hill was named after Sir Andrew Caldecott, the Colonial Secretary of the Straits Settlements in the 1930s, and its roads, named after members of his family, namely Lady Olive, his wife (Olive Road), and Joan and John, their children (Joan Road and John Road). These colourful personalities and little-known tales of Caldecott Hill's past deserve their own retelling.
Thomson's Roads
Long before the Housing and Development Board and urban planners of our time, Caldecott was part of the larger Toa Payoh district, where it started off as a large undeveloped marshland in the early 1800s.
All that changed when Englishman John Turnbull Thomson arrived in Singapore 1841 as a Government Surveyor. Thomson put together the very first maps of Singapore's town centre, and also engineered the building of Thomson Road, among other important contributions during his 12 years in Singapore.
Under Thomson's charge, proper roads were built through the Toa Payoh district, which changed the composition of the area entirely. The roads enabled access to areas that were previously impassable and the surrounding rural land could be developed.
Seah's Legacy
Seah Eu Chin, also popularly known as the "king of pepper and gambier" in his time, was a Chinese immigrant who made a fortune from trading in pepper and gambier during the 19th century.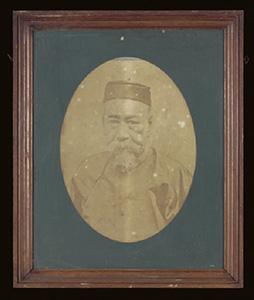 Portrait of Seah Eu Chin, Collection of National Museum of Singapore
Back then, the Thomson and Caldecott area was a place where rich businessmen set up plantation houses and grew crops. Among them was Seah Eu Chin. Legal documents show his family may have owned most of the areas in the Caldecott district at different points in history, and lived in the area. In fact, the Seah family had built two large bungalows there, one of which was called E Choon, where a grand ball was held for prominent Europeans and Chinese guests. This attracted great attention because it was the first time a large gathering of Europeans and Chinese participated in a grand ball within a Chinese setting.
An interesting story has been told of how Seah Eu Chin's son, Seah Liang Seah, reportedly shot and killed an eight-feet long alligator, who had been taking swims in the family pool and feasting on the fish in their pond. During this time, tiger sightings in other plantations along Thomson Road were also common, and livestock and coolies were known to be carried away by these felines.
Revamping Public Housing
In 1935, there was increased confidence in the real estate business in Singapore, boosted by a demand for cheap modern houses. Local based firm, Fogden. Brisbane and Co. Ltd. mooted the idea of building a large number of suburban houses on Caldecott Hill, to be rented out as affordable housing. Fogden and Brisbane were at this time one of the four biggest development firms in Malaya, and they had the resources to invest in the undertaking.
When completed in 1937, the local newspapers reported that Caldecott Hill Estate was the latest "modern home", replete with perks such as electricity, piped water and modern sanitation facilities. The last item, in particular, was still a novelty for most houses in Singapore at that time. Many were still using the "Night Bucket" (night-soil bucket) system.
Radio Through the War
Caldecott Hill saw further transformations with the building of Singapore's first permanent radio broadcasting station, which was built on Caldecott Hill and opened in 1937. At the first regular broadcast at its opening, then-Governor Sir Shenton Thomas described the interior of the broadcasting station – the sound proof studios with air-conditioning, and rooms for performers, announcer and control engineer. In the years following its opening, the Government established the Malaya Broadcasting Corporation (MBC) and made plans to develop it. However, the Japanese Occupation from 1942 to 1945 was a disruption to plans to develop the MBC.
When the war came in 1942, it was said that the battle lines stopped right at the edge of Caldecott Hill Estate. The broadcasting station survived the battle and it was used by the Japanese during the Japanese Occupation of Singapore in World War II.
Lights, Camera, Action!
After the war, only 41 houses in Caldecott Hill Estate survived. The area continued to be a residential estate. By the 1990s, the area had become a premier private housing estate, save for the Caldecott Broadcast Centre.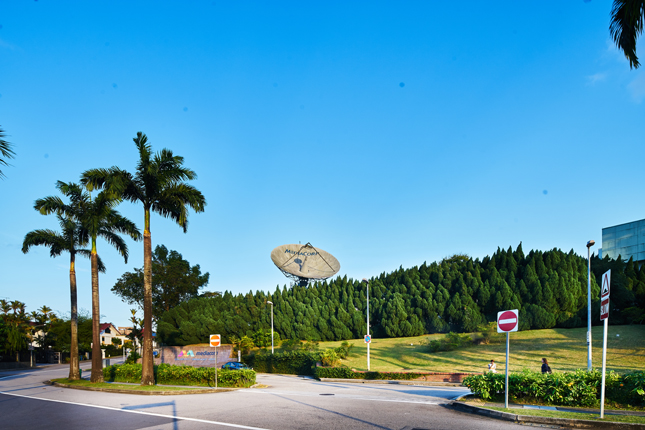 From radio to TV, the broadcast station at Caldecott Hill was inextricably linked to the blossoming of Singapore's media scene. Radio-Television Singapore, the predecessor to today's Mediacorp, opened its new Television Studio Centre in 1966, an event graced by then-Prime Minister Lee Kuan Yew in 1966, and it is the predecessor to today's MediaCorp, In December 2015, MediaCorp made its move from the Caldecott Broadcast Centre in Andrew Road, which had been its home for the past 63 years, to its new home at Mediapolis in One-North.
This article was developed for Singapore Heritage Festival 2017.