Text by Loh Chay Hwee
Images courtesy of National Parks Board
Be Muse Volume 5 Issue 2 - Apr to Jun 2012
Heritage is indeed alive and living amongst us, literally!
Not many people realise the magnificent Tembusu tree featured on Singapore's five-dollar note is a Heritage Tree. Another well-known Heritage Tree is the towering Angsana tree along Upper Serangoon Road, near Woodleigh Park.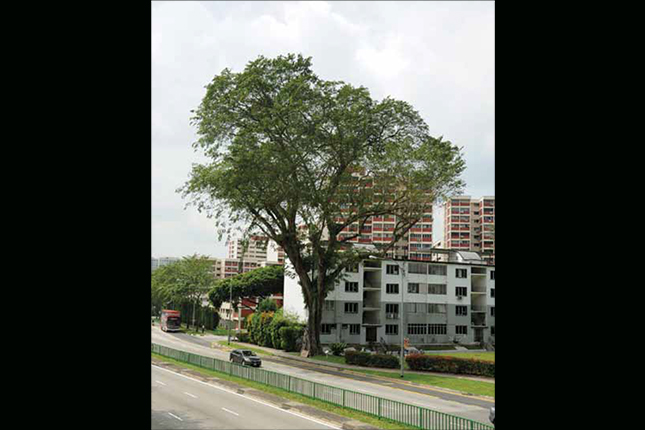 Angsana Tree at Upper Serangoon Road.
What are Heritage Trees? These are trees recognised and conserved under the Heritage Tree Scheme. The scheme was started in 2001 by the National Parks Board (NParks) to conserve magnificent mature trees in our landscape.
In the same year, the Heritage Road Scheme was also initiated. It seeks to conserve the unique tree-scapes along some roads in Singapore. Preservation of these Heritage Roads adds an element of permanence to the landscape, and contributes to Singapore's sense of identity, history and continuity.
Introducing our Heritage Trees
The Heritage Tree Scheme was created to identify, recognise and preserve significant and valuable trees in the country's landscape. As natural living landmarks of Singapore, our Heritage Trees hold important links to our past as we go forward into the future. The scheme also promotes the appreciation of these trees.
Heritage Trees are recognised for their girth (circumference of tree trunk measured one metre from the ground), size, aesthetic, rarity, as well as social, cultural and historical significance.
Out of the current 257 Heritage Trees as of 2018, 60 are located in the Singapore Botanic Gardens, including the Tembusu (Fragraea fragrans) featured on the back of Singapore's five-dollar note.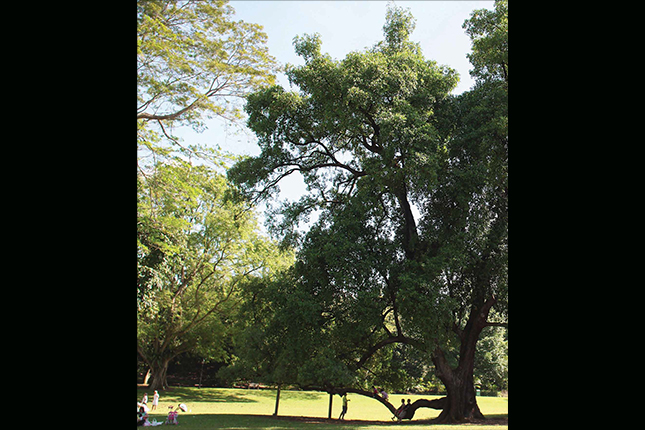 Tembusu in the Botanic Gardens.
Reportedly more than 150 years old, this Tembusu tree has a girth spanning more than 7.8 metres in circumference and stands at a height of 30 metres. It is easily recognised by its signature lower branch.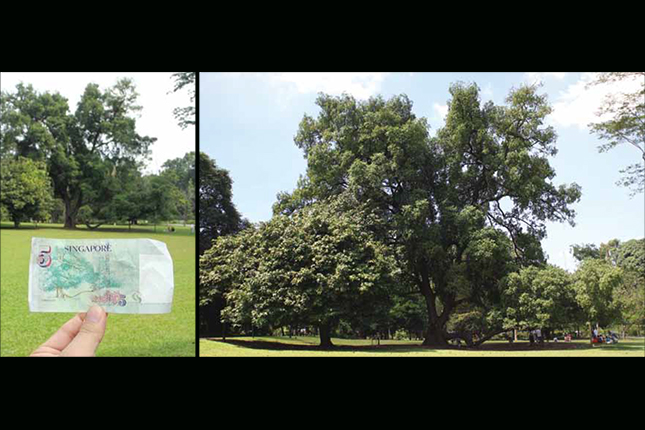 >Isn't it wonderful to know that you carry an image of Singapore's Tembusu Heritage Tree with you all the time?
The Tembusu tree is an evergreen with deeply fissured tree bark. The wood is durable and hardy; in olden days, its trunk was used to make chopping boards. The Tembusu tree has a relatively regular flowering pattern, which occurs twice a year – usually in May or early June and October or November. During flowering seasons, its creamy-white blooms emit an enticing fragrance. You will not miss their perfume, especially in the late evening when the fragrance is stronger.
Another majestic Heritage Tree in the Singapore Botanic Gardens is the Penaga Laut (Calophyllum inophyllum), located next to the Botany Centre. This slow-growing evergreen Penaga Laut Tree is more than 100 years old. It plays host to several other life forms such as ferns, climbers and small animals. You may chance upon a squirrel scuttling among its branches as you admire the tree.
"Calophyllum" means "beautiful leaf" in Greek, and that aptly describes the tree's beautiful leathery leaves, with their numerous slender veins.
The Penaga Laut is exceptional as all parts of the tree – namely the leaves, bark, flowers, fruits, seeds and roots – can be used for medicinal purposes to treat various ailments such as skin disease, piles and chickenpox. The seeds produce fragrant oil that is valued by some as a natural moisturiser. This oil is also largely used in cosmetics and soap-making, or even as burning fuel. The wood of this tree can be used for heavy construction, such as furniture and shipbuilding.
The Tembusu Heritage Tree and the Penaga Laut Heritage Tree in the Singapore Botanic Gardens, as well as the other 257 Heritage Trees located all over Singapore as of 2018, can be easily located as all of them are listed in the Heritage Tree Registrar on the NParks website.
Nominate A Tree!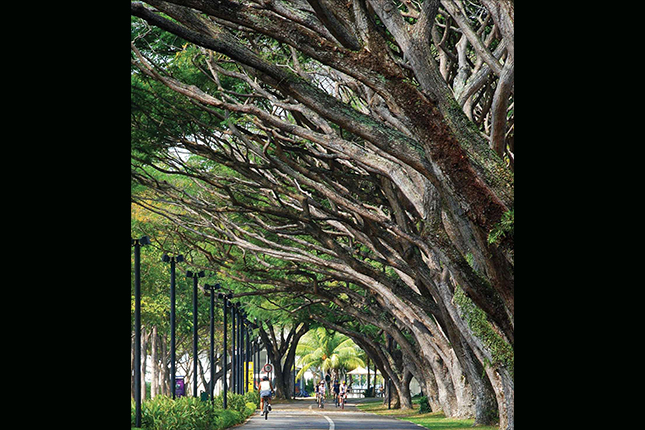 Anyone can nominate a tree for heritage status, and help contribute to Singapore's sense of identity, history and continuity.
If you come across any tree which has the potential to be a Heritage Tree, you can nominate it by simply filling up a form at the NParks' website. Nominated trees will be inspected by NParks' arborists ("tree doctors") and assessed by the Heritage Tree Panel to determine their suitability as Heritage Trees.
Our Heritage Roads
Another interesting segment of Singapore's living heritage is the Heritage Roads. Currently, we have gazetted five Heritage Roads to promote the conservation of these scenic and significant tree-lined roads in Singapore. They are Arcadia Road, Lim Chu Kang Road, Mandai Road, Mount Pleasant Road and South Buona Vista Road.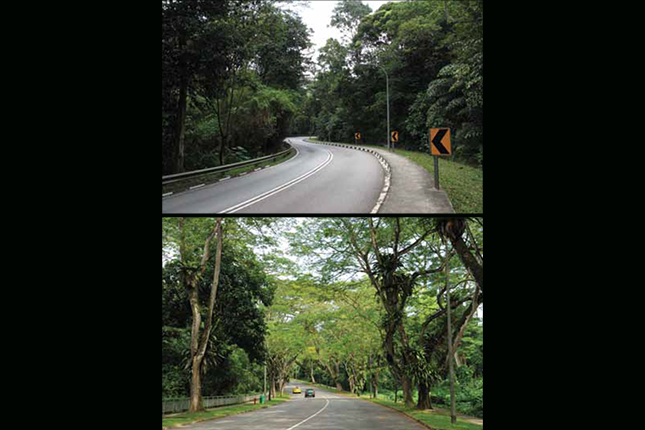 Heritage Roads include South Bouna Vista Road (above) and Arcadia Road..
Heritage Roads are easily recognised by the wide canopies extending from the big trees overhanging these roads, forming a green tunnel and providing much needed shade from our scorching sun.
Travelling along Mandai Road is a pleasant and tranquil experience, as adjoining the road is the scenic Upper Seletar Reservoir Park. The starting point of this Heritage Road is opposite Upper Seletar Reservoir Car Park, and it ends at the junction with Mandai Avenue.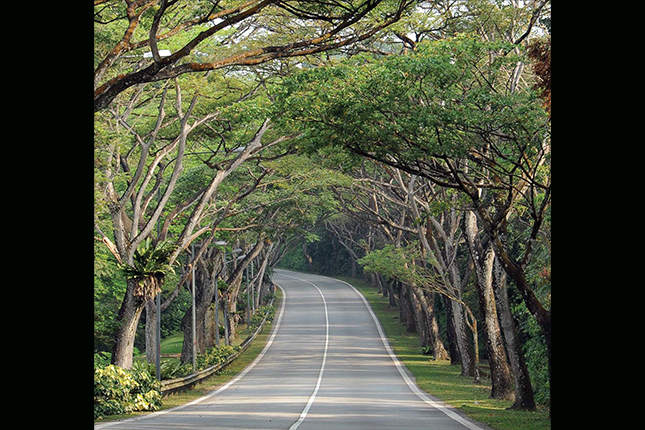 Green Tunnel" effect along Mandai Road, one of the five Heritage Roads in Singapore.
Constructed in 1855, this road used to be an old carriageway that served as one of the main links between Woodlands and Upper Thomson, connecting the agriculture and poultry farming villages in the area.
Another Heritage Road is South Buona Vista Road, which begins before the junction with Storkport Road and ends at the junction with Vigilante Drive. Constructed before World War Two, South Buona Vista Road (means "a good view" in Italian) used to offer elevated views of the sea. It was on this part of the ridge that the famous battle of Pasir Panjang was fought in February 1942. South Buona Vista Road is also distinctive for its many curves. Lining the sides of the road are mainly Tembusu and Yellow Flame trees, as well as other mature trees.
Visit our Heritage Trees and Heritage Roads!
To get up close and personal with the Heritage Trees, download DIY (Do-It-Yourself ) Trail-Guides and embark on a journey to discover the magnificent trees in Changi, Fort Canning Park, Pulau Ubin and the Singapore Botanic Gardens. Not only will the trails take you to different species of trees nestled amongst lush greenery, you will also get to learn more about our parks, gardens and many other places of nature.
Also, come explore our picturesque Heritage Roads, which are the fruits of more than 40 years of care and growth. Take a stroll, cycle or drive down these roads, and immerse yourself in the beauty of the winding roads lined with magnificent trees.
As Head of Urban Gardening at the National Parks Board, Loh Chay Hwee promotes the benefits of greening Singapore to the public. She is also a member of the Heritage Tree Secretariat.
Do visit these websites for more information: