Singapore (Constitution) Order in Council, 21 November 1958, Singapore.
Collection of National Library, Singapore.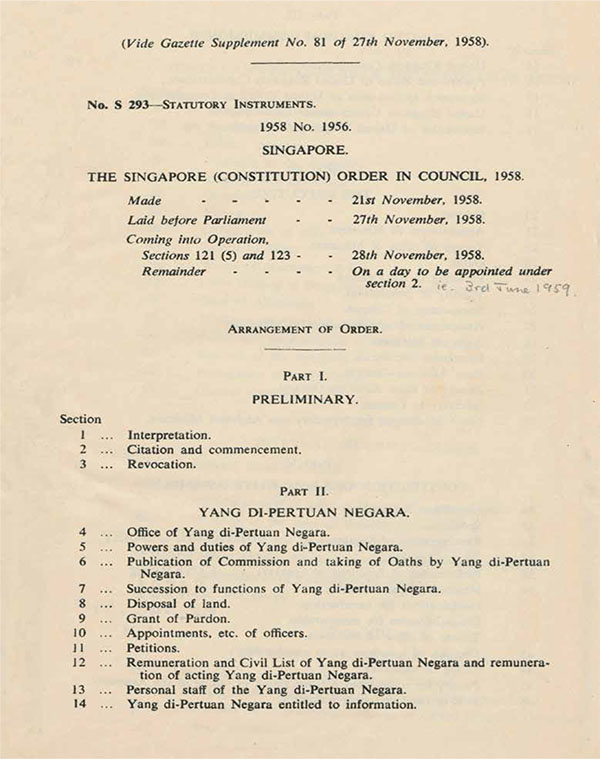 Singapore's 1958 constitution was the culmination of three constitutional talks in 1956, 1957, and 1958—the first led by Singapore's first Chief Minister David Marshall, and the latter two by his successor, Lim Yew Hock. The Chief Ministers led all-party missions to London to negotiate the terms of a new constitution. The first mission ended in failure over internal security arrangements, but the second and third missions were successful, providing for a new constitution to be written to establish the State of Singapore.
The 1958 constitution provided for self-government for Singapore through a fully elected 51-seat Legislative Assembly and replaced the governor with the Yang di-Pertuan Negara as head of state, and the Chief Minister with the Prime Minister.
Following the victory of the People's Action Party in the May 1959 elections, Lee Kuan Yew was sworn in as Singapore's first Prime Minister. The British were still in charge of Singapore's defence and foreign affairs. Internal security was managed by an Internal Security Council comprising representatives from Singapore, Britain and the Federation of Malaya.
The first local Yang di-Pertuan Negara was Yusof bin Ishak who was appointed in December 1959. He later became Singapore's first President when it gained independence as a Republic in 1965.
---
This is an extract from "The Singapore Story through 60 objects" written by Kennie Ting, Director, Asian Civilisations Museum and Peranakan Museum & Group Director of Museums, National Heritage Board. This article was first published in Cultural Connections Volume IV 2019 by Culture Academy Singapore.