Javanese style gold jewellery discovered at Bukit Larangan (Fort Canning Hill), also known as the "Majapahit Gold", Singapore, 14th century.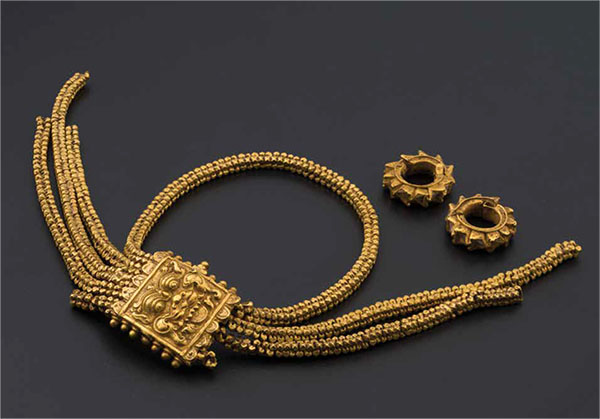 These are Javanese-style gold jewellery found at Bukit Larangan, which is the old name for Fort Canning Hill. The armlet bears a repoussé plaque of the Javanese kala, a protective symbol which traditionally adorns the top of main entrances of temples, and is still found in many parts of Indonesia. The armlet also has flexible chains, some of which were already broken when it was discovered. The earrings, each with a socket joint and wire hinge, are set with diamonds.
These were found at Fort Canning Hill in 1928 by labourers excavating for a reservoir. The site engineer recorded that the ornaments were lying just beneath the top of the pre-colonial soil strata, indicating their existence before the British arrived in 1819. The East Javanese style of these solid gold ornaments is a reminder that in the 14th century, the island of Singapore was under the political and cultural ambit of the East Java-based empire of Majapahit.
---
---
This is an extract from "The Singapore Story through 60 objects" written by Kennie Ting, Director, Asian Civilisations Museum and Peranakan Museum & Group Director of Museums, National Heritage Board. This article was first published in Cultural Connections Volume IV 2019 by Culture Academy Singapore.
---