Carrying a father's legacy
After Dr Tan Tsze Chor – a businessman, calligrapher, and generous supporter of the arts – died in 1983, the family donated over 100 works to the Asian Civilisations Museum in early 2000 and grew an art fund in his name.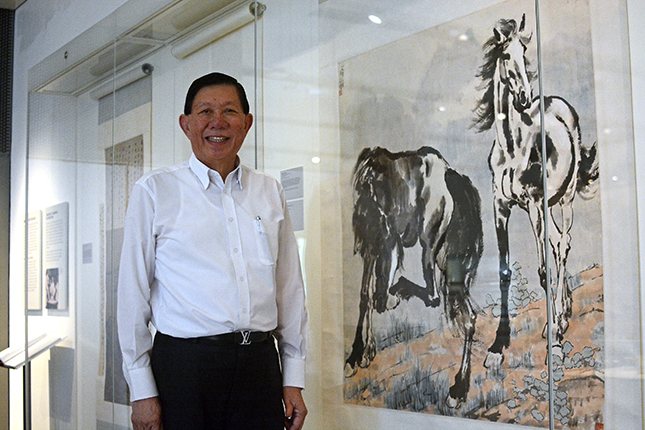 At the Asian Civilisations Museum, Mr Tan Gek Gnee remembers the passion with which his father, Dr Tan Tsze Chor, collected these works of Chinese art. Photo Credit: Annabelle Liang
Being an avid collector of Chinese art, the late Dr Tan Tsze Chor regularly hosted dinner parties at home. The property had to be dressed to entertain. This was a task for his son, Mr Tan Gek Gnee. Growing up, Mr Tan was regularly handed a list of paintings that needed to be displayed.
"I would search for them and hang them on the walls in our gallery," Mr Tan said. "My father would inspect how the paintings were hung. The height and distance between them had to be correct. More importantly, they needed to look pleasant to the eye," he added.
"That was how detailed and serious his character was, whether with work or his love for art," Mr Tan, who is now in his 60s, explained.
Simple beginnings
Dr Tan was born in Singapore in 1911. He returned to China with his parents in 1917 for his studies, but made another trip to the city-state years later to find work.
At hardly 16 years of age, Dr Tan found a job as a peon. That was when he grew interested in calligraphy. At night, he religiously practised writing, using newspapers because he could get them for free.
"My father told me that when you make a mistake while painting, you can correct it by covering the area with another colour or pattern," Mr Tan said.
"But with calligraphy, if a dot or stroke is too thick, it is not possible to correct the mistake because the word will look awkward," he added.
Dr Tan slowly carved a name for himself at work and in the realm of art. He became a successful Teochew businessman, dealing with pepper, gambier, rubber, coffee, and other local produce.
Dr Tan's calligraphy was exhibited in Singapore and Taiwan.
Getting to know artists
Dr Tan frequently reached out to artists, to get a better understanding of their paintings. He made friends with Chinese artists like Xu Beihong, Qi Baishi, Zhang Daqian, and Huang Binhong.
His collection and studio, named Xiang Xue Zhuang, had valuable masterpieces by Xu, Qi, Ren Yi, and Pan Tianshou, among others. The name Xiang Xue Zhuang was an allusion to the fragrance of the plum blossom.
At its peak between the 1950s and 1980s, there were over a few hundred objects in the collection. This included paintings, commissioned portraits of Dr Tan and his wife, porcelains, and other objects.
While most items were brought to his attention, Dr Tan would buy high quality ceramics from New York and London.
When Mr Tan and his siblings were born, Dr Tan doted on them and regularly took his family to the movies and to restaurants for dinner. He continued to practise calligraphy twice a week.
Mr Tan recalled making folds on rice paper so his father could write weekly. "His calligraphy has its own style. When people see it, they know straight away that it is the work of Dr Tan Tsze Chor," Mr Tan said.
In 1977, Dr Tan worked with the Singapore Art Society to set up the Tan Tsze Chor Art Fund, to support the development of local art and artists.
In recognition of his contribution to the arts, Dr Tan was conferred an honorary doctorate by the Hua Gang College of Chinese Culture, part of the present-day Chinese Culture University in Taiwan.
Mr Tan Tsze Chor passed away in 1983.
Valuable gifts of art
Since 2000, the Tan family has donated over 100 works from Dr Tan's collection to the Asian Civilisations Museum (ACM). They also donated close to 500 volumes from Dr Tan's collection of books on Chinese art to the ACM library.
In 2003 to 2004, an exhibition of the paintings and ceramics given by the family of Dr Tan Tsze Chor was presented at ACM's premises in Armenian Street. A gallery was also named in Dr Tan's honour.
To mark the publication of the Xiang Xue Zhuang Collection catalogue, a display of objects from the collection was held at the Tan Tsze Chor ACM from 2006 to 2007.
After Dr Tan's death, the Tan family agreed to grow the Tan Tsze Chor Art Fund. At that time, the money was put in a bank. Any interest it garnered was offered as prize money at a yearly art competition.
They grew the fund significantly and decided to invest in equities to get a better rate of return.
"We hope to invest wisely and build up the fund, so that we will be able to increase the prize money in the future," Mr Tan said.
Mr Tan is currently the Managing Director of Chiang Hong Private Limited, a company that his father started. Over the years, it has veered off distributing food items and now deals with investments instead.
"Because my father was a perfectionist, being his right-hand man, I have learned to follow in his footsteps," Mr Tan shared.
Among the items, a painting of horses by Xu Beihong and a set of his father's calligraphic works are Mr Tan's favourites.
"Our family wanted to honour our father and decided to donate the best of his Chinese art collection to ACM," Mr Tan said. "The objective was to carry on his legacy of promoting Chinese works of art, by sharing his art collection with the general public."
Mr Tan hopes the collection will speak to Singaporeans and especially the young.
"Good design sells products from cars to houses, furniture, and phones. We hope that young artistic minds will be stimulated, once they have the opportunity to study beautiful artworks on display in the museums," Mr Tan said.
"Eventually, they may be able to create artefacts that are even more beautiful," he quipped.
By ANNABELLE LIANG