TL;DR
Lee Kuan Yew (16 September 1923–23 March 2015), the founder of modern Singapore, was a brilliant statesman and highly-regarded visionary who transformed the island into a formidable nation and economic powerhouse.
Over three decades from 1959 to 1990, Lee as prime minister of Singapore, developed policies to improve living standards and education levels, ensure security and stability, and attract investment.1 He remained in service to the country until he passed away in 2015 at the age of 91.
Dodging a bullet
Lee was an academically gifted student who attended Raffles Institution and won a scholarship to study at Raffles College.2 His time at the college, however, was disrupted when the Japanese Army came a-knocking in 1942.3
Like many other Chinese males in Singapore, Lee was in danger of being rounded up for 'Operation Sook Ching' — a massacre where members of the Kempeitai or Japanese military police mercilessly executed people they believed to be anti-Japanese.4
While out with his family's go-to rickshaw driver, Koh Teong Koo,5 they encountered Japanese soldiers who ordered them to report to a screening exercise. Understanding the gravity of the situation, the men resorted to quick tactical thinking to stay alive – a friend of Koh's had a residence at 75 Maude Road located within the registration centre's boundaries. The pair thus hid in the house until Lee found an opportune time to slip away following a change of guard.6
Lee's political awakening
While studying at the London School of Economics and Cambridge University, Lee got involved with the British Labour Party and the anti-colonial Malayan Forum.8 This experience deepened his interest in politics and reinforced his belief that the way forward for Singapore was independence – not subservience. Interacting with fellow patriots and members of the forum such as Goh Keng Swee and Toh Chin Chye further spurred Lee's eventual foray into politics.9
A secret wedding
Lee received a first-class law degree in 1949 and was called to the bar at London's Middle Temple in 1950. Apart from academics, he also made time for romance, pursuing Kwa, a Queen's Scholar. The pair married in secret in December 1947 in Stratford, England.10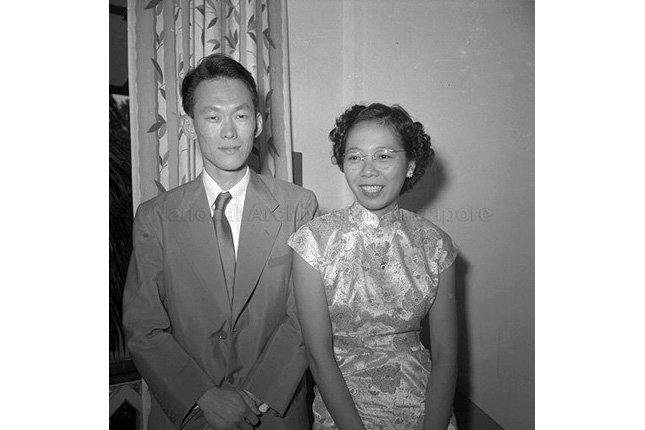 Lee Kuan Yew with Mdm Kwa Geok Choo at their home in Oxley Road (c.1950. Image from National Archives of Singapore)
The reason behind their discretion? Few parents and scholarship boards of the 1940s were open to the idea of marriage before graduation.11
Both husband and wife were eventually called to the bar in Singapore on 7 August 1951.12
Fighting for the rights of locals
Lee, who began his law career with the firm Laycock and Ong, became politically engaged in a variety of causes. Among other things, he advised trade unions and clan associations on legal matters, and even fought tooth and nail for local civil servants to receive the same benefits as their European counterparts.13
His efforts caught the eye of members of the public who viewed him as the voice of the people.14
In 1959, Lee – having set up law firm Lee & Lee with his wife and brother four years before – decided to leave the field and plunge himself full-time into politics.15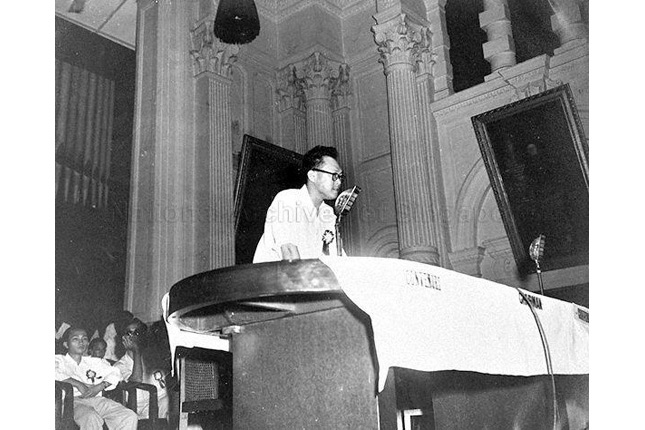 Lee Kuan Yew speaking at the People's Action Party's inaugural meeting held at the Victoria Memorial Hall (c.1954. Image from National Archives of Singapore)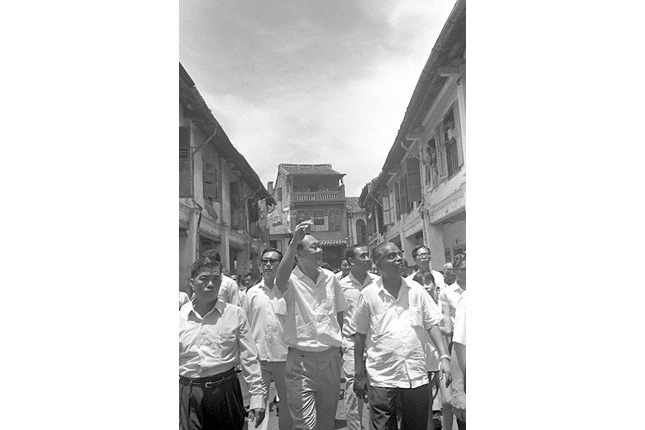 Prime Minister Lee Kuan Yew at Cheng Cheok Street off Tanjong Pagar Road during his tour of Tanjong Pagar constituency (c.1968. Image from National Archives of Singapore)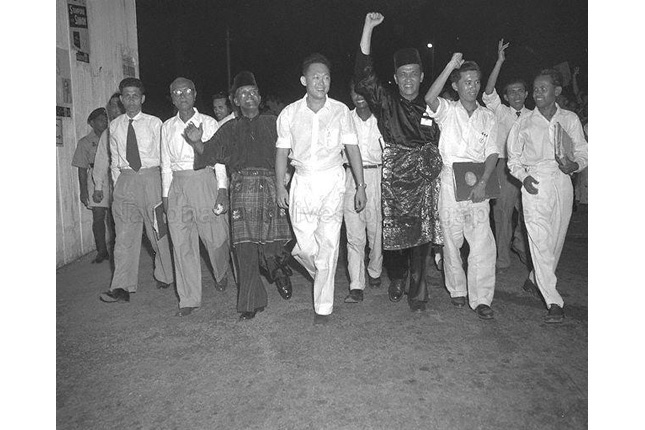 Lee Kuan Yew, then Secretary-General of the People's Action Party, walks alongside party members on polling day at the 1955 Legislative Assembly General Elections (c.1955. Image from National Archives of Singapore)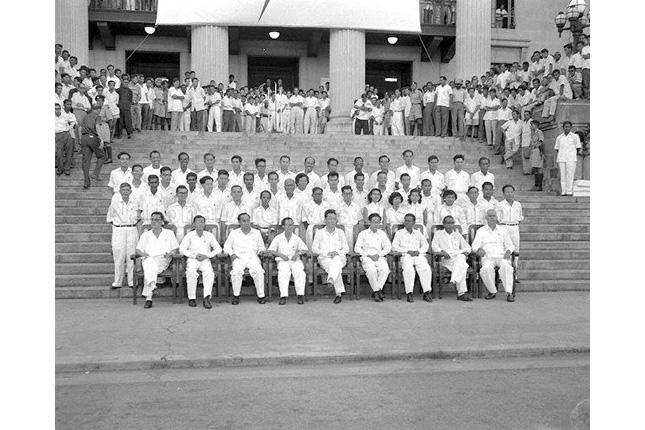 Prime Minister Lee Kuan Yew posing for a group photograph with his Ministers and Legislative Assemblymen In front of City Hall after the swearing-in of the new Government. (c.1959. Image from National Archives of Singapore)
Carving a nation out of a colony
In 1954, Lee gathered a team of passionate patriots and gamechangers such as Goh and Toh for a series of clandestine meetings to discuss the nation's future.16 On 21 November that year, Singapore's first independent government was established.
The newly-formed party went on to contest in the 1955 Legislative Assembly elections, their relatable personalities and fiery speeches winning the hearts of locals. Lee himself was elected to represent the constituency of Tanjong Pagar,17 a position he maintained for 60 years until his death in 2015.18
A powerful orator, Lee's rousing speeches and persuasive debating style subsequently led him and the PAP to a strong victory in the 1959 elections where his party captured 43 of the 51 available assembly seats. Lee, at the rather tender age of 35, became the prime minister of the self-governing state of Singapore.19
Merger with Malaya
From the outset, Lee believed that Singapore needed a hinterland or a larger country to lean on for natural resources and economic stability. This, as well as other concerns, led him to propose and push for a controversial merger with Malaya.20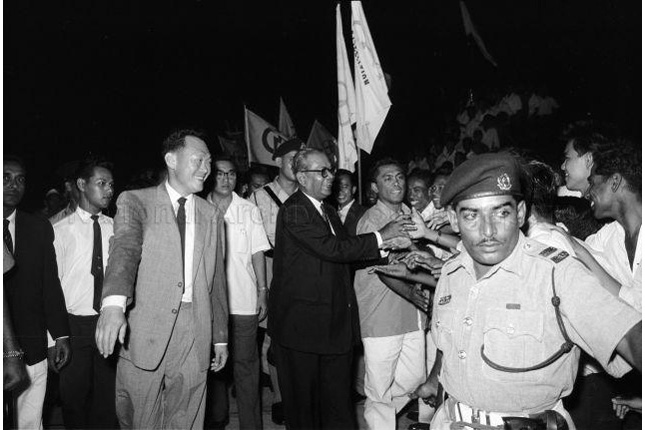 Lee Kuan Yew walks alongside Tengku Abdul Rahman before he heads off to London to discuss about Singapore's merger with Malaya. (c.1962. Image from National Archives of Singapore)
Lee, however, faced multiple challenges along the way.
For instance, some within the PAP were unable to accept his idea. This led to members breaking away to form their own political party, the Barisan Sosialis (Socialist Front) in 1961.21
Lee nonetheless plowed ahead, working out and negotiating a merger deal for Singapore. After a referendum in 1962,22 Singapore merged with Malaya on 16 September 1963, leading to the birth of Malaysia.23
The arrangement did not go down smoothly. In fact, the merger was marked by bouts of violence and riots.24 Among them, the Communal Riots of 1964 where Malays and Chinese clashed. On paper, the merger sought to bring the land masses together, on the ground however, communities were being ripped apart at their seams.25
The merger also resulted in rather intense friction between the leaders of both territories. On 9 August 1965, Singapore separated from Malaysia.26 In a televised press conference the same day, Lee shed tears in what came to be known as his moment of anguish.
Merdeka! Merdeka!
Singapore's transition from merger to independence or merdeka in Malay, was relatively smooth as a result of careful planning on the part of Lee and his handpicked team.
Lee was also generally cautious about who he picked to serve in ministerial capacities. Based on their strengths, he placed Goh in charge of defence27, S. Rajaratnam on foreign affairs28, and Ong Pang Boon on education matters.29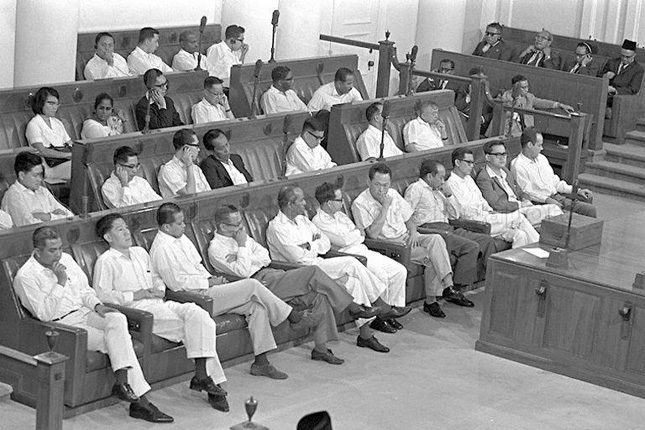 Lee Kuan Yew, Cabinet Ministers and Members of Parliament attending a Parliamentary sitting. (c.1965. Image from National Archives of Singapore)
A lasting legacy
After the setback of separation, Lee charged full-speed ahead to secure the future of the young nation.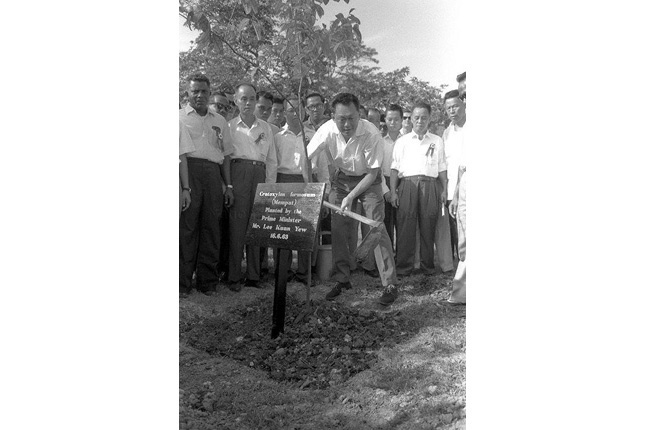 Prime Minister Lee Kuan Yew planting a mempat (cratoxylum formosum) tree at Holland Circus to mark the beginning of his tour of Ulu Pandan constituency. The ceremony also signified the beginning of an island-wide tree planting campaign. (c.1963. Image from National Archives of Singapore)
Some of his wins included successfully locking down Singapore's long term supply of water from Malaysia,30 and transforming the republic into a lush, garden city through islandwide tree-planting efforts.31
Along the way, Lee set aside liberal experiments, prioritising growth, safety, security and equality instead.32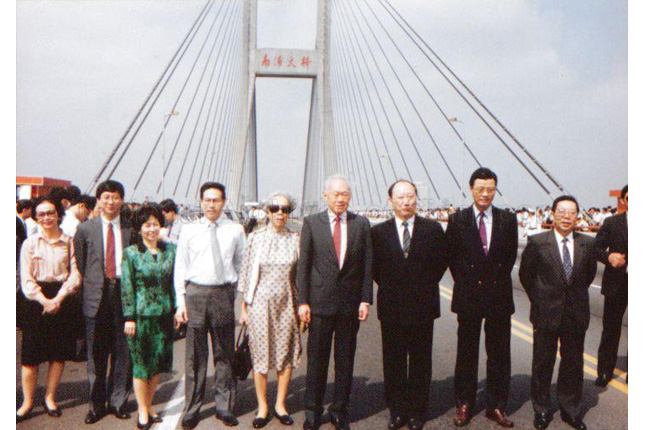 Group photograph of Senior Minister and Mrs Lee Kuan Yew, Deputy Prime Minister and Mrs Ong Teng Cheong, Senior Minister of State for Trade and Industry Lim Boon Heng (second from left) with officials at Nanpu Bridge, Shanghai, during their two-week official visit to China in October 1992 (c.1992. Image from National Archives of Singapore)
From as early as the 1970s, Lee began planning for the future government of Singapore by recruiting and grooming new talent. In 1990, Lee stepped down as prime minister, nominating Goh Chok Tong to take his place.33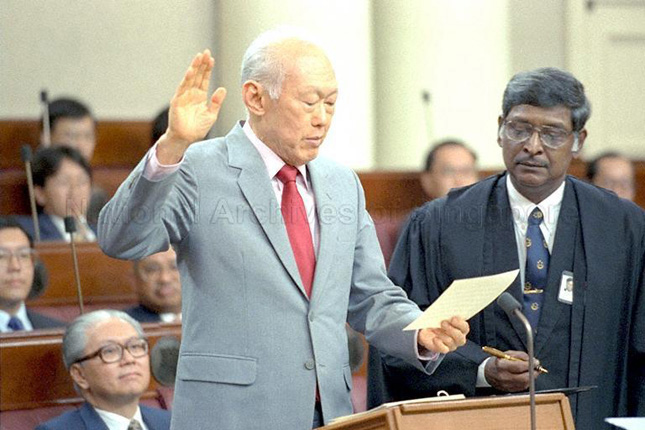 Lee Kuan Yew, who took on the role of Senior Minister when he stepped down in 1990, is seen taking an oath as a Member of Parliament during the first session of the Ninth Parliament at Parliament House. (c.1997. Image from National Archives of Singapore)
Lee remained in politics as Senior Minister, then as Minister Mentor in 2004 when his son Lee Hsien Long became prime minister. Both the older Lee as well as Goh left the cabinet on 14 May 2011, marking a new chapter in Singapore's political history.34
Minister Mentor Lee Kuan Yew arriving at the school foyer during his visit to Dunman High School. (c.2011. Image from National Archives of Singapore)
The nation is his legacy
Lee's work for the country has been commemorated through various tributes, such as the establishment of the Lee Kuan Yew School of Public Policy in 2004, and the creation of the Lee Kuan Yew Scholarship by the Public Service Commission.
For his contributions, Lee has been commemorated in various ways. For instance, the Public Service Commission's Lee Kuan Yew Scholarship was set up in 1991.35 In 2004, the Lee Kuan Yew School of Public Policy was established.36
Lee Kuan Yew passed away at 3:18 am on 23 March 2015 at the age of 91.37 A week of national mourning and a state funeral was held.38 His legacy – a sovereign nation that was safe, prosperous, and stable, and where millions continue to call home – Singapore.