In 2010, Akiko Kato arrived in Singapore. Her husband had found a job here, so the two had decided to leave Japan, starting a new life in this unfamiliar Southeast Asian city.
At first, life here was strange to them. In Tokyo, she had worked in a bank, then in a human-resources consulting firm. Now, without a career, she had to keep herself busy at home, looking after her children, and occasionally giving private language classes in Japanese.
However, three years later, while shopping at Liang Court, she glimpsed a poster that would change her life. It was an open call for volunteers to join the Japanese Docents, a division of Friends of the Museums. This was right up Akiko's alley. "I like museums in general," she says. "When I go to the United States or Europe, I always visit museums." She had visited several Singapore museums as well, including the National Museum of Singapore (NMS), the Asian Civilisations Museum (ACM) and the Singapore Art Museum (SAM). She loved their cultural importance, and their cosy atmosphere—a welcome relief from the sweltering heat of this country.
After attending a public information meeting by the Japanese Docents, she decided to join them. The process was rather different from that of other volunteers. There was no interview or screening process. "If you want to be in, you're in," Akiko says. Speaking English was not a requirement either, as the entire training programme was conducted in Japanese.
Once she had completed the training programme, she began leading tours at the National Museum. Two months later, she started guiding at ACM. A year later, she added the Peranakan Museum (TPM) to her list. (Handling this many museums is not uncommon: all Japanese docents are expected to volunteer with at least two museums.)
Unique challenges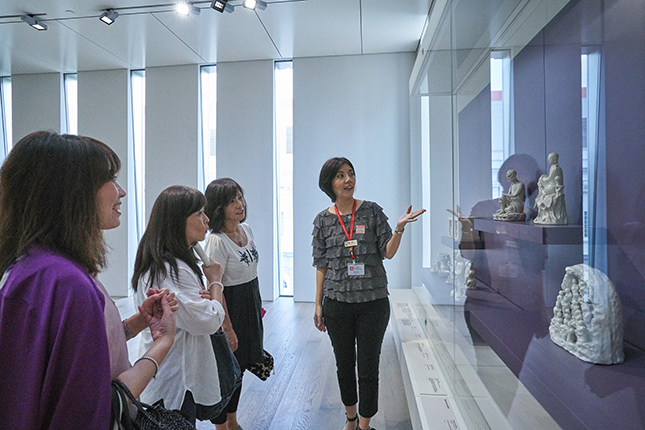 Akiko now holds the position of Japanese Coordinator on the Committee of the Japanese Docents. She serves as a liaison between the volunteers and the National Heritage Board, and the English-speaking members of Friends of the Museum. Together with the other nine members of the committee, she also coordinates schedules and updates their blog.
She is proud of the group's history. Their roots go back to 1981, when two members of the Friends of the Museum decided to translate the English captions at the National Museum into Japanese. In 1982, they began Japanese tours at the museum twice a month, led by a group of nine docents. The number of volunteers, tours and museums steadily multiplied over the years, with experienced volunteers creating lectures and textbooks to train newcomers. As of June 2017, there were 73 Japanese Docents leading tours at four museums: NMS, ACM, SAM, and TPM almost every day.
The work comes with unique challenges. "Most of the docents are expats' wives," Akiko explains. "They stay in Singapore for three years on average, so not so many docents can continue their guiding for a long time. The longest a person has served right now is 11 years."
Akiko has found guiding to be tremendously fulfilling. One of her favourite things to talk about is the legacy of Lee Kuan Yew. Despite the traumas he endured during the war, he faced the future, not the past, and built Singapore into a successful multiracial nation. "That is how the world should be," she says. "If all the world had presidents and prime ministers like Lee Kuan Yew, maybe a peaceful world would come." She reveals that many of the Japanese docents wept when he passed away in 2015.
Rewards of guiding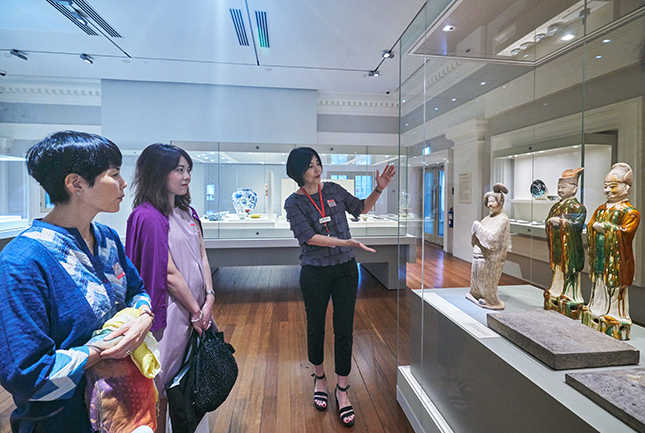 Guiding has also helped her to better understand Japanese culture. Back home, the only religions she had been exposed to were Buddhism and Shintoism. But, as a docent for the ACM, she had to learn about other faiths like Islam, Taoism, and Hinduism. She visited their houses of worship for the first time. Now, when she goes to temples in Japan, she can recognise the Hindu roots behind her own religious icons. It is just another example of how Asian cultures have interacted with each other for thousands of years.
She is looking forward to the opening of ACM's Faith and Belief galleries, which will focus on the spread of religions throughout Asia. She is also eagerly anticipating several upcoming temporary exhibitions. "I need to study more and more. I never get bored!" she laughs.
Most of all, however, she enjoys the sense of community and belonging that she gets from volunteering. Through Japanese Docents, she has become closer to the Japanese community in Singapore, bonding with her fellow guides through meetings, lectures and outings to heritage destinations such as Kampong Glam and Kusu Island.
And, of course, she has also come to know Singapore better. Walking through the city, she recalls the history of this island through its street names and landmarks. Visiting restaurants, she is able to tell her children the stories behind each piece of kueh or dish of curry, giving them a better sense of local culture.
It is an experience that she thoroughly recommends to everyone who has the time and interest. "Come and join us," she says. "The more you learn, the more you can enjoy life in Singapore."
By Ng Yi-Sheng