TL;DR
Dr Goh Keng Swee (6 October 1918–14 May 2010),1 one of the founding members of the People's Action Party (PAP),2 orchestrated much of modern Singapore's economic success. Among other notable accomplishments, Goh famously rescued the island from the brink of bankruptcy and was instrumental in shaping its industrialisation programme.3
Apart from serving the nation as its first Minister of Finance (1959-1965), Goh also took on the roles of Deputy Prime Minister (1973-1984), Minister of Defence (1965-1967; 1970-1979), and Minister of Education (1979-1980; 1981-1984). In addition, Goh chaired a number of government-led companies as well as the Monetary Authority of Singapore (MAS) from 1980 to 1985.4
A heart for the people
Goh was born in Malacca, Malaysia. He moved to Singapore with his family in 1920 at the age of two.5 He went on to study at Anglo-Chinese School and subsequently graduated from Raffles College in 1939. Armed with a diploma in the arts, Goh found a job as a civil servant in the British Administration.6 His work was disrupted by the invasion of the Japanese army and its subsequent three-year occupation.
After the war, Goh re-entered the civil service, working at the Social Welfare Department (SWD)7 as a social researcher.8 It was here that his passion for social justice and welfare was kindled. Goh also played a key role in putting together causes such as the People's Kitchens9 to alleviate post-war poverty among locals.10 His overall performance at work caught the eye of his superiors who gave him a scholarship to study statistics at the London School of Economics (LSE) in 1948.11
Fighting injustice
In London, Goh started an anti-colonial group called the Malayan Forum.12 He was its first chairman.13 There, he met individuals such as Lee Kuan Yew and Toh Chin Chye who became his lifelong comrades. They gathered regularly to discuss the future of Malaya and Singapore.14 At LSE, Goh was awarded first-class honours in economics in 1951, and went on to obtain a doctor of philosophy degree.
Upon his return to Singapore, Goh was given the post of an assistant director at SWD. Shortly after, he became director. It was around this period that he felt perturbed by the pay disparity between non-British and British civil servants. Together with fellow civil servant and future PAP comrade K.M. Byrne, Goh formed the Council for Joint Action in 1952 to fight for equal pay.
Goh subsequently left the civil service to join politics full-time, contesting in the 1959 general elections as a member of the PAP – the year Singapore secured self-governance. Goh won a seat at Kreta Ayer and became Singapore's first finance minister after the PAP's historic sweep at the polls.15
Legislative Assembly members including former Prime Minister Lee Kuan Yew, Deputy Prime Minister Toh Chin Chye and Finance Minister Dr Goh Keng Swee, march towards Parliament back in 1963. | c.1963. Image from National Archives of Singapore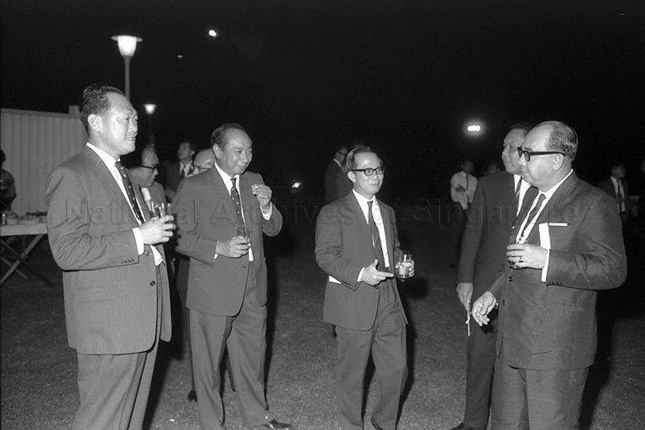 Dr Goh Keng Swee alongside former Prime Minister Lee Kuan Yew and Deputy Prime Minister Toh Chin Chye at the opening of Rumah Temasek. Standing with them is former Malaysian Deputy Prime Minister Tun Abdul Razak. (c.1963. Image from National Archives of Singapore)
Turning a faltering economy around
Goh, as Singapore's newly-minted finance minister, inherited a government on the verge of financial collapse16 – the nation was projected to suffer a deficit of $14 million by the end of 1959.17 Through expenditure cuts and other initiatives, Goh not only managed to save the country from going into the red but also succeeded in bringing in a tidy surplus of $1 million by the end of the year. His judicious style of fiscal prudence went on to have a lasting impact on the PAP government's approach towards the country's finances.
In 1961, Goh established the Economic Development Board (EDB).18 Along the way, he also launched an ambitious project in Jurong to transform swampland into an industrial estate.19 The unstable situation in Singapore at the time however, left many ill-convinced of its feasibility. Some even gave his Jurong Industrial Estate project the disheartening nickname "Goh's Folly".20
Goh nonetheless preserved. Citing the initiative as "an act of faith in the people of Singapore",21 he put tremendous energy into the project and succeeded in proving critics wrong. By 1968, Jurong was home to 300 factories with 21,000 workers under their employ.22 Goh's strategy for success included having EDB conduct factory opening ceremonies daily over a three month period to drum up hype and awareness that the estate was now "open for business".23
Along the way, Goh also established the Development Bank of Singapore (1968)24 and MAS (1971)25 to bolster Singapore's economic status in the region.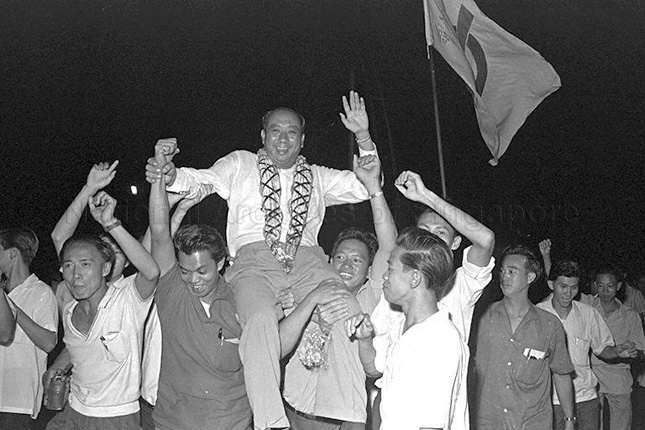 People's Action Party candidate for Kreta Ayer constituency Dr Goh Keng Swee being chaired after his election victory at the Legislative Assembly General Elections (c.1963. Image from National Archives of Singapore)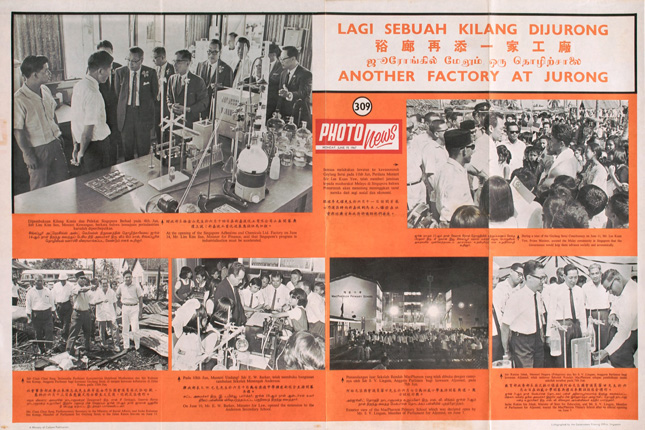 In 1962, Dr Goh Keng Swee, led a team to convert the swamplands of Jurong into a booming industrial estate that eventually took off to become a model benchmark of industralisation and innovation. (c.1967. Image from National Museum of Singapore)
Establishing the Singapore Armed Forces
When Singapore became independent in 1965, Goh was appointed Minister of Defence and was tasked to build up the Singapore Armed Forces (SAF) from scratch.26 To achieve this, Goh introduced the 1967 NS (Amendment) Bill which essentially made conscription compulsory for Singaporean males27, thus greatly accelerating the formation of the SAF.28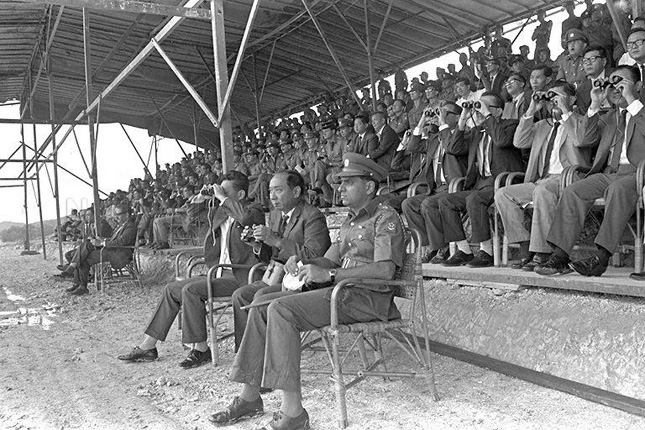 Dr Goh Keng Swee seen here at the opening of an army Camp in Jurong back in 1966. In 1965, Goh was appointed the Minister of Defence and was handed the daunting task of building up the Singapore Armed Forces (SAF) from scratch. This would lead to the introduction of the 1967 NS (Amendment) Bill that made National Service (NS) compulsory for all 18-year-old male Singapore citizens and permanent residents (c.1966. Image from National Archives of Singapore)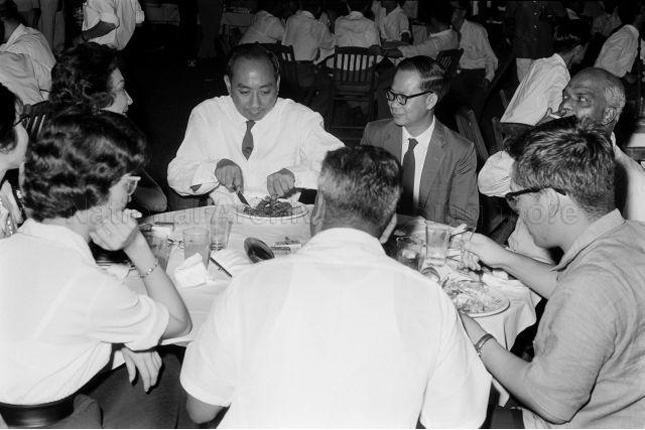 National Trades Union Congress First Annual Delegates Conference 1962 - Delegates at the dinner reception, with Deputy Prime Minister Toh Chin Chye and Minister for Finance Goh Keng Swee seated at the table (c.1962. Image from National Archives of Singapore)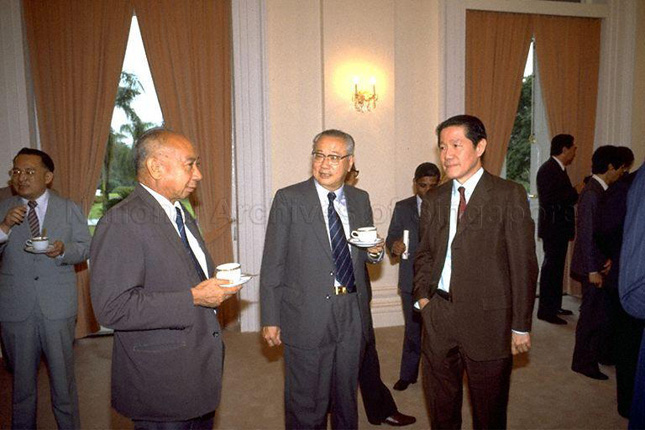 By 1985, Dr Goh Keng Swee had retired from politics but remained the Deputy Chairman of the Monetary Authority of Singapore (MAS). Here he stands beside Lim Kim San (Chairman of Port of Singapore Authority) and Jek Yeun Thong (Member of Parliament – Queenstown) at a reception after the swearing-in ceremony of cabinet ministers in the Istana. (c.1985. Image from National Archives of Singapore)
Other contributions
As the Education Minister, Goh was asked to identify and address issues with Singapore's education system. His findings and suggestions were put together in a report which subsequently led to major reforms and an overhaul.29 Among the changes – the introduction of a streaming system so primary and secondary school students could learn at their own pace.30 This, he felt, could help address the issue of high dropout rates.31
While at the helm at MAS, Goh focused on promoting Singapore as an international financial centre. He made major amendments to the Banking Act, the MAS Act and the Finance Companies Act.32
Goh's contributions went beyond policymaking. Among other things, he pushed for the establishment of Sentosa (1968), the Jurong Bird Park (1971), the Singapore Zoological Gardens (1973) and the Institute of Southeast Asian Studies (1986).33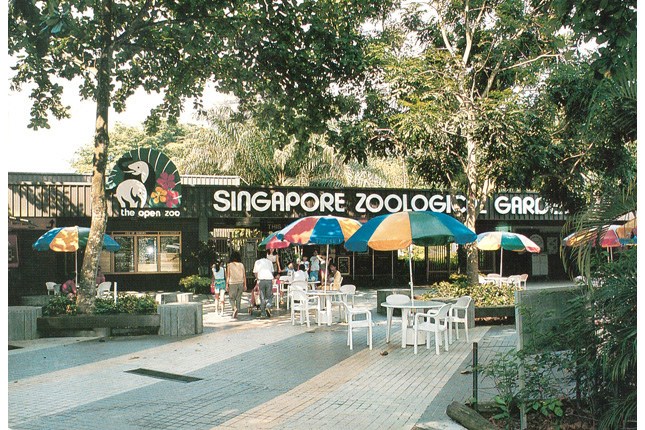 Built in 1971 and 1973 respectively, the idea of the beloved Jurong Bird Park and Singapore Zoological Gardens were also initiatives spearheaded by Dr Goh Keng Swee. (c.1980s. Image from National Museum of Singapore)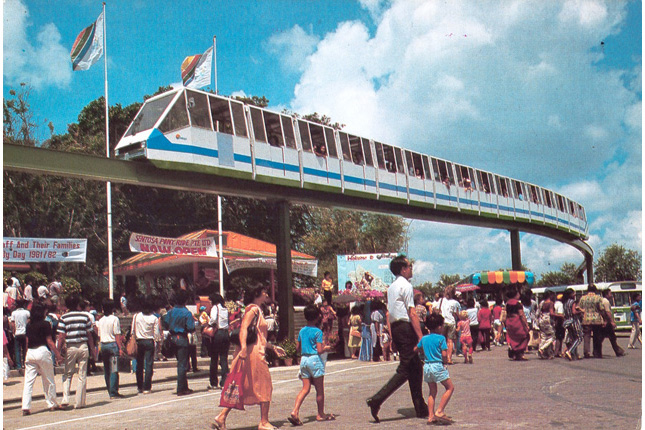 The idea behind turning the former military base on Pulau Blakang Mati into the tourist and leisure destination we know today as Sentosa was conceived by Dr Goh Keng Swee back in 1968. (c. Mid 1980s. Image from National Museum of Singapore)
A lasting legacy
Goh stepped down from politics in 1984. In recognition of his outstanding contributions to the nation, he was awarded the prestigious Order of Temasek (First Class) the following year.
Numerous scholarships and foundations were also set up in his name. Among them, the Goh Keng Swee Professorship and the Master's Scholarship in Economics. In 2008, Goh's wife Phua Swee Liang set up the Goh Keng Swee Foundation to help the disadvantaged.34
Goh passed away on 14 May 2010 but the fruits of his labour are still evident today.35