Setron television set, Singapore,
1960s–1970s.
Collection of National Museum of Singapore.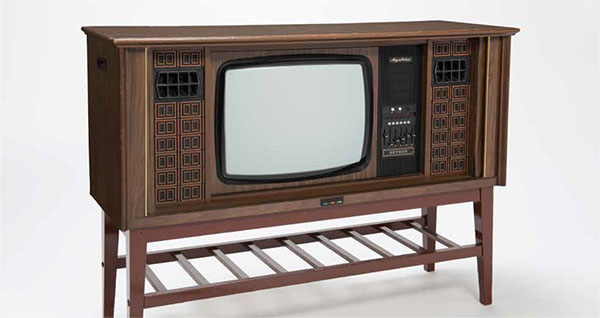 This television set was produced by Setron (Singapore Electronics) Limited, which made Singapore's first locally-assembled black-and-white television set in late 1964. Setron Limited was previously a coffee trading company, Heng Guan Limited, which had to shut down as its Indonesian-based business was affected by Konfrontasi (Confrontation). Set up by local businessmen, Setron Limited was the first television assembly plant in Southeast Asia when it began manufacturing in late 1964. Setron became a household name in Singapore by the 1970s.
The Setron factory was located at the former Tanglin Halt Industrial Estate, one of the first industrial estates in Singapore. Measuring some 20 acres of land and comprising a total of 38 factory lots for cottage industries, the establishment of the Tanglin Halt Industrial Estate marked Singapore's drive into industrialisation and diversification from a declining entrepôt economy. Tanglin Halt was chosen for its close proximity to the former Malayan Railways and large labour catchment.
Managed by the Jurong Town Corporation, the former Tanglin Halt Industrial Estate was developed in the 1960s to house light and medium industries. Land was leased to budding industrialists on easy repayment terms and tax incentives were given to multinational corporations. By the end of the decade, Tanglin Halt was home to a smorgasbord of factories. Aside from Setron, there were Van Houten chocolate factory, Diethelm aluminium factory and Unitex garment factory. In fact, it was at Tanglin Halt that Setron rolled out Singapore's first black and white television in 1964. In the late 1980s, factories at the former Tanglin Halt Industrial Estate began to relocate to bigger industrial estates and clusters in order to enjoy economies of scale.
---
This is an extract from "The Singapore Story through 60 objects" written by Kennie Ting, Director, Asian Civilisations Museum and Peranakan Museum & Group Director of Museums, National Heritage Board. This article was first published in Cultural Connections Volume IV 2019 by Culture Academy Singapore.