Singapore Ginger (Zingiber singapurensis), Singapore, described in November 2014.
Collection of the Singapore Botanic Gardens' Herbarium.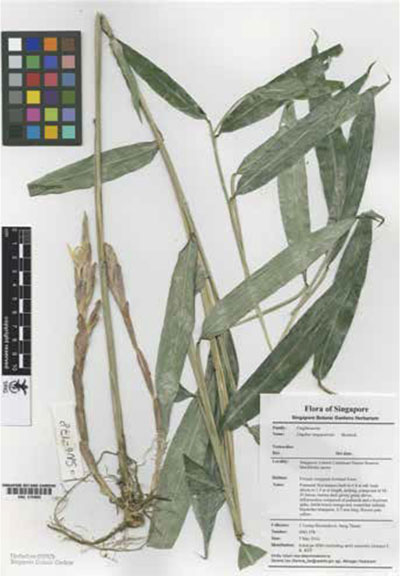 A herbarium specimen is a pressed sample of a plant that is stored for future reference. The herbarium at the Singapore Botanic Gardens is home to about 750,000 dried paper mounted plant specimens of which about 10,000 are type specimens (the ultimate points of reference for the correct application of species' names). The gardens' preserved collections were first started by James Murton in 1875 but greatly expanded from 1888 when Henry Ridley was the director. The herbarium is Singapore's major archive for botanical research specimens. It serves as an important reference centre for research on the region's plant diversity for botanists around the world.
Commonly known as the Singapore Ginger, this species was described as new to science in November 2014. It was named Zingiber singapurense as Singapore was where it was discovered and is the only place in world where the species is known to occur in the wild. This plant can be found in Singapore's primary forests and as there are only a few populations left, it is considered critically endangered. It is receiving special attention under the National Parks Board's Species Recovery Programme.
Established in 1859, the Singapore Botanic Gardens played an important historical role in the introduction and promotion of many plants of economic value to Southeast Asia, including the Pará rubber tree. Today, the 82-hectare Gardens is a key civic and community space, and an international tourist destination. Attracting an annual visitorship of more than five million, it is also an important institution for tropical botanical and horticultural research, education and conservation. The Gardens was inscribed as Singapore's first UNESCO World Heritage Site in 2015.
---
This is an extract from "The Singapore Story through 60 objects" written by Kennie Ting, Director, Asian Civilisations Museum and Peranakan Museum & Group Director of Museums, National Heritage Board. This article was first published in Cultural Connections Volume IV 2019 by Culture Academy Singapore.