TL;DR
It's hard to imagine Singapore without the Mass Rapid Transit (MRT). With over 148 km of rail across 106 stations, an estimated 3 million people commute to work, school and other destinations on a daily basis. First open to passengers in 1987, the MRT had actually been a long time coming, with planning done as early as the 1960s.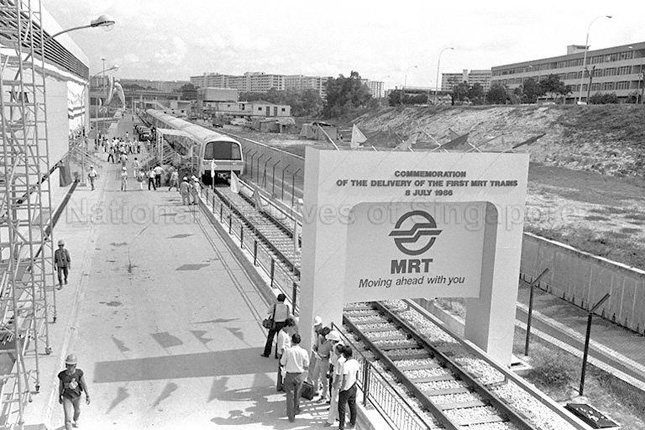 A view of Bishan Depot at the commemoration of the delivery of the first MRT trains on 8 July 1986. (Image from National Archives of Singapore)
Fueling the future
Just 2 years after Singapore's independence, in 1967, a study was done by the Singapore State and City Planning Department and the United Nations Development Programme. It projected a population of 3.4 million by 1992 and that called for a better road network, and an efficient public transport system to cope with the increasing population.
The Singapore Mass Transit Study
As Singapore entered a new decade, traffic congestion had worsened and it became crucial to find solutions to ease the congestion. In 1972, the government sent a team of consultants and officers to start the Singapore Mass Transit Study. In its first phase, the team recommended an investment in public transportation, in particular for a rail mass transit, as the best solution to cope with the travel demands.
The second phase of the study showed that a bus-rail system was far superior to an all-bus system – economically, financially, and technically. However, whether or not to construct an MRT system was a difficult decision to make, due to the high costs and possible impacts on land use and economic activities.
The final phase of this study, conducted between 1979 and 1980, provided the first designs for the recommended transit system. With this blueprint, a Provisional Mass Rapid Transit Authority was appointed in 1980 to start the first preparations for building a possible MRT system.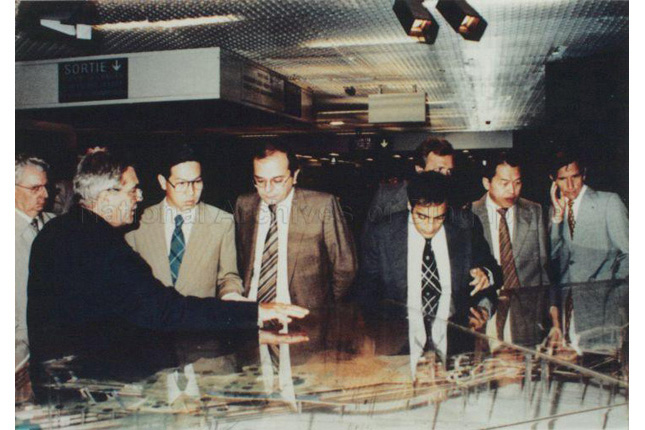 Communications Minister Ong Teng Cheong with Mass Rapid Transit Study team members at a briefing by French personnel during a MRT study trip to France in 1980. (Image from National Archives of Singapore)
Light at the end of the tunnel
In May 1982, after an extensive study, the government was convinced that Singapore would greatly benefit from an MRT system and decided to build and completely finance the S$5-billion project.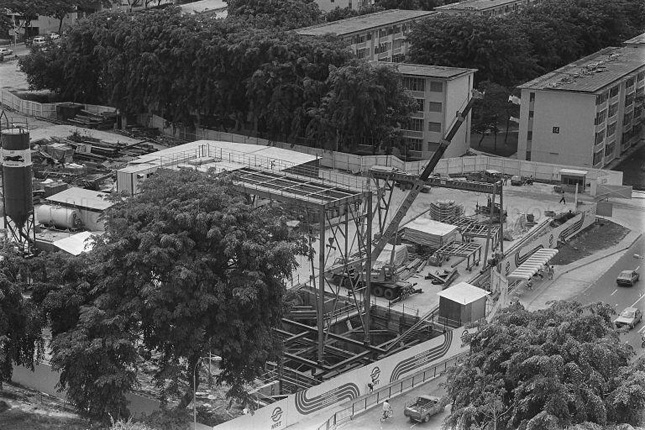 Construction site of the Tiong Bahru MRT Station in the early 1980s. (Image from National Archives of Singapore)
Then Minister for Communications, Ong Teng Cheong, announced the decision and revealed that the MRT system would not only improve public commuting significantly, but also draw in more investors in the long run, and increase the land value in the country.
On the right track
In 1983, MRT Corporation replaced the Provisional MRT Authority and took charge of constructing and operating the MRT system. In 1987, the operations of the system were handed over to a new company called Singapore Mass Rapid Transit (SMRT) Ltd.
The initial MRT system was to be 67 km long, across three lines with 42 stations: North-South Line from Yishun to Marina Bay; East-West Line from Pasir Ris to Boon Lay; and the Western Line between Jurong Town and Bukit Panjang.
The North-South Line was the first section to be constructed because this part of the city had the most commuters and congestion.
All aboard!
On 7 November 1987, a five-station segment from Toa Payoh to Yio Chu Kang opened its doors to the first passengers. Thousands of curious Singaporeans came to try out the MRT on the first day alone. A month later, on 12 December 1987, nine more stations were added from Novena to Outram Park.
Then Prime Minister, Lee Kuan Yew, officially launched the MRT system on 12 March 1988. By April, the MRT had already become a daily mode of transport for at least 200,000 people.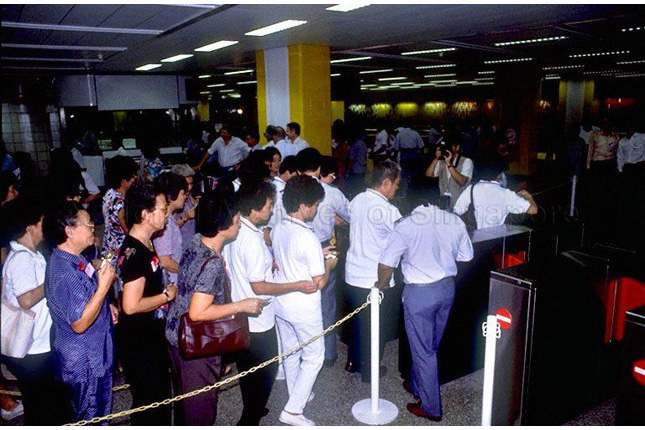 Thousands flock to the official opening of the first MRT Stations between Toa Payoh and Yio Chu Kang on 7 November 1987. (Image from National Archives of Singapore)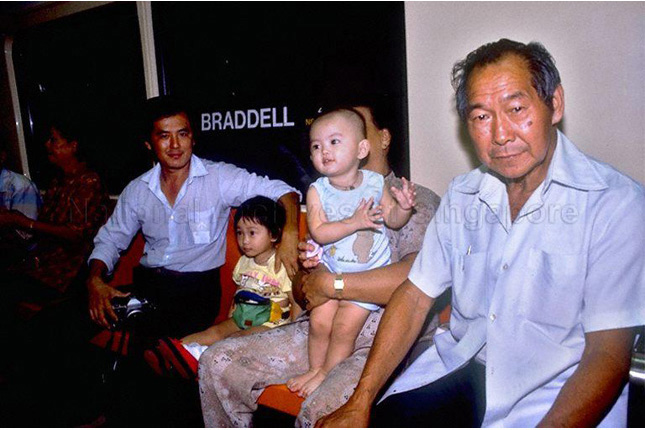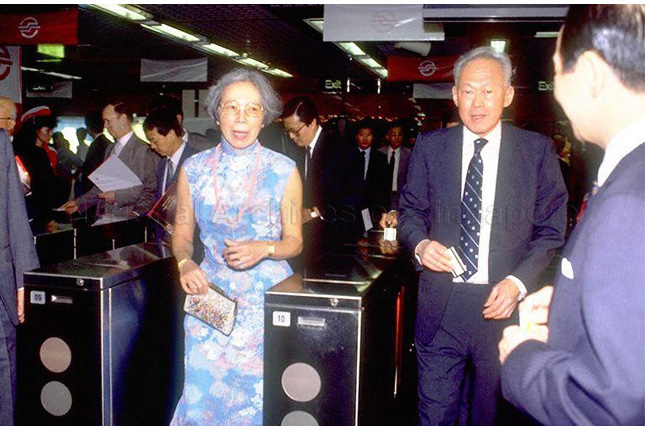 Mr and Mrs Lee Kuan Yew boards the train on the official opening of the MRT system on 12 March 1988. (Image from National Archives of Singapore)
Connecting every corner of Singapore
In 1996, a 16-km extension to Woodlands began serving passengers. The North East Line from Punggol through busy downtown to Harbourfront opened in 2003. The Circle Line opened all its stations in October 2011 and the Downtown Line was completed in October 2017. The Thomson-East Coast Line (TEL) is projected to be completely up and running by 2023.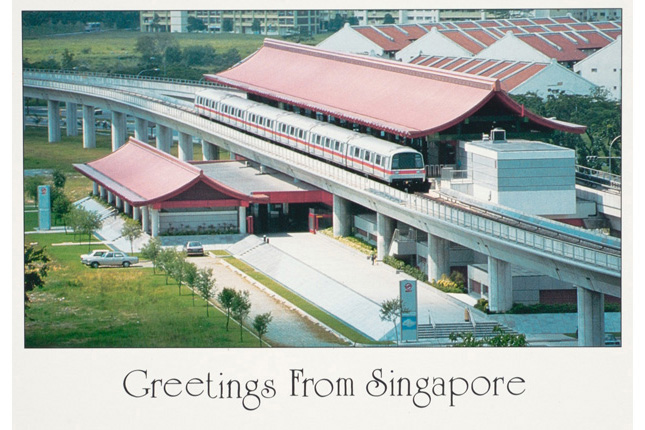 This is a postcard depicting Chinese Garden MRT Station in the early 1990s. ( Image from National Museum of Singapore)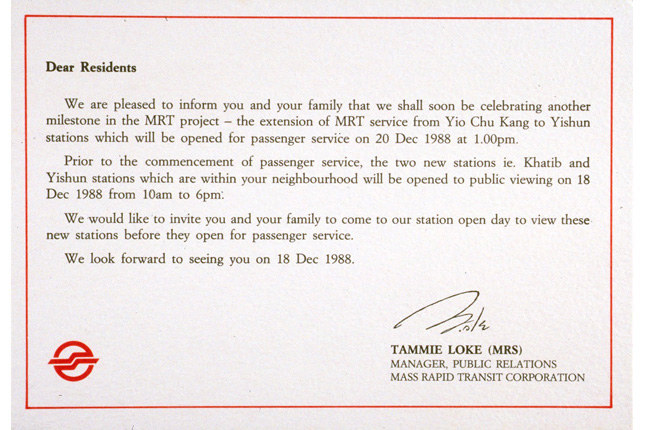 A Mass Rapid Transit Corporation leaflet that is an invitation for the public viewing of Khatib and Yishun MRT stations. This is an invitation for nearby residents to attend the public viewing of the stations before the commencement of passenger service. (c. December 1988. Image from National Museum of Singapore)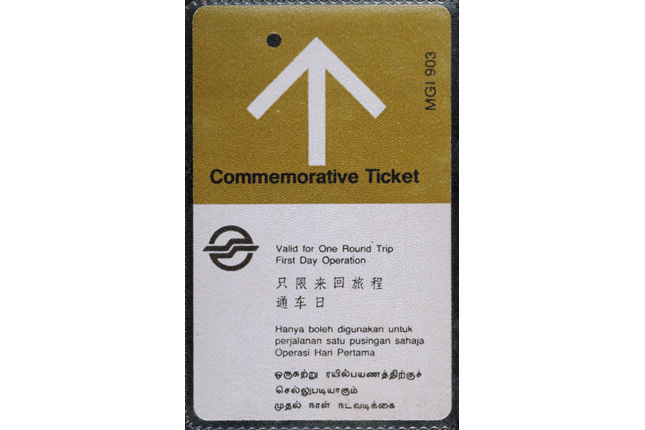 A MRT commemorative ticket dating 1990. (Image from National Museum of Singapore)
The government announced in 2020 that a total of S$87.5 billion had been set aside for new rail projects in the next decade, which will include even more lines and stations to boost the transport system even further.
The Open Day poster for the MRT East-West Extension on 29 October 1989. (Image from National Museum of Singapore)
It's hard to imagine Singapore without this world-class public transport system. MRT stations have now become their own landmarks, featuring avant-garde architecture, international art installations from renowned artistes, and even serve as unique Instagram-worthy public spaces.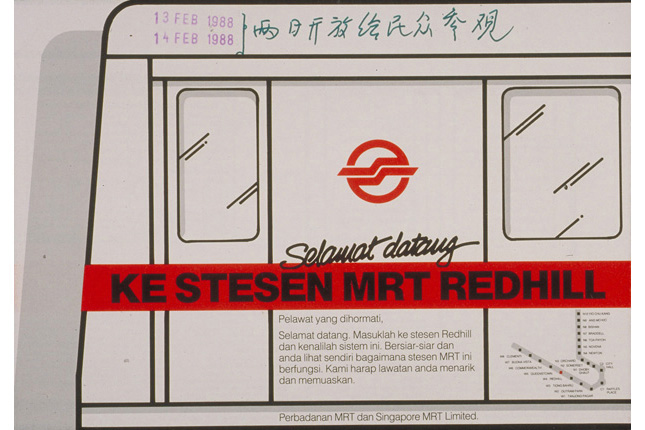 This is a poster in Malay welcoming visitors to Redhill MRT Station. (Image from National Museum of Singapore)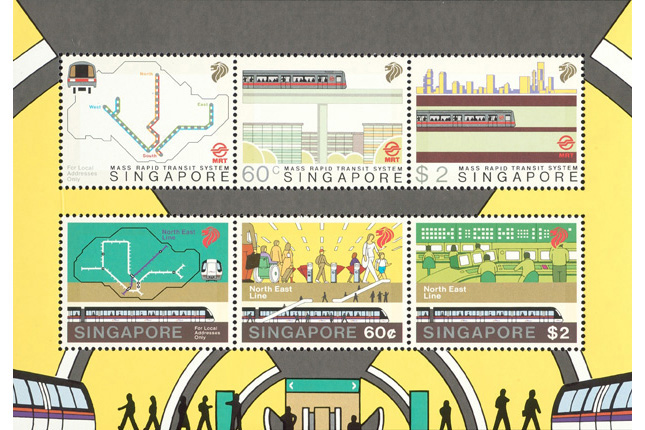 This first day cover commemorates the opening of the Mass Rapid Transit North East Line on 20 June 2003. Driverless trains ply this line from HarbourFront through to busy downtown and Punggol. (Image from National Museum of Singapore)