TL;DR
Before the era of colossal skyscrapers, mega retail complexes and dense, high rise HDB flats, Singapore's built landscape was largely dominated by quaint shophouses. Based on the Chinese courtyard house style, with modifications to suit the tropics, shophouse properties were generally constructed between the 1840s and 1960s. Over time, six distinct architectural styles, beginning with Sir Stamford Raffles' barebones rendition, emerged.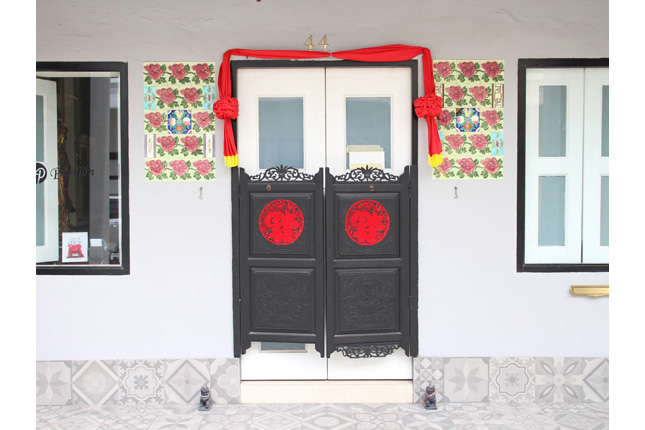 A pair of pintu pagar, a common shophouse feature. Such half-height outer doors offer occupants privacy and much-needed ventilation in humid Singapore. (c.2014. Image from lionraw.com)
A defining look for the port city: Raffles' prototype
Sir Stamford Raffles, the founder of modern Singapore, had a pretty clear idea of how he wanted the port city to look from the get-go. On November 4 1822, he issued a set of ordinances defining the building type he preferred dominating the cityscape.
His building stipulations served as a template for the construction of squat, two-storey units anchored by a business on the ground floor with the residence of the proprietor sited above — what we refer to as the shophouse today.
Raffles dictated that these houses "have a verandah of a certain depth, open at all times as a continued and covered passage on each side of the street".1 The resulting five-foot ways were intended to provide pedestrians relief from the tropical heat and protection from the rain and street traffic.2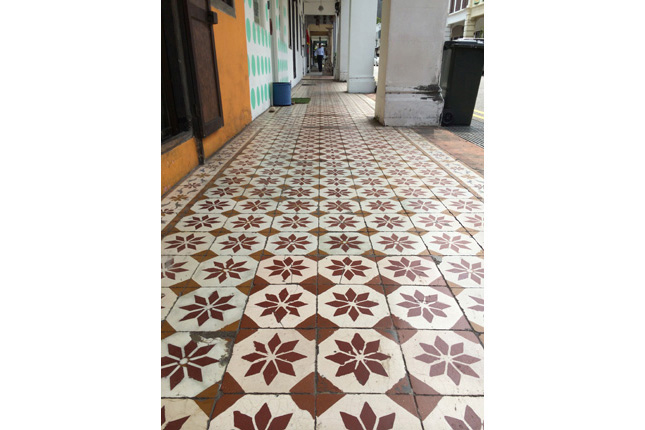 The iconic five-foot way was introduced by Sir Stamford Raffles, the founder of modern Singapore. (c.2014. Image from lionraw.com)
This was Raffles' take on Chinese courtyard houses.3 Settlers from the provinces of Guangdong and Fujian had brought their blueprints to Singapore.4 Raffles' version was later replicated in city centres across the region.5 In Singapore, shophouses started appearing in the city centre in the 1840s before spreading across to other neighbourhoods over the course of a century.6
Shophouses originally served merchants and their families. This changed as large waves of immigrants moved to Singapore. In need of accommodation, shophouses soon evolved into cramped, unhygienic shared dwellings.7
"Universal" features of a shophouse
The archetypal Singapore shophouse comes with five-foot ways and strong symmetry.8 It has a long and narrow floor plan, reflecting the Southern China practice of taxing buildings based on their widths.9 Shophouses typically have internal courtyards, open stairwells and skylights.10
Overtime, six distinct typologies of shophouses emerged.
Within these categories, sub-design styles also surfaced. Take for instance the Chionoshire. This style is characterised by the extensive use of Chinese decorative elements such as flowers, vases with peonies, birds, cranes, peacocks, dragons, phoenixes and zodiac characters.11
Then there is the Rococo style where almost every inch of the shophouse facade is covered with ornamentation in a layered, "wedding cake" style.12
Western design elements, such as Georgian style fanlights and classical mouldings in the Roman Doric style, entered the shophouse scene in the mid-1880s.13
Rudimentary and squat: the Early Shophouse style (1840s-1900s)
The first rendition of the shophouse was rudimentary in nature with minimal ornamentation and decorative elements. It had shutters for windows and a roof made out of locally produced clay tiles. It was a reflection of the times, when resources such as skilled labour and building materials were limited and basic at best.
Raffles' shophouse "prototype" rose south of the river, between South Bridge and New Bridge Roads.14 South Bridge Road was one of Singapore's main thoroughfares which connected the town to New Harbour, present-day Keppel Harbour.15 Wholesale and retail merchant traders, as well as godowns and goldsmith shops chose to locate their businesses here to capitalise on the traffic.
Singapore's earliest shophouses were built along South Bridge Road. Major James Low of the Madras Army who visited Singapore during this period, wrote that he enjoyed browsing the items on sale along their "piazzas" (five-foot ways). (c. Early 20th century. Image from National Museum of Singapore)
Elegant simplicity: the First Transitional Shophouse style (early 1900s)
No longer a fledgling settlement, skilled labourers began pouring into Singapore. Among them were craftsmen who added decorative plasterwork and colourful tiles to the facades of shophouses, bringing a cheerier look to the city's streets.16
Structurally speaking, the shophouses of this era tended to be taller than their predecessors. Their timber windows were also fitted with small panels of glass.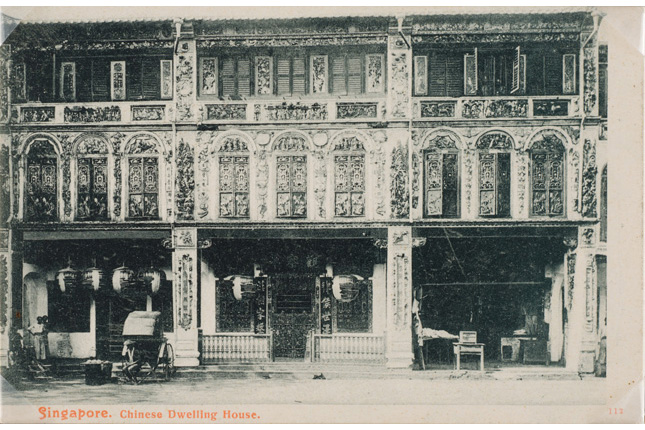 By the 1900s, a second typology of shophouses emerged. This time, the units were taller and more elegant compared to the rudimentary nature of their predecessors. (c.1920s. Image from the National Museum of Singapore)
An exuberant riot of colours: the Late Shophouse style (1900-1940)
The third wave of shophouses in Singapore, known for having three instead of two windows on their upper floors, added explosions of colour and head-turning eclecticism to the streets of Singapore. Artisans, drawing inspiration from across the globe, generously adorned facades with detailed plaster, tile and cast iron ornamentation work.
Many of these lavishly decorated shophouses were funded by people who had come into wealth during the rubber boom (1900-1930).17
The Late Shophouse style can be found along Emerald Hill where exuberant Peranakan tiles, decorative Corinthian columns and pilasters, full-length French windows,18 bat-motif vent openings, and carved swing-doors continue to delight residents, locals and tourists alike.19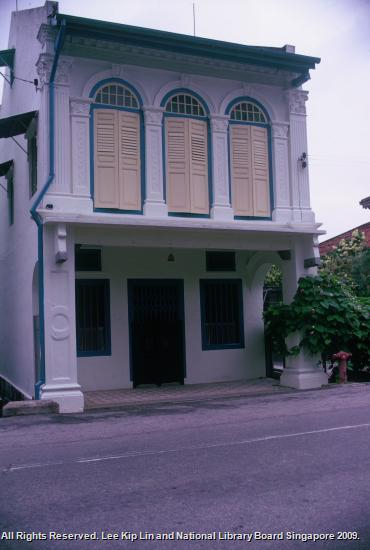 A 1970's photo of a Late style shophouse at Emerald Hill Road with full-length French windows on its second floor. From the Lee Kip Lin Collection. All Rights Reserved. Lee Kip Lin and National Library Board Singapore 2009.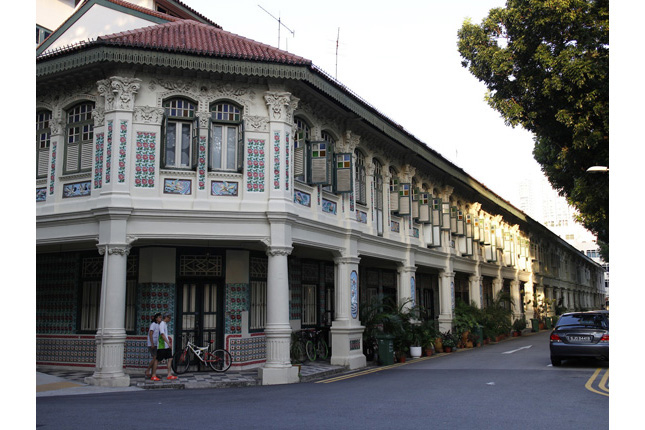 Late style shophouses along 10 to 44 Petain Road embellished with tiles from Europe and Japan. Intricate plaster reliefs of birds and flowers also adorn their facade. (c.2014. Image from lionraw.com)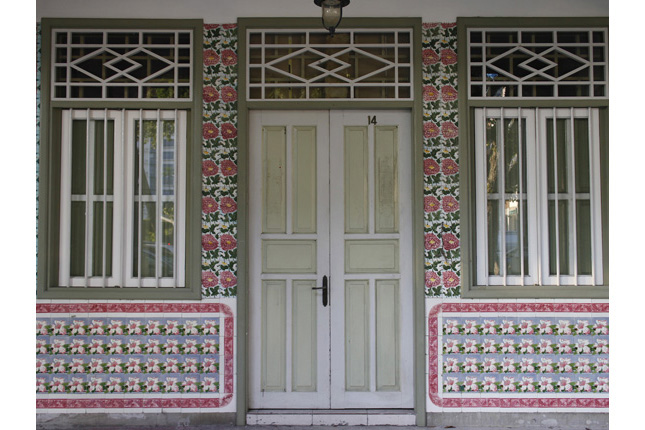 Striking floral ceramic tiles line the facade of this Late style shophouse along Petain Road. (c.2014. Image from lionraw.com)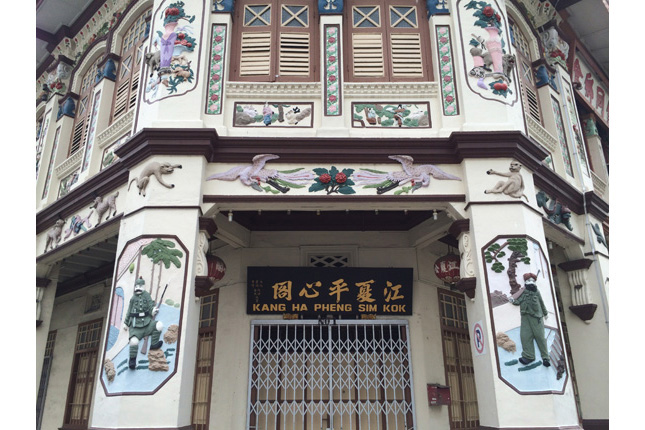 The Chinoshire style of the 1920s.20 (c.2014. Image from lionraw.com)
Shedding ornamentation: the Second Transitional Shophouse style (late 1930s)
The shophouses that rose during this era were more subdued. Developers dialled back on embellishments and kept colours and tiles muted, focusing instead on simple, streamlined geometric forms.
This could have been a matter of personal taste with the rising influence of the international Art Deco movement, or a reflection of the economic circumstances of the time as a result of The Great Depression (August 1929–March 1933).
Clean lines please: the Art Deco Shophouse Style (1930-1960)
Geometric patterns, streamlined capitals, as well as clean arches and keystones anchor the Art Deco Shophouse Style.21
These shophouses are also known for their date plaques which capture the year of their completion.22
Art Deco shophouses can be found along 486-588 Serangoon Road. These have fair-faced brickwork and symmetrical corner facades.23
Back to basics: the Modern Shophouse Style (1950-1960)
Pragmatic design and utilitarian features are hallmarks of the Modern Shophouse style which produced more severe looking properties.
To improve ventilation across these spaces, builders added thin concrete fins and air vents, sticking closely to the disciplined geometric proportions of the style.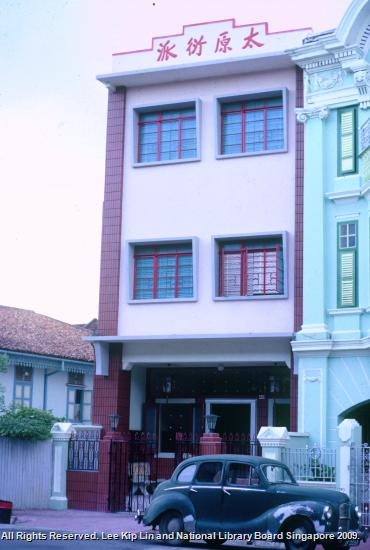 A modern style shophouse on Race Course Road. From the Lee Kip Lin Collection. All Rights Reserved. Lee Kip Lin and National Library Board Singapore 2009.
Roof-raising demand for shophouses
Attesting to their timeless quality, Singapore's shophouses can net their owners millions in the resale market.
In 2022, for instance, five adjoining shophouses on Club Street, in the Telok Ayer conservation area, were placed on sale for $28.5 million.24
Against a limited supply, the value of these properties have been buoyed by investors eager for aesthetically pleasing and historically rooted places to pilot fresh business concepts. Among them are operators of trendy co-living spaces who have been snapping up shophouses across the city.
You, however, do not need deep pockets to enjoy these charming properties. The Urban Redevelopment Authority has conserved about 6,500 shophouses — a number of which are partially or fully accessible to the public.
For instance, a stroll through Chinatown will take you to a majestic, three-storey shophouse at the intersection of Keong Saik Road, Teck Lim Road and Jiak Chuan Road. The space is occupied by a modern F&B establishment.25
You can also go on a photowalk to capture the delightful pastel hues of Koon Seng Road's shophouses, or plan a stay at a shophouse hotel in Little India or Kampong Glam.26 The ball, as they say, is in your court.