TL;DR
Many locals would have walked past at least one of these iconic black-and-white houses in Singapore. An important reminder of our colonial past, most of these houses were built between 1903 and 1928 for British officials (Alexandra, Rochester and Dempsey) and military personnel (Sembawang, Seletar and Changi). What are the stories behind these walls? Let's find out.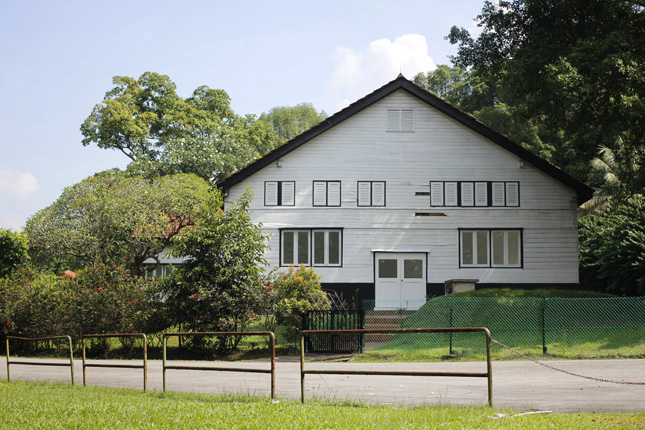 Ever seen one of these houses and wondered who lives there now? Today, most of these houses are homes to expatriates and foreign embassy offices. Those in Dempsey Hill and Rochester Park have been refurbished into restaurants and bars. (c2014. Image from ghettosingapore.com)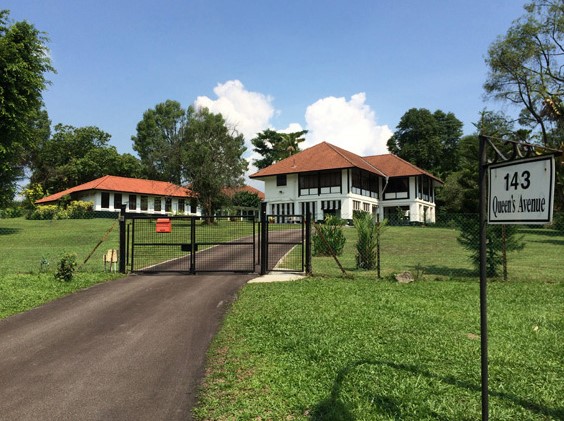 This property at 143 Queen's Avenue, near the old Sembawang Naval Base, is one of the 500-odd remaining Black and White houses in Singapore. (c2014. Image from lionraw.com)
#trending in 1903
There's no mystery as to why the locals called them "black-and-white houses". The use of dark timber beams, contrasted against the whitewashed walls, have been styled after the Plantation House and Tropical Edwardian Styles. These in turn, have been influenced by the "Tudorbethan" revival style, the Arts and Crafts Movement, and in the later years, the Art Deco Movement – architectural styles originating in England and characterised by their use of local materials, with the addition of elaborate decorations.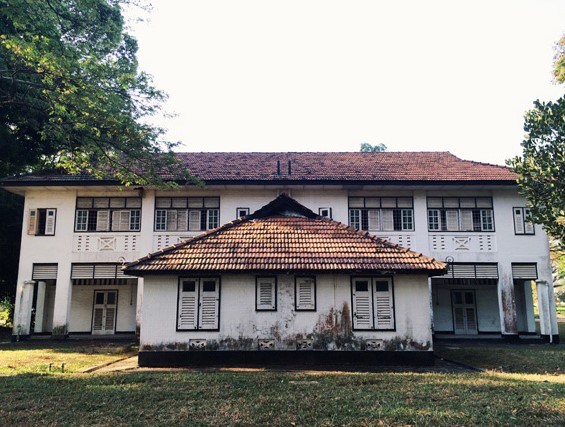 During the 1920s and 30s, black-and-white houses were built to accommodate military personnel working at the nearby Seletar Airbase. (c.2014. Image from lionraw.com)
But these houses did not become popular until Regent Alfred John Bidwell (1869–1918) first built the W. Patchitt House at Cluny Road in 1903. The gifted architect also designed the landmark Raffles Hotel and Singapore Cricket Club.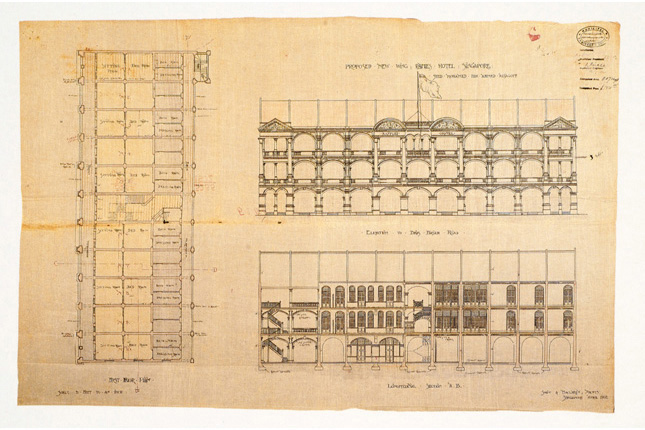 Regent Alfred John Bidwell didn't just kickstart the black-and-white house trend, he also designed the famous Raffles Hotel. (c1902. Image from National Museum of Singapore)
Local Influencers
Come rain or shine, these houses were built to handle both heavy tropical storms and the scorching heat. Borrowing from the indigenous Malay style of elevating the house off the ground with pillars and arches, the ground floor is laid with tiles to keep the floor cool during the day. Timber is primarily used on the second floor, allowing it to absorb less heat.
Overhanging eaves on the outside help provide shade from direct sunlight, while the high-steeped roofs help cope with rainfall and at the same time draw hot air upwards, keeping the house dry and cool. In today's land-scarce Singapore, skyscrapers have taken the place of many large, spacious bungalows, and high ceilings are seen as a luxury that few can afford.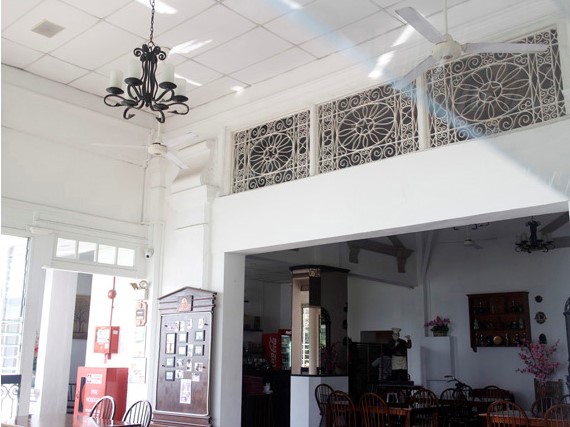 Beaulieu House was built in the 1910s by J. B. David as a holiday home. Many black-and-white houses have high ceilings and vents to keep the homes cool in our tropical climate. (c2014. Image from lionraw.com)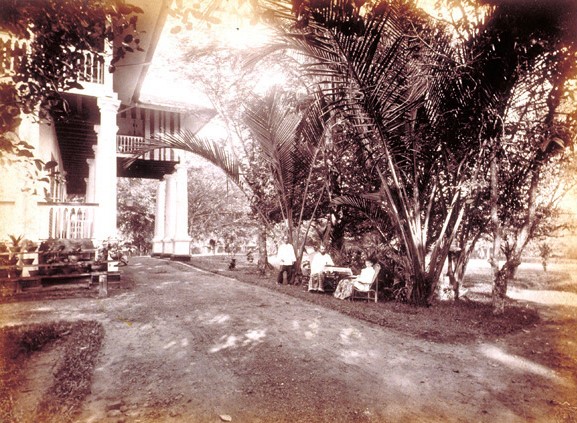 Most of these houses have huge gardens and vast outdoor spaces, a luxury that is rarely affordable in today's Singapore. (c1900. Image from National Museum of Singapore, Gift of Mr Misseje Pavel)
'Atas' Barracks
Imagine booking into camp during your National Service and being ushered to one of these houses. While the first black-and-white houses in Alexandra, Rochester, and Dempsey were built for British officials, more were added in Sembawang, Seletar, and Changi years later – specifically to accommodate the British military personnel from the air and naval bases situated in these areas. 'Atas' (local Malay slang for 'high class') barracks indeed.
Black, white and famous
One of the more well-known black-and-white houses still standing in Singapore is the Atbara House along Gallop Road. Built in 1898, it is the oldest single-storey bungalow in the country.
The popular wedding venue at the Botanic Gardens, Burkhill Hall, is probably the only remaining example of an Anglo-Malay Plantation Style house left in the world. It was built in 1886 and is named after the two former directors of the Botanic Gardens, Isaac Henry Burkill and his son Humphrey Morrison Burkill.
Perhaps these rich cultural buildings will always remain as monuments to Singapore's unique history. Today, an estimated 500 of them can still be found on the island, most of them serve as homes for expats, foreign embassy offices, as well as famous restaurants and bars in Dempsey Hill and Rochester Park. The next time you're in these areas, do pop in and get a glimpse of Singapore's black-and-white days.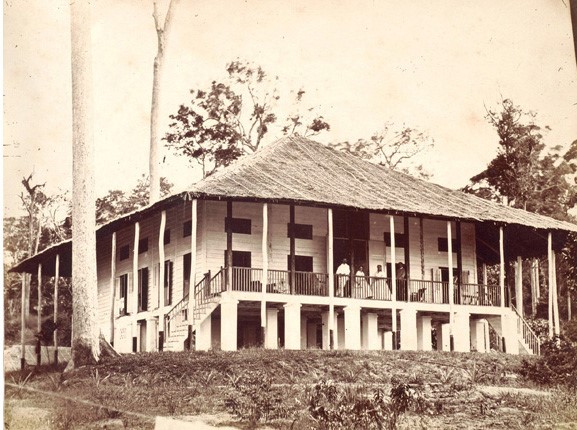 "The Castle" along Cavenagh Hill belonged to Sir Thomas Braddel. While its design dates back to before the black-and-white movement, the elevation of the ground floor is a signature of Singapore's indigenous building style. (c1880. Image from National Museum of Singapore)