TL;DR
Sentosa is well-known by Singaporeans and tourists as a luxurious, 500-hectare resort island off the southern coast of Singapore. The island today is home to luxury resorts, theme parks, golf courses, hip beach clubs, and a casino. While its name in Malay means "tranquillity", the island's tumultuous past was much darker before it was developed as a tourist paradise.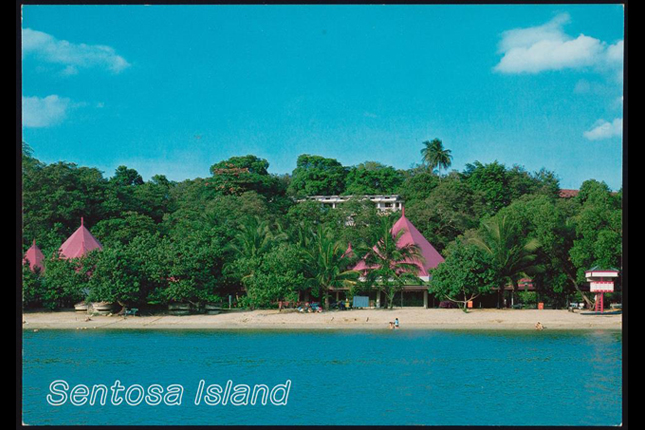 Swimming lagoons and chalets lined the beach of Sentosa when it was first developed into a tourist and leisure island. (c. Mid-1970s. Image from National Museum of Singapore)
Island behind death
Historically known as 'Pulau Blakang Mati' which translates to "island behind death", the island used to be a quiet fishing village with few Bugis, Malays, and Chinese inhabitants.
During the British colonial rule, it was turned into a defence post due to its strategic location to protect shipping passages. In the 1880s, three forts were constructed here – Fort Serapong, Connaught, and Siloso. It was further fortified in the 1930s with three 9.2-inch guns with superior range and arc of fire to boost the colony's defence against possible naval attacks.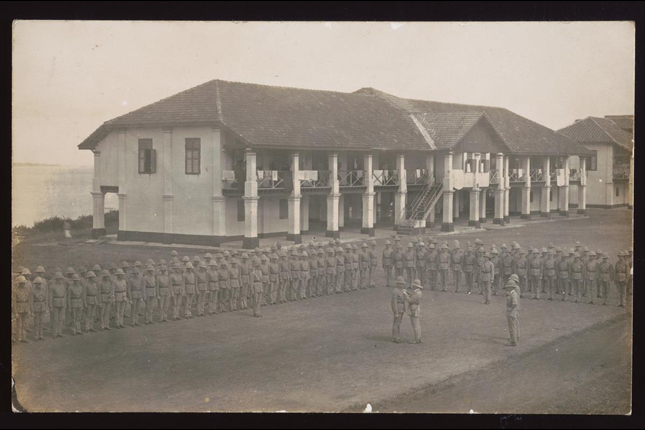 Pulau Blakang Mati (Sentosa) used to be a fort. Here's a glimpse of a military parade of the Royal Garrison Artillery stationed on the island. (c1918. Image from National Museum of Singapore)
Japanese war prison and mass grave
The mighty guns, however, did little to deter the invading Japanese forces during WWII, who infiltrated the island from Malaya in the North. They were turned around to aim at the Japanese forces inland, but that move came a little too late and proved to be futile against the overwhelming number of invading troops.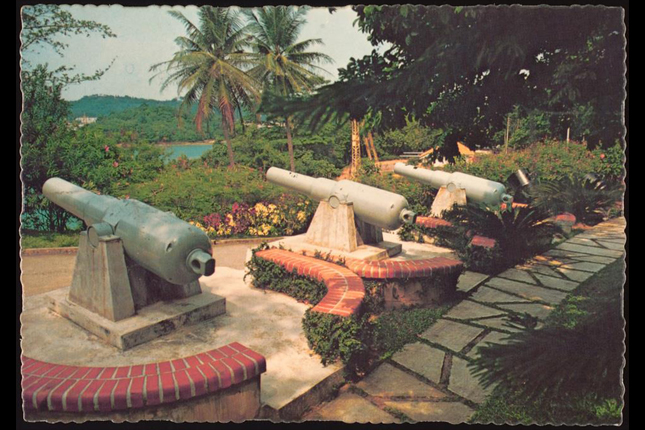 We can still see the British guns at Sentosa's Fort Siloso today. (Mid-1970s. Image from National Museum of Singapore)
When Singapore fell to the Japanese, Blakang Mati became a prisoner-of-war camp that kept 400 Allied troops behind bars. One of its beaches was even used as a mass burial site for some 300 bullet-ridden corpses that washed up on its shore during the Operation Sook Ching massacre.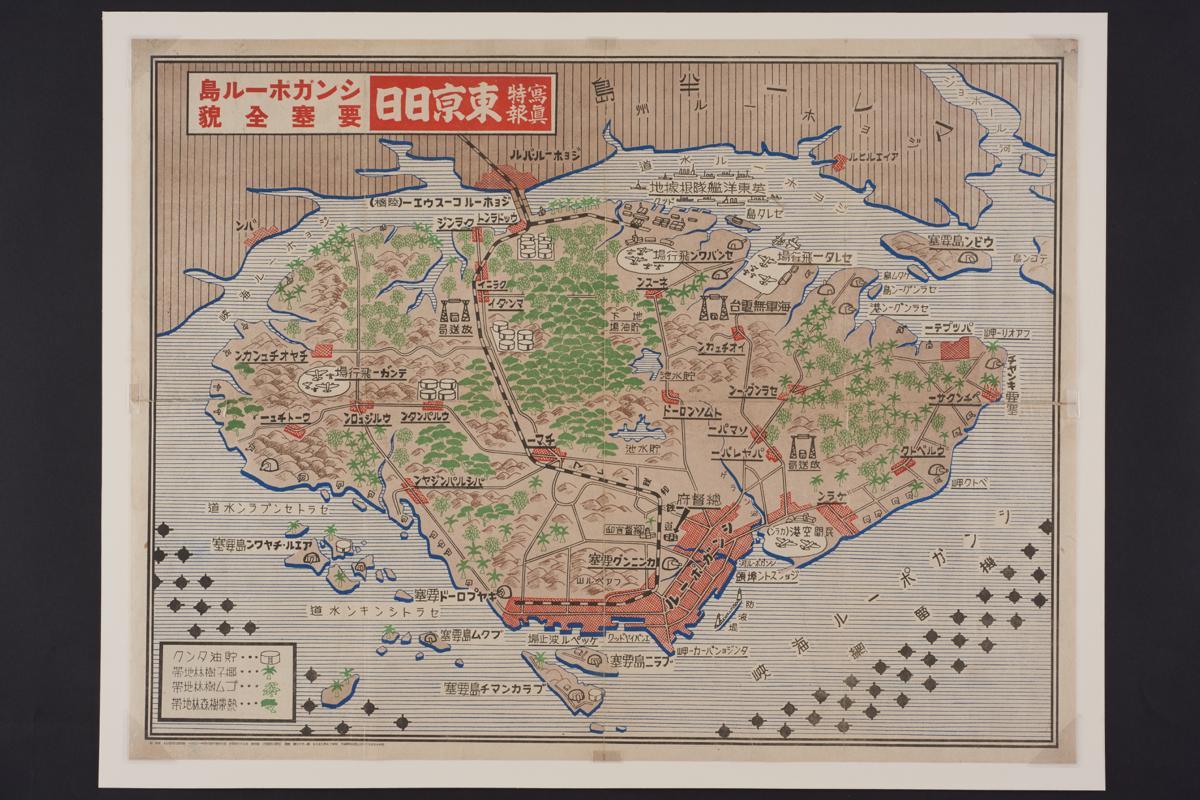 Pulau Blakang Mati, as seen as the island at the bottom of the map, was a Japanese war prison during its occupation. This rare map of Singapore was published by the Tokyo Nichinichi Shimbunsha during WWII. (c1942. Image from National Museum of Singapore)
Oil refinery VS resort island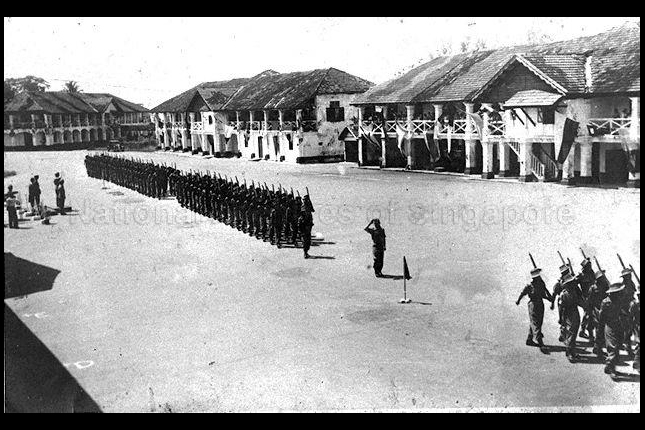 Passing out parade at Pulau Blakang Mati (Sentosa), Singapore. (c1948. Ahmad Falizi Bin Mohd Collection, courtesy of National Archives of Singapore)
Pulau Blakang Mati continued to serve as a military base after the Japanese surrendered. From 1947, the 1st Singapore Regiment of the Royal Artillery (SRRA) used it as a base until it disbanded 10 years later. Gurkha infantry units were then housed on the island. The old Fort Siloso was converted for use by the Catholic Church, and Fort Serapong by the Protestant churches. In 1967, the island was also home to the Singapore Naval Volunteer Force.
During this period, plans were being made to turn the island into an oil refinery, following an agreement with energy company Esso.
However, Albert Winsemius, an economic advisor to the government, and Alan Choe, the then head of Urban Renewal Unit (now URA, or Urban Redevelopment Authority) had a better idea. They convinced then Prime Minister Lee Kuan Yew that it was a better option to turn the island into a resort for recreation and tourism. Renegotiations shifted Esso's refinery to Jurong, and Pulau Blakang Mati was about to get its much-needed facelift.
Leisure paradise named "tranquillity"
The government launched a contest to rename the island and "Sentosa", which means "tranquillity" in Malay, was picked as the winning name.
With its new lease of life, Sentosa was then linked to the mainland by Singapore's first cable car system in February 1974. A month later, Sentosa Golf Club opened.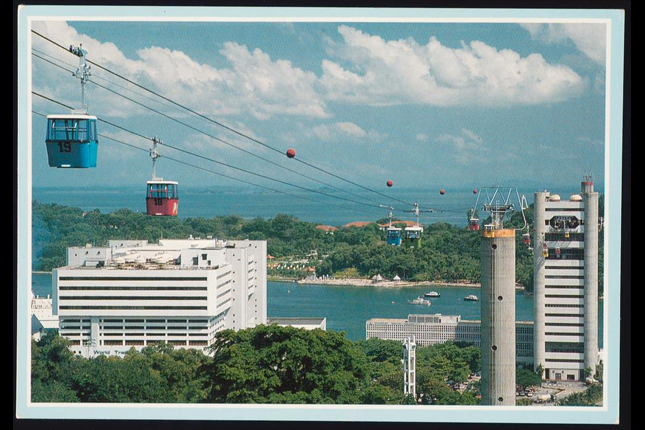 Before the bridge was built, visitors to Sentosa could only travel there by ferries or cable cars. (Mid-1980s. Image from National Museum of Singapore)
More attractions were added in the next few years. These included the Sentosa Coralarium, a maritime museum, Palawan beach lagoon, and the Musical Fountain – a magnificent, musically synchronised water fountain and light show.
But not all of history was lost to this redevelopment, Fort Siloso and its tunnels, bunkers, guns, and searchlight posts were all preserved and turned into an exciting historical attraction.
With these many new adventures for visitors, the island seemed to have broken away from its military past and was gearing up to become Singapore's leisure paradise.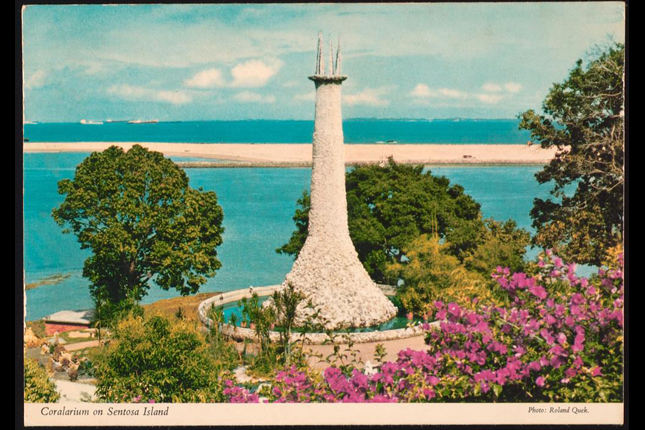 The Coralarium at Sentosa used to be one of the biggest attractions on the island. (Mid 1970s. Image from National Museum of Singapore).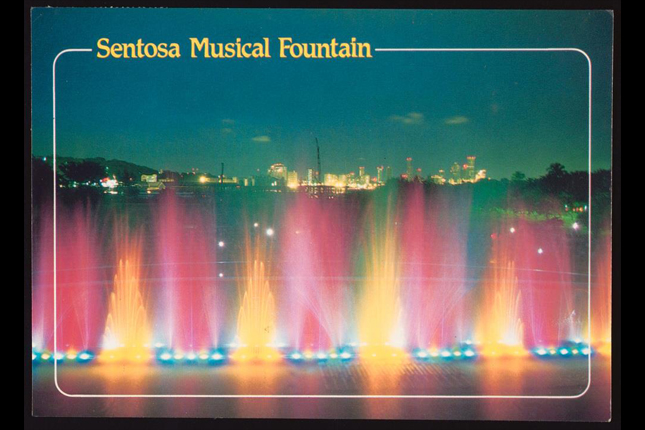 The water sprays of the Musical Fountain "danced" to the music and was most spectacular at night. (Mid 1980s. Image from National Museum of Singapore)
Struck by tragedy
Sentosa was enjoying its tranquillity and welcomed thousands of visitors every year for the next decade. But the island's peace was once again disrupted in January 1983, when a drilling vessel hit the ropeway to the cable cars. The cable snapped and two carriages plunged 55 metres into the sea, killing seven people.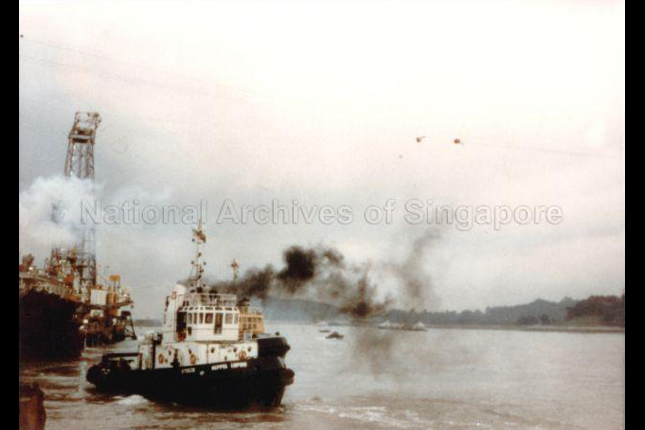 Image depicts the mast of oil rig Eniwetok caught up in two cables of the Sentosa Cableway resulting in a cable car being swung and a person thrown out. 29/1/83. Captain R F Short Collection, courtesy of National Archives of Singapore
Following this tragedy, extensive tests and repairs were conducted before resuming operations seven months later. However, visitors were still hesitant to return to the island.
Claiming its namesake
Determined not to let the accident tarnish its reputation, Sentosa needed to bring back its visitors and show that it could live up to its name. Over the next decades, the resort island saw itself undergoing a massive overhaul to finally reclaim its tranquillity.
Many of the older attractions have been either upgraded or demolished to make way for new ones. These days, you could even live there. In 2003, Sentosa Cove was launched as an exclusive residential enclave with over 2,600 waterfront homes.
If you're going to Sentosa today, you'll even get a chance to cruise through the treetops at the Megazip Adventure Park or spread your wings at skydiving simulator iFLY. Or spend a fun-filled day at the Universal Studios theme park and Resorts World Sentosa's (RWS) casino.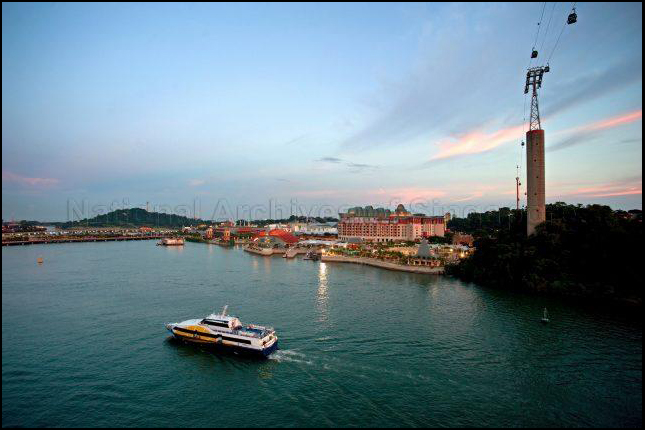 PHOTOGRAPHS FOR THOUGHT I - 像由心生摄影集: 南海明珠 (圣淘沙名胜世界 - RESORT WORLD SENTOSA). Lee Leng Kiong Collection, courtesy of National Archives of Singapore