The golden era of Singapore cinema occurred within a 25-year period from the late 1940s to the early 1970s, when hundreds of films were filmed and produced in Singapore by two major film empires, Cathay Organisation and Shaw Brothers.
Shaw Brothers, a film conglomerate set up by two Shanghainese brothers, Run Run and Runme Shaw, was already operating several cinemas in both Singapore and Malaysia. The brothers decided to make their foray into the film production arm following the success of their film exhibition and screening business.
With their sights on the Malay audience in both Singapore and Malaya, Shaw reopened the Jalan Ampas studio in 1947 and incorporated a new company known as the Malay Film Productions. Related ContentThis would kick-start the golden era of Singapore cinema. Shaw also invested heavily, bringing in the studio system of Hollywood to Singapore, and built up their own stable of crew including directors, producers, production support, and actors.
Between 1947 and 1952, Malay Film Productions produced around 37 feature films and set a record in 1952, rolling out 23 feature films in that year alone. Indian film director B. S. Rajhan was Shaw's only active director until 1950 and was well known for launching the film careers of many starlets such as Salleh Ghani, Rokiah Hanafi and P Ramlee.
In the following year, Loke Wan Tho created Cathay-Keris, with the help of Ho Ah Loke, who was already involved in the film exhibition businesses in northern Malaya and southern Thailand. Ho was keen to venture into film production after the end of World War II and convinced Loke to form Cathay-Keris. Cathay-Keris would become a major film studio that would challenge the monopoly of film production in the region by Shaw's Malay Film Productions.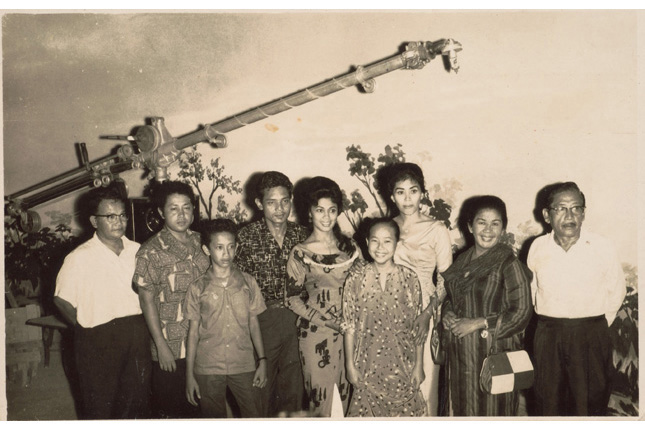 A group photograph of actors and staff of Cathay-Keris. (c. 1960s. Image from National Museum of Singapore)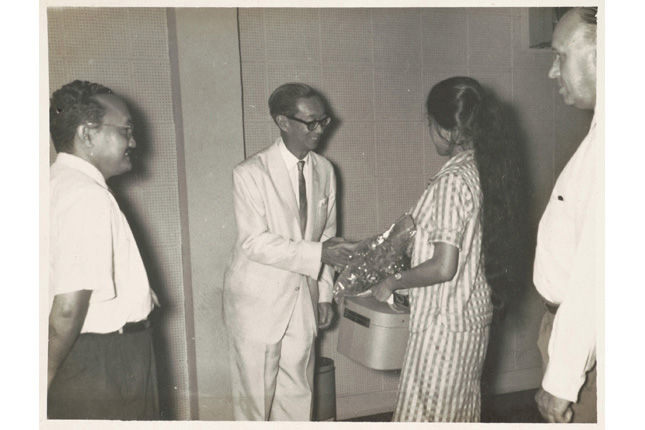 Founder of Cathay Organisation, Loke Wan Tho, handing out awards at a prize giving ceremony. (c. 1960s. Image from National Museum of Singapore)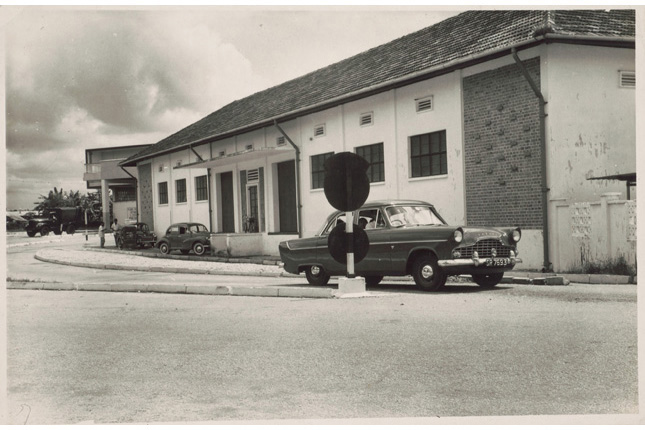 A photograph of the Cathay-Keris studio at 532-D East Coast Road. The studio was formed by Loke Wan Tho and Ho Ah Loke in 1953 to compete with Shaw Brothers' Malay Film Productions. The studio eventually ceased film production in 1972. (c. 1960s. Image from National Museum of Singapore)
Cathay-Keris managed to break away from the bangsawan (a type of traditional Malay opera or theatre) influence and were the first studio to produce films shot in colour. The first two films shot in colour in Singapore were Perwira Lautan Teduh (1952) and Bulan Perindu (1953).
Cathay-Keris was most noted for initiating the Singapore-made cult classic, the Pontianak film in 1957. The film was wildly popular, and screened in cinemas for two months. It was also dubbed into Cantonese and English for the Hong Kong and American markets. Cathay-Keris quickly followed up the success of the first Pontianak with Dendam Pontianak and Sumpah Pontianak. This became known as the Pontianak trilogy that established the horror genre in Singapore and Malaya. It also launched the film careers of Maria Menado and S. M. Satay, and featured the music composed by Zubir Said, best known as the composer of Singapore's National Anthem. Malay Film Productions would emulate the horror genre formula and launch their own Pontianak film series.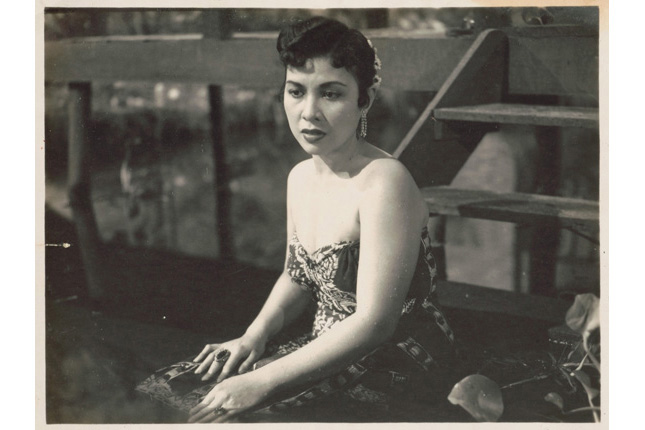 Actress Maria Menado in a scene from a film. She was most famous for her role in the Pontianak series by Cathay-Keris. (c. 1960s. Image from National Museum of Singapore)
The golden era of Singapore cinema would see a turn at the 1960s, with more audiences turning to imported films from Hollywood. The introduction of television in Singapore also contributed to a decline in movie attendances. The separation of Singapore from Malaysia also led to a talent drain, with many directors, producers and artistes choosing to base themselves permanently in either side of the causeway. Ho left Cathay-Keris and Singapore, and became one of the founding fathers of Merdeka Studio in Kuala Lumpur. He also brought with him the rights to some of the most successful Cathay-Keris films. Among the starlets who chose to move to Malaysia was entertainer extraordinaire P Ramlee.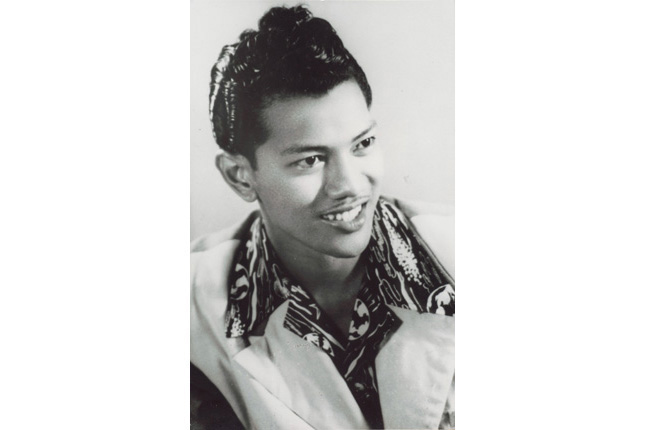 A photograph of popular starlet P Ramlee. (c. 1960s. 2005-01056. Image from National Museum of Singapore)
Shaw Brothers would close the Malay Film Productions studios in Singapore in 1967. Its 20-year run saw a generation of around 160 feature films produced from its Jalan Ampas studios. Cathay-Keris ceased operations in 1972, with at least a hundred films produced from its studios.
The competition between Shaw and Cathay led to the earliest developments of film production in Singapore, where hundreds of films predominantly in Malay were produced over a 25-year span. The closure of Malay Film Productions and Cathay-Keris marked the end of the golden era of Singapore cinema in the early 1970s.
A famous and well-loved Malay comedy actor, Wahid Satay, from Cathay-Keris. He was shot to fame for his role in the widely popular 1957 film, Pontianak. He would go on to star in Satay (1958) and Badang (1962). (c. 1960s. Image from National Museum of Singapore)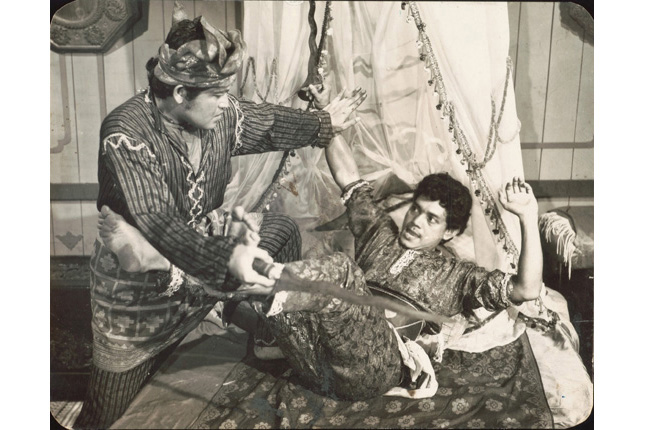 A scene from the film Hang Jebat. Hang Jebat is a Cathay-Keris film directed by Hussain Haniff that tells the legendary tale of Hang Tuah and Hang Jebat. (c. 1961. Image from National Museum of Singapore)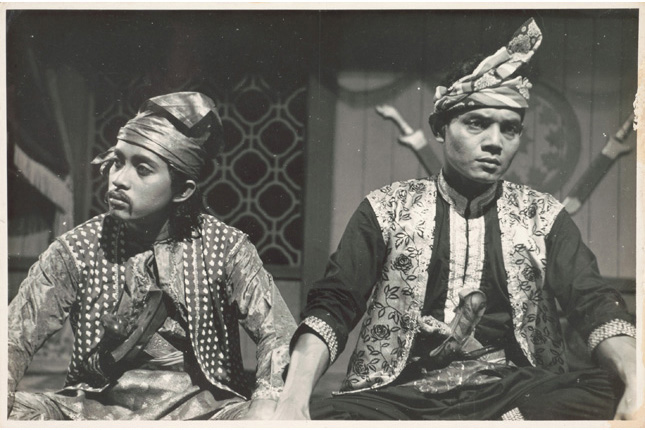 A scene from the film Lanchang Kuning. Lanchang Kuning is a Cathay-Keris film directed by M. Amin and tells the story of a man seeking revenge on a woman who does not reciprocate his love. (c. 1962. Image from National Museum of Singapore)