Newton Food Centre was opened in 1971 as Singapore's first hawker centre built without a wet market. It was part of the government's 1970 initiative to build dedicated food centres along major thoroughfares and traffic intersections.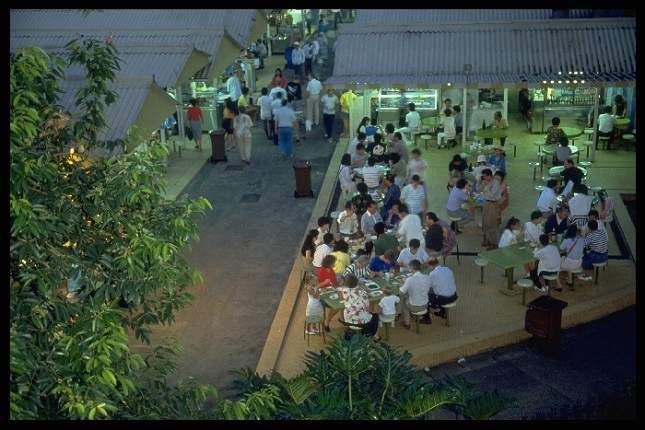 First christened as the Newton Circus Hawker Centre, it has been erected on a piece of empty ground opposite the traffic circus (Newton Circus) and in proximity of a Malay Girls' School which had been there since the mid-1950s. Situated opposite the centre was also the Anthony Road Girl's School (closed in 1983). These schools and the adjoining Government Quarters in the area, had created a sizable community in the district which became a magnet that attracted street hawkers. As early as the 1950s street hawkers had already gathered at this crossroad to ply their trade in a weekly bazaar. By 1960, it had become so popular that the bazaar was held three times a week, on Monday, Wednesday and Friday. Office workers and housewives in search of good deals frequented the bazaar. By 1966, the Newton Circus street hawkers had turned the district into a pasar malam site. The government found it difficult to relocate all of them to other sites.
At the same time, by 1970, the Newton Circles area had proven to have been a significant intersection into town. The government decided to build a hawker centre on site with its own parking facilities. It was completed at the end of 1970, it was touted as a centre with "hawker stalls in a garden setting." The centre, surrounded by large shady trees, was basically composed of seven structures that had colourful nylon roofs. Each structure hosted eight stalls. This garden concept was part of PM Lee Kuan Yew's 1967 vision of a clean and beautiful city. He wanted to turn the island into a garden city "within three years". Accordingly, the government declared that a "floral mile" was to be created from Newton Circus to Clementi Circus, where nurseries would be established to help beautify the island. Hence, the hawker centre was designed with a garden setting that complemented Singapore's "garden city" image.
Built by the Public Works Department, the centre was the "first hawker stalls [built] in a garden setting". When completed, it was intended to relocate there 56 hawkers who had been selling food in that part of Bukit Timah Road for years. In early 1977, following its first major renovation to improve its cleanliness, the hawker centre was expanded to allow for additional hawker stalls to accommodate 33 street hawkers from Orchard Road and Marine Parade, and 55 from Joo Chiat and East Coast. By this time, the Hawker Centre had been significantly enlarged.
Newton Circus Hawker Centre had since the 1970s been popular with both tourists and locals for its ambience and great food. In 1978, a stall, specialising in selling oyster omelette, was chosen out of the 88 stalls in Newton Circus hawker centre by the Singapore Tourist Promotion Board to run his business at the Rasa Singapura Food Centre at Tanglin.
In 1982, the Environment Ministry found that the Newton Circus food centre was the second most popular eating place in Singapore, just behind Telok Ayer food centre. It had an average of 7,309 patrons daily during peak hours. However, the food centre had also become so "filthy" and deteriorated state that it required renovation. This sprucing up, mainly cosmetic, took place in 1988. In November 1999, the centre underwent another major revamp.
In September 2005, the centre was completely rebuilt. The architects of the new centre took care to create a food centre that was "a throwback" to old times Singapore." The new stalls were arranged in a horseshoe shape, creating a central courtyard dining space. Palms, nutmeg, pepper and other plants have also been planted around the food centre, many of which would have been found in the colonial-era plantations of this area. The architects took inspiration from a row of old colonial black-and-white terrace houses in Monk's Hill Terrace, next to Newton Circus. The new centre housed the same number of stalls as in the old food centre. There were also more seats with 90 per cent of the seating either sheltered or under umbrellas.
In 2016, Newton Circus Food Centre was upgraded once more.