Since its establishment in 1977, Apsaras Arts has been engaging audiences through bharatanatyam and other classical dance forms. "After all, Indian classical dance is a storytelling art (where) you connect soul to soul with the audience", says the Singapore company's artistic director Aravinth Kumarasamy.
Watch: Stewards of Intangible Cultural Heritage Award - Asparas
Bharatanatyam and other dance forms like kathak, kuchipudy and mohiniattam employ subtle, intricate facial expressions, hand gestures, and body movements in combination with music, drama, costumes, and other aesthetics. Taken together, they engage audiences at many levels, from the sensory to the intellectual, from the emotional to the aesthetic and the spiritual.
The drive to engage audiences through their dance dramas has been characteristic of Apsaras since it was established by the late Neila Sathyalingam and Sangita Siromani Suntharalingam Sathyalingam. Today, Apsaras functions as a repertory company and a dance academy.
"We are very keen to uplift the standards of Indian classical dance in Singapore, so we collaborate with the best in the world, and teach (students) not only dance (techniques) but also how to be a dancer and how to build a career in dance", says Kumarasamy.
Classical roots and regional influences
While many of the ideals and narratives in Indian classical dance are rooted in Vedic texts including the Ramayana and the Mahabharata, the repertoires performed by Apsaras over more than four decades have also incorporated Singaporean elements, having evolved through multiple points of contact and intersections with a diverse array of cultures here.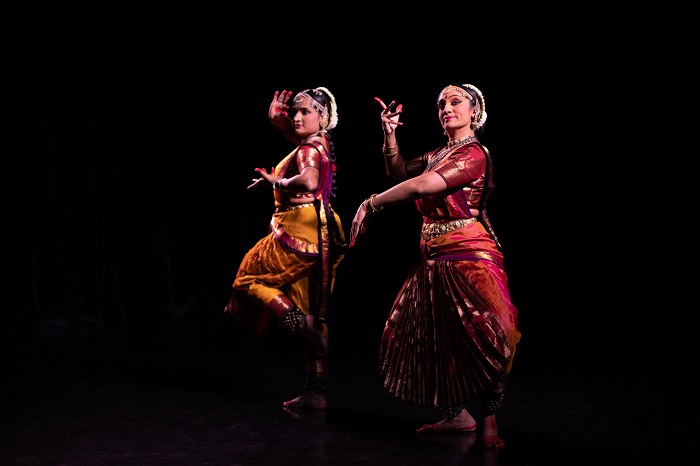 An Indian dance performance entitled Ardhanareeswara, by Apsaras dancers Seema Hari Kumar and Devapriya Appan, 2020. Courtesy of National Heritage Board.
At times, this Singaporean strand emerges when Apsaras adds a contemporary layer to the interconnections and crossings between the many cultures of Southeast Asia and the Indian subcontinent.
In 2017's Anjaneyam: Hanuman's Ramayana, which opened the Esplanade's Kalaa Utsavam festival before travelling internationally, Apsaras brought together dancers, choreographers, musicians and other performers from Singapore, Indonesia, and India, harmoniously blending bharatanatyam and Javanese dance forms accompanied by gamelan, Carnatic, and Hindustani raga music.
"We feel we can be inspired by our neighbourhood, and there are lovely stories that we share in common with Indonesia, Cambodia, Thailand", says Kumarasamy. "(This has helped us) attract a different audience who are interested in heritage, traditions and Southeast Asia, and that makes our performances more interesting, to have varied audiences so that we are challenged to give them varied craft."
At other times, Apsaras presents different perspectives and employ fresh storytelling techniques, even as they stay true to their classical roots. Alapadma: The Lotus Unfolds explored aspects of the lotus' symbolism and iconography in Indian culture, including creation, romance, as well as its many meanings in different cultures across the world, with the dancers' movements choreographed to recall the blossoming of a lotus flower. Meanwhile, Agathi: The Plight of the Refugee showcased the experiences of refugees through imagery and sounds of their journeys.
Nurturing dance excellence across decades
The late co-founder Neila Sathyalingam, a Cultural Medallion award winner and a graduate of the famed Kalakshetra academy in Chennai, India, is also noted for her efforts to make Indian classical dance more inclusive and accessible in Singapore.
She ran training classes at grassroots level, and worked with the People's Association to establish troupes and choreographed dances for 13 consecutive Chingay parades. "(Apsaras) has been able to train many aspiring youths from our heartlands and showcase them in both local and international platforms, breaking the misconception that Indian classical arts (are) only accessible to those in elite communities", explains Kumarasamy.
Today, Apsaras' Little Angels programme, organised in collaboration with artists from the Malay and Chinese dance communities, provides training in a diverse array of dance styles for children. The company also offers the Balabharatham course for bharatanatyam fundamentals, and works closely with schools and grassroots organisations.
To provide platforms for its talents, Apsaras sustains the Darshana series which showcases young Singapore soloists, and continues to participate in international and regional festivals and dance productions. With the aim of deepening the appreciation of Indian dance and its cultural heritage, Apsaras also organises the annual Dance India Asia Pacific industry development programme, which includes master classes, workshops, dance education classes, panel discussions, and performances under its umbrella.
This dedication to make Indian classical dance inclusive and to transmit their craft has seen Apsaras nurture hundreds of dancers over the decades – including Soo Mei Fei, who joined Apsaras in 2015, was mentored by Apsaras' principal dancer Mr Mohananpriyan Thavarajah, and became the first Singaporean Chinese woman to perform a full bharatanatyam recital on stage. Apsaras-trained performers have also gone on to found institutions of their own in Singapore, Malaysia, Japan, France, and the United States, among others.