Text by Joen Goh
Images courtesy of Siong Leng Musical Association
MuseSG Volume 9 Issue 2 - Apr to Jun 2016
In today's fast-paced Singapore, it is hard to imagine ancient art forms like Nanyin (南音) and Liyuan (梨 園) opera taking root and finding a following among youths. Yet a Singaporean group in their 20s faithfully immerse themselves in this world of centuries-old musical instruments such as the dongxiao and sanxian, and slow, melodious singing in Southern Min dialect.
"Nanyin is soothing and calming... and not something youngsters in Singapore would chance upon easily," highlighted Joel Chia, one of the seven principal musicians in the Siong Leng Musical Association.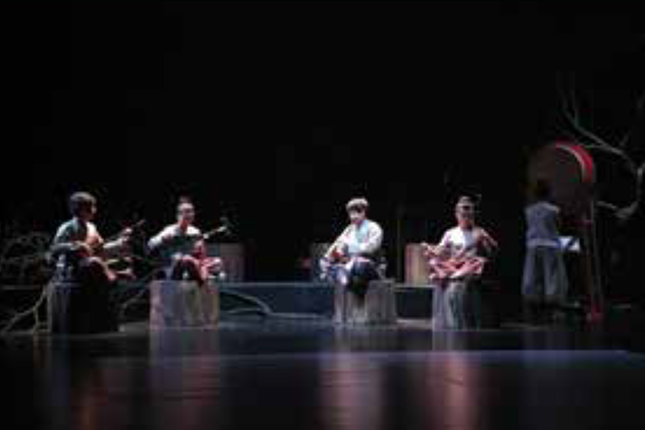 Siong Leng Musical Association innovates with contemporary stage and musical arrangements of Nanyin, featuring traditional instruments with cross-cultural elements. Soul Journey – Cicada Zen (蝉。息) performed at Esplanade Theatre Studio, July 2012.
The original tone of instruments, tunes, lyrics and vocalisation are carefully preserved through scores and scripts, via a teacher- apprentice system. Watching a Nanyin performance today is similar to watching it in ancient China. Nanyin is often nicknamed the living fossil of ancient Chinese music and was listed as an Intangible Cultural Heritage of Humanity by UNESCO in 2009.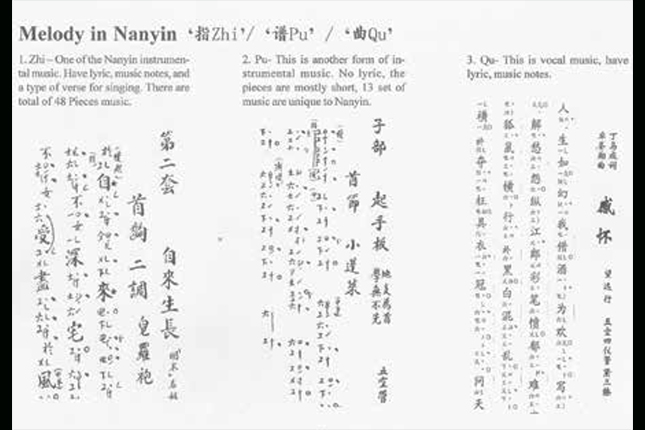 Gong Che Pu (工尺谱) scores showing unique Nanyin music notations from the book Nanyin – Music of the South, 2002.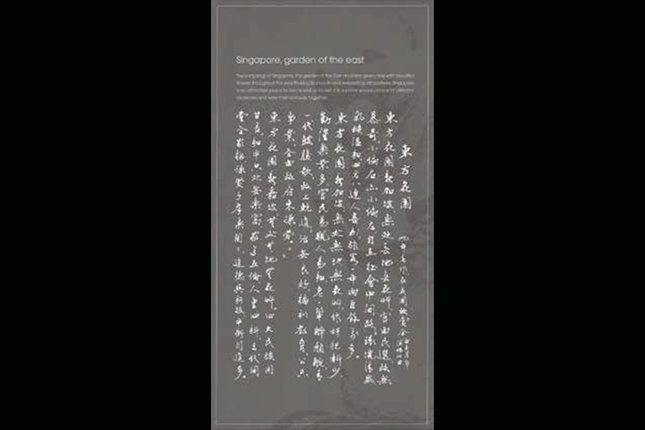 Original Nanyin composition and score by the late Teng Mah Seng: Singapore, Garden of the East (东方花园), 1982.
Nanyin and Liyuan Opera
Nanyin ("southern music" in Chinese) is a music genre which originated as court music during the Han Dynasty in China, more than two thousand years ago. As civil unrest over the years uprooted nobles and musicians from the Central Plains, Nanyin took root in the southern coastal area of Quanzhou in Fujian province.
In recent centuries, Nanyin followed the Chinese diaspora and spread to other shores. It reached Taiwan, Philippines, Malaysia, Indonesia and Singapore, where large groups of people of southern Chinese origin reside.
Nanyin remains close to its most traditional form, with music, lyrics and instrumental performance methods originating from Song and Tang Dynasty periods. Traditionally, Nanyin is performed by five musicians, with the vocalist seated in the middle and holding a clapper to set the beat. On the left, two musicians would play the dongxiao, a bamboo flute, and the erxian, a two-stringed fiddle. On the right of the vocalist, two other musicians would play the pipa, a Chinese lute, and the sanxian, whose sound is one octave lower than the pipa.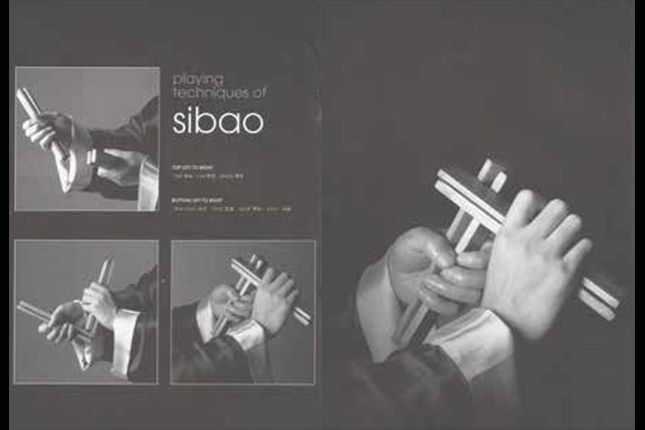 An ancient instrument that survived the times is the sibao, a percussion instrument consisting four pieces of bamboo that is unique to Nanyin,
Illustration from Music of the South, 2004.
What makes Nanyin unique is its close preservation of the art form. The dongxiao has retained its length of one foot eight inches in Nanyin, and while the modern-day pipa is constructed with a straight neck and held upright, Nanyin musicians use a crooked-necked pipa and hold it horizontally, like a guitar.
A natural extension of Nanyin music, Liyuan opera's origins can be traced to Quanzhou in Fujian, China. Unlike Teochew, Hokkien or Cantonese operas, Liyuan opera is a lesser-known variety of Chinese opera. It is commonly regarded as dramatised Nanyin. Preserving elements and essence of Tang and Song dynasties' Nan opera, Liyuan opera is one of the most ancient surviving forms of Chinese opera.
Keeping Traditional Art Alive
Siong Leng Musical Association was founded in 1941. Today its mission is to preserve, develop and promote Nanyin and Liyuan Opera. What sets it apart from other traditional performing troupes is that most of the members in the Nanyin section are relatively young, in their 20s, providing an interesting contrast to this ancient art form.
The charm of the old, traditional music is precisely what draws its members together. However, being traditional is a double-edged sword for Nanyin and Liyuan Opera. While its quiet, old-world charm attracts some, others find it hard to endear themselves to these niche art forms.
Lin Shao Ling, Artistic Director of the association in 2016, recognises this challenge. Bold, new directions have been taken to bring Nanyin closer to the local audience. He has experimented with the use of musical instruments such as the Indian tabla and Malay kompang to create fusion performances. During the 2016 Huayi Festival at the Singapore Esplanade, he blended Nanyin and Xinyao songs.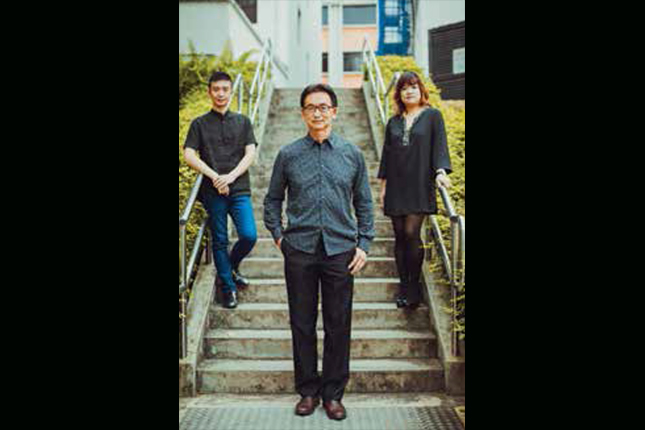 From left to right: Lin Shao Ling (Artistic Director), Teng Hong Hai (Chairman and son of the late Teng Mah Seng) and Wang Pheck Geok (Executive Director), 2013.
"We want to create a multi-sensorial experience for our audience where they are enveloped in a whole artistic and cultural experience," Lin shared. "That is why before our performances at the Esplanade, our audiences participate in a ritual of cleansing their hands with flowered water, listening to music and sipping tea amidst the scent of incense. These allow audience members to quieten their hearts and minds and be more ready to experience the soothing Zen-like ambience of Nanyin."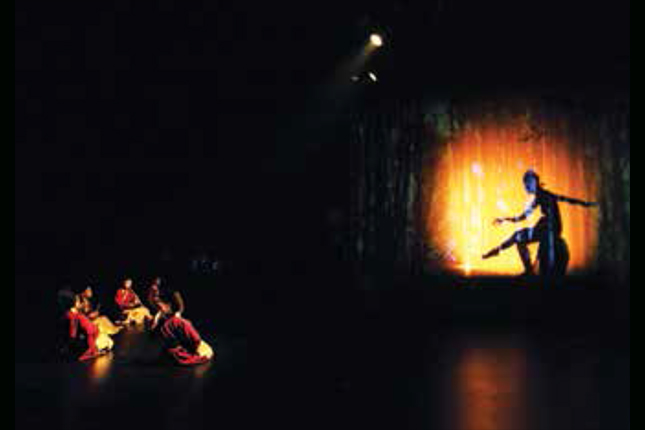 The Mountain Spirit (礼魂) from Soul Journey Nine Songs (九歌。意象), performed at Esplanade Theatre, August 2015.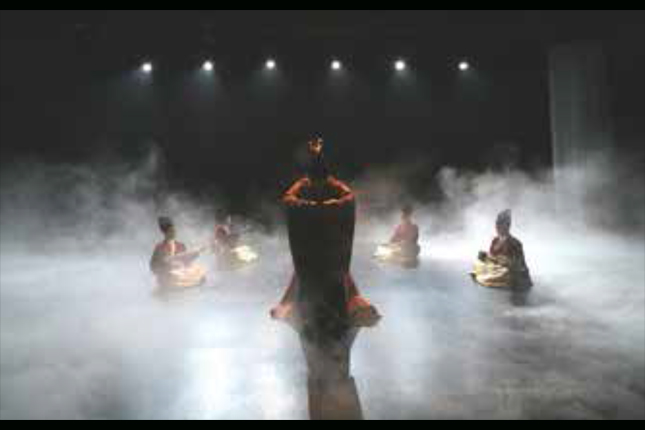 The God of the Xiang & The lady of the Xiang (湘君) 与 (湘夫人) from Soul Journey Nine Songs (九歌。意象), performed at Esplanade Theatre, August 2015.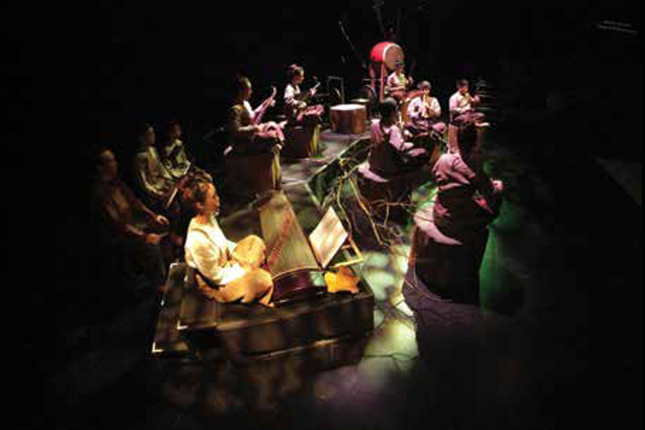 Soul Journey – Cicada Zen (蝉。息) , performed at Esplanade Theatre Studio, July 2012.
To reach a bigger audience and stay in touch with older Nanyin appreciators, Siong Leng keeps up an annual tradition of staging three open performances at the Thian Hock Keng Temple and a performance at Kusu Island. The team has also conducted workshops and demonstrations at public libraries, and continues to hold special workshops at its Bukit Pasoh premises.
The passion to keep the art form alive keeps Lin and his team going. This is a spirit they inherited from the late Teng Mah Seng, a Cultural Medallion recipient and former chairman of Siong Leng, who was a prolific Nanyin artist himself, composing more than a hundred Nanyin songs.
In 1983, Teng brought Siong Leng's artists to compete overseas, walking away with a third prize in the Folk Solo category at the 37th Llangollen International Musical Eisteddfod. It was the first time Nanyin had shone on the world stage. The feat was repeated in 2010 when Siong Leng took part in the same contest and clinched first prize.
Celestina Wang, Executive Director of Siong Leng, was a protégé of the late Teng. She was tasked to run the association after his passing, and still looks to Teng's legacy of foresight for guidance. "Mr Teng's undying spirit in promoting Nanyin and Liyuan Opera continues to spur us to greater heights," Wang said.
Cultivating the Next Generation of Artists
For Wang, her key challenge is to keep this cultural endeavour going. "In five to ten years, we need a new generation of musicians and instructors to take the association further," she said.
The current hand-picked team of seven young local musicians, including Wang's two sons, were selected to join the association during their teenage years. Since 1999, they have been journeying to China for intensive training with Nanyin masters. Back at Siong Leng, they are also taking up roles in administration and marketing even as they prepare for performances throughout the year.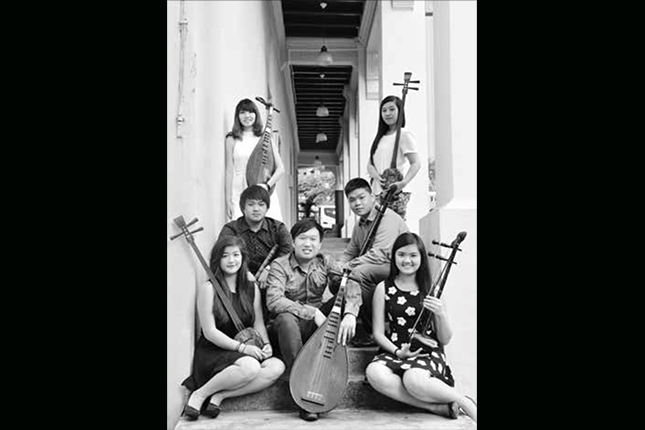 Siong Leng's seven - a new generation of young principal musicians being groomed to lead the association, 2013.
Over the years, the seven have grown to become a close-knit group. "An intimate bond and a level of chemistry have built up between the seven of us after playing Nanyin together for so many years and training together," said Cassandra Wang, principal musician and teacher of pipa and sanxian at Siong Leng.
Looking Ahead
Lin strives to produce quality contemporary Nanyin presentations that Singaporeans will come to know and appreciate. He shared: "It is also my hope that Siong Leng can take Nanyin and Liyuan opera into the international scene. Even more pressing is the transmission of culture, which must happen together with the passing of the art to the next generation."
It is this dedication to heritage and culture that makes Siong Leng Musical Association a treasured organisation in Singapore.
Watch Siong Leng on Youtube:
To keep tabs on upcoming performances, check out their Facebook page!