Hawker Culture
Hawker Culture, involving the practice of dining and mingling at hawkers centres over food prepared by hawkers, is an integral part of the Singapore way of life.
Evolved from street food culture, hawkers and hawker centres have become markers of Singapore as a multicultural city-state. During the formative years of Singapore's independence, hawkers and local communities, with the assistance of the government, came together to develop hawker centres, providing stable livelihoods for hawkers and affordable meals for the population. Today, hawker centres across Singapore continue to serve the needs of diverse communities in residential, recreational and business districts.
Hawker culture is enabled by hawkers in Singapore, who hold the culinary practices associated with food dishes prepared at hawker centres. The food reflects the multicultural make-up of Singapore, comprising mainly Chinese, Malay and Indian as well as various other cultures. Hawkers in Singapore take inspiration from the confluence of cultures, experimenting and adapting dishes to local tastes and context, reflecting a living food heritage through generations. Iconic hawker food include rojak (local salad dish), laksa (spicy soup noodle dish), satay (skewered meat), roti prata (flat bread with stretched dough and ghee), chicken rice, char kway teow (stir-fried flat noodles) and many other dishes.
Hawker centres serve as "community dining rooms" where people from diverse backgrounds share the experience of dining over breakfast, lunch and dinner. One can see freshly prepared food at the hawker stalls and hear multi-lingual exchanges made over meals in a lively atmosphere. A typical hawker centre comprises numerous food and drink stalls, and a common seating area. Dining at a hawker centre is a quintessentially Singaporean experience, allowing one to experience a wide variety of multicultural food and drinks at affordable prices. It is common for people and even strangers to eat and interact at the same table regardless of religious or dietary differences.
Geographic Location
There are over 110 hawker centres spread across Singapore. Most hawker centres are located within neighbourhood centres of public housing estates, serving as important communal spaces. There are also hawker centres situated in business and recreational districts, where people work and play.
Similar food practices and food centres can be found in neighbouring countries and internationally, each having their respective context, cultural influences, and socio-cultural functions.
Communities Involved
Hawker Culture in Singapore is shared by those who prepare hawker food and those who dine and mingle over hawker food in hawker centres.
Hawkers in Singapore include both men and women who have equal opportunities in practising the trade. Some of the oldest hawkers today have started their practice since the 1960s. Many of them specialise in one particular dish, refining the recipe over the years. They may transmit their recipes, knowledge and skills to younger family members or apprentices.
Community organisations, NGOs, educational institutions, private and public sectors are also involved in safeguarding efforts.
The population in Singapore, regardless of background, continue to dine at hawker centres through generations.
Associated Social and Cultural Practices
Serving as community dining spaces where friends and families gather, interact and bond over their shared love for food, hawker centres function as vibrant communal spaces that promote social cohesion based on shared experiences. As a public space that embraces people from diverse socio-economic backgrounds to meet and dine together, hawker centres are social spaces in the dense urban landscape that strengthen social fabric and foster peaceful relations, maintaining cultural and community interactions.
With hawker food being both safe and affordable, many families eat at hawker centres on a frequent basis. Families, friends, co-workers gather at hawker centres for breakfast, lunch or dinner and chat over kopi (local coffee). It is common for Singaporeans who return home from overseas to visit hawker centres to savour their favourite hawker food.
In addition, hawker centres embraces people from all walks of life and allows for people from different socio-economic backgrounds to meet and mingle over the shared love for hawker food. It provides wide-ranging opportunities to people, including providing an avenue for gaining livelihood, and as an accessible open space for affordable meals.
Experience of Practitioners
A family of hawkers who prepare a range of food including
char
kway teow
share on their experience as hawkers, and their hopes on transmitting hawker culture to the next generation.
Present Status
With Singapore's economic growth over the years since its independence and diverse job opportunities across different sectors, there are challenges in attracting the younger generation to join the trade. At the same time, there are many hawkers who are joining the trade, as well as third and fourth generation hawkers carrying on their family businesses. Many young hawkers have also come up with innovative dishes to appeal to the tastes of the younger generation, demonstrating their creativity through new culinary creations. Some hawkers have elaborate stall fronts to appeal to the diverse groups of people visiting hawker centres.
Hawker Culture is inclusive and accessible to all, including those with special needs. There is also a gradual increase in meals-on-wheels services taking hawker food to the doorstep of the elderly and people with special needs. In addition, there are efforts to train and equip suitable adults with special needs to run hawker stalls.
There are various measures implemented by community groups, individuals, government agencies, private sector organisations, non-government organisations (NGOs) to safeguard and enable the continual transmission of hawker culture.
The Federation of Merchants' Associations, Singapore (FMAS), hawkers' associations and representatives safeguard interests of the hawkers and monitor issues at the hawker centres. There have also been various efforts to promote and sustain the trade. NGOs and other organisations actively raise awareness on hawker culture. Slow Food Singapore, an NGO championing local food heritage, has been involved in workshops and programmes to promote hawker culture. Other efforts include the "Incubation Stall Programme" by the National Environment Agency (NEA) to support aspiring hawkers to join the practice. In addition, training programmes such as those offered at Institutes of Technical Education (ITEs) help to train aspiring hawkers and prepare them for the trade. To further raise awareness on hawker culture, festivals and programmes have been held, such as the Singapore Heritage Festival, and annual Singapore Day, which all aim to spotlight and celebrate local hawkers and their efforts.
Given the support of many for hawker culture, including the hawkers, community groups, organisations, government agencies and Singaporeans who patronise them, hawker culture looks set to remain an integral part of Singapore's way of life.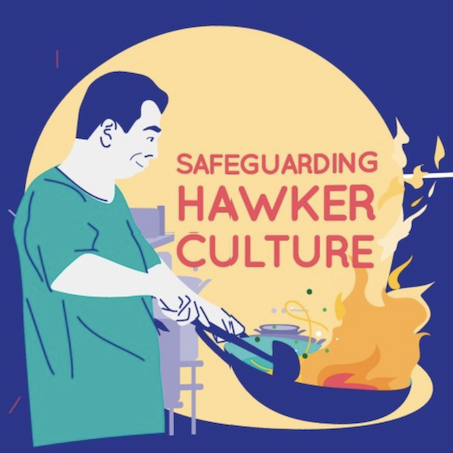 References
Reference No.
: ICH-050
Date of Inclusion: April 2018; Updated March 2019
References
Chan, Margaret. Foodstops. Singapore: Landmark Books, 1992.
Duruz, Jean & Gaik Cheng Khoo. Eating Together: Food, Space and Identity in Malaysia and Singapore. Lanham: Rowman & Littlefield, 2015.
Kong, Lily. Singapore Hawker Centres: People, Places, Food. Singapore: National Environment Agency, 2007.
Kong, Lily and Sinha, Vineeta. Food, Foodways and Foodscapes: Culture, Community, and Consumption in Post-Colonial Singapore. Singapore: World Scientific Publishing, 2015.
Lai, Ah Eng. 'Hawker culture need not be exclusive" The Straits Times. 28 Aug 2018.
Leong, Christopher. Images of Singapore Food: Popular Hawker Dishes and More. Singapore: Marshall Cavendish, 2013.
Low, Kelvin E.Y. and Ho, E.L.E. 'Eating in the City.' Food, Culture & Society 21(1): 2-8, 2018.
Makansutra. Makansutra Singapore 2017: The frank and no frills guide to heritage and traditional street food in Singapore. Singapore: Makansutra, 2017.
National Environment Agency. Our Hawker Centres: A Heritage and Art Project. Singapore: Oxford Graphic Printers Pte Ltd, 2015.
Ong, Lianne. Timmy & Tammy Discover: Singapore Hawker Food. Singapore: Armour Publishing, 2018.
Tan, Christopher and Tully, Joyceline. Heritage Feasts: A Collection of Singapore Family Recipes. Singapore: Miele Pte Ltd, 2010.
Tarulevicz, Nicole. Eating Her Curries and Kway: A Cultural History of Food in Singapore. Singapore: EBSCO Publishing, 2015.
Tay, Leslie. The End of Char Kway Teow and Other Hawker Mysteries. Singapore: Epigram Pte Ltd, 2011.
Tay, Leslie. Only the Best: The I Eat, I Shoot, I Post Guide to Singapore's Shiokest Hawker Food. Singapore: Epigram Pte Ltd. 2014.
Tan, Sylvia. Singapore Heritage Food. Singapore: Landmark Books Pte Ltd, 2014.
Tay, Ronnie. "Hawker Centres: Levelling the Playing Field with Food" Urban Solutions, Singapore: Centre for Liveable Cities, 2014.
Temasek Polytechnic. Singapore Hawker Classics Unveiled: Decoding 25 Favourite Dishes. Singapore: Marshall Cavendish International (Asia) Pte Ltd, 2015.
Teo, A, Guan, B and Dashow S. Not for Sale: Singapore's Remaining Heritage Street Food Vendors. Singapore: Good Food Syndicate, 2013.
Thio, K.L. A Study of Twenty Singapore Hawkers. Singapore: University of Malaya, 1962.
Tully J., Tan C. Heritage Feasts: A Collection of Singapore Family Recipes. Singapore: Miele Pte Ltd, 2010.
Wan, Ruth and Hiew, Roger. There's No Carrot in Carrot Cake: 101 Hawker Dishes Singaporeans Love. Singapore: Epigram Pte Ltd, 2010.