Lee Kuan Yew's swearing-in as Prime Minister of Singapore on 5 June 1959, Lai Kui Fang, 1992, Singapore, oil on canvas. Collection of National Museum of Singapore.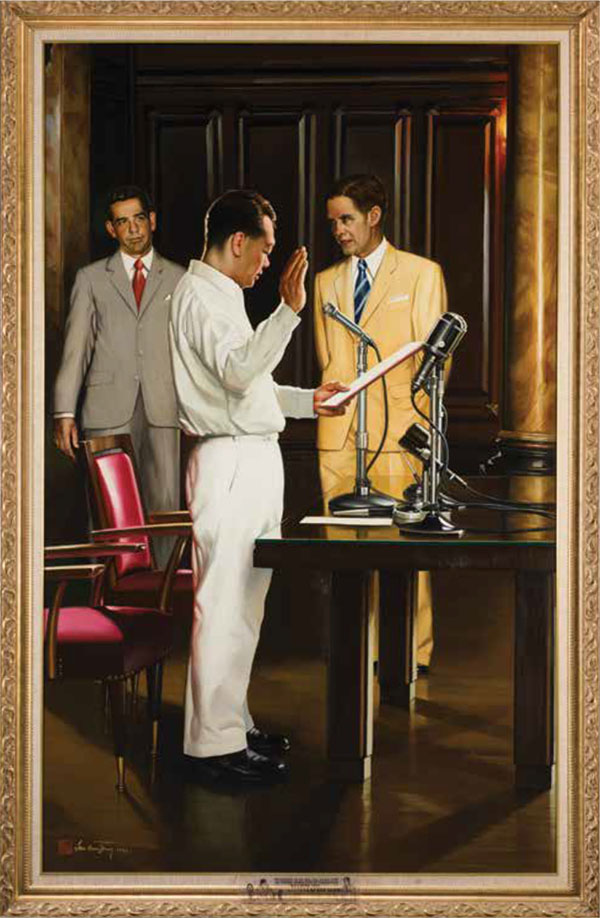 Lee Kuan Yew and his first cabinet were sworn in on 5 June 1959, marking the date Singapore's self-government was actualised. With no photographic records of the event, this painting of the swearing-in of Lee Kuan Yew as Prime Minister of Singapore in 1959 provides a suggestion of what that historic moment could have looked like. It shows a close- up of Lee and William Goode—the last Governor of Singapore—as well as an aide-de-camp on the left background.
Lai Kui Fang is a distinguished Singaporean portrait painter who studied on a French Government scholarship at the École nationale supérieure des Beaux-Arts. In 1968, he was conferred the Knight of the French Order of Arts and Letters, which was upgraded in 1975 to Officer of Arts, the highest honour bestowed by the French government in the artistic fields. He paints in the European classical tradition and has been commissioned to paint portraits of multiple political leaders in Singapore.
---
This is an extract from "The Singapore Story through 60 objects" written by Kennie Ting, Director, Asian Civilisations Museum and Peranakan Museum & Group Director of Museums, National Heritage Board. This article was first published in Cultural Connections Volume IV 2019 by Culture Academy Singapore.