Tombstone, Malacca, mid-15th century, stone.
Collection of Asian Civilisations Museum.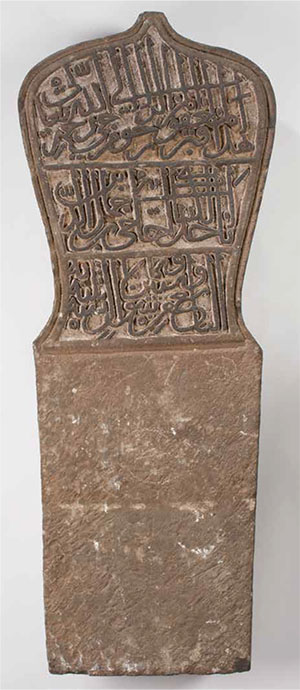 Melaka in the 15th century, under the reign of the Melaka Sultanate, was the pre-eminent port and trading city in Southeast Asia. Its wealth and power rivalled even distant Venice, so much so that Portuguese explorer, Tomé Pires, noted that "whoever is Lord of Malacca has his hand on the throat of Venice".
This tombstone dates to the heyday of Melaka's economic and political power in the pre-colonial period, before its capture by the Portuguese in 1511. It is inscribed with Quranic verses and dedicated to a ship's captain from Gujarat (in western India), who died in 1459. Gujarati traders were so important to Melaka that one of the four harbour masters was dedicated just to managing their trade. The tombstone was found by British engineers in the walls of the Portuguese fortress in Melaka and were among the first objects accessioned into the collection of Raffles Library and Museum in Singapore.
One of the most significant legacies of Melaka was the adoption of Islam as the state religion and its eventual transmission to almost the entire Malay World. Another important legacy was the codification of laws, ritual and culture, even down to details in dress and language in the Malay world. Following the fall of Melaka to the Portuguese, its last Sultan would flee to Johor-Riau to establish a new Sultanate.
---
This is an extract from "The Singapore Story through 60 objects" written by Kennie Ting, Director, Asian Civilisations Museum and Peranakan Museum & Group Director of Museums, National Heritage Board. This article was first published in Cultural Connections Volume IV 2019 by Culture Academy Singapore.