Somaskanda, Shiva with Parvati and their son Skanda, Tamil Nadu, south India, Chola period, c. 1200, bronze.
Collection of Asian Civilisations Museum.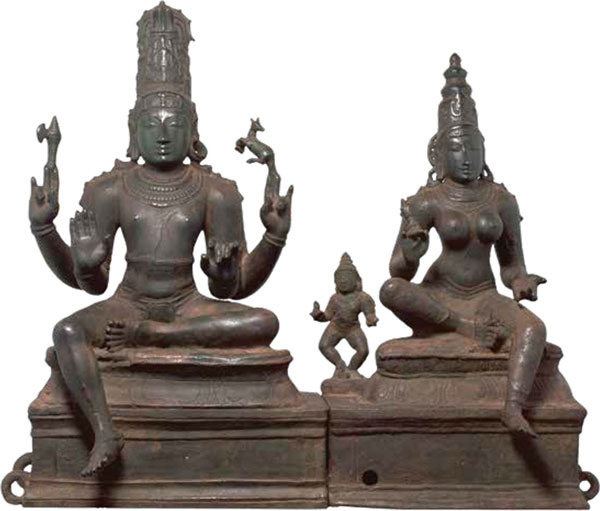 The Cholas were a powerful dynasty that ruled parts of India from the 3rd century BCE to the 13th century CE. At their zenith, they ruled all of southern India and Sri Lanka. From the earliest centuries CE, southern India had traded with the Mediterranean world, and during the Chola dynasty, with China and Southeast Asia. It was a prosperous period, and extensive patronage resulted in the building of many temples. Among the most remarkable works of art are bronze temple sculptures made for processions.
Darshan — to see and be seen by the deity - is one of the fundamental principles of Hindu worship. Originally, this could only happen within the inner sanctum of a temple, where many devotees of low position were excluded. Around the 6th century, a new concept emerged: images of deities were paraded outside the temple during festivals, where they could be seen by all. This led to the production of many portable bronze sculptures.
This sculpture of a seated Shiva and his consort Parvati (also known as Uma) accompanied by their infant son Skanda is visualised in the Tamil Hindu tradition as a representation of an ideal divine 'family'. Somaskanda, means "with Uma and Skanda", and is the most important image of Shiva in southern India after the linga, his abstract form. This is because the faithful can obtain individual blessings from Shiva when he is in the presence of Uma. In Indian art, this image only appears in the south. This exquisite sculpture was made for festival processions, hence the loops on the base to attach poles for carrying it. The manner in which the pedestals fit into each other is unusual as the convention is a single pedestal for the trio.
---
This is an extract from "The Singapore Story through 60 objects" written by Kennie Ting, Director, Asian Civilisations Museum and Peranakan Museum & Group Director of Museums, National Heritage Board. This article was first published in Cultural Connections Volume IV 2019 by Culture Academy Singapore.