Hanging ornament, Punjab, North India, 19th century.
Collection of Asian Civilisations Museum.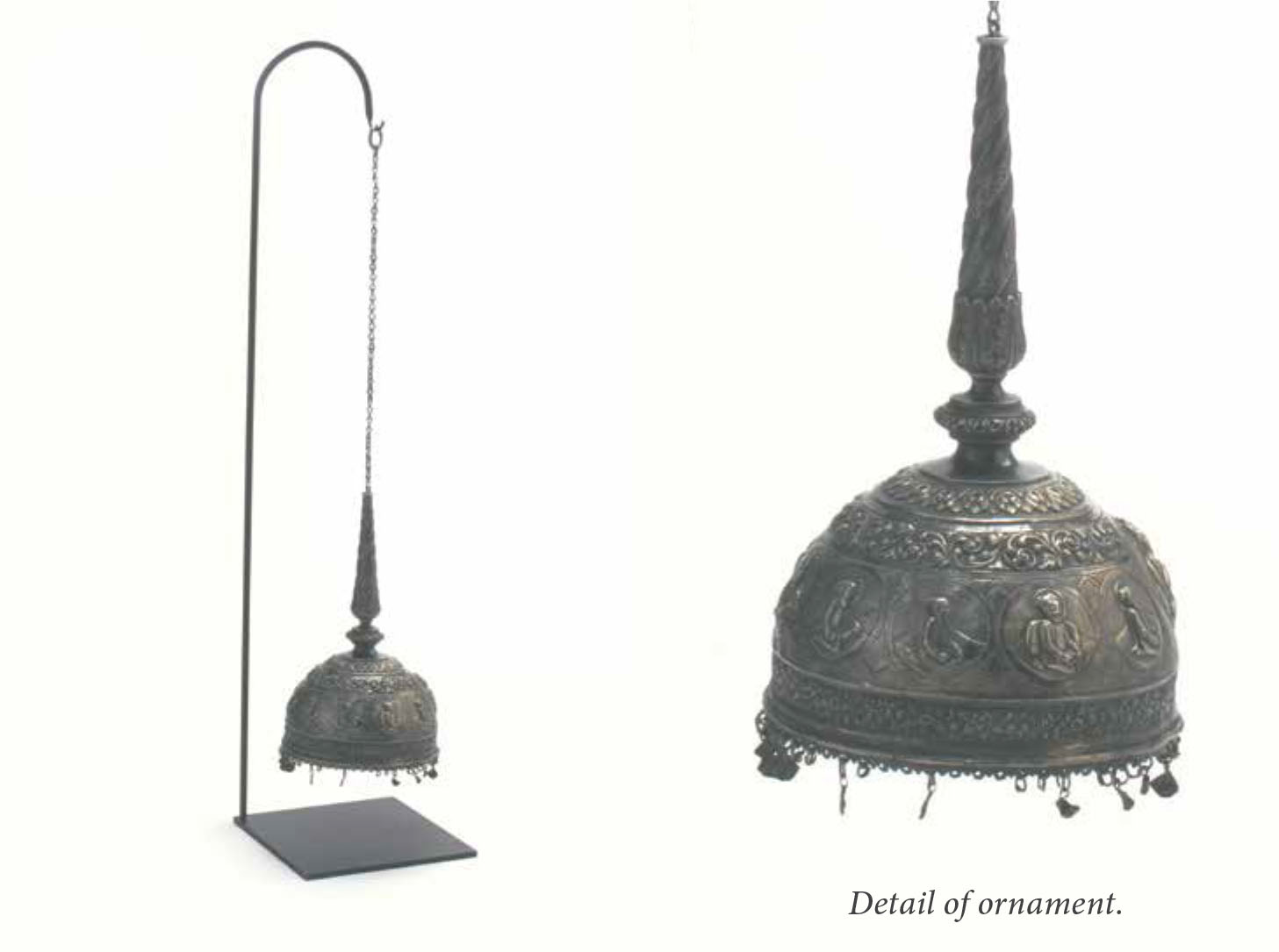 This dome-shaped hanging ornament is decorated with ornate patterns and floral vine motifs. It also features seated figures depicting the 10 Sikh gurus with the central and largest one being that of Guru Nanak Dev, with a sunburst halo encircling his head. The remaining nine gurus appear in the circumference of the chhatri, facing him. The chhatri is often seen as a symbol of nobility and the divine. It would have been hung over the holy book as a sign of respect or used during a religious ceremony. This is still relevant in the modern- day context where the priest will place the Guru Granth Sahib (the 11th and Eternal Guru) underneath with the granthi (reader) holding a chauri (fly whisk) as a sign of respect.
The Sikhs come from the Punjab area in northwest India. It is generally believed that the first Sikhs who came to Singapore were sepoys in the employ of the British East India Company. Historically, the Sikhs were generally associated with police and security work. The term "Sikh" originally referred to the followers of Guru Nanak, the founder of Sikhism, though today it refers to those who follow the teachings of the 10 Sikh gurus.
Most male Sikhs adopt the term "Singh" (lion) as part of their name, while most female Sikhs have the name "Kaur" (princess). The Khalsa order is the major religious order in Sikhism. Khalsa Sikhs who have undergone the initiation ceremony must keep and wear the five Sikh symbols, namely unshorn hair, a wooden comb, a steel bracelet, a sword and cotton underwear.
---
This is an extract from "The Singapore Story through 60 objects" written by Kennie Ting, Director, Asian Civilisations Museum and Peranakan Museum & Group Director of Museums, National Heritage Board. This article was first published in Cultural Connections Volume IV 2019 by Culture Academy Singapore.