Cheongsam that belonged to Singapore's war heroine, Elizabeth Choy, Singapore, 1953.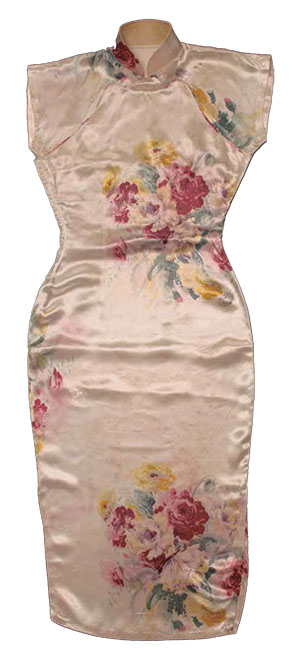 This cheongsam with elegant floral prints was worn by Singapore's World War II heroine, the late Elizabeth Choy, when she attended Her Majesty Queen Elizabeth II's coronation on 2 June 1953 in England. Choy endured torture following her arrest in 1943 by the Japanese kempeitai (military police) on suspicion of aiding the British. She was detained at the former YMCA at Orchard Road, and finally released after 200 days. The clothes she wore during her detention have also been donated to the National Museum of Singapore.
The cheongsam was the favoured formal dress of Elizabeth Choy. As a mode of dress for Chinese women, it was popularised in Shanghai during the 1920s and '30s, when the city was an influential fashion capital. Then, the cheongsam itself was the standard dress for many Chinese women in China's cities, as well as in the cities with large Chinese communities such as Hong Kong, Taiwan and Singapore. In style, it is believed to have evolved from a long robe worn by Manchu women during the Qing dynasty in China.
The easy availability of cheongsams from Cantonese and Shanghainese tailors in Singapore contributed to the popularity of the dress here, with most working women in Singapore having at least one cheongsam in the 1950s and '60s. Many working women adopted the cheongsam as their work attire because it projected modern and progressive values that they subscribed to as modern women.
---
This is an extract from "The Singapore Story through 60 objects" written by Kennie Ting, Director, Asian Civilisations Museum and Peranakan Museum & Group Director of Museums, National Heritage Board. This article was first published in Cultural Connections Volume IV 2019 by Culture Academy Singapore.
---