A Pair of Horses, Xu Beihong, China, c. 1940, Chinese ink and colour on paper.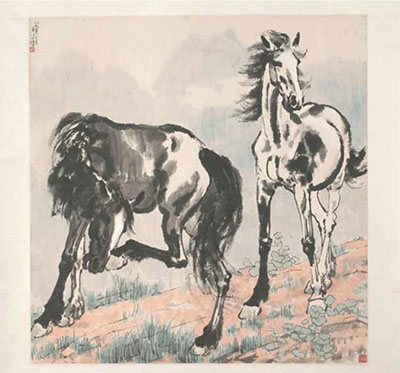 The late Dr Tan Tsze Chor was one of a small group of collectors and businessmen in Singapore who were strong supporters of the arts, and were inspired by ancient examples of the Chinese literati class of painter-calligrapher-cum-collectors. He named his collection and studio Xiang Xue Zhuang 香雪庄. The collection was known for its works from the masters of Chinese painting (in particular Xu Beihong, Ren Bonian and painters of the Shanghai School), ancient paintings and calligraphy from the Song to the Qing dynasties, transitional period (17th century) blue and white ceramics, Yixing wares, inkstones and Qi Baishi inkseals. The collection at the Asian Civilisations Museum consists of more than 100 of these paintings and scholarly objects, generously donated by the Tan family since 2000.
This painting of a pair of horses by Xu Beihong is one of the highlights of the collection. Although Xu Beihong was celebrated for his paintings of horses, he once said that he painted so many of them only because people liked them. They were indeed well received in Singapore in 1939 as many paintings of horses were said to be executed then. Xu's horses came to represent the indomitable spirit of China in the face of the Japanese invasions during late 1930s and early 1940s. This symbolism was apt as Xu was a patriot who raised money for the anti-Japanese movement through the sale of his works. Xu's horses are awe-inspiring and show his mature handling of the brush. The musculature of the horses in every pose as well as their dignity and elegance, are accurately defined in just a few key strokes.
---
This is an extract from "The Singapore Story through 60 objects" written by Kennie Ting, Director, Asian Civilisations Museum and Peranakan Museum & Group Director of Museums, National Heritage Board. This article was first published in Cultural Connections Volume IV 2019 by Culture Academy Singapore.