Singapore is all gleaming spires and sleek edifices today, but back in the day when these were rarer, she achieved a different type of architectural feat. Post-colonial Singapore had various architectural styles represented in her skyline which were telling of the nation's turbulent past, but most of them have since given way to the towering skyscrapers that came with our economic advancement.
Of the buildings of yesteryear, some have been demolished, others, refurbished – and they continue to stand proud today amongst the steely façades of newer glass monoliths. Some of these structures include the Victoria Theatre and Victoria Concert Hall, Old Supreme Court, and CHIJMES.
Victoria Theatre and Victoria Concert Hall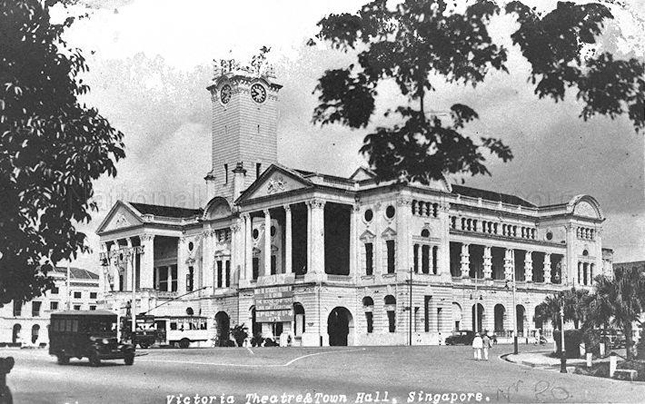 Victoria Theatre and Town Hall, Singapore | c. 1930 | Lim Kheng Chye Collection, courtesy of National Archives of Singapore
Victoria Theatre and Victoria Concert Hall did not start off as a theatre when it was completed in 1862. Initially built as a Town Hall with an accompanying theatre, it soon became too small to serve its dual function of housing a venue for local dramas and operas, as well as a space for government agencies and the Singapore Library.
Following the passing of Queen Victoria in 1901, a public meeting was held in the Town Hall to pass the resolution of building a memorial hall for the late queen on the land adjacent to the Town Hall building. Designed in Palladian style to reflect the Italian Renaissance, it opened in 1905 and was later accompanied by a newly refurbished Town Hall that now served as a municipal theatre – the Victoria Theatre. In an effort to unify the appearances of both buildings, a clock tower was built between them, and a portico was duplicated on the Town Hall building to mirror that of the New Memorial Hall.
Over the years, the Victoria Memorial Hall has played an important role in Singapore's political landscape. In the midst of World War II, it served as a hospital; at the end of the war, it saw the trials of Japanese war criminals; and in 1954, the newly formed People's Action Party (PAP) used it for their inaugural meeting. Between the years of 1952 to 1979, the building underwent major renovations to restructure its interiors and increase seating capacity. Accompanying its new appearance was also a new name: Victoria Concert Hall. In 2010, the Victoria Theatre and Concert Hall closed for major renovations costing $158-million and reopened in 2015, fully operational.
Source: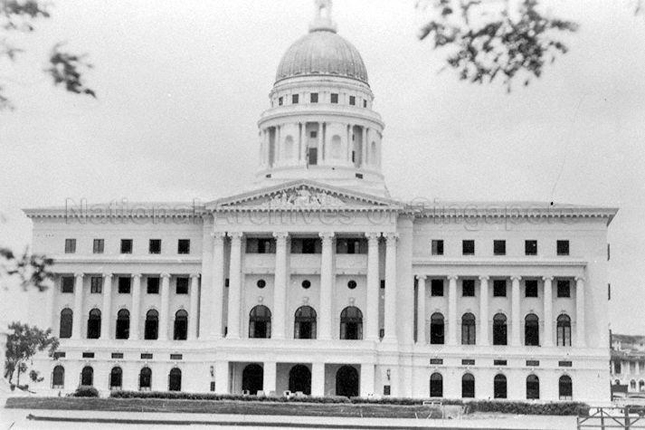 Today the home of National Gallery Singapore. Considered the jewel of the Civic District, it opened in November 2015 and is home to the world's largest public collection of Singapore and Southeast Asian art.
Source: National Library Board's Infopedia
CHIJMES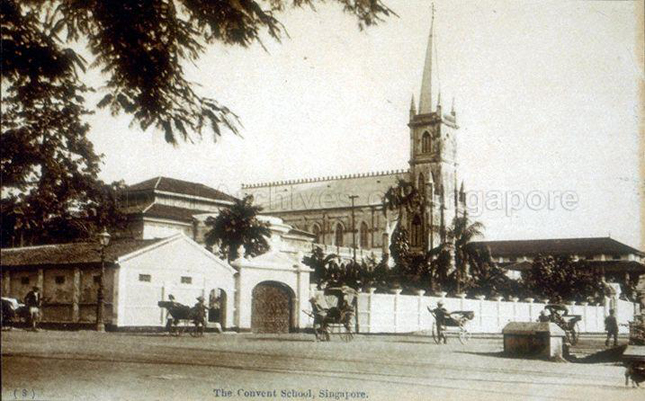 Convent of the Holy Infant Jesus (CHIJ) was a girls' school established at Victoria Street in 1854 by French Catholic nuns. It underwent extensive restoration works and reopened again in 1996 as CHIJMES | c. 1904 – 1910 | Lim Kheng Chye Collection, courtesy of National Archives of Singapore
The origins of CHIJMES hark back to an older era where it started out as the Convent of the Holy Infant Jesus (CHIJ), a Catholic school for girls. Established in 1854 by an order of French Catholic nuns, the site was initially only home to the Caldwell House building which was designed by renowned colonial architect, George Coleman. When the property was bought over, the surrounding parcels of land were also acquired with the intention of building a girls' school. The four-acre precinct soon came to include English-language primary and secondary schools, Chinese-medium school St Nicholas Girls, an orphanage, the nuns' quarters and a chapel.
By 1983, the primary and secondary school relocated to new premises in Toa Payoh and the remaining site was redeveloped and partitioned to house the Mass Rapid Transit Corporation (MRTC) headquarters. Of the longstanding complex, the Caldwell House, chapel and orphanage building remain – today, a plaza of nightlife spots and retail shops. Amongst the five Neo-Classical buildings, the chapel – now known as CHIJMES Hall – remains the centrepiece. The Gothic chapel features intricate 19th century stained-glass windows made in Bruges, Belgium that depicts scenes from the Bible. Below arched cross-vaulted ceilings, wooden pews imported from Toulouse, France, sit on colourful terrazzo tiles. The building's exterior, with its flying buttresses, elaborate Corinthian columns, and five storey Gothic-style steeple, is an impressive sight. Also adding to the different aesthetics of the self-contained city block, is the 176-year-old Caldwell House that emphasizes Ionic columns and sweeping courtyards with cobblestone floors and fountains.
Source: National Library Board's Infopedia
Source: Singapore Tourism Board's Your Singapore
By Gayathiri Chandramohan
---
Do you have photos of the stunning architecture of our National Monuments? Share them with using the hashtag #sgmonument