Text by Reena Devi and Nalina Gopal
MuseSG Volume 8 Issue 2 - Jul to Sep 2015
The museum scene in Singapore has flourished over the past few years and has reached a peak of over 50 museums in 2015, with a slew of diverse galleries and cultural institutions opening. As a physical space connecting the public with the arts, heritage, and culture, the museum remains a relevant and necessary institution in the cultural eco-system.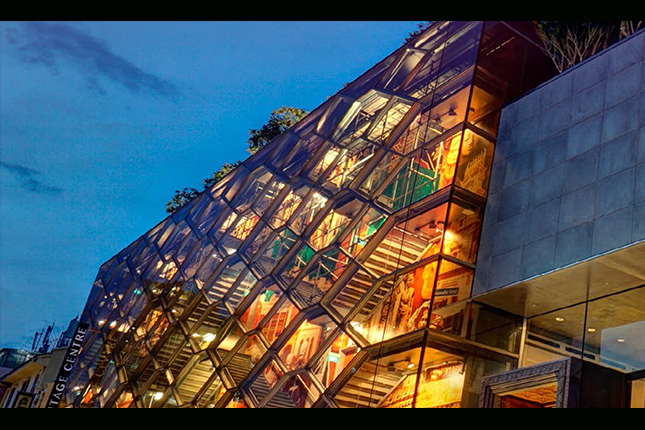 Façade of the Indian Heritage Centre at 5 Campbell Lane.
Launched on May 7, 2015 and located in the heart of Little India, the Indian Heritage Centre (IHC) showcases not only artefacts from the National Collection but also the community's collections. It also actively collaborates with the community for programming and outreach. Two hundred and three out of 443 artefacts on display at the museum are donated by or on loan from the community. These pieces in the permanent galleries offer a visual and chronological representation of the community's history, marking periods since the pre-modern era when South Asians established contact with Southeast Asians and East Asians.
The galleries focus on five major themes, starting from the early interactions between South and Southeast Asia, leading the visitor through the origins and migration of the South Asian community in Singapore, the pioneers and social and political awakening of the community in Singapore and Malaya and its pioneers, ending with contributions of Indians towards the making of Singapore as a nation.
The artefacts donated express this narrative in a variety of ways. One of the star artefacts highlighting the Indian migrants' rites of passage, attire, language, religious affiliations and festivals is the twentieth-century gold necklace (Kasumalai) which is a gift from the estate of Santhanam Victor Louis and the family of Gnanapragasam Pillai.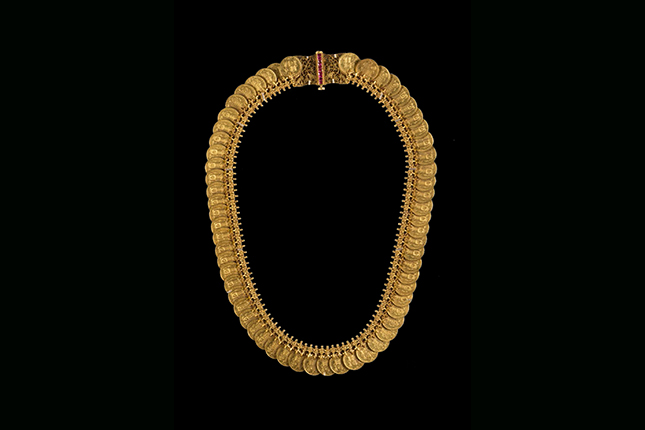 Gold Necklace or Kasumalai, 20th century. Gold. Gift from the estate of Santhanam Victor Louis and the family of Gnanapragasm Pillai.
The traditional necklace, made of gold and adorned with precious stones, was donated for alamkara, or ornamentation of deities, to the Sri Thandayuthapani temple built by the Chettiar community in Vietnam's Ho Chi Minh City. The Nattukottai Nagarattar Chettiars, who were among the early Indian migrants to the Southeast Asian region with business establishments in Vietnam, Myanmar, Malaysia and Singapore, commonly built temples in their places of settlement for the Hindu deity Murugan.
Another interesting artefact, on loan from P. G. P. Ramakrishnan, is the silver spade presented to P. Govindasamy Pillai by Holy Tree Balasubramaniar Temple, Naval Base, Sembawang on January 24, 1970. This artefact helps to present the visitors with further insight into the early Indians in Singapore and Malaya who lived during the pre-World War II era.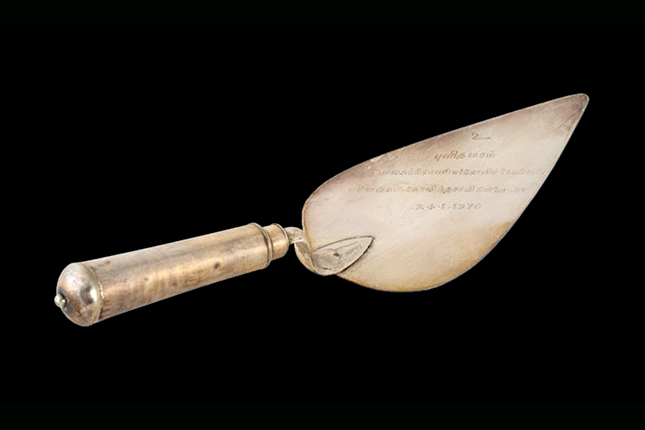 Silver Spade presented to P. Govindasamy Pillai by Holy Tree Bala Subramaniar Temple, January 24, 1970. Silver. On loan from P. G. P. Ramakrishnan.
One of these pioneers were P. Govindasamy Pillai, a native of Thanjavur District in Tamil Nadu. Popularly known as PGP, he left home in his teens and boarded a ship to Singapore. After landing at Tanjong Pagar in 1905, he worked at a store which he later bought over, allowing him to establish a string of PGP stores along Serangoon Road. An ace money manager, he gradually saved enough to expand into other businesses including textile shops and flour and spice mills. He was also a noted philanthropist, a prominent donor to the Sri Srinivasa Perumal Temple, a founder-member of the Indian Chamber of Commerce that was set up in 1937, and a Justice of the Peace from 1939.
The impact of nationalist and sub-ethnic nationalist movements on the Indian community in the region is shown through reformist activities and the revitalisation of the Tamil Language and identity by community leaders such as Thamizhavel G. Sarangapany. This is showcased by the selection of archival photographs, documents, and personal artefacts from the collection of Sarangapany's immediate family, donated by his daughter, Rajam Sarangapany.
Sarangapany, who arrived in Singapore in 1924, was an active writer and publisher. He set up the Tamil magazine Munnetram in 1929 and the Tamil Murasu newspaper in 1935. Through his writings, he promoted the principles of the Tamil reform movement. He encouraged Tamils to make Singapore their home, helped them gain citizenship, and championed for the Tamil language to be recognised as one of the national languages in Singapore.
Women also played a part as leading pioneers of the South Asian community in Singapore. This is characterised by a signature artefact gifted by Jamshed K. Fozdar and Parvati Fozdar: a commemorative plaque presented by the Singapore Council of Women (SCW) to Shirin Fozdar in 1988 in recognition of her contributions to Singapore as a staunch advocate of women's rights. Fozdar, who is of Indian origin, arrived in Singapore with her husband in 1950. By 1953, she had become instrumental in setting up Singapore's first girls' club at the Joo Chiat Welfare Centre to teach women English and arithmetic. She was elected honorary secretary of SCW in April 1952, and thereafter served a key role in the drafting and establishment of the Women's Charter in 1961. She also played an important part in the formation of the Muslim Syariah court in 1958. Her role in Singapore's women's movement represented a pioneering effort in establishing Southeast Asia's Baha'i community.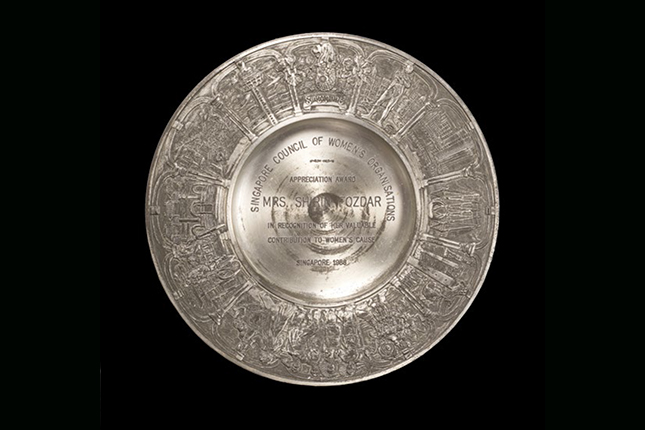 Plaque presented by Singapore Council for Women to Shirin Fozdar, 1988. Pewter. Gi of Jamshed K. Fozdar and Parvati Fozdar.
The diverse array of individuals, communities, religious and cultural organisations which comprised the South Asian community are represented by the textured narrative of the permanent galleries showcasing a primarily community collection. The IHC is evidence that the role of a heritage institution has evolved into a relevant social space of connectivity, culture, and heritage, supported by the people for the people.
According to IHC Director, Dr Gauri Krishnan, "IHC has been very fortunate in its artefact collection drive and has managed to source a significant number of artefacts through the community as well as the national collection within a very short span of time. Its collections are representative, cover diverse periods in history and communities and range from classical to modern — appealing to a wide cross-section of visitors. Even the evocative displays and media devices have made the artefacts more accessible and appealing." IHC has harnessed media and technology to tell stories, making collections more accessible and providing the community's voice to the thematic curation. Other than three large interactives and over 20 touch screen interactives, IHC also offers visitors an immersive and novel experience with an Augmented Reality enabled audio guide. Commencing with an introductory film, which offers a curated perspective on the five themes in the permanent galleries, the interactive experience is geared towards engaging both group and individual visitors.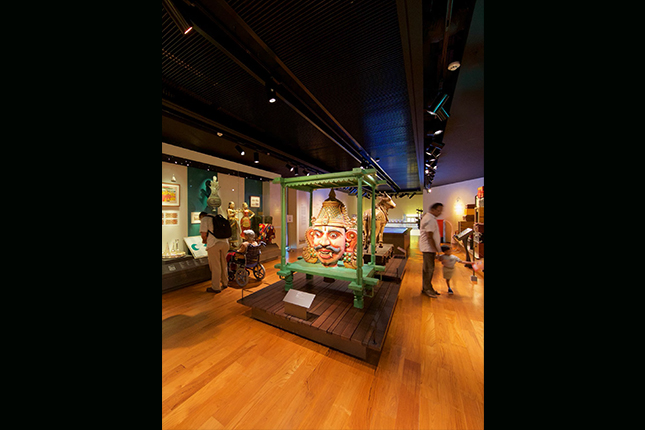 Visitors exploring the Roots and Routes: Origins and Migrations gallery.
The Indian Heritage Centre is open from Tuesday to Thursday 10 a.m. to 7 p.m., Friday to Saturday 10 a.m. to 8 p.m. and Sundays and Public Holidays 10 a.m. to 4 p.m. They are closed on all Mondays unless stated otherwise. Admission is free for all Singapore Citizens, Permanent Residents and visitors aged six and below. Admissions Fees for overseas visitors are $4 for adults and $2 for students and senior citizens.
To find out more information, check out their website at www.indianheritage.gov.sg.