TL;DR
Before taking office as Singapore's second president, Benjamin Sheares (12 August 1907–12 May 1981) spent three decades tirelessly improving Obstetrics and Gynaecology (O&G) standards in Singapore, having been dismayed by high maternal mortality rates in the 1930s.
Overcoming colonial biases, he rose through the ranks of the Kandang Kerbau Hospital, fought for its post-war conversion into an O&G hospital, and was the first medical practitioner in Singapore to use the lower segment method for Caesarean sections.1 This and more helped shave the maternal mortality rate from 70 to 80 deaths per 10,000 deliveries in the 1930s to less than 10 by 1955.
Father of obstetrics and gynaecology
Benjamin Sheares aspired to be a doctor from a young age. As a child, his favourite game was playing doctor with his sister Alice.
There were few opportunities for Asians to become doctors in the British-run colony but Sheares worked to overcome these hurdles, including for instance, winning a scholarship to study medicine. By 1942, he had become head of the Obstetrics and Gynaecology (O&G) department and medical superintendent of the local patient's section at Kandang Kerbau Hospital (KKH), overcoming the prejudices of his colonial superiors through hard work and genius.
Deeply concerned about high maternal mortality rates, Sheares was the first in Singapore to use the lower segment method of performing Caesarean sections. With this, as well as improvements in antenatal and postnatal outpatient care under his watch, maternal mortality rates fell to less than 10 deaths per 10,000 deliveries in 1955 compared to seven to eight times that in the 1930s.
It was also through Sheares that KKH was converted into an O&G Hospital after World War II.
The good doctor was reputed among his peers and patients for his golden fingers and superior surgical skills which led to minimal scarring. He was well-liked for his kind bedside manner and strong dedication to patient welfare. He checked in on patients regularly, even during the holidays, and was known for giving free treatment to the poor.
In 1950, he was appointed professor of O&G at the University of Malaya in Singapore.
Despite his busy schedule, Sheares authored papers on O&G and other topics such as infertility, cancer and surgical techniques. In all, 29 of his papers were published over the span of 24 years. Sheares also earned international acclaim for developing a technique to create an artificial vagina for individuals born without one. It eventually came to be known as the "Sheares Procedure".
In 1961, as his health began to trouble him, Sheares started his own private practice in Raffles Place.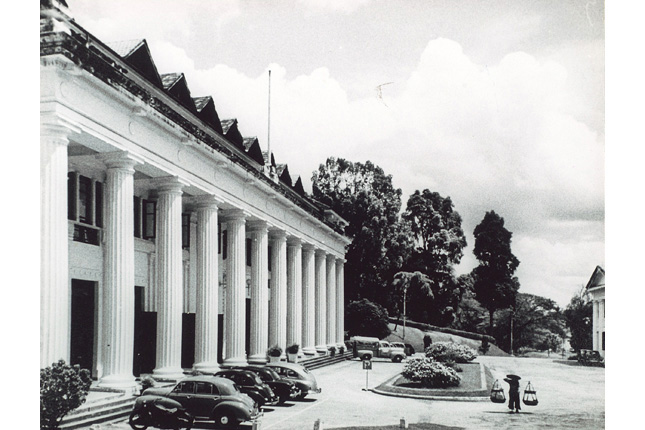 Benjamin Sheares was one of several distinguished alumni who graduated from the King Edward VII College of Medicine. He was appointed acting professor of the college in 1945. (c.1950s. Image from the National Museum of Singapore)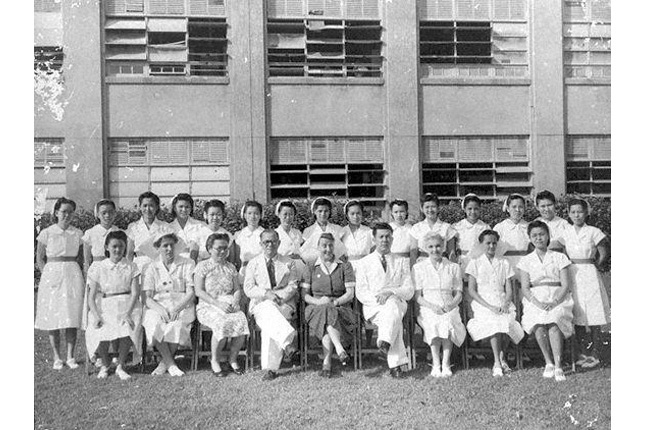 A 1960s photograph of Benjamin Sheares (seated fourth from right), the honorary consultant of Kandang Kerbau Hospital at the time. (c.1960. Image from the National Archives of Singapore)
Family Man
Sheares married Yeo Seh Geok, a trained midwife in 1939. The couple had three children together.