What makes Singapore, Singapore? And what makes Singapore home? @ Home, Truly follows Nadine, and her Gong Gong (Mandarin for "grandfather") as they relive the highs, lows, and moments in between of Singapore's journey from its beginnings as a nation till today.
Each chapter in this digital experience is illustrated by a different artist, in their own inimitable style. Check back every month for updates as our story unfolds!
This experience is in collaboration with The Straits Times. This is the fifth chapter of the story, and it explores the experiences of growing up in Singapore by different generations. Read on or click here to explore other chapters!
We hope you'll stay a while, and make yourself at home, truly!
The Wheels (and Doors) on the Bus
Hello, welcome (back) to tea-time with Nadine and Gong Gong! Nadine cannot wrap her head around the fact that her mum was once a young girl, and she feels like she's getting to know a new friend, through Gong Gong's stories.
Gong Gong tells Nadine about the time her mum was sooooooo intrigued by the "Do Not Open" sign on the door that she almost did something quite dangerous!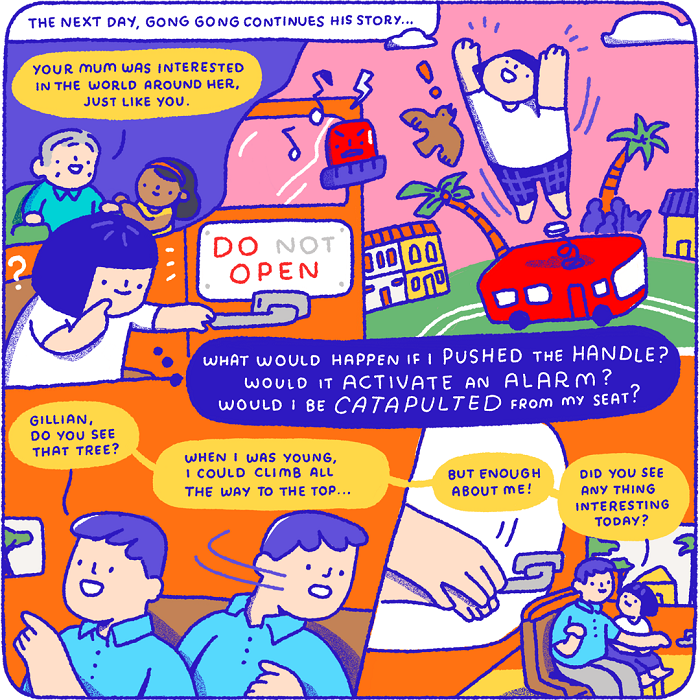 That day, Gong Gong was the one who opened a door instead – the door to his daughter's mind, by talking to her!
Psst! This chapter's illustrations are by Xinnie Ng, an illustrative designer who runs X Spots the Mark. Her illustrations are fuelled by the love of creative exploration, inspired by moments of spontaneity and deep ponderings, and they often invite you in for a closer look. (See what you find here, too!)
Speaking of buses, this is an old 45-cent Singapore Bus Service (SBS) ticket. How do you think it was used? Passengers used to board the buses and find a seat first, before a bus conductor would come by to sell them a ticket. The conductor would then punch a hole in their ticket (with a ticket puncher that looks something like the one you see here!) – this circle indicated the number of the bus stop where the passenger boarded.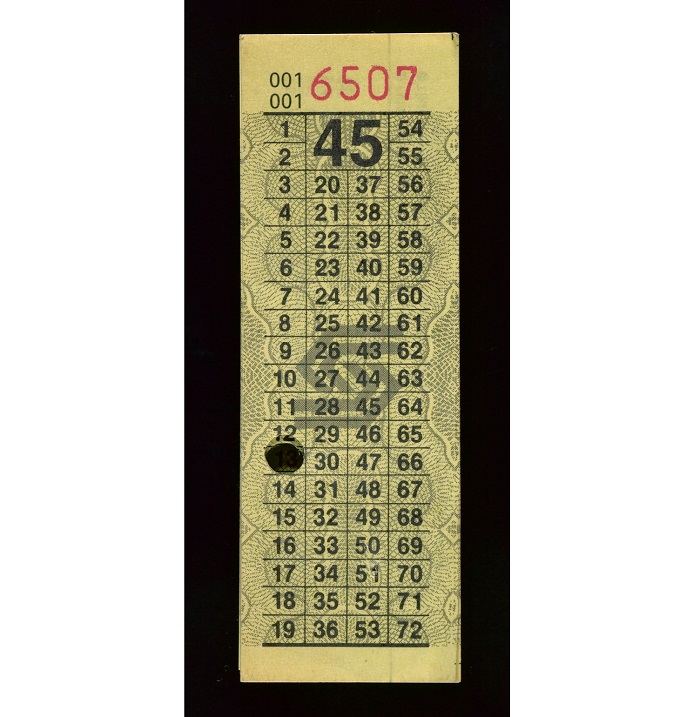 Singapore Bus Services (SBS) bus ticket with value of 45 cents (1970s – 1980s, Paper. Collection of the National Museum of Singapore.)
Bus conductor's ticket puncher (1940s – 1970s, Metal. Collection of the National Museum of Singapore.)
Shall we go on our own bus ride now? See if you can spot some familiar landmarks along the way!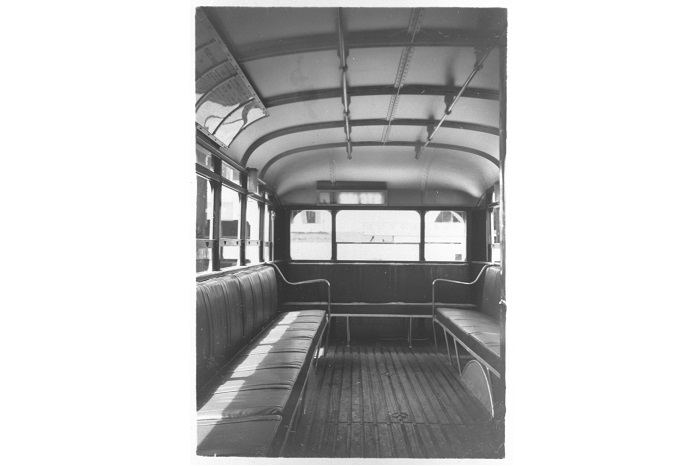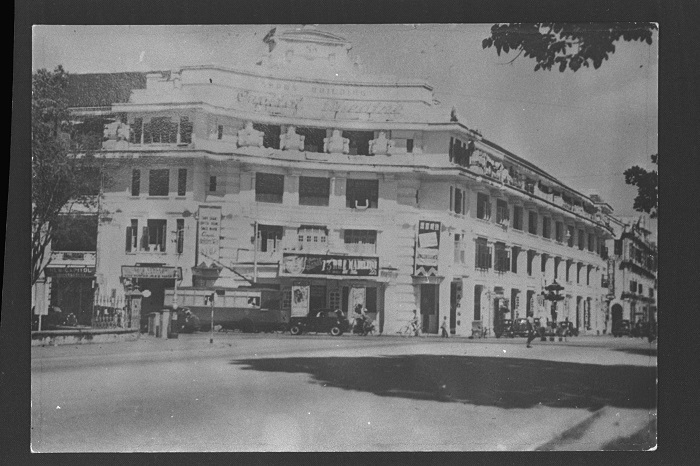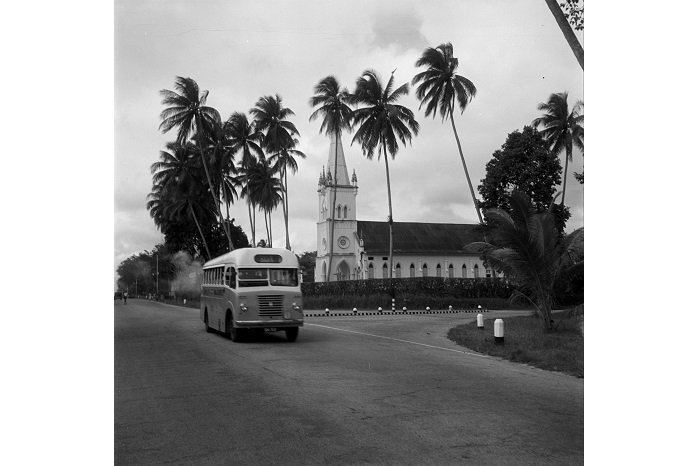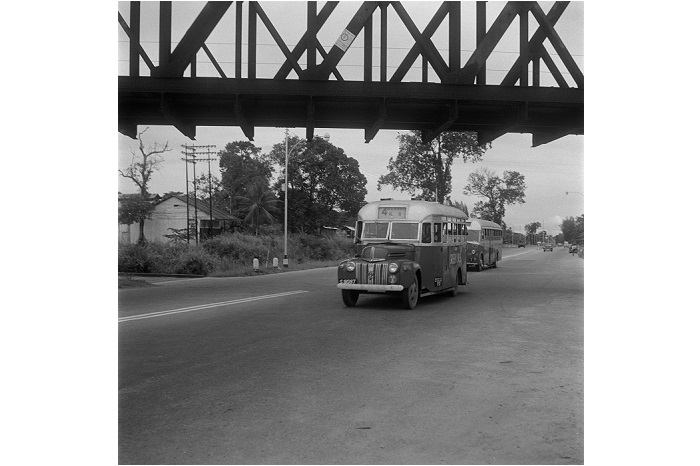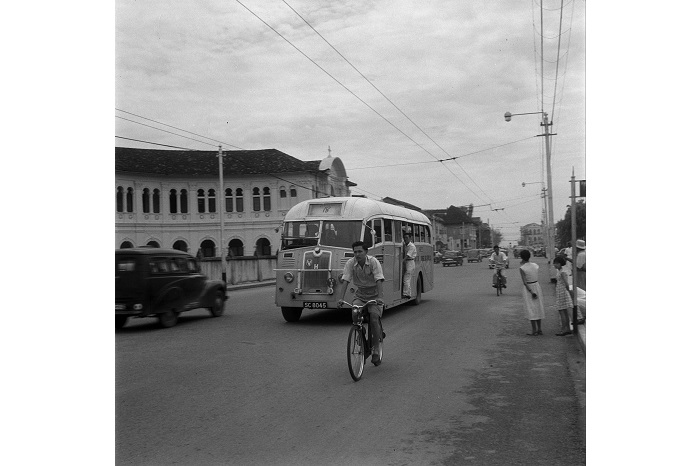 Clean Streams
Of course, Nadine wants to know what her mum and grandpa used to talk about! The conversation flows right to the Singapore River and its historic clean-up.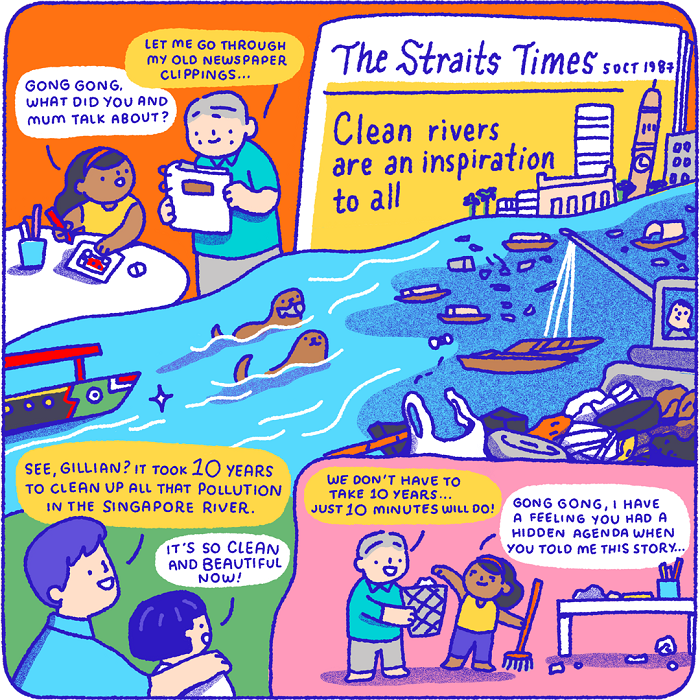 The Singapore River, before its big clean-up, is charmingly depicted in several artworks. In this 1958 oil painting by Georgette Chen, the river is bursting with boats bumped up against each other – and yet, there is a calmness and clarity reflected in the water.
Singapore Waterfront (1958, Oil on canvas, Georgette Chen. Collection of the National Museum of Singapore.)
This acrylic painting by Ang Ah Tee covers the same subject – boats crowding the river, against the backdrop of shophouses along Boat Quay. It's interesting to note, though, that this work was painted several years after the river had been cleaned up, with the mass of boats long gone from the scene.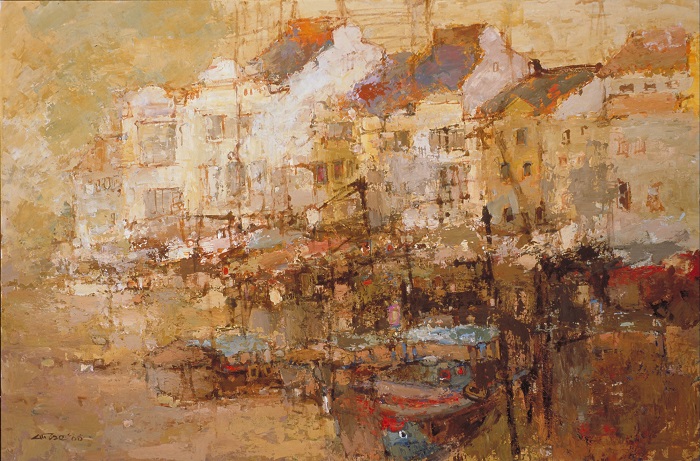 Riverside (2000, Acrylic on canvas, Ang Ah Tee. Collection of tSingapore Art Museum.)
The Singapore River was then really smelly – you could smell it before you saw it. The residents by the river threw everything into the water.
– Hor Kwok Kin, as part of the Home, Truly Open Call
There were all sorts of businesses dumping their waste into the river – sago factories, seaweed factories, street hawkers… different waste materials were added into the mix – including human biological waste.
On the image below, Mr Hor also explains,
In the latter part of the 1960s, the labourers by the Singapore River were replaced with these machines. Most of the goods imported via the Singapore River were produced in Malaysia and Indonesia, mostly rice and dried goods.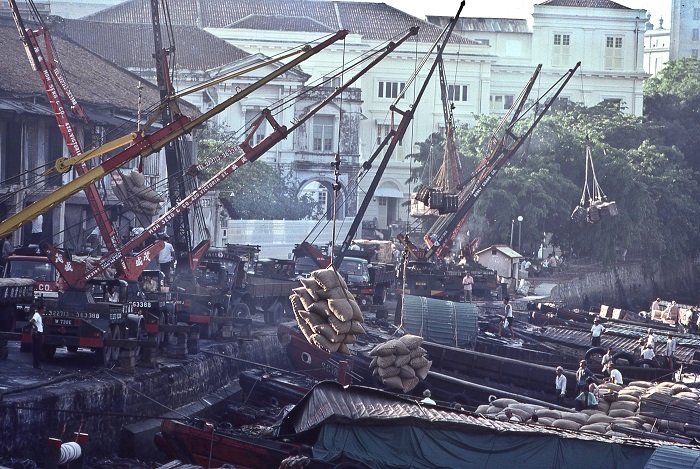 Working Out Inside
As Nadine helps Gong Gong wash the dishes, she surprises him by saying something extra sweet for a nine-year-old who didn't completely look forward to spending all this time with him. Gong Gong asks Nadine what she misses about the (usual) school holidays, in a time like this…
The newspaper clipping of the Great Singapore Workout below is a retro version of the many exercise videos that are available online today. Launched by then-Prime Minister Goh Chok Tong on 3 October 1993, the workout was meant to help Singaporeans adopt a healthier lifestyle (and have fun while doing it).
The launch entered the Guinness Book of Records that year, with a crowd of 26,107 at the Padang participating in the largest mass aerobic session held at one location. (There have been even larger mass aerobic events since – though that doesn't make the 1993 feat any less impressive!)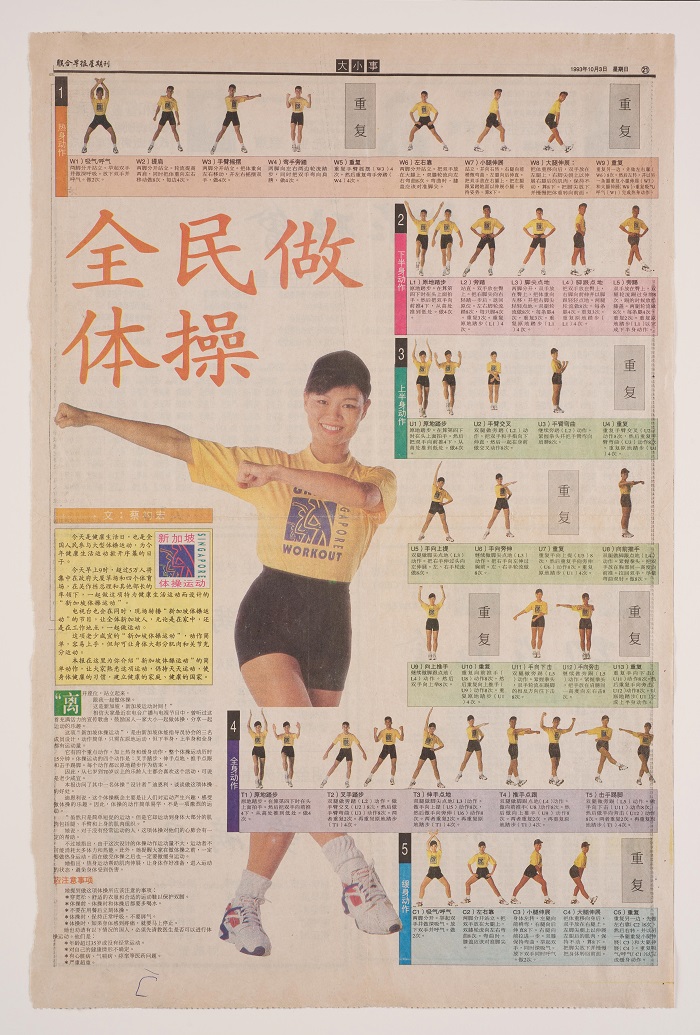 Lianhe Zaobao article on the Great Singapore Workout (3 October 1993, Paper. Collection of the National Museum of Singapore.)
The workout is about 15 minutes long, and is meant to involve every part of your body (and family – "Come on, Dad, come on, Mum, family fitness is so much fun!"). Watch the whole video here!
Jingle Jungle
As they cool down, another idea pops into Nadine's head – would Gong Gong like to sing with her? That Great Singapore Workout tune was quite catchy… How she misses singing!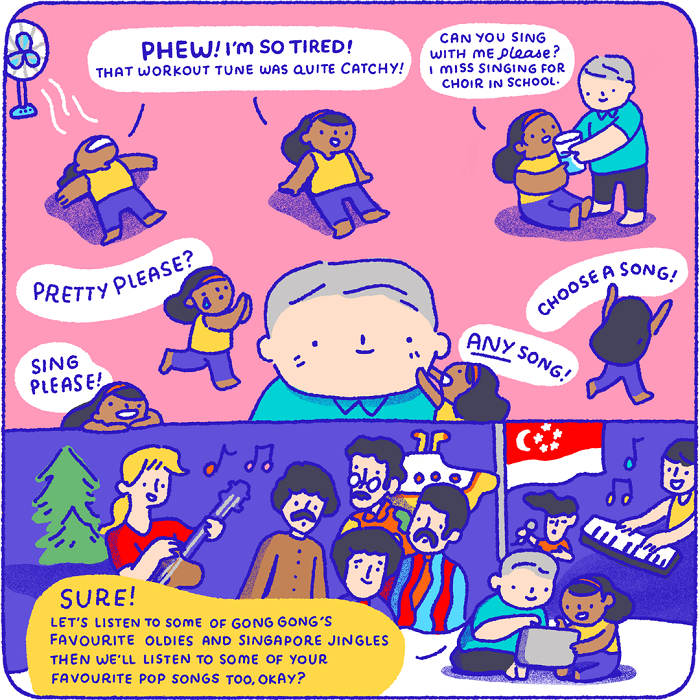 Even after singing many songs with Gong Gong (a mix of his favourites, and hers), Nadine couldn't get the Great Singapore Workout song out of her head. "It's Singapore, Singapore… Workout time!"
Music was another great way to encourage people to change their behaviour and it still is commonly used in Singapore! Does "Let's test, let's trace, let's vaccinate!" sound familiar to you?
Our museums also use an animated video and jingle to show children how they should behave in galleries. It's full of alliterative refrains – "walk and whisper!", "flash-free photos!". Check it out below.
Watch: Museum Etiquette
Chatbird and Friends
Our delightful duo's conversation goes from music, to… mascots?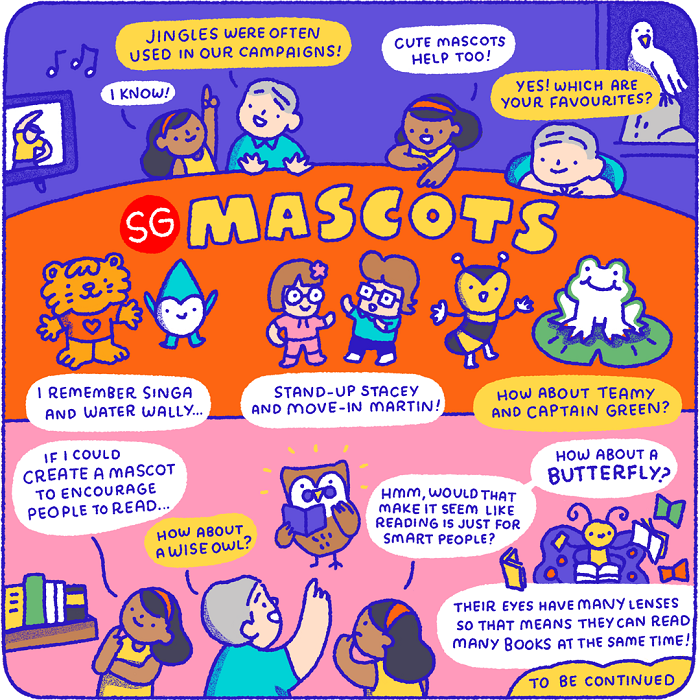 What mascot would you create for a cause you believe in? Meet some of the mascots who have been introduced to Singapore over the years (though many seem to have been created in the early 1980s).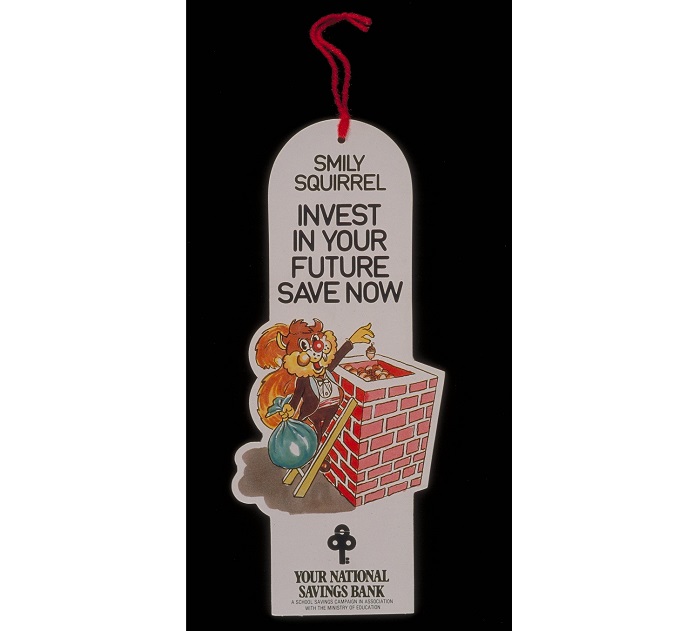 "Smiley Squirrel" bookmark with slogan, "Invest in your future, save now" (c. 1988, Paper, Gift of POSBank. Collection of the National Museum of Singapore.)
Squirrels save their food for rainy days (literally – as they can't go out to get food then) – that's why Smiley Squirrel was chosen as POSB's friendly mascot. Smiley has been encouraging children to save money (not food) since 1983!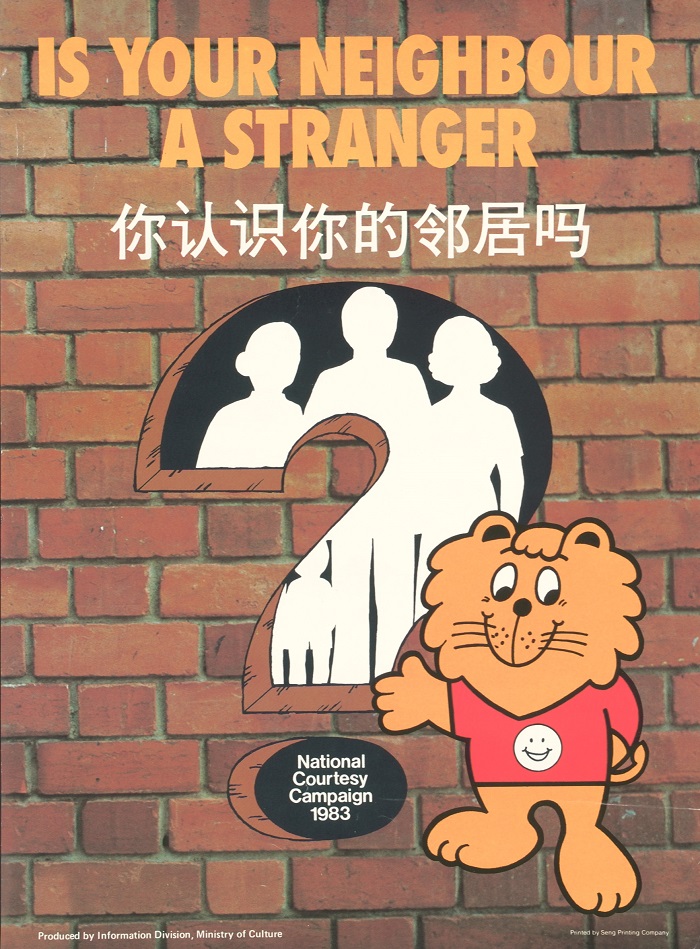 Courtesy campaign poster (1983, Paper, Gift of the Ministry of Information, Communications and the Arts. Collection of the National Museum of Singapore.)
Singa the Courtesy Lion was created in 1982 as the official mascot for Singapore's National Courtesy Campaign (now part of the Singapore Kindness Movement). The colours used – orange and red – are meant to reflect warmth and friendliness. In this poster, Singa encourages people to get to know their neighbours. The Chinese characters read, "Do you know your neighbour?".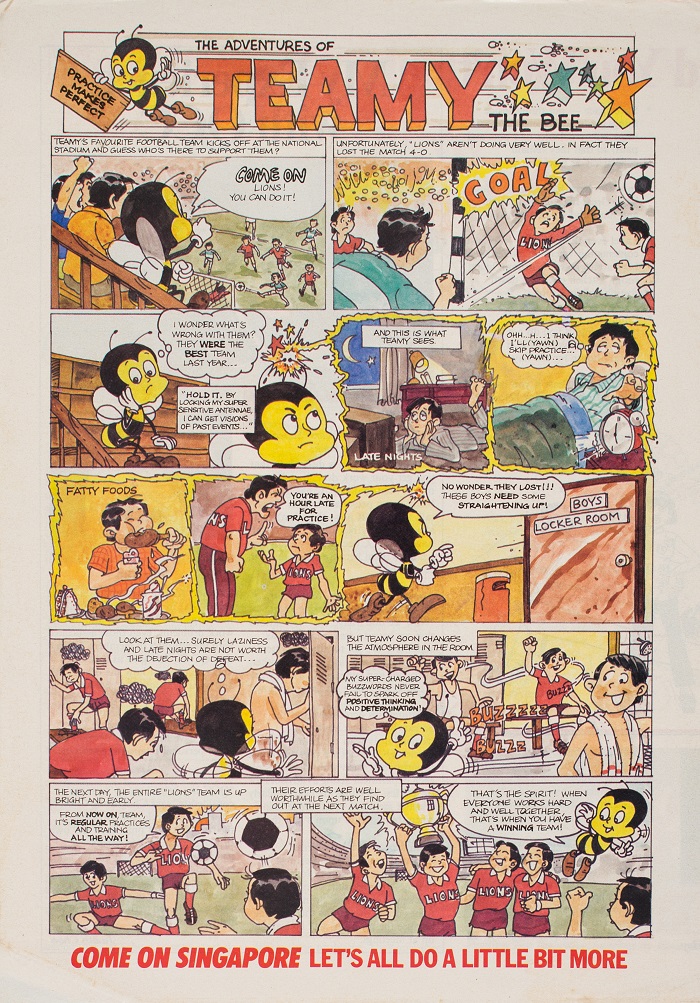 Singapore Productivity News (1984, Paper. Collection of the National Museum of Singapore.)
The National Productivity Board was established in 1972 to promote industrial productivity. Teamy, the Board's mascot, was introduced in 1982 and made its first appearance during National Productivity Month that same year. Singapore Productivity News was the Board's monthly newsletter, featuring a comic strip called "The Adventures of Teamy the Bee". Here, Teamy gets people charged up with his "buzzwords" – haha!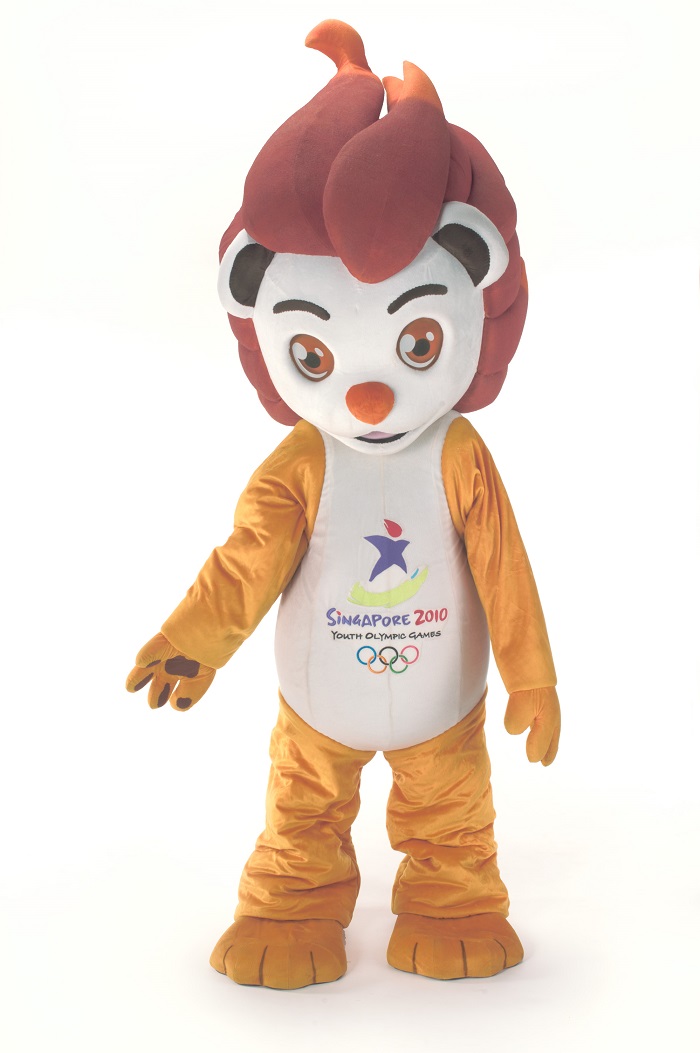 Mascot suit of Lyo, one of the two official mascots of the 2010 Summer Youth Olympics in Singapore (c. 2010, Foam, Gift of the Ministry of Culture, Community and Youth. Collection of the National Museum of Singapore.)
Lyo's name is an acronym for "Lion of the Youth Olympics" – how typically Singaporean it is to shorten a phrase into a handful of letters! He symbolises youthful energy, passion, and constant striving for excellence. He and his companion Merly are the first Youth Olympic Games mascots – ever! (In 2010, Singapore was the first country to host the Youth Olympic Games.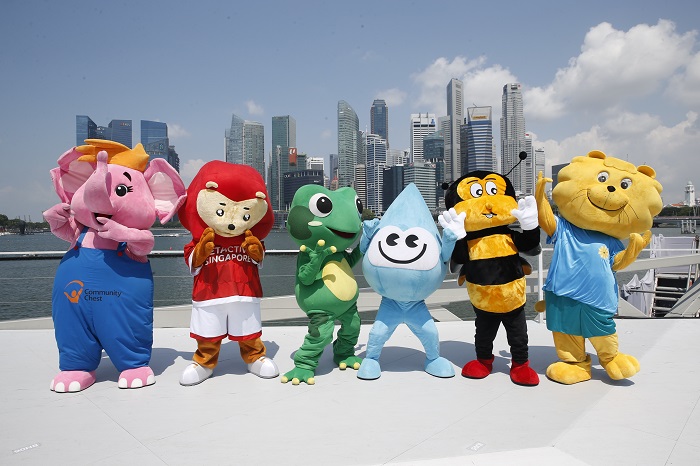 Photograph of mascots to be featured at the National Day Parade in 2018 (28 July 2018. Courtesy of The Straits Times, Singapore Press Holdings.)
Sharity, Nila, Captain Green, Water Wally, Teamy, and Singa – how many of these characters do you know? There's more to find out about our mascots – click on Chatbird to find out which one you are most like!
This was Chapter Five of the @ Home, Truly digital experience, a companion of the exhibition Home, Truly: Growing Up with Singapore, 1950s to the Present at Exhibition Gallery 2, National Museum of Singapore (open until 3 October 2021). Come down to the Museum to see some of these artefacts in real life!
@ Home, Truly is both a prelude and companion to the physical exhibition, and it covers similar themes, in a different format and through different perspectives and content.
Click here to find out more about Home, Truly.